Hot summertime will come soon and have you recently added a pool to your home? Or are your family members thinking of adding a cool pool to the home backyard? When you begin to add a swimming pool or shop pool materials for this project, you should also look for a way to place a suitable pool deck around your pool area, which is a great idea for more safety reasons and a nice place to have a relaxing as well as add more attractive spaces to your backyard.
If you're feeling confused about finding pool deck ideas, you've come to the right blog. Bluwhale Tile is going to share with pool owners some of the interest's perfect ideas for pool plans. Here we list 5 surfaces that offer a different style, durability, and a perfect surface for your swimming pool renovation project: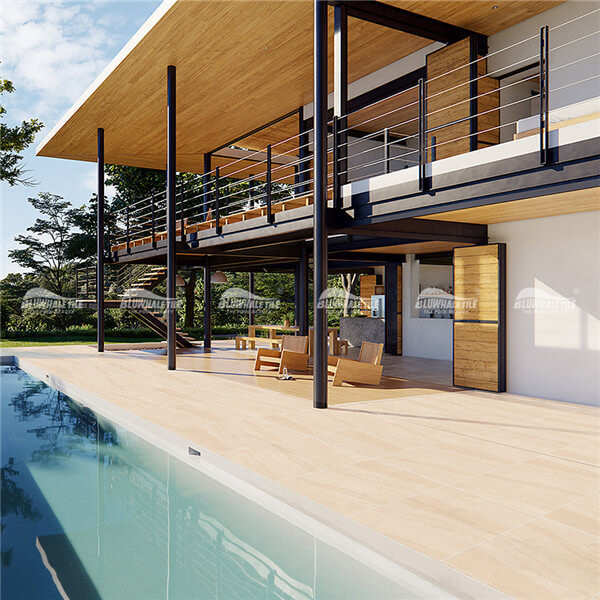 Featured Product: R10 Matte Brick ZMC9901
Anti-slip Thick Tiles
Creating a beautiful pool deck is a wonderful way to increase the property of the house and add beauty into the tranquil backyard, up to its curb appeal, and take full advantage of pool leisure space. Both 10mm thickness and 20mm thickness matte porcelain floor tiles are welcome with homeowners, each offering its own unique advantages. While either one is brilliant, you should choose the suitable thickness which matches your outdoor patio style and pool natural landscape design.
10mm Thickness
With stain-resistant character, porcelain material is easy to clean and requires very little time to maintenance. The one disadvantage to thin porcelain tile is that it's fragile during the installation process. That's why the thick outdoor matte floor tiles are recommended. Not only protect your wet feet from slipping but add understated feeling into your pool design.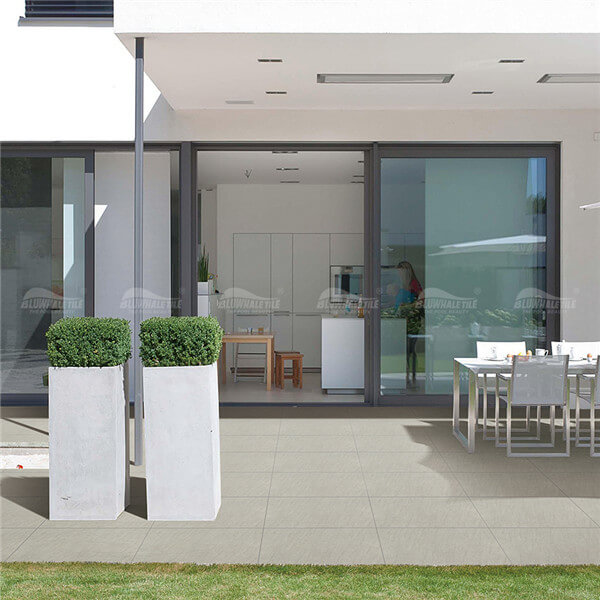 Featured Product: R12 Basalt Brick ZMC10902
20mm Thickness
Outdoor 20mm thickness anti-slip matte flooring is a relatively new pool deck that has been added to our pool deck collection. Our thick porcelain tiles are designed and manufactured, especially with exterior floor use. Because they're twice as thick as the common interior porcelain tile, its breaking strength and impact resistance are increase. From cool tones to light hue, various colors can suit any style pool.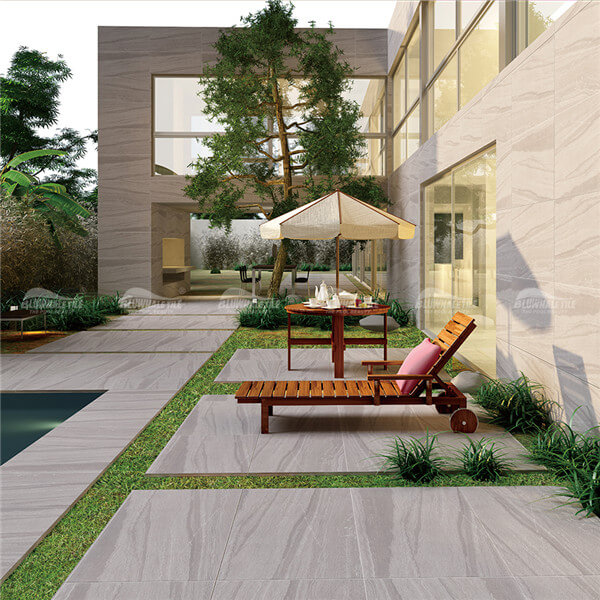 Featured Product: R10 Matte Brick ZMC9903
Wood Plastic Composite
Made of plastic and wood fibers, wood plastic composite is becoming more and more popular in pool deck areas. The new technologies come in a multitude of colors, real wood patterns, and thicknesses. Our premium WPC collection has the color all the way through the boards rather than just a coating, therefore, scratches are hidden and this material won't stain or fade, as well as have excellent mold resistance.
For more wood plastic composite knowledge, visit our blog: 3 Types Wood Plastic Composite Create Perfect Pool Decking Areas >>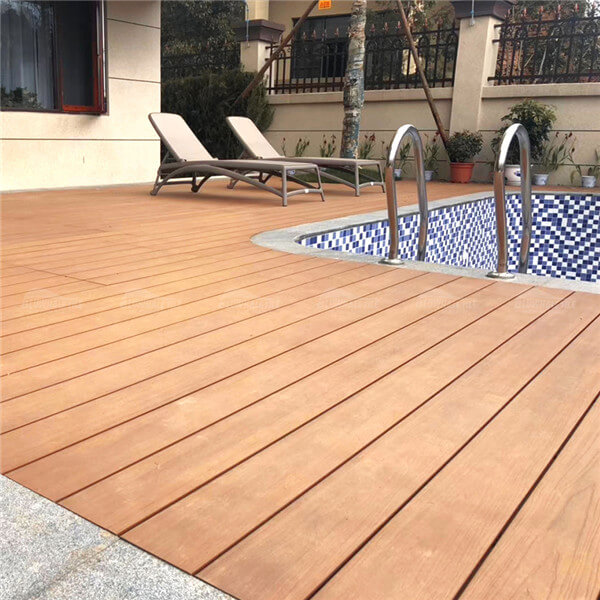 Feature Product: Wood Plastic Composite Teak Color WPC904L-SH
Natural Stone Tile
Unique natural stone tiles are deemed a luxury material, which enhances style and flair in special ways. Our stone deck collection is easy to handle, relatively easy to install, available in 4 sizes and easy to cut as needed for custom use. This perfect material not only allows for great drainage and quick gets dry, but resistant to damage from any temperature variations. We're going to share three popular stone tiles for you: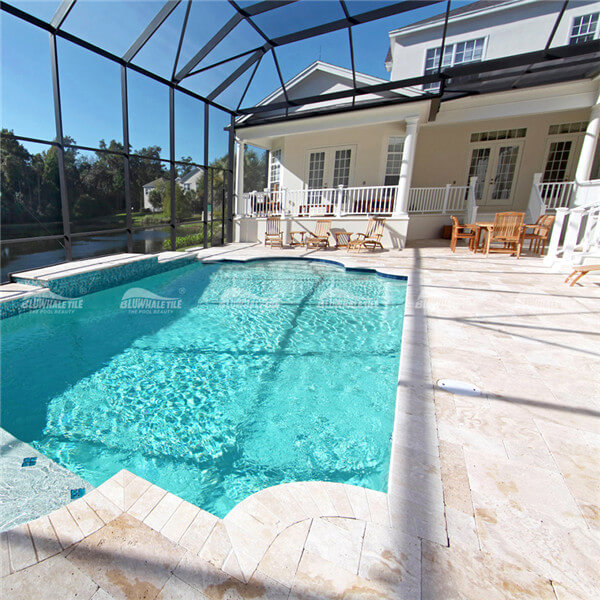 Featured Product: Natural Stone Swimming Pool Decking ZOD2902
Limestone Tile
Natural stone is extremely anti-slip and long-lasting, requiring almost no maintenance. Plus, limestone tile has natural friction which texture pattern will help increase pool deck safety. This pool deck areas exhibit a spectrum of light gray and black hues, creating an antique eye's feeling around the swimming poolside floor. The dark hues can make the mysterious and clam feel, which brings a cool feeling during the hot summer.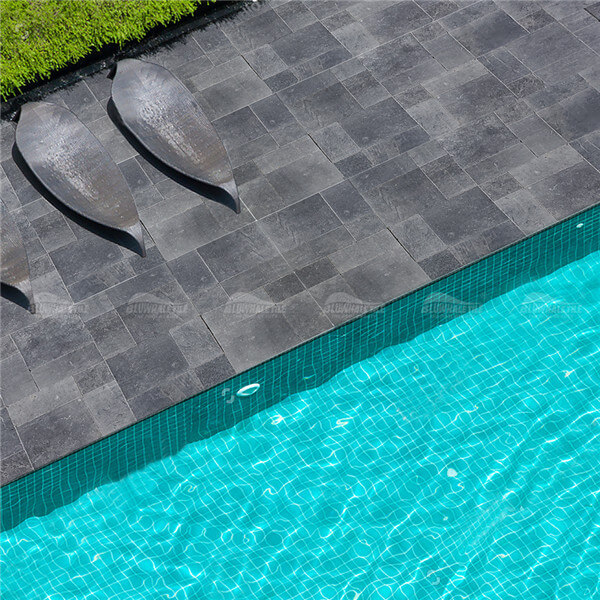 Featured Product: Thickness 25mm Limestone Swimming Pool Decking ZOD3001
Slate Tile
Few pool deck materials can offer the vintage style and rustic touching of our natural slate floor tiles. As the name suggests, it has a non-slip surface texture and finish that resembles a natural slate road. For these characters, the slate tiles will increase the visual style of a pool deck and meanwhile, provide the safety and fall protection the homeowner demand.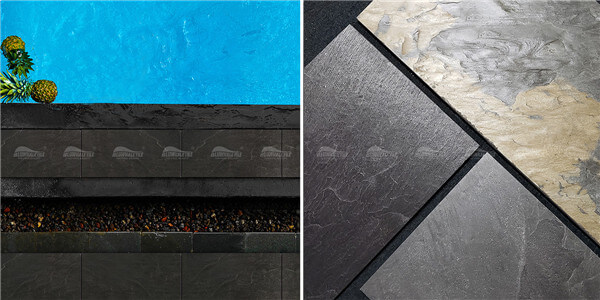 Featured Product: Black Natural Stale Tile 300x600mm ZOD3902
Travertine Tile
Travertine Matt stone tile now offers an even more economical option for nowadays pool deck design. Our two style natural travertine tiles are absolutely what you have been looking for. Whether 10mm or 18mm sizes, each of them looks so nature and highly non-slip surface due to its texture.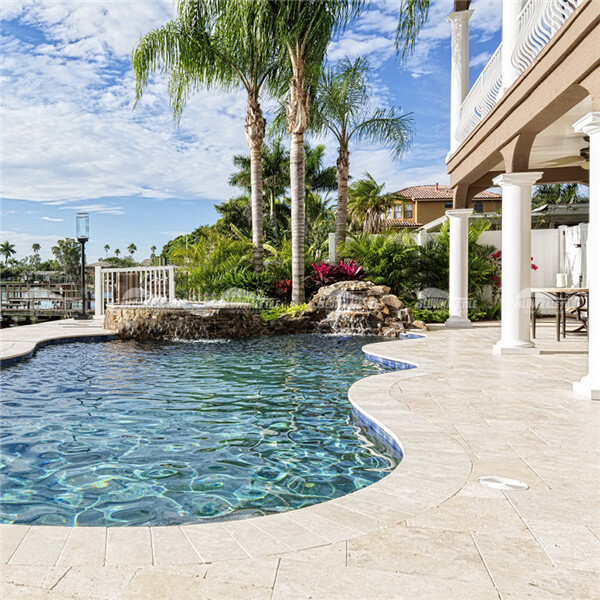 Featured Product: Natural Stone Style in 203x203mm, 203x406mm, 406x406mm, 406x610mm
Concrete
The concrete pool deck can become slippery while your feet wet, and make someone slips and falls. And its hard surface can cause injuries ranging from bumps and bruises to broken bones or even concussions. For the above reasons, you need to cover your surface with pool safety mats if you decide to choose concrete material.
More details of this pool project, check out our blog: Swimming Pool Project - Remodel the Backyard Space >>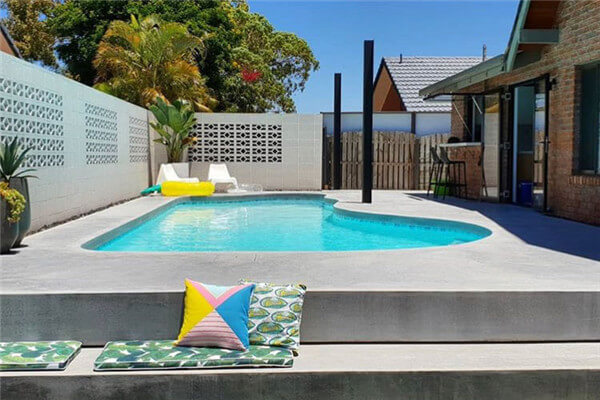 Feature Product: Santorini Triangle Blossom 2" Pool Tiles, Blue Mix, TR-SA-BL
Get Inspired?
Finished this blog if you're not sure which pool deck material is the right one for your upcoming pool projects. Let's speak with a member of our professional and knowledgeable Bluwhale Tile Team. We're so glad to help each client to design and plan their backyard renovation projects. If you're going to planning a pool deck or pool bottom pattern design, leaving your comment or contact us now! We'll help you to create the outdoor swimming pool area you've been dreaming about!