Above ground pools are the top choice for homeowners who are planning to build a swimming pool but aren't affordable for the more pricier option of installing an in ground pool. Affordability is the chief reason why cautious homeowners tend to choose an above ground pool. For homeowners who aren't prepared for the high maintenance cost of an in ground pool, or for those who love changing residences, above ground pools can meet their requirements. Above ground pool is an impermanent structure and you don't need to acquire technical skills to manage it. This kind of pools can be easily moved to your next house or a new dwelling, and all it needs is a new liner to be quickly reinstalled at the new location.

Most families who have small kids would like to install above ground pools because they enjoy the fun of getting into the water through a ladder, and what's most important, those pools are hardly accessible to young kids. As for those families, in ground pools possibly pose a risk to children playing around the deck due to ground level, and extra budget have to be spent on precautionary measures such as close supervision, pool covers, fences or gates for protection of their own kids and neighbor kids who could get into the pool area accidentally. Moreover, for house foundation that are not entirely horizontal or classified as rough terrain, above ground pools can be the solution. It's quite hard and costly to build an in ground pool in landscape where stratum comes in up and down shape. Above ground pools, on the contrary, can be fixed onto ground that has been leveled out with a backhoe and you never have to be anxious about what is beneath the surface.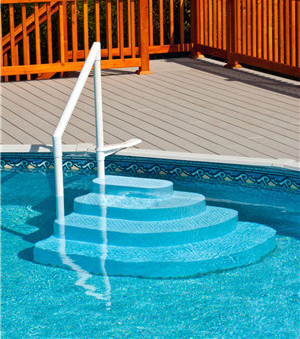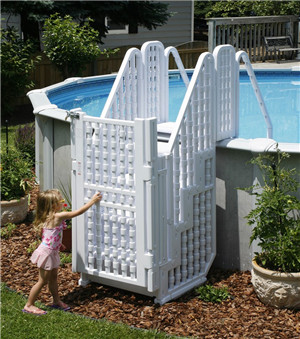 There are several things you should think ahead to ensure not to spoil fun of swimming in your above ground pool. Having a pool in right size with right facilities is vital, and you should follow the principle that the size of pool is supposed to meet your requirements, the surrounding and your budget. How many people you want the pool hold? Is it just for you and your spouse, or a small family? Do you need to make room for your neighbors and their kids who would join in sometimes? Do you prefer just frolicking in the cool water or get physical training as a goal? Think over seriously your needs when deciding the size of pool. And the price problem. There is nothing worse than having a pool but you can't swim in as the water appears green and cloudy. BluwhaleTile's suggestion is to go with the largest pool, with the best facility that you can afford.
Measure your yard very cautiously before buying a pool. BluwhaleTile has participated in many pool projects and often hears customers share their experience about how pity finding the pool didn't fit in the yard when installing. Just some marking spray paint and a long tape measure can help you avoid the trouble. For a round pool, put a bolt driver through the gap in the end of the tape measure, and fix it in the ground. This is the center point by which you can line out the pool radius. The least amount of space you would need to install a pool is its size plus two more feet. For instance, a 18' pool you would need a 11' radius. For an elliptical pool, mark it from end to end and joint the two extremes in radian line that goes down the sides. You can mark out diverse sizes and try different radian line until you find the right size and shape for the place you want to place pool on. In order to visualize the shape clearly, you can mark it hard on the ground.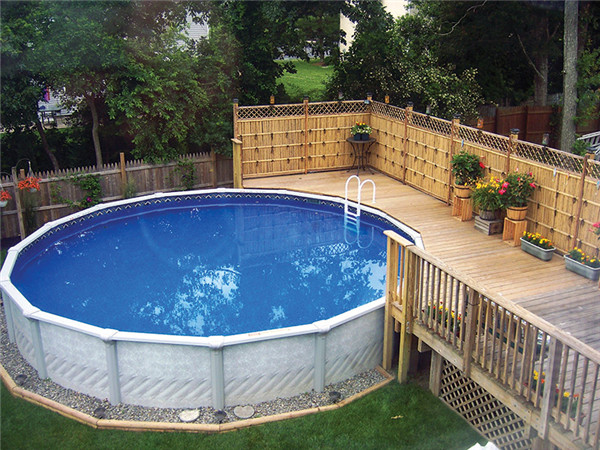 After deciding on the pool you're dreaming of, there is one more thing you have to consider, that is, in which way you want to buy a pool, from a local store or an online supplier. A local store can offer great convenience for a new pool owner and even can serve as your private consultant whenever you have trouble during the installation. On the other hand, you can choose online buying which is less costly if you already know some basic knowledge of pool. A local store can help with things like installation, facility and chemistry balance of pool water. A good store aims to get loyal customers by offering considerate service so they will take very good care of you. Online purchasing can be a wise option if you believe the shop can give you best product and you know the right facilities to fit with it. You will have to consider many details like resin or steel top rails, sand or cartridge filter and A-shaped ladder or common steps. There are many options so knowing what you want is important.
BluwhaleTile is a pool tile mosaics wholesale company. We have 15-year experience in producing different kinds of pool tile that fit your needs. If you're planning to choose a luxurious pool construction option - in ground pool to level up your property, welcome to contact us TODAY at http://www.bluwhaletile.com for more pool finishes info and professional pool maintenance advice.