By transforming the visual effect, the swimming pool color can have a huge impact on its appeal, which is a key element in the overall design. Today, homeowners and businesses are free to choose their perfect shade. After all, for many a pool is not just a pool – it's the part of a lifestyle. The pool must accentuate its surroundings and provide an attractive focal point. With aesthetic factors now priorities for customers, the color of the pool has become increasingly important.
Are you looking for crystal blue water that is ocean tone, a dark blue that resembles the calmness of deep waters, or somewhere in-between? In this article, we will share the seven welcomed pool color for your reference:
Light Blue
It never goes wrong with a swimming pool in classic standard blue. Furthermore, light blue is a timeless and inviting tone, which works well in all weather and with all surroundings. The pale blue pool tiles will enhance the natural translucency of clean water and create a crystalline visual effect. Under the shining sun, the pool will appear almost luminous. With the fresh wind across the swimming pool, the waves will form which echoes the fish scale shape.
Featured Product: Frozen Fan Shape Crackle Blue BCZ611-B
Bright Blue - Ocean Blue
The peaceful water will reflect a bright blue sky. That a truth! The reason why the same water will keep blue no matter under overcast weather or indoors is that the interaction of water molecules with quality light, not a reflection. In addition to this, the colorful mosaic has a great effect on the apparent color of the water.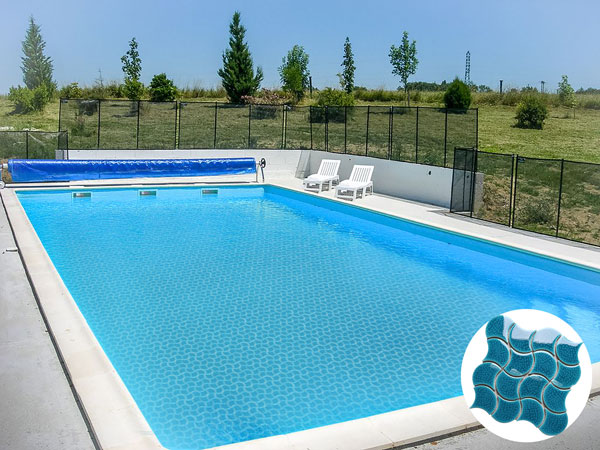 Featured Product: Frozen Fan Shape Crackle Heavy Crackle Blue BCZ714-B
Medium Blue - Sapphire Blue
The medium blue color is the in-between of light and dark blue color, which looks like a sapphire. Instead of the light blue, introducing the sapphire clue on the inside and allow the natural daylight to reflect its own characteristic beauty. That is exactly what the owner of this wonderful swimming pool on the below design did, which mirrored a special blue sky and never did lose acceptability.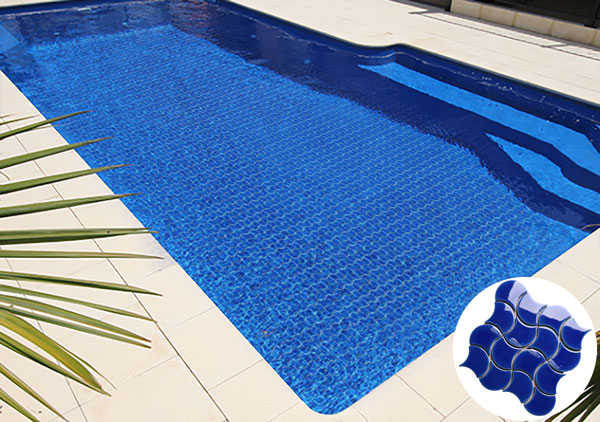 Featured Product: Frozen Fan Shape Crackle Ocean Blue BCZ631-B
Dark Blue
Are you having more interested in a darker shade of blue? Bearing in your mind that the darker pool mosaic color, the deeper the pool will look. Therefore, without having to build an extremely deep swimming pool, you just need to choose the swimming pool mosaic of similar color. For example, this dark blue fan-shaped mosaic will combine well with your dark hues stones as well as make your pool feeling more cooler and deeper than it really is.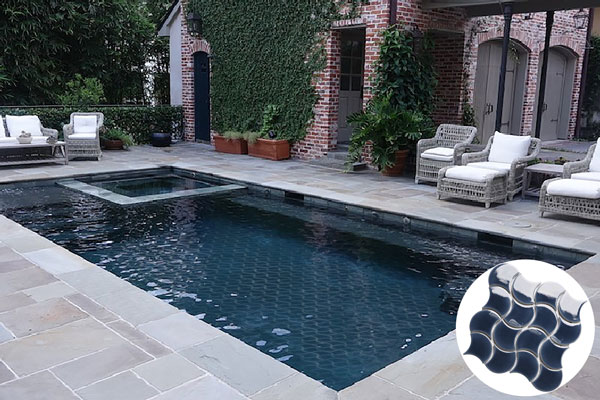 Featured Product: Frozen Fan Shape Crackle Dark Blue BCZ610-B
Gray
Is it hard to imagine a gray pool? As actually, in the past the general material of gray is plaster but recently porcelain mosaic had become a trendy pool material. Not only due to its durability and less maintenance cost, but also because of its outstanding ice-crackle surface and classic fish scale shape.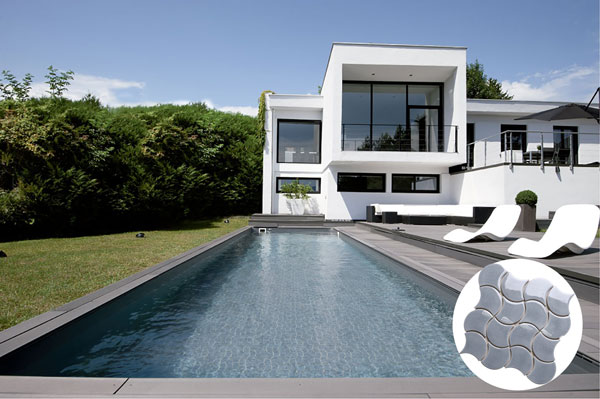 Featured Product: Frozen Fan Shape Crackle Gray BCZ304-B
Green
For those of you searching for a material that will bring you aquamarine water, you might need to select a porcelain pool tile with bright green. As a matter of fact, many people think green pool water carries a negative stigma. The reason is that it has been associated with unhealthy water in the past, and if a swimming pool water chemistry is neglected, the water will turn ugly green from algae formation and become unsuitable for swimming.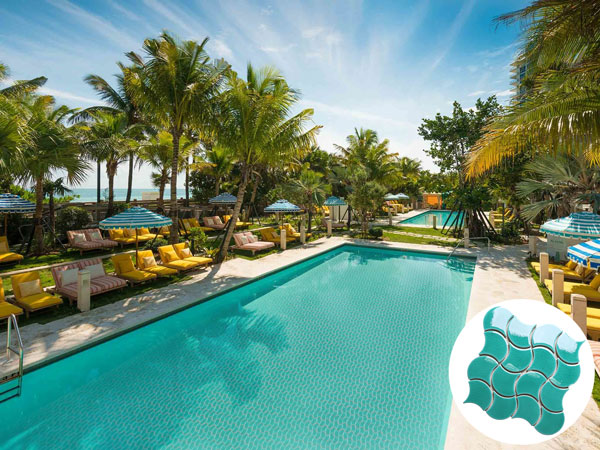 Featured Product: Frozen Fan Shape Crackle Green BCZ707-B
However, turquoise water is achieved in a pool with healthy water chemistry due to the interaction of this Ice-crackle fish scale tiles and emerald green plants with the bright blue sky. This inspiration is fairly elementary here, with cotton white clouds, viridity trees, and young yellow benches. Over the years we have seen some attractive pools with green water created by our delicate mosaics, so don't be tied down with the common blue color. What's more, pairing with the same color waterline, your pool will more oceanic.
Featured Product: Green Seashell Pattern BCKB701
Red
Here's a stunning color that few people will use. It's bold red which rarely associated with swimming pool tiles. This spectacular red pool is perching on the beach, surrounded by sapphire seawater, standing out for its vermeil brilliance.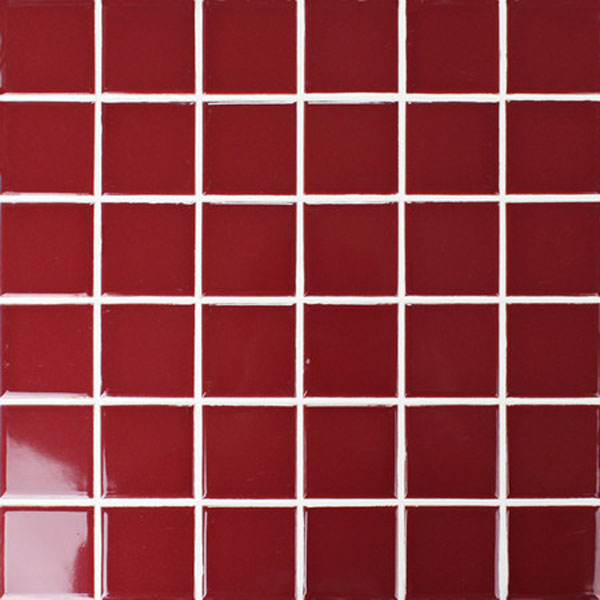 Featured Product: Classic Red Glossy BCK401
The marvelous palette glance is achieved due to a special mosaic tile with a classic red glossy tone. The inspiration harmony is composed of berry color loungers and bright red sunshades. The sparkly red domination with a distinct contrast to pure white and verdurous colors of beach and ocean nearby.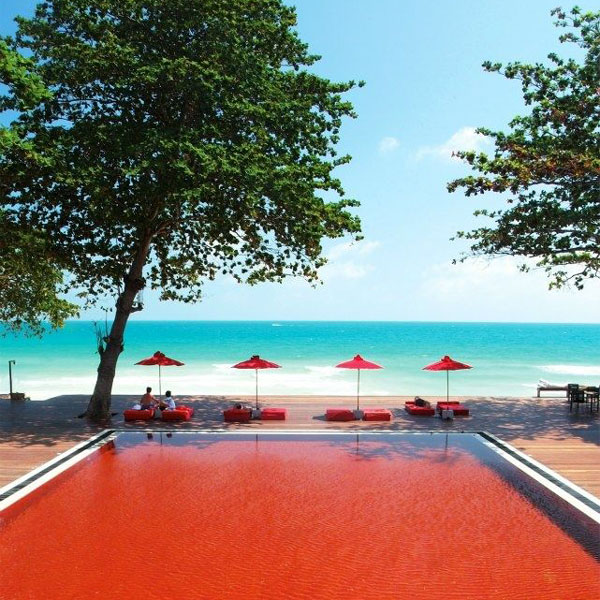 Swimming color is important to the whole appearance of your pool hence you need to pay more attention to choose a suitable tile color. With over ten-years experience in manufacturing pool mosaic and exporting, Bluwhale has a range of pool tiles color for your reference, you will fall in love with our multicolor mosaic. Don't hesitate to contact us for samples!