Are you having a remodel project on your backyard swimming pool or looking for a new building? Fortunately, there are various shapes and different sizes available suggestions for your private pool. The surrounding environment is the primary concern while remodeling a pool as it places the right frame of mind. Anyway, the new swimming pool design trends are gradually diffusing across the industry. For example, offering more amazing features that provide more uniqueness and excitement or fantastic style to your pool designs.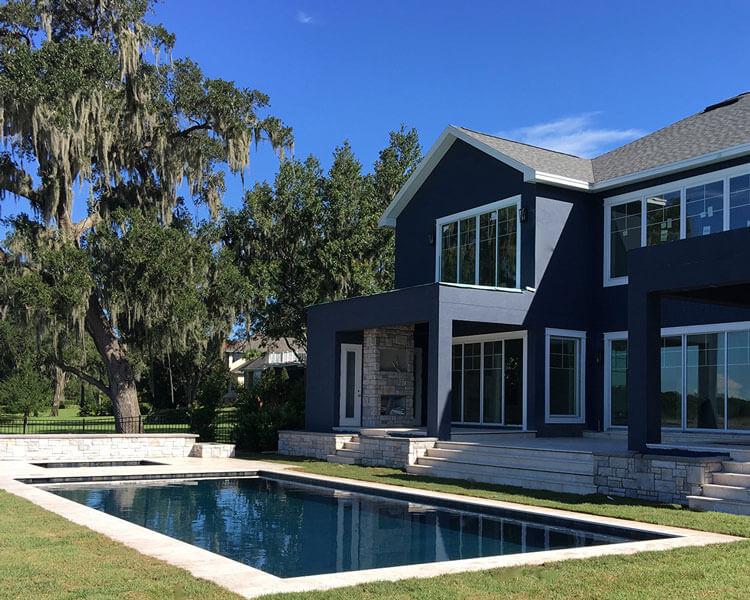 The peakedness of backyard outdoor living entertainment is to have a pool. Nonetheless, building a backyard pool anywhere without a comprehensive design vision will lose your home value rapidly. In other words, a swimming poo determines the value of a house. As a matter of fact, days are gone of a plain swimming pool. Paying more attention to the most up to date summer pool trends and creates a space for training and relaxing. Following the latest summer pool designs and features will make your pool unequaled.
1.DARK INTERIOR COLOR
Light blue used to be popular. But with the trend towards dark color tones, more homeowners prefer to choosing dark tones swimming pool mosaic tiles which creates a cutting edge feeling and make an atmosphere of placing yourself in a lake or an ocean. If a pool with a floor and border in dark tones what have you is heated more easily by the summer hot sun, but also miraculously seems cooler and deeper.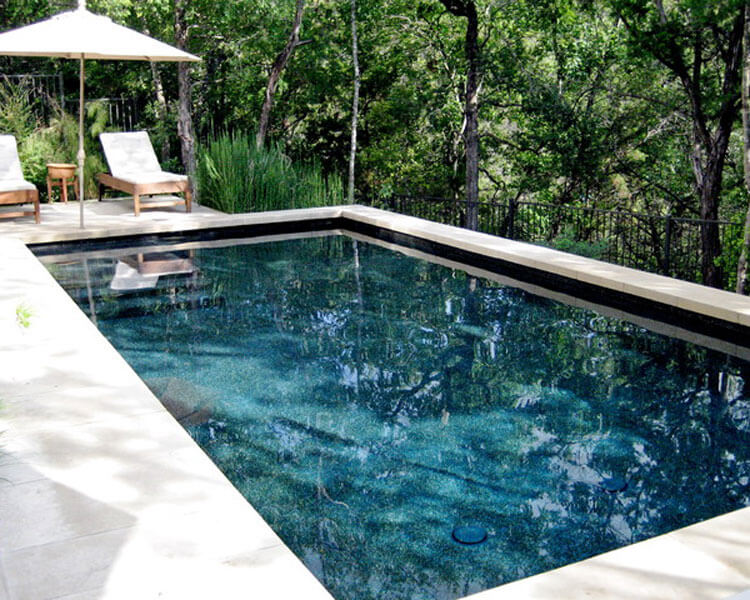 What's more, the surface of dark color will reflect the surrounding plant or decoration, which makes mysterious and mirrorlike effectiveness. On the other hand, the little chip or dirt will not show up as easily that makes your swimming pool look immaculately clean without your extra toilsome work.
2.NATURAL SURROUNDING DECOR
Making full use of natural stones like Mushroom stone, Hewn rock, are famous pool enclose and outdoor backyard materials. Mostly these stones in our Stone Veneer Collection all have the inartificial finish for slide resistance around the pool.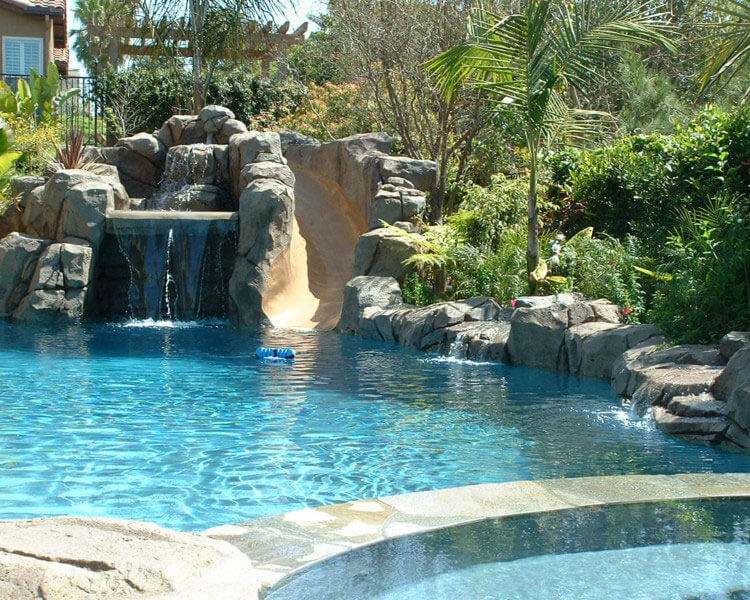 Except for natural stone, as we are fond of saying, never underestimate the versatility of landscaping, which enhances a little value of your backyard. Green plants and flowers can transform the outdoor sights just like the paint have the ability to influence a room ambiance. Why not built your unique backyard plant design to add an abundant feeling to encircle your dark tones swimming pool. There is an important point that choosing the plants which thrive your climate.
By the way, choosing the same tones waterline pool tiles could make the overall landscape even better. The suitable color of waterline tiles can give the pool color a better transition to the plant color.
3.FIRE AND WATER
The trend of adding fire and water features are on the top of the swimming pool trends list. More and more customers design ideas share to us that they tend to build fire and water combo features to get the enjoyment of sound and vision.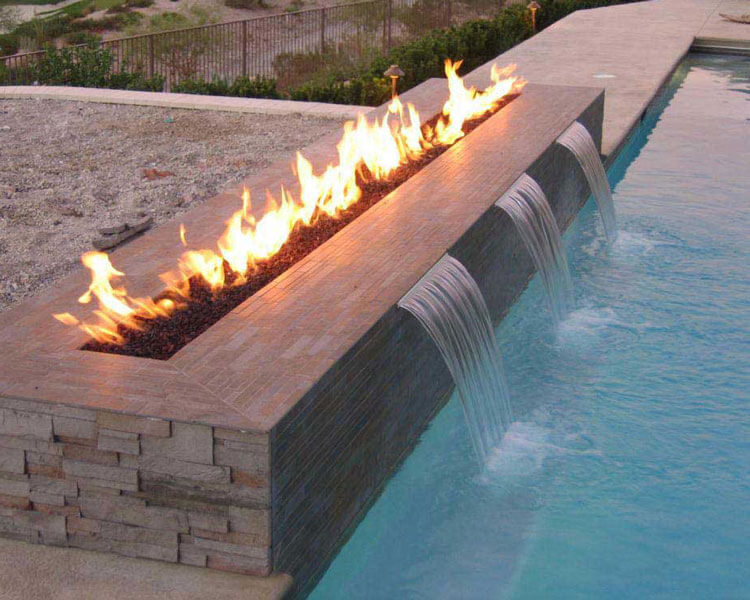 While putting this combination into your swimming pool, you might increase the beauty and exhilaration to your backyard. Your characteristic preferences and wild imagination will take you to endless inspirations of what you look for in a summer pool design.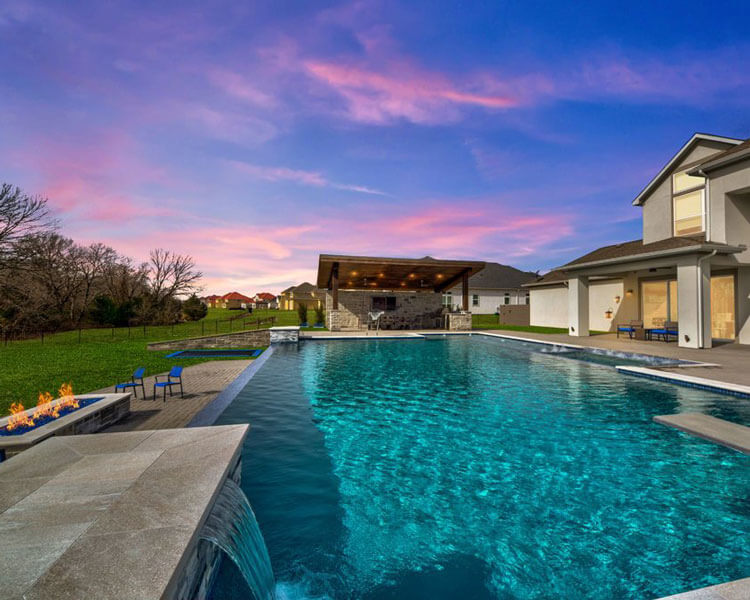 4.SWIM-UP BAR
When it comes to 2019 summer pool design, building a swim-up bar can not be neglected. Many homeowners have a plan to improve their outdoor living spaces by this new design trend.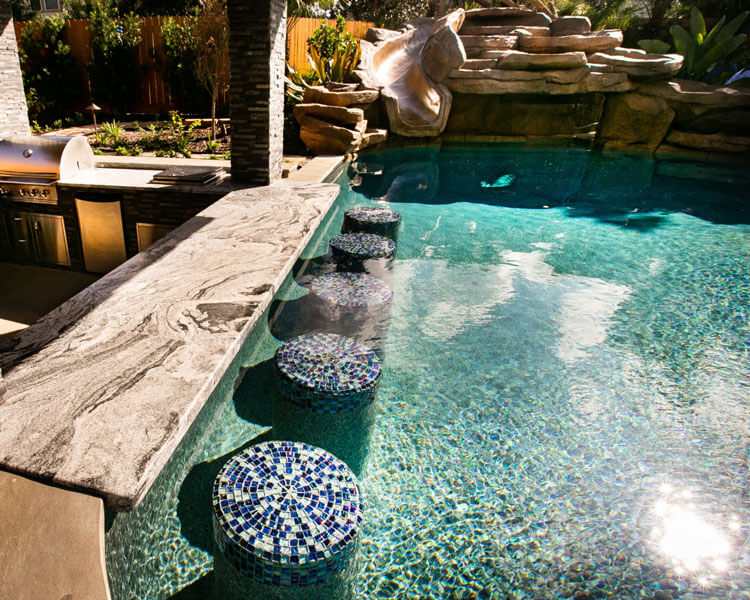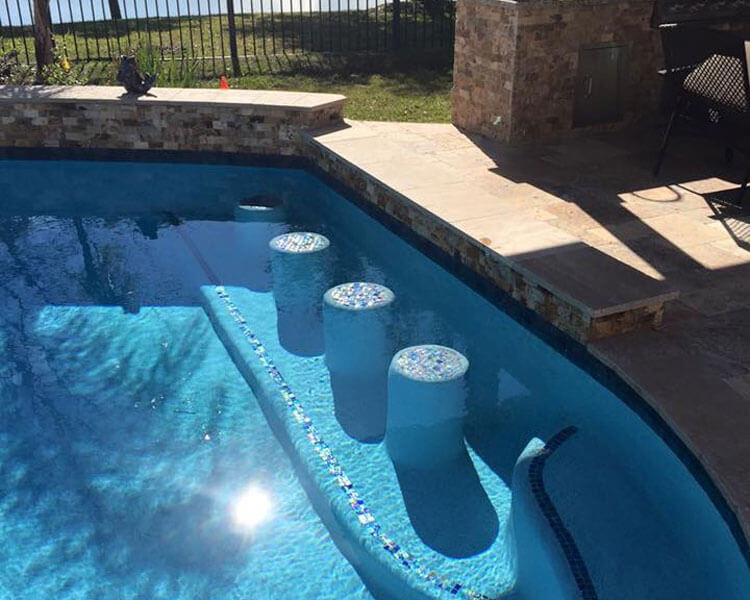 The swim-up bar makes it convenient for guests to have a cocktail without getting out of the pool. You can also offer the seating using a built-in stool or select the different color mosaic pool tiles to separate it from the swimming area.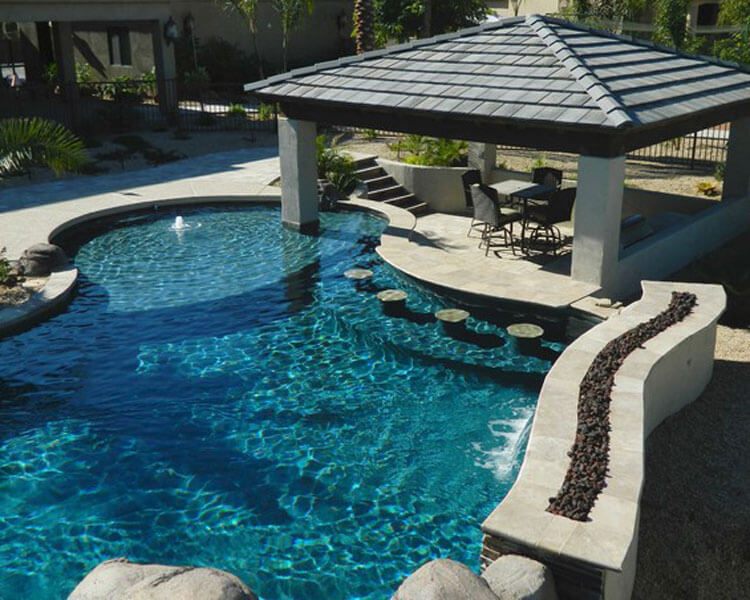 5.INTELLIGENT TECHNOLOGY
The intelligent home technology continues to cause a sensation in pool designs. House automation features like this allow you to control pool lighting by your phone. They not only can set the temperature of the pool when you are not at home but also select the soothing pure music for your outdoor speakers, which can prepare the right mood and comfort ambiance before you even back home from busy work.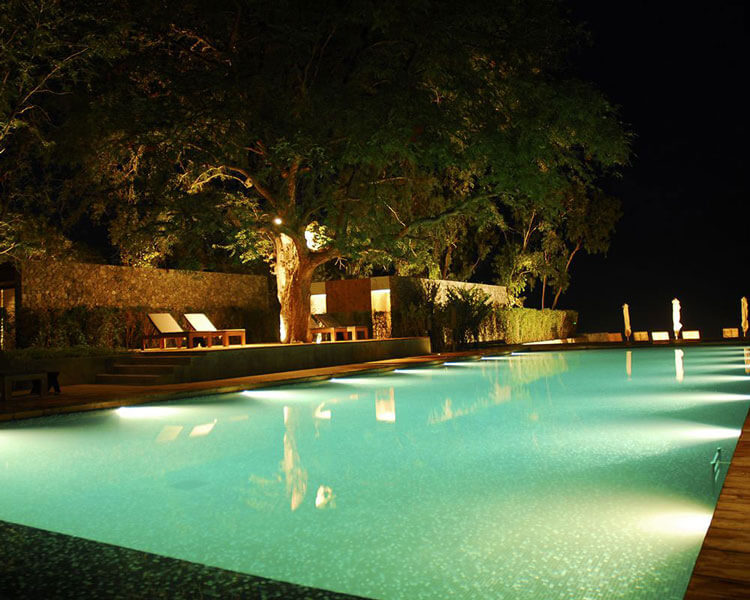 Furthermore, natural light is another indispensable element in the design phase of the trend. Instead of the typical white incandescent lights and halogen lights, smart light does not only used for visual factors but the health and the energy-saving benefits. This smart technology gives the change for homeowners to customize the whole look of the pool by changing the light color and brightness. With options that turn off or turn on, you can set any mood as you like, which makes the light pairing well with the classic pool tile and also leaves a deep impression on your guests.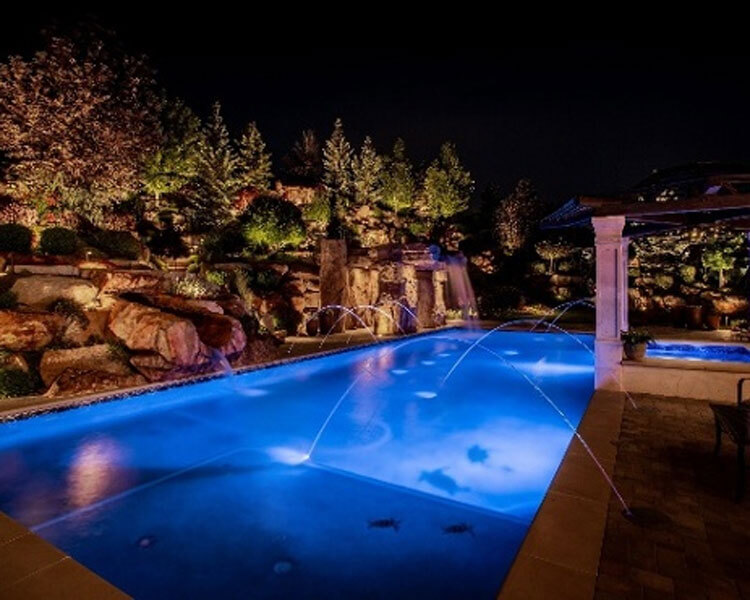 6.PARTICULAR POOL SHAPE
So many summer swimming pool design has been introduced above and you might have a problem that what is the popular pool shape in this summer. In terms of the issue, we have detailedly shared at the previous post and minutely described the shapes of rectangular, roman-shaped, oval-shaped and so on. Highly recommend: 7 Popular Swimming Pool Shape Ideas For 2019 Summer >>>
Get this summer swimming pool to remodel inspiration? Inquire us for more pool knowledge! As an experienced swimming pool porcelain mosaic manufacturer, Bluwhale Tile will provide the premium product at a reasonable price and share more our global customers' swimming pool remodel project for you.