When you have a plan to build a swimming pool or remodel the existing one, there are many things you need to think about especially when it comes to swimming pool tiling. You want to make sure that the pool mosaic tile you choose is the best suitable type that plays a positive role in enhancing your house. So how to know what type of tile fit your pool best? This article by BluwhaleTile will give you a satisfying solution.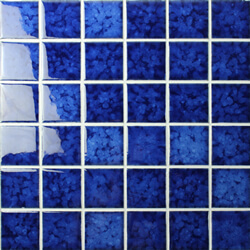 First, you should be acknowledged that there are many types of pool tiles in the market. Each of them has its specific application. Some are specially used on the pool bottom such as non slip pool tiles while others are maybe only just for the surrounding area such as deck tiles. Also, swimming pool tiles can be made of many different materials, and each has its pros and cons. Picking pool tile in what material depends largely on what you want your pool looks like and how much you pay attention to its practicability or decoration. In following paragraphs we will discuss more in details.

Ceramic mosaic pool tiles usually have a close glaze coat. That largely determines their possibility to be used in pools that have water being treated with large quantity of chemicals. Glaze coat can protect tile from erosion so in other words can extend its service life. This is also the reason why ceramic mosaic tile can keep its brand new look even swimming pool has come into use for a period of time. For places where are likely to endure severe cold every year, ceramic pool tile is a top choice. This is because this kind of tile is not easy to crack and break even being left unprotected. Yet, you need a premium mosaic pool tile supplier to help you achieve it, as it is only quality glazed pool tiles that are able to withstand long-term chemical erosion.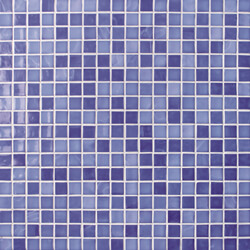 Glass mosaic tiles for swimming pool are a little different from those commonly used in dry space. They have better performance in water absorption rate. Besides, shimmering surface is one of the prominent feature that cannot be ignored. Compared with the glossy coating of ceramic pool tile, glass tile has a fine and smooth surface that not only can be made opaque, but also semi-transparent and transparent. Even, the glass body can be inserted with some decorations such as a reflective mirror. In the industry, this tile is called glow in the dark tile. It is popular in swimming pool tiling and people use it to achieve a magnificent outdoor pool design, since sun shine would enhance its sparkling beauty. What's more, glass pool mosaic tiles are great to create a luxurious fountain backsplash. Water shines gorgeously when falling onto the tiled wall.
More important, when choosing pool mosaic tiles from many different types, it is best to choose those are slip resistant. Anti slip pool edge tile and pool step tile are very important, as they can reduce the risk of slipping down greatly. That means a lot to your family especially you have kids and elders engaged in the swimming activity. For more tips about how to choose a non slip pool step tile, article How To Choose The Right Pool Step Tiles? can help you.
Swimming pool tiles have many advantages and have been made to bear color fading. Any type of pool tiles have its own way to make swimming pool look more eye catching and tasteful. The inside of the pool that has been thoroughly tiled always can show pure style. Having a swimming pool that is tiled with different kinds of pool tiles in various colors, sizes, shapes and patterns really acts as a wonderful oasis and add great value to your property. With well designed pool area, any type of home improvement can be enhanced by choosing the most proper pool tile. BluwhaleTile is a pool tile company that can help you find the best tile for your pool. Welcome to visit us on http://www.bluwhaletile.com for more pool tile options.