It's chilly winter. Do you still feel regretful for not having an enjoyable summer with your families due to the lack of a private swimming pool? Why not to build one yourself and start to have a brain storm in snowy days, as you have trouble going outside anyway. In the phase of construction, there are many unexpected problems that would happen. You should have a detailed plan in mind before break ground. So today is the day to go deep. This post is specially for beginners.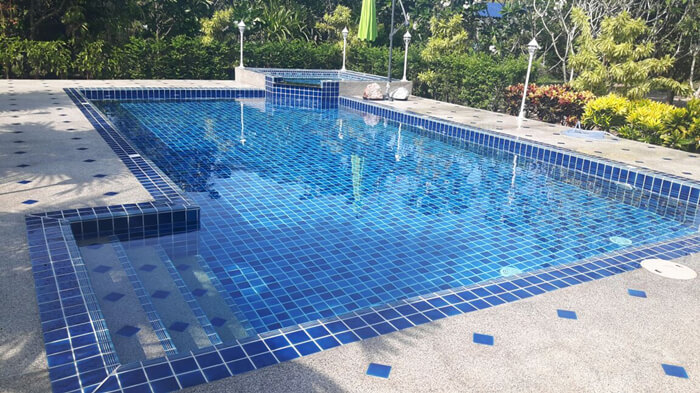 Building a pool is more than just choosing a favorite and have it established. As a vital extension of your property, building a pool is a step-by-step process that you should carefully follow. Skip or ignore any step then you might find construction cost skyrocketing, and what's worse, engineering accidents might occur. Following are some items to consider before a pool construction.
What's your dream pool is like?
The first thing that you need to decide is what kind of pool you aspire. It can be an inground or above ground pool, concrete or fiberglass pool, all counting on your need and budget. Pools vary in a wide scope of size, shape, material and style. Think about the following mentions.
What pool design/style do you prefer? Any additive features?
What's your building budget?
How much room are you expecting to leave for your swimming pool area?
Who will be using the pool?
Plastering or Tilling? If tilling, glass mosaic tile or ceramic mosaic tile for your swimming pool?
How much money are you going to spend on pool maintenance?
What safety measures are you going to take? Consider the needs of elders, kids and pets.
……
Also think about what you want to use your pool for. If it's for extracurricular exercise or professional training, a long rectangular pool can be a best choice. If your courtyard space is limited, a plunge pool with consistent water jets may win your appreciation. Water jets allow you "staying in place" by pushing current you have to swim against. If you have kids or pets, you may want a pool with shallow-water area. You might also think about a separated children pool to lessen accidental possibility.
For more info about different pool types, you may like these posts:
3 Most Popular Inground Pool Types & The Things You Should Know>>>
Install a Concrete Pool that Blends into Your Backyard Landscape>>>
Get a Geotechnical Survey before Excavation
Many property owners install pool in a wrong way that cracks will appear on the plaster and tiles shortly after the project completes. They often blame the installer, but the fault may be in the soil or land stability. Concrete pool must be built on a rigid base because of its heavy weight and low extensibility. If soil layers are shifty and unstable, leaks are more likely to appear. A geotechnical survey can tell you if this matters a great deal. You may change to install a fiberglass pool or spend extra money to make the ground stable.
Once geotechnical survey shows the soil is in a feasible condition of engineering, excavation can be undertaken. Excavation plays an important role in the construction of inground pool. It's not as simple as just digging a hole and inlay the pool. How large the courtyard is, what the shape, and where you want to place your pool entrance. These are the problems you have to figure out. You may also need to consider the placement of any piping or facility lines. It's a safety matter no pool owners should ignore.
For detailed understanding of pool construction, you may like this post:
What You Don't Know About Pool Construction>>>
Pool Installation
Pool installation includes placing the pool (if a fiberglass or above ground pool), installing and testing all the necessary facilities such as filter, pump, heater, circulation system, etc, plastering or tiling pool wall and bottom. Pool tile surfacing is a common option but a great technical and laboring work. First of all, pool tile materials should be carefully selected. They have ceramic, porcelain, glass, mosaic and natural stone and all have pros and cons. It's suggested to choose pool tile with unique pattern and create a personalized pool style.
By the way, tiles really matter to the look of a pool. You are suggested choosing a reliable pool tile company for tile purchasing. BluwhaleTile is such a pool tile supplier that specializing in providing all kinds of swimming pool tiles that are made of ceramic/porcelain, glass, stone, etc.