When it comes to choosing mosaic tiles for decoration, most people will consider about the tiles' colors, sizes and shapes. Color is also the first factor I would think about, for which will influence the interior vibe a lot. Today we are going to recommend one of our newest mosaic tiles for 2019, featuring a turquoise green color and slim strip shapes, which is ideal for both residential and commercial space use.
If you want something can refresh your space easily, green mosaic tiles would be the ideal choice. Compared with light green color, darker green color looks more exquisite and a bit more vintage, working wonderfully to make a striking look.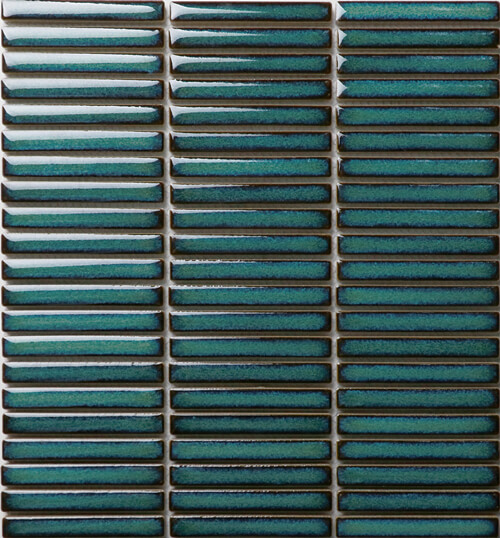 Featured product: 12x92mm dark green porcelain strip mosaic BCZ920A
This tile sheet is a stack bond sheet, if you want a tile pattern for neat appearance and not too overwhelming, this one is a good choice. The green color is manufactured with variation, that makes this green unique and beautiful. Glossy glazed surface process makes it easy to clean, and mesh back design makes your installation simpler. It is made of premium porcelains, that means the tile is durable, high performance and low water-absorption rate. Suitable for wall and backsplash design in kitchen, bathroom, shower and any other rooms.
Still have no idea to design back splash for kitchen? Mosaic tiles is widely used for bathroom and kitchen backsplash decoration, for they have numbers of colors, shapes and styles to choose from. Look at the green kitchen backsplash design below, the stackbond decorative tile strips creates a modern and subtle look, unquestionably, you kitchen design will never out of fashion.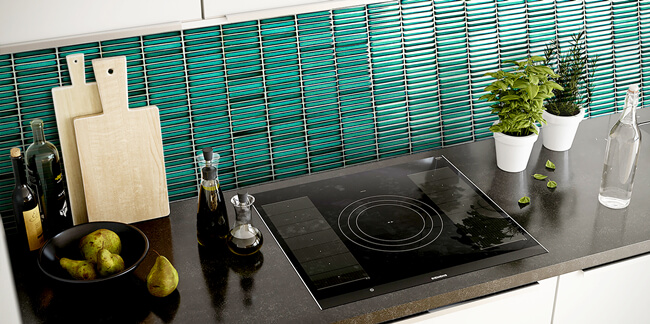 The green finger mosaic tile also works well in bathroom. The color is a little bold, and you don't have to cover the entire bathroom with the tile. Good example as below, the combo of green strip bathroom tile and big hexagon tile in neutral color installs a contemporary shower place for you, it is natural and feel comfortable.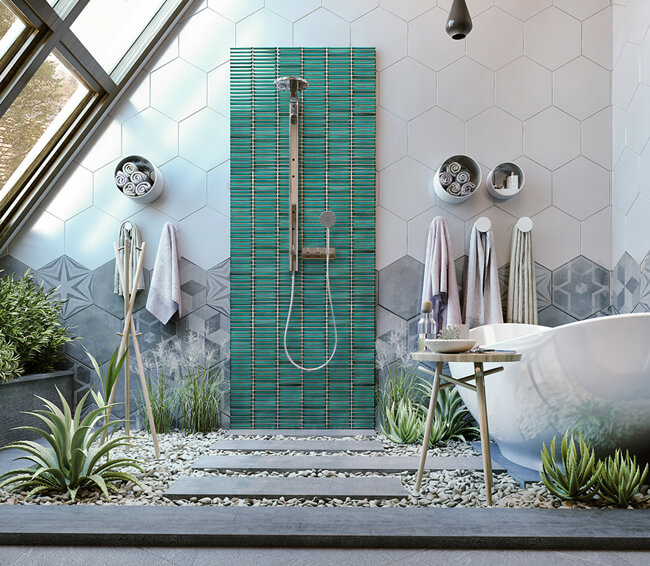 Have your got some design inspiration from our green porcelain strip tiles? Or finally if you still think its color is hard to handle, the tiles also supply other colors for option. Contact us for best pricing and more product details of you are in market for this tile design.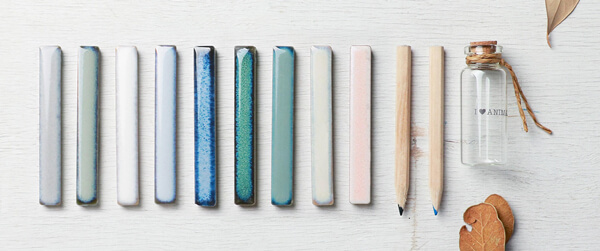 If you love this tiles post, you would like to read another post: New Collection: 20x145mm Stack Bond Porcelain Mosaic Strip Wall Tile >>
Bluwhale Tile is a professional pool tile manufacturers from China, we have over 10 years of experience in mosaic tile production and export service, we are committed to provide more and more nice products for our customers worldwide. Looking forward to hearing from you for cooperation.