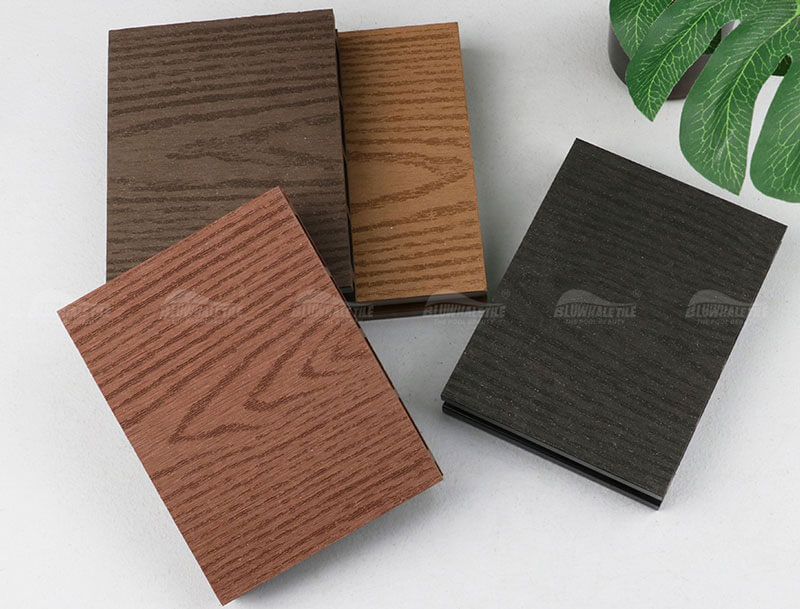 Did you have some pool deck tile ideas? What is a good way to create a comfortable relaxing space near the swimming pool? Maybe building the cozy decking areas. Paving the pool decking is not only to enhance the modern appearance but also to make the pool leisure space good for weekend BBQ, having a sunbathe or gathering friends.
Generally speaking, solid wood, composite materials, natural stone, thickness porcelain tiles or concrete can be used as decking materials for pool leisure areas, different materials can get access to function and effectiveness. Bluwhale Tile recommends choosing wood plastic composite decking boards as your swimming pool decking material, which is a very welcomed solution at present. Our new arrival WPC pool decking is composite of 60% wood-flour, 30% PE and 10% Chemical Additive. It has high strength compared with wood, not easy to surface crack, can better resist failing, it's especially suitable for a relatively humid place like the swimming pool decking areas. The owner needn't worry about spending more time to repair the pool decking every spring season. If you make a comparison with porcelain tile, natural stone or solid wood, you might find that wood plastic composite is more comfortable. It's not only highly anti-slip but barefoot security.
Now we're preparing to introduce our new arrival wood plastic composite for pool decking for you, including square hole type featuring 2200x140x25mm and 2800x140x25mm, and round hole type WPC, featuring 2200x139x23mm and 2800x139x23mm. What's more, including 300x300x23.5mm size. Keeping read on our blog for more details of our new WPC products and to see how WPC make a splash!
Look At Round Hole

The solid wooden deck material can be an expensive choice if you use expensive woods, for example, redwood but can be more cheaply built with less costly woods. The design of this round hole wood plastic composite is very flexible, featuring 2200x139x23mm and 2800x139x23mm. WPC is a good contrast to the harder materials paved around pool decking areas and offers a great transition to natural space. Moreover, you can cut in different sizes in the actual condition.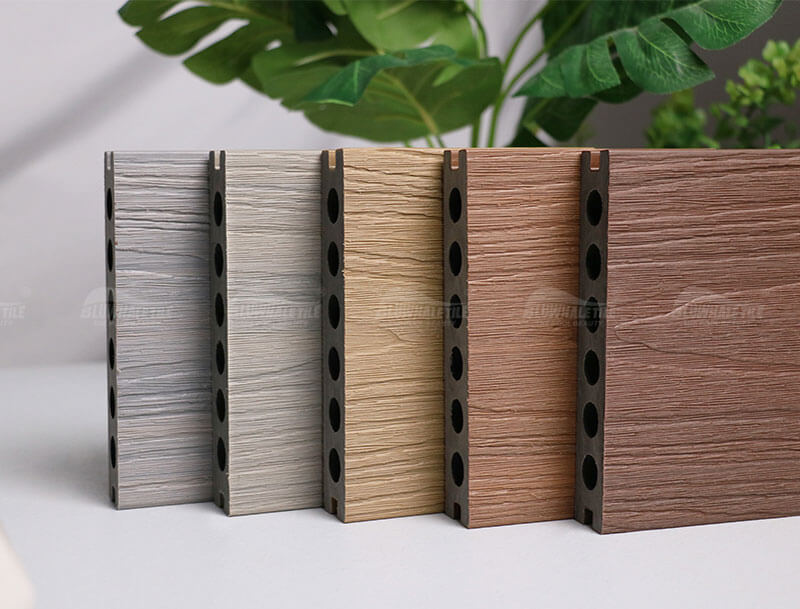 Featured Product: Round Hole Wood Plastic Composite Decking WPC904L-2

The grayed wood plastic composite decking is the perfect complement for a pool leisure space that looks out the blue ocean. The plain planks, minimalist coping, and pure white stainless steel handrail come together in a style that is the definition of simple pool design beauty.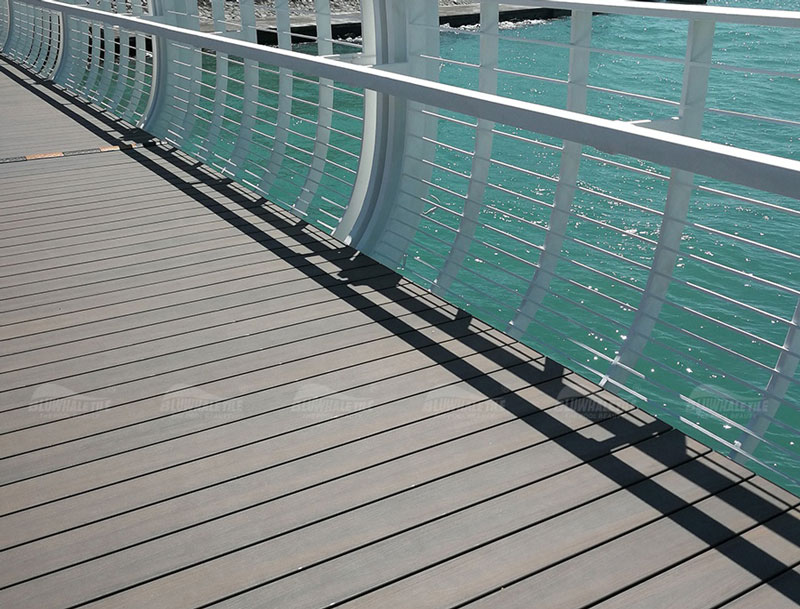 Featured Product: Round Hole Wood Plastic Composite Decking WPC903L-2

The natural brown WPC pool decking creates a vacation style look. And who wouldn't prefect to hop out of the pool after a cozy night swim and get relaxing by the sun lounger? The decking areas and coping are natural wood color, which pairs well with the sky blue pool water. For more stunning swimming pool design here: Infinity And Open-Air From Rooftop >>>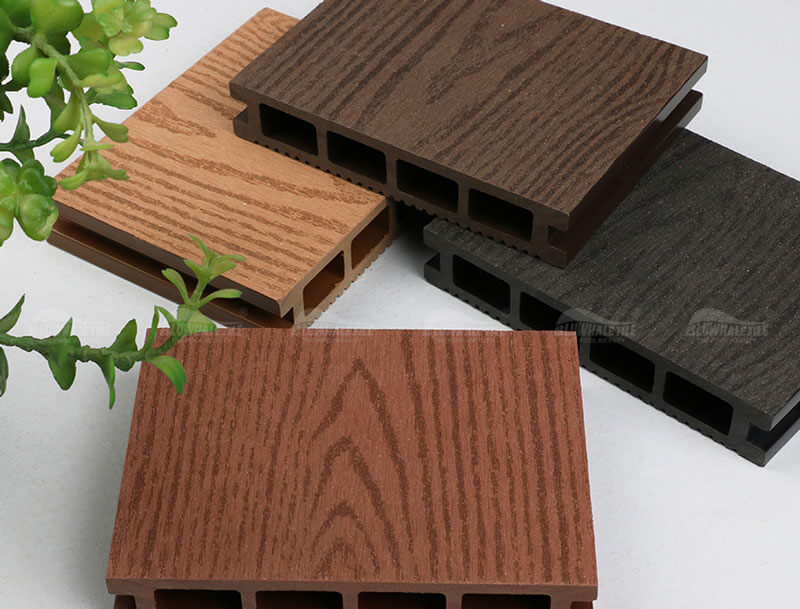 Check Out Square Hole WPC Series

If you've got your custom swimming pool in your mind's eyes and it's wonderful. It's a good design of art that could easily stand alone as a fabulous focal point for your pool leisure space. But as long as you get ready to invest in a creative swimming pool, why not go all the way and improve the beauty of the pool surrounding area with eco-friendly WPC materials?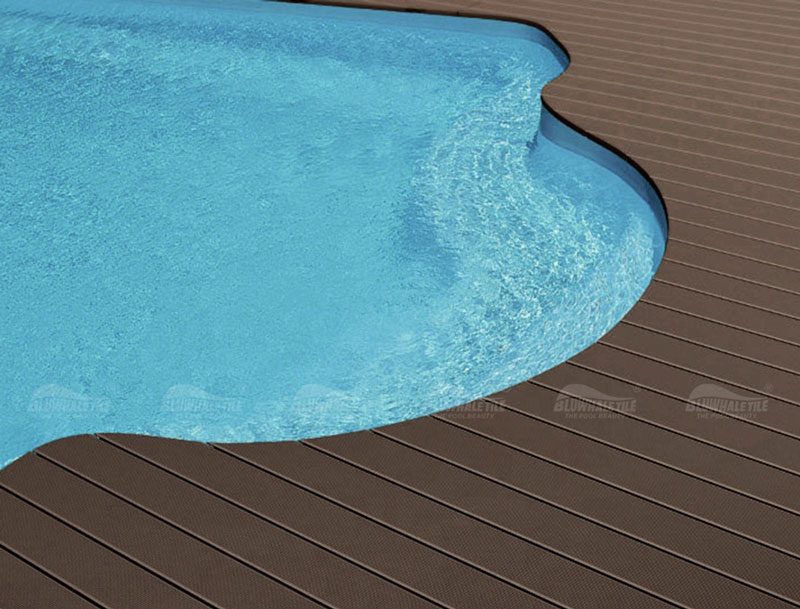 Featured Product: Wood Plastic Composite WPC902L-SH
Don't forget your sunglasses while you're lounging on the comfortable sun lounger. Its elevated position, light blue pool water surface, and black wood plastic composite decking finish a design everyone might say are brilliant!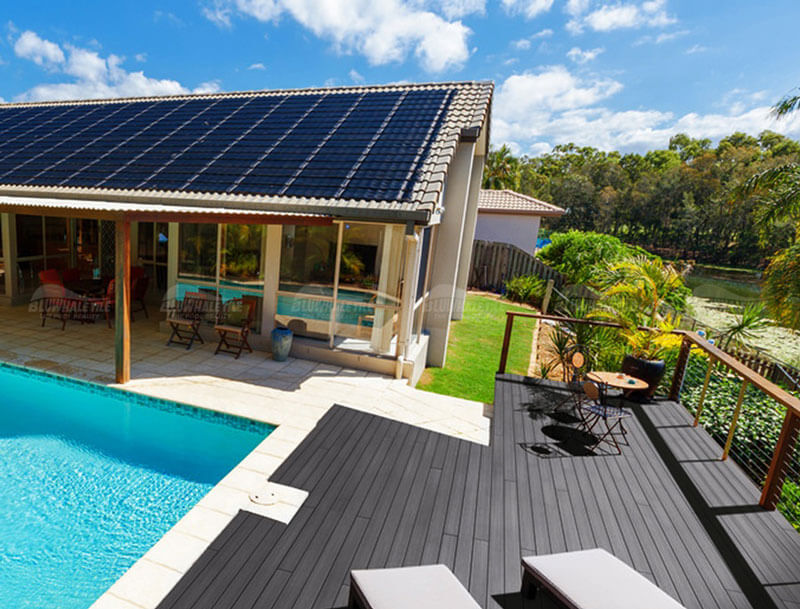 Featured Product: Wood Plastic Composite WPC903L-SH
The beautiful brown color palette for the materials surrounding the pool decking makes its pool watercolor all the more vivid!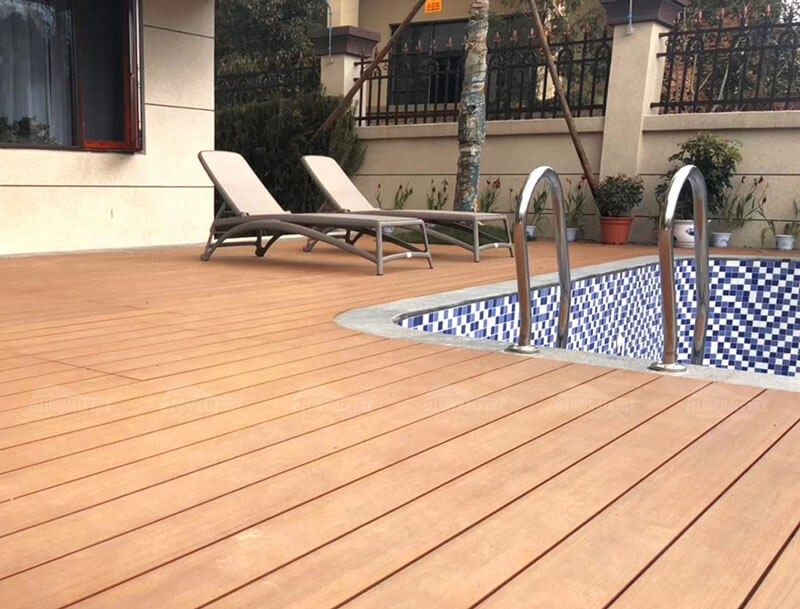 Featured Product: Wood Plastic Composite WPC904L-SH
Easy Gusset Plate Collection
Swimming pools are well known for being tough on the material around them. Pool decking spaces are often wet thoroughly regularly and these spaces are also subjected to chemicals used to maintain the swimming pool's water environment. The ability to withstand these and other ways of the pool condition is imperative in the decking the owner chooses.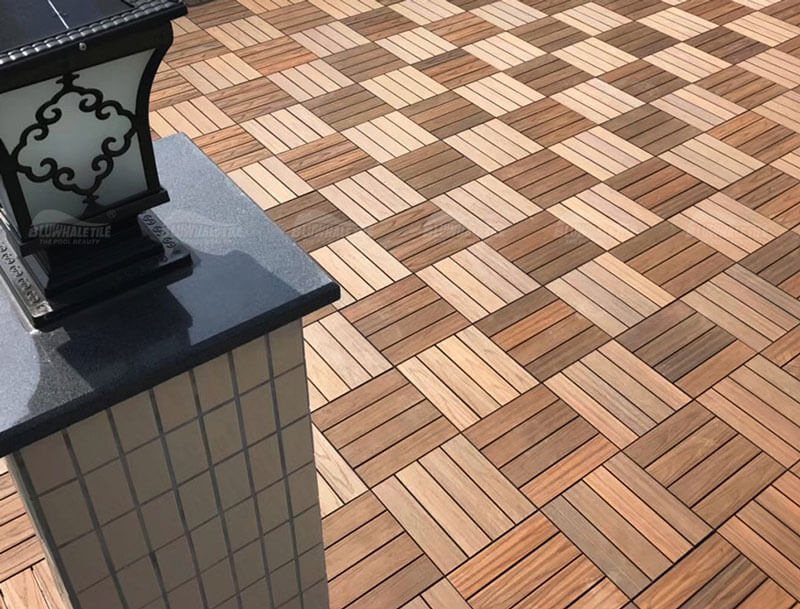 Both natural stone and concrete materials are subject to issues such as cracks and frost heaves during the change of weather. This means that the people who choose the above materials need to repair or replace your pool's decking every few years to keep its functionality and outlook beauty.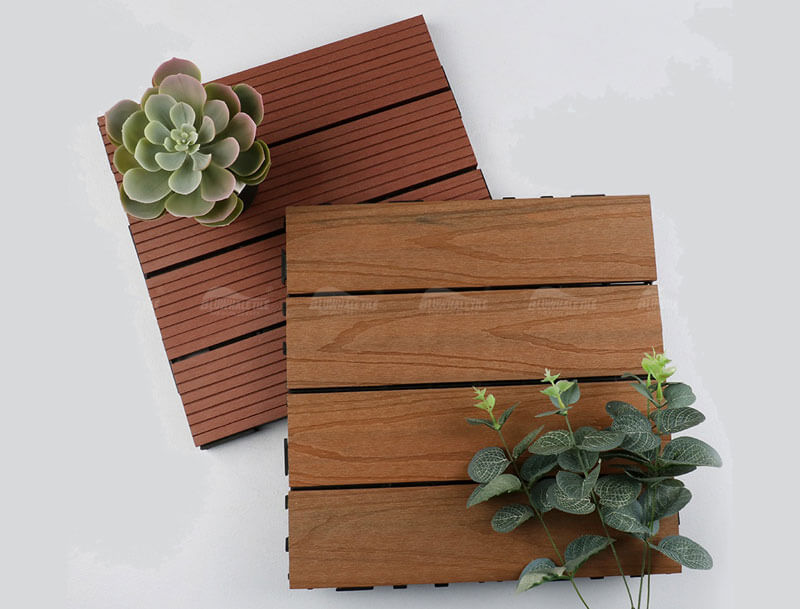 Featured Product: Rose Red Environmental Friendly Wood Plastic Composite WPC906L-DD
Why not consider our new arrival 300x300x23.5mm wood plastic composite? They belong to modified woods, which require no maintenance over their service lifetime, beyond normal cleaning. The surface of this WPC is matte, just like the real wood texture. And this material will naturally look like beautiful natural teak wood, and won't be affected by the moisture of the pool or weather change.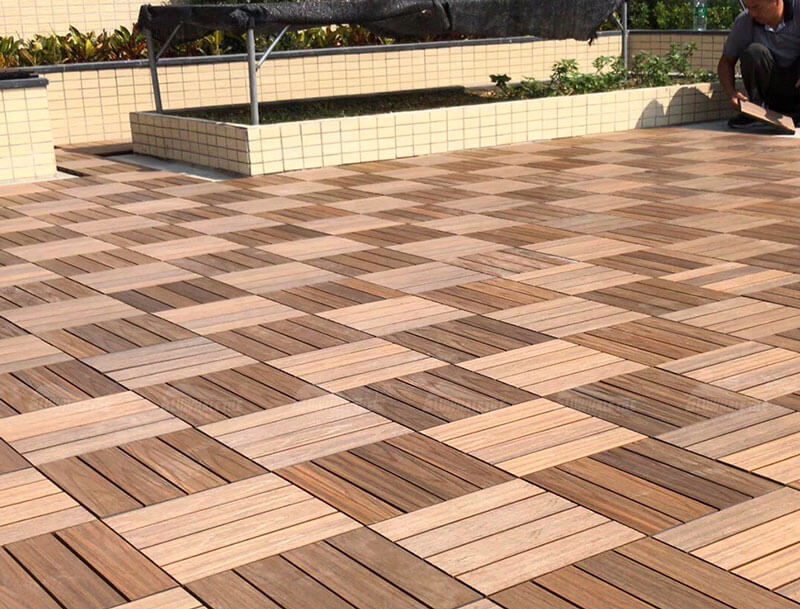 Featured Product: Wood Plastic Composite WPC907L-DD

Therefore, while you install the WPC pool deck you can rest assured that you won't be replacing or carrying out expensive and bring maintenance tasks on your pool deck every few years.Wanna more new arrival pool tiles click this: 4mm Thickness Crystal Glass Mosaic Tiles Make A Classic Swimming Pool >>>
Get Inspired?
Without a doubt, these are just some of the great ways that a swimming pool and leisure space deck can complement one another. The idea of this short blog is simply to get the creative design flowing as you install or change your pool deck design. Give it some thought and then go transform that relaxing space into something special. Bluwhale Tile will be your king option leader on your backyard swimming pool designs or hotel renovation projects. Not only provides premium wood plastic composite but also ceramic pool tiles, glass pool mosaics, pool mosaic murals, pool accessories, and pool furniture. Why not contact us for some samples immediately!
For more familial backyard pool design ideas, check out our blog: Remodel the Backyard Space in Queensland >>>
Head over to our blog for more professional resort project: Pool Design About Natural Design and Warm Tones >>>