Recently, many customers is asking for best mosaic tiles for their swimming pool project for summer, and ceramic mosaic tiles is highly recommended and widely used for indoor or outdoor, private or public swim pool installation. Today, we are sharing 8 types of classic swimming pool mosaic tiles made of ceramics and features popular blue colors. Read on and we are sure that you can find the right surface pattern for your projects.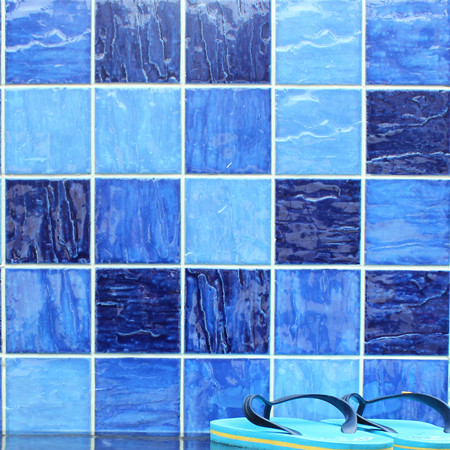 Featured product: 95x95mm wave surface porcelain pool tile BCP003
The blend of 3 shades of blue colors is one of the best selling items at Bluwhale Tile, which can perfectly create a sense of different depths under water. The surface is uneven and wavy, unquestionably, it is anti-slip and make your pool space safer. Your swimming pool can be lively with this surface process. The chic size is 95x95mm, it is a classic and well-accepted size, it is much easier to install than mini mosaic tiles.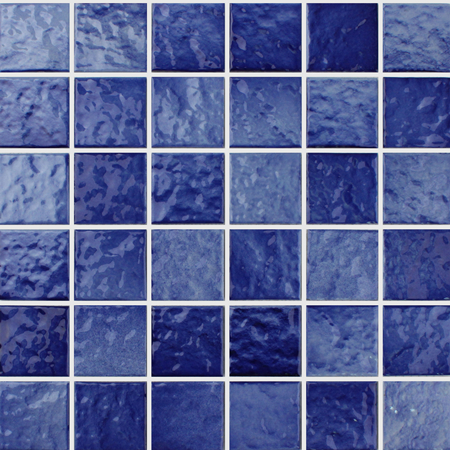 Featured product: 48x48mm blue water pool mosaic BCK623
If you love that wave surface but want a smaller chip size, then this 2 inch mosaic tile is the best choice. The blue mixed color is gradient and natural, the pool water surface seems waving and dynamic although you don't use it. It is water-proof and anti-slip, suitable for any swimming pools as well as bathroom, shower and any wet areas.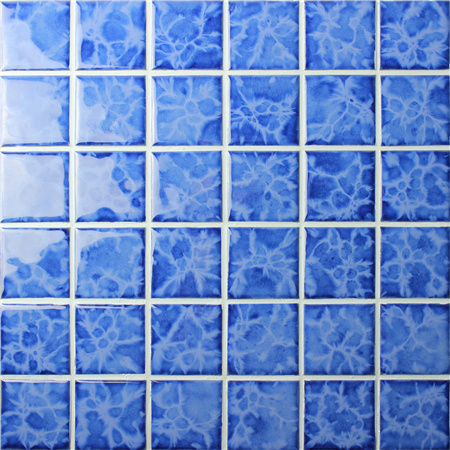 Featured product: 48x48mm blossom texture mosaic ceramic pool tiles BCK617
Mosaic tile with texture can easily add characters to any spaces. And this is why I recommend this fambe 48mm ceramic mosaic tiles in our blossom series, especially for those who want something different for their swimming pool projects. Each blossom texture is unique to install a modern pool wall and bottom.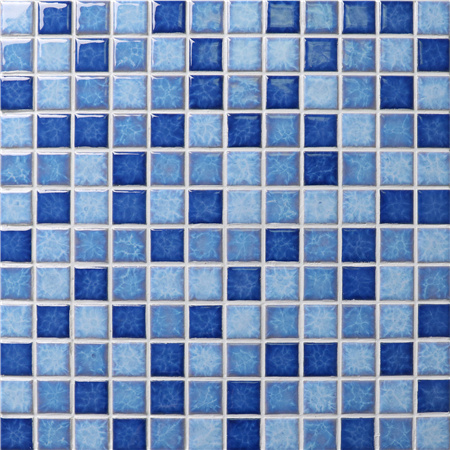 Featured product: 23x23mm blue mixed ceramic pool tile mosaics wholesale BCH002
Smaller mosaic tiles will bring a more delicate look to both indoor and outdoor swimming pools. Inspired by the water wave, this ceramic pool mosaic has a finish texture looks like water wave, which can work nice to create a feature bottom to your pool space. It is unique and also common to see in shower, bathroom and spa area.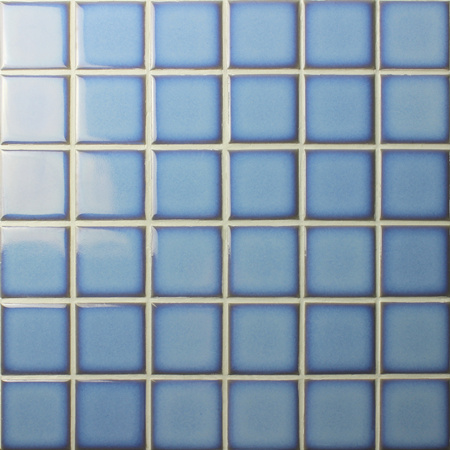 Featured product: 48x48mm fambe effect blue mosaic tile bathroom BCK615
Fambe effect production gives the variation to the tile's color and finish, that looks similar to the gradient effect. If you want to choose a different pure blue ceramic pool mosaic, head to our fambe series and you win lots of choices. These mosaic tiles are not only manufactured for swimming pool use, try to take them into your bathroom back splash, and you can have a Mediterranean bathroom space.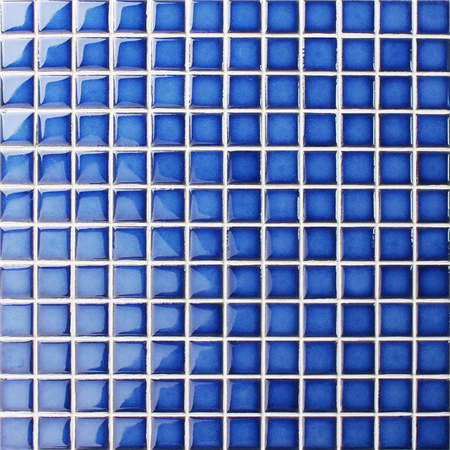 Featured product: 23x23mm blue outdoor pool mosaic tiles BCH608
23x23mm chip size ceramic mosaic tile with fambe effect, with adorable crystal glazed surface and sea-like blue hue, can definitely make a contemporary swimming pool appearance as well as spa and any wet areas. It is versatile for different applications and durable and high performance for use.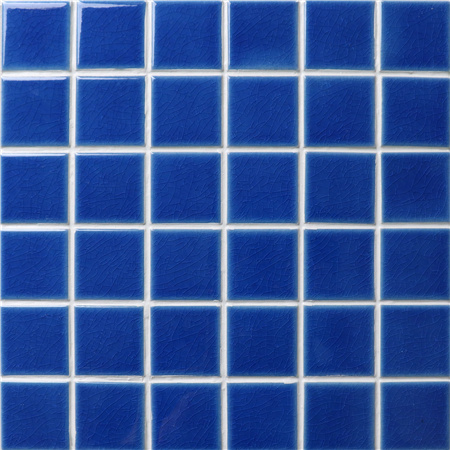 Featured product: 48x48mm ceramic crackle pool mosaics BCK604
Ice-crackle mosaic tile must be one of the most popular surface pattern in any swim pool styles. When the crackle texture meets blue shades, this kind of mosaic tile can bring a cool and fresh touch to any spaces.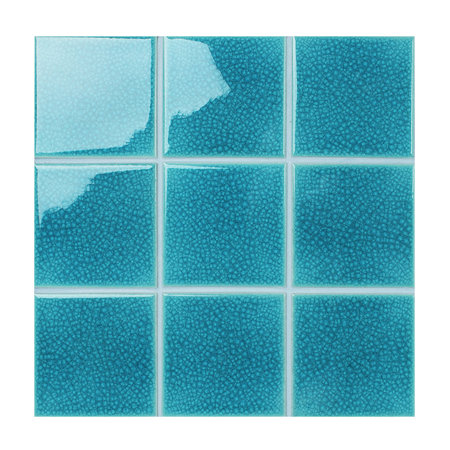 Featured product: 100x100mm heavy crackle pool mosaic tiles BCQ608
Compared with single-crackle texture, this heavy ice-crackle texture makes a stronger visual effect. 100x100mm larger mosaic tile is a great choice to make your swimming pool look more spacious, and especially it is much more easier to install and save your much time and energy.
Have you got inspiration from the above ceramic pool tiles in blue color? If you are in market for our collection, welcome to inquire us for best pricing and more product details. Get your backyard swimming pool ready as summer is coming soon, this would be a nice place to spend your summer vacation with your families and friends.
Bluwhale tile is specialized in pool tile wholesale for years, we are looking forward to establishing good relationship with all clients all over the world.