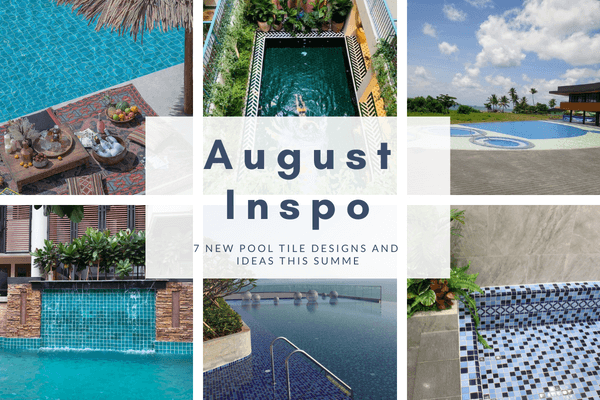 As we know, each summer will bring brand new design trends helping the pool designers to create an overwhelming and impressive swimming pool area retreat. Swimming pools are the perfect space for rejuvenation, relieving any stress, revitalizing the body and swimmer's mind, or it can be the ideal summer party place. Great summer pool parties are always timeless. The place adds value to the home or your commercial hotel or spa.
In the middle of the summer holiday, it is the perfect time to share the beautiful pool this summer with our clients. Implement the new swimming pool tile designs to complement your space, and the out-of-the-box design ideas can infuse life into the pool area. Whether your view of the best swimming pool tile is simple and ultramodern or imitates a tropical paradise with an eccentric atmosphere, this blog will collect amazing design ideas this summer to transform your swimming pool into an outdoor oasis.
Here we have gathered the 7 best examples and we also have collected some appealing swimming pool tile ideas to jazz or spa up your fountain installations and waterfalls. Continue reading to learn more about August Inspo and inspire your ideas now!
#1 Plays Well with the Sky
Blue palette mix glass mosaic tiles are prominently used for adding the visual impact of swimming pools. The blue color is a universally accepted color of the sky, the river, and the ocean, and it is indeed a unique perspective to create your pool area look sparkling under the natural sunlight. Moreover, implementing these glass pool tiles can make an attractive aura amid artificial illumination at night. Therefore, the ultimate goal of remodeling pools in your space is to make an important value-addition to your property and have a place to relax with your family and friends. A smart option of swimming pool tile and half the battle is won.
Our glass mosaic tile in a special pattern, adds a chic look and smooth touch feeling to your future pool project with our golden line hot melt mix crystal glass tile. The pattern carrying two square sizes and finishes together brings the feel of a unique resort.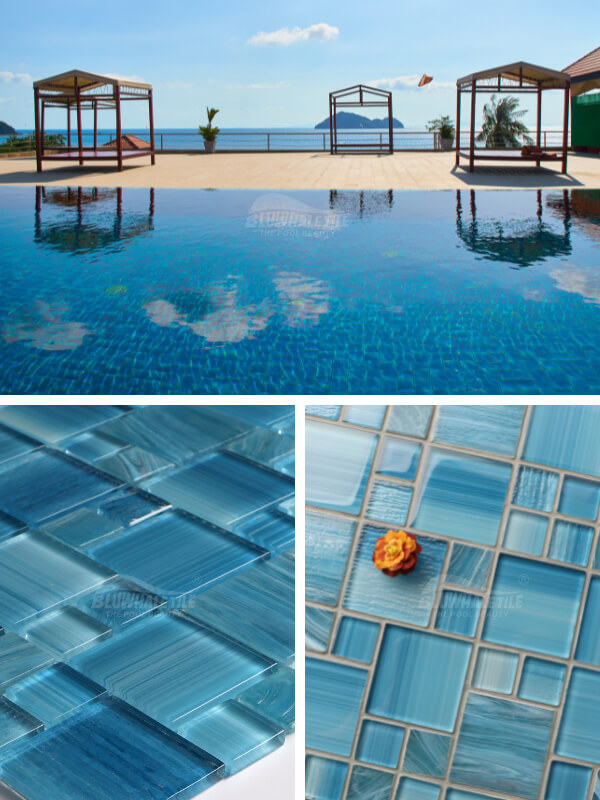 Featured Product: Blend Size Hot Melt Mix Crystal GZOM9603
#2 Waterfall with Mediterranean Paradise Vibe
If your swimming pool is up against a wall and you have no idea how to remodel this wall, you can decorate the vertical space by executing a natural-style waterfall adjacent to your pool area. Take a glance at the featured waterfall installation by our client's pool project shown in the implementation photo below.
The ice crackle pattern finishes with a natural look and multiple eye-catching visual effects on the ceramic pool tiles make the featured waterfall a beautiful spot within the outdoor space. Well-designed natural stone and illumination focusing on this featured waterfall can make your pool area a perfect venue for the night with your lover.
For more of this waterfall beauty, visit our blog "Swimming Pool Project: How To Design Refreshing Home Pool Style"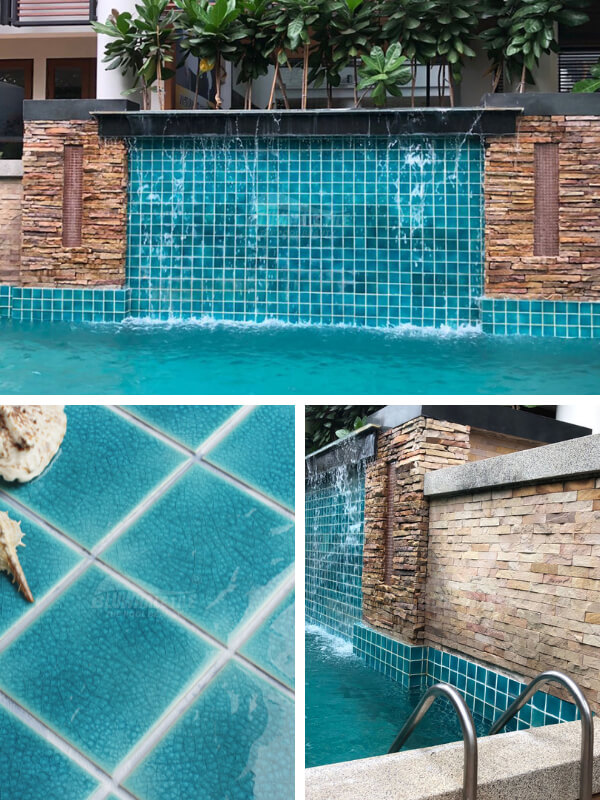 Featured Product: Frozen Shiny Blue Crackle BCQ608
#3 How about Arabesque Style Pool Waterline?
Choosing the right pool waterline tile is confusing, as you must balance the beauty and functionality of these pool tiles. Ceramic tiles in an arabesque style pattern and a glossy glazed surface can achieve this aim. The pool waterline will be intact and will match well with the original pool tiles. At the same time, the chic arabesque style pattern design will make a unique exotic style statement, making a retro statement.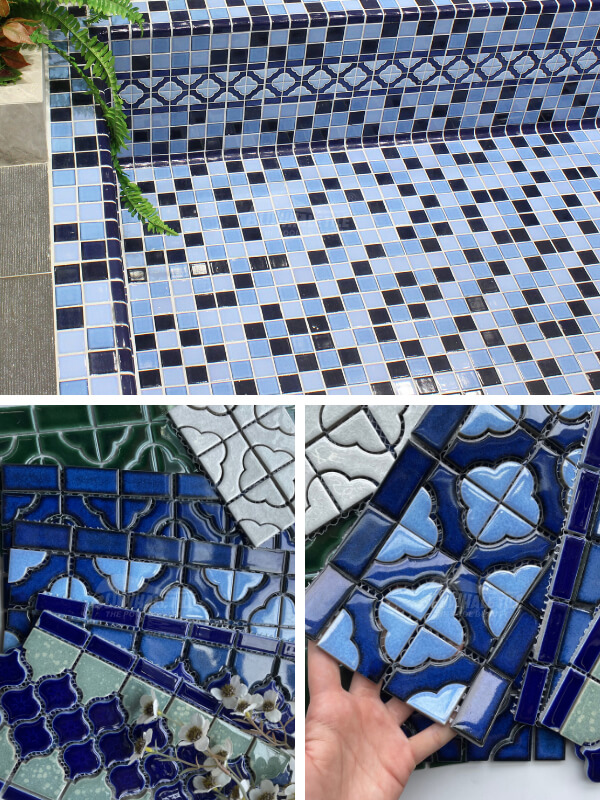 Featured Product: Pool Waterline Collection
Checking out this video, we will show your the right combination. This pool waterline series is made of porcelain, one of the most durable tile materials for this application. Porcelain material is highly dense and has high water resistance. Therefore, the beauty of these tiles is timeless and never out of style!
#4 Continuing Blues
Ceramic tiles in blue tones can make your summer holiday a boom! Have a look at the implementation project below. The blossom pattern, dark blue color, and a touch of modernity through the smooth touch feeling create a magical space for you and enhance the whole landscaping in the outdoor area to new heights.
Remodel a perfect pool ambiance and boost your pool experience by equipping your pool with lights. These warm lights will make swimming at night fun and safe, bringing a sense of romance to all users.
To learn more about this project with our blog "Swimming Pool Project: Infinity And Open-Air From Rooftop"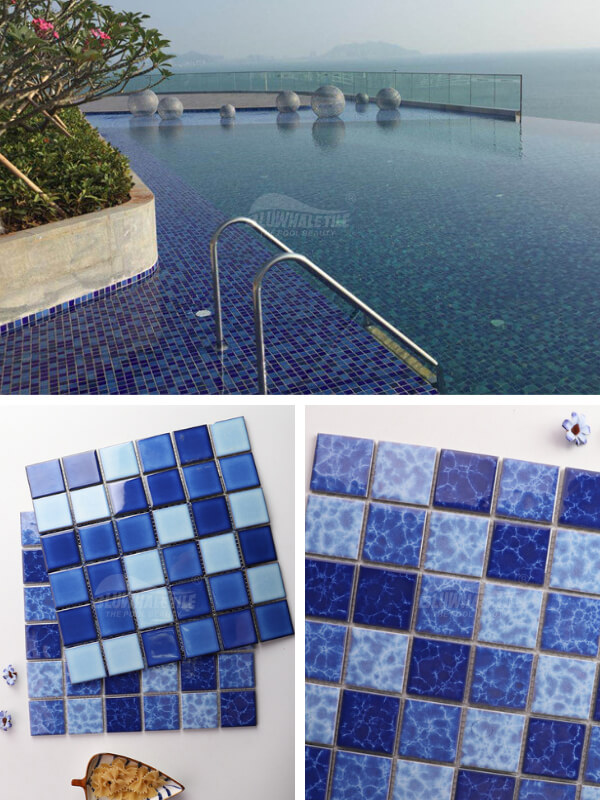 Featured Product: Crystal Glazed Porcelain Mixed Color KGA1002
#5 Contrasting Spa Pool
Opting for a classic style 1x1 swimming pool tile can help you soothe the permanent pool remodel. Have a look at the cobalt blue hotel spa pool in a stacked squares pattern and a glossy glazed surface. The wood plastic composite poolside decking in natural wood palettes separates the spa water and these cobalt blue pool tiles from the surrounding lawn.
Besides, this unique shape of the pool is inspired by fish, the main pool with three Jacuzzis which is just like some coming out bubbles from a bluefish. Our client is well aware of the importance of giving an attractive environment that will leave a lifelong impression in the imaginations of visitors.
To see more about this project, visit our blog "Swimming Pool Project: Philippines Seaside Hotel Pool Renovation"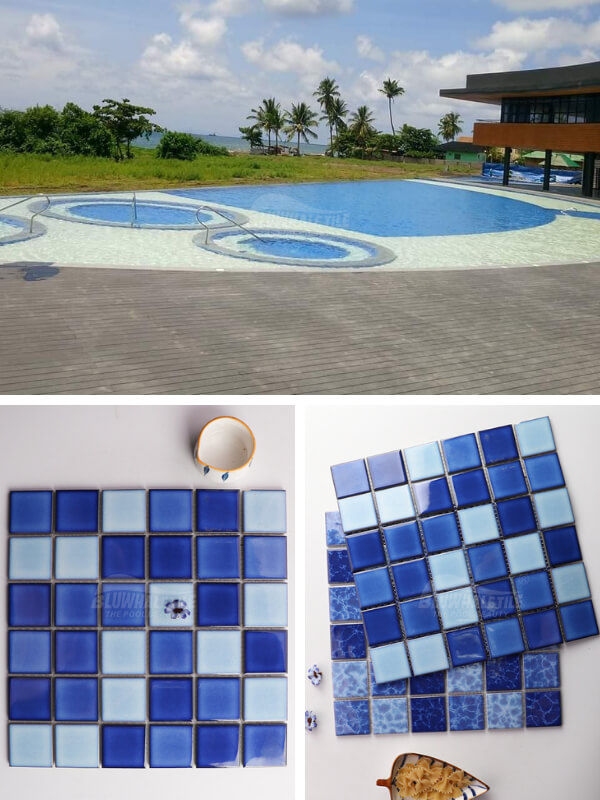 Featured Product: Crystal Glazed Porcelain Mixed Color KGH6601
#6 Experience the Oasis
Are you fond of swimming pool ideas aimed at making your pool area rejuvenate and relax? The pool tile you opt for must complement this theme - Right? Now Here you go - emerald, large hexagon ceramic pool tile in a honeycomb pattern helps you experience the essence of oasis.
Our custom emerald beauties come out of the kiln ranging anywhere from smooth light green to deep greens. With an ice-crackle finish design, these 150x175mm large hexagon tiles are unbeatable. The pool waterline, pool interior stairs, and pool deck all utilize the charming and peaceful palettes, which are an all-time favorite of ours.
Know more about this project, browse our blog "Swimming Pool Project: Ice-Crackle Green Tile Makes Tropical Pool"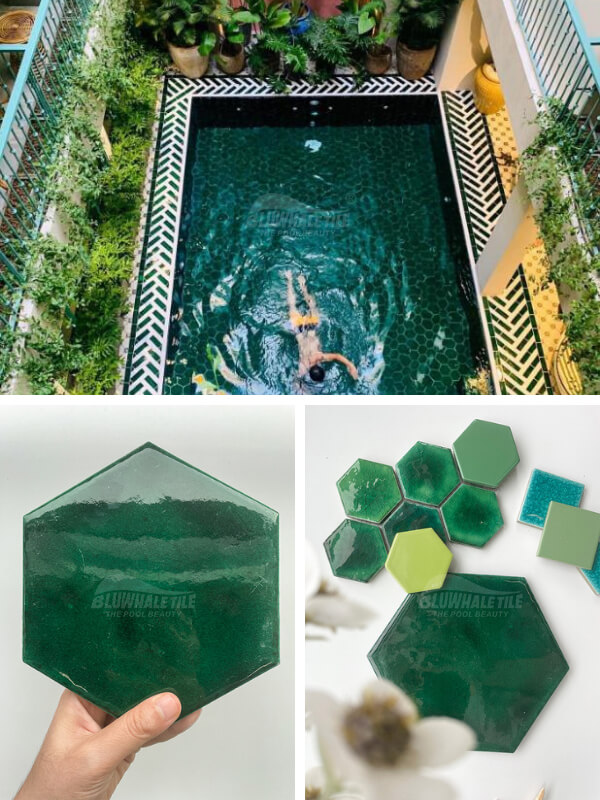 #7 Find Your Mood
Jumping into this swimming pool whenever you want can turn every day into a Palm Springs Holiday. Make sure you decorate your swimming pool area using the perfect swimming pool tiles to live those lifeful moments to the fullest.
The charming lake blue colors are in stark contrast to the surrounding earth yellow tone, which makes the pool more stand out. Because our client told us that he wants to use another brisk color in order to make the atmosphere active. These large 4 inches pool tiles with a heavy ice-crackle texture and glazed glossy finish can perform well with shimmering waves under the clear blue sky.
For more details on this project, visit our blog "Swimming Pool Project: Natural Design and Warm Tones"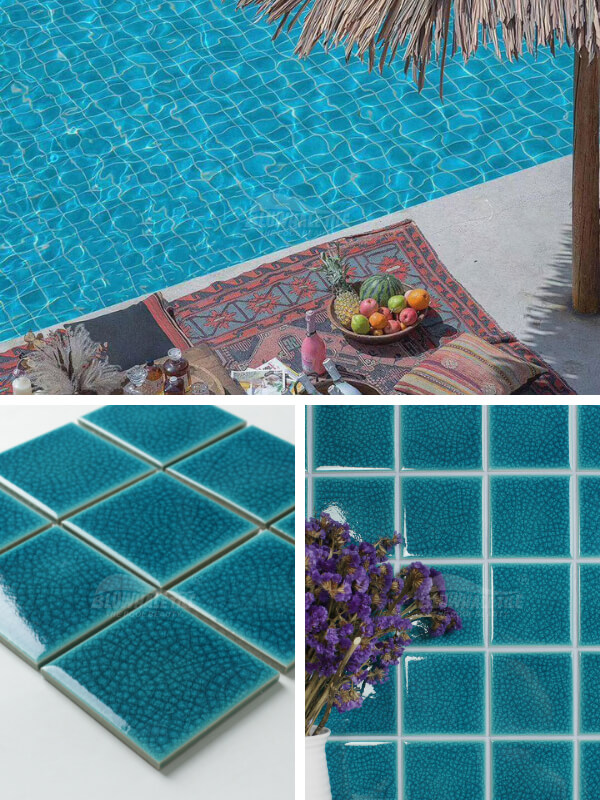 Featured Product: Frozen Blue Crackle BCQ607
Get Inspired?
Bring your trendy swimming pool tile design inspirations to life with Bluwhale Tile. At our online store, we take pride in providing today's best selection of interior and exterior tiles to bring your commercial or residential spaces to life. Visit and shop our tile today to begin planning your chic swimming pool tile design, or reach out to Bluwhale Tile's professional and knowledgeable customer service team to know more about opting for the premium quality pool tile to turn your pool area design dreams into reality. Interesting in finding more pool tile inspiration for other parts of your residential or commercial space? Order free tile samples right now and you might fall in love with them!