There's might a swimming pool for every backyard space nowadays - even narrow and long yard areas or in the center of patios. However smaller pools are popping up in unexpected places just like this home pool design what we're going to talk about. Most stay in their backyard or patio, which might be smaller than the one in which you grew up. And they all allow other elements, like pool waterfall, natural landscape, and decking areas be part of the pool design.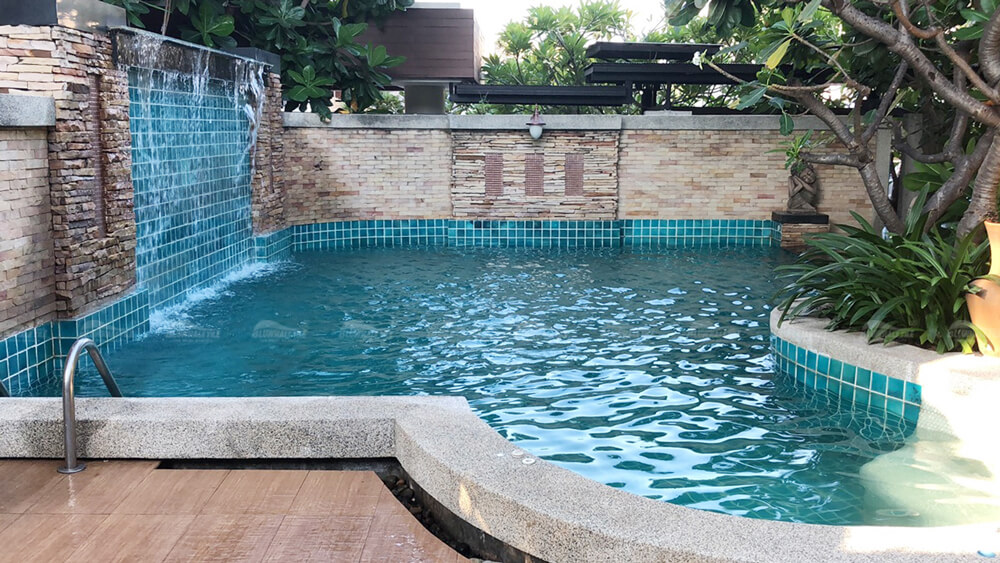 While smaller pools will take fewer materials and less time to finish a pool project, but don't think it will cut the whole budget of your plan in half. Many trendy and refreshing pools have unique waterfall features and are a focal point, which requires eye-catching things like stone and sparkling larger pool tiles, designed and applied by a professional swimming pool manufacturer. If you're going to plan a pool, consider the welcoming blue tones and freedom pool shapes, which plays an important role in the complete project.
Let's take a look at this refreshing home-style pool in Thailand, which including glamour waterfall design and stunning natural landscape design. Reading on this blog for more inspirations:
Be Larger and Fresher
When it comes to pool waterfall, we all know that a waterfall design can be created in just about a wide range of styles. Someone might like a cozy oasis feeling with stones and a natural style waterfall, it can absolutely be done. While others prefer to trendy, modern and bold, that can be done as well. Maybe you like something in between? There are various ways to create a sparkle pool waterfall that suits your style. So how to make your pool waterfall match your style and outstanding from others? Choosing a unique material is the best way to achieve it.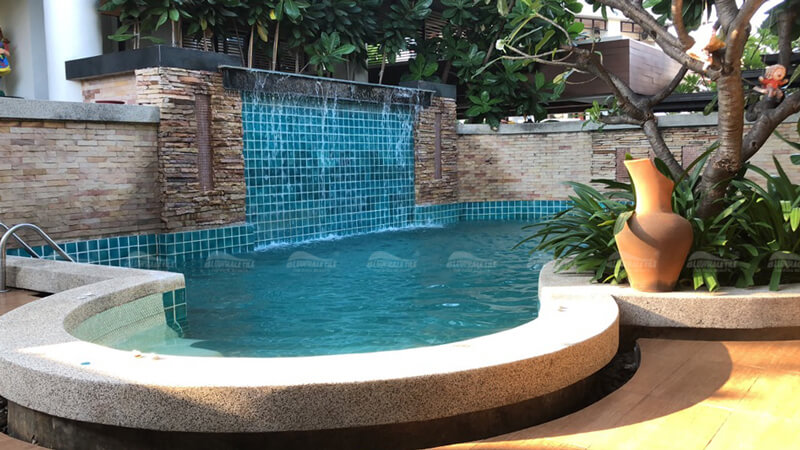 Just like this homeowner, choosing our pop heavy ice crackle pattern and blue tones swimming pool mosaic tiles as the waterfall wall. See that! Small but vivid pool waterfalls come right out of the large 100x100mm pool tiles and have a breezy atmosphere, especially with the chic ice-crackle surface pool ceramic tiles.
Love this comfy swimming pool design? For more project inspirations here: Swimming Pool Project - Philippines Seaside Hotel Pool Renovation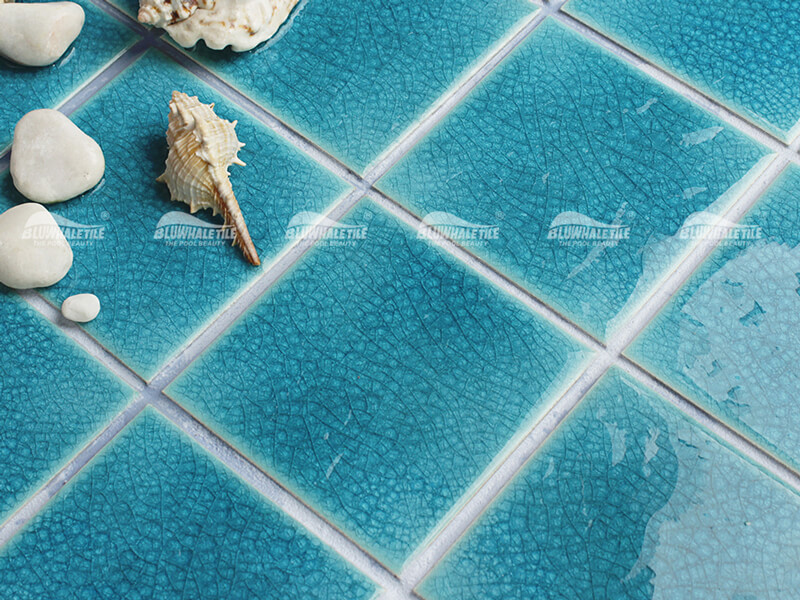 Featured Product: 100x100mm Heavy Ice Crackle Pool Tiles, Blue Palette, BCQ608
Simplicity is Better
Not only make your pool waterfall design different from others but you need to take pool leisure space into consideration. A modern backyard pool with cozy and oasis feeling features charming waterfall walls with blue tones pool tiles and relaxing space with kiln surface penny round mosaic tiles.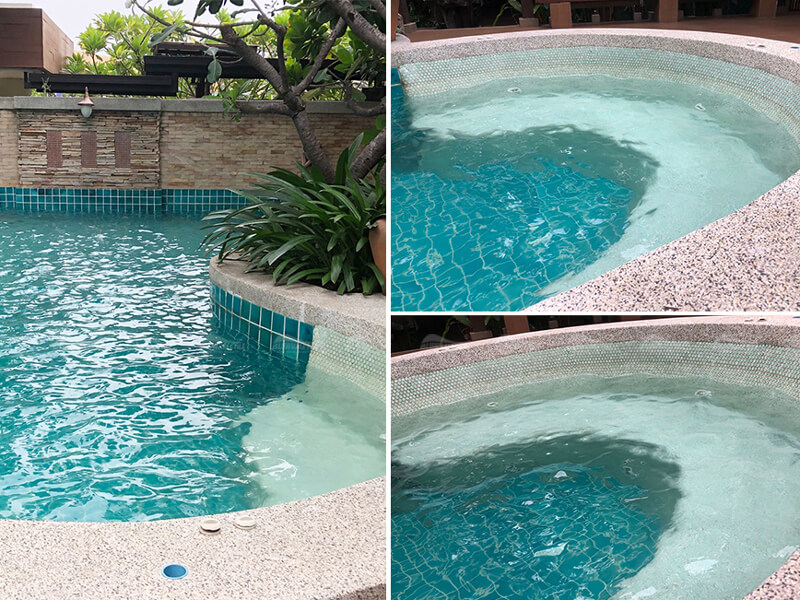 By the way, sometimes you don't need to rack your brains for design waterline because your pool tiles might be the best tile for pool waterline.

For more pool design check out our blog: Swimming Pool Project - Remodel the Backyard Space >>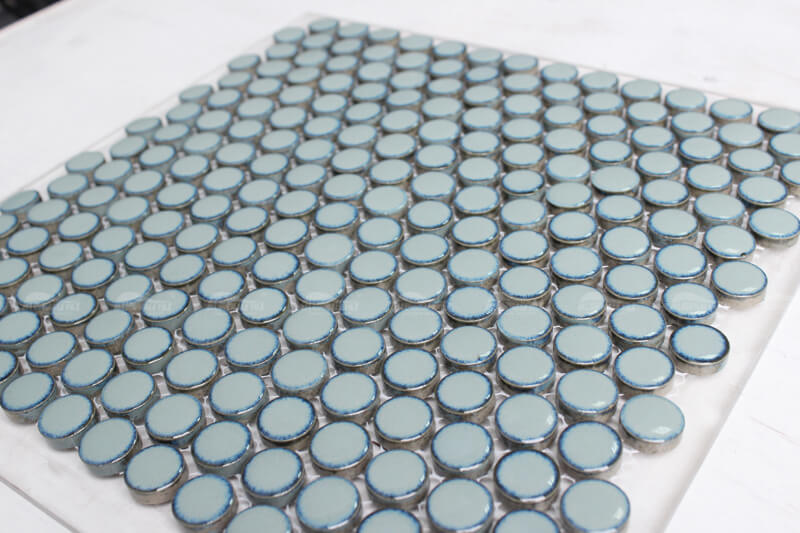 Featured Product: 19mm Kiln Surface Penny Round Mosaic Tile, Light Blue Tones, CZO712A
Natural Stone Plays Well
While you're landscaping around your swimming pool project, you might take various materials into consideration, such as natural stones, artificial stones or etc. It's highly advised that avoid choosing any little pebbles or small stones as your landscape decor, which would probably end up in your pool and make the heavy problems to your pool vacuuming and filtration system.
More nature swimming pool project, visit our blog: Swimming Pool Project - Natural Design and Warm Tones >>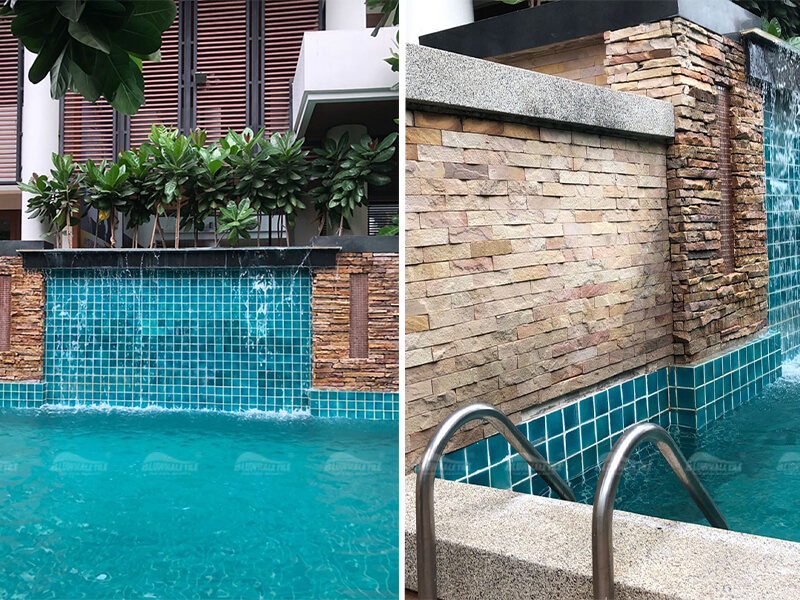 Decorating with Pool Decking
Don't forget your foot feels! A functional and foot comfortable pool decking is a nice addition to pool design, especially when the weather starts to reach heat temperatures at the start of the summer seasons. Whether you're building an in-ground pool or above ground swimming pool, pool decking plays a role as a relaxing space for family members to gather as they spend weekend time. Though there are many pool decking materials available for pools, including natural stones, wood plastic composite or even concrete that make you dizzying! We believe that natural stone might be an excellent choice to being pool decking because it's never out of style and long-lasting.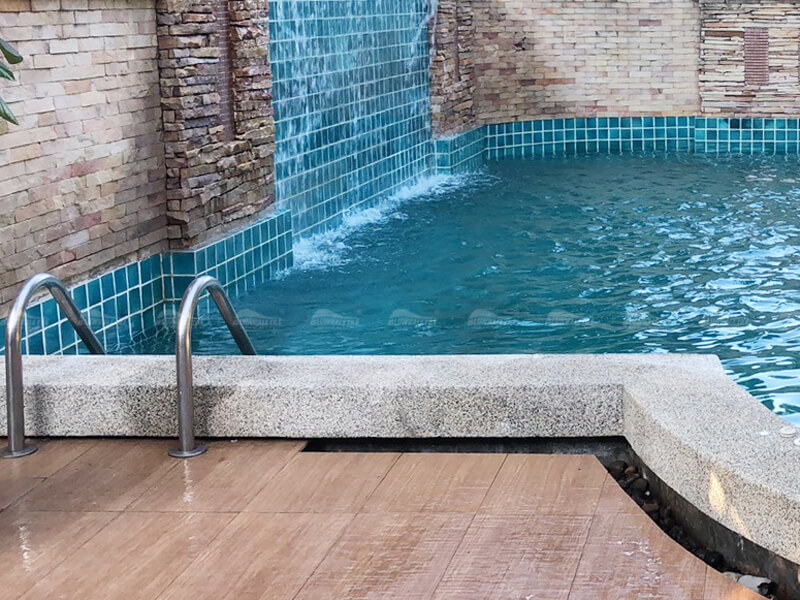 However, if you don't like natural stone due to heavy looks, maybe you can choose wood plastic composite.
Checking out this blog for more pool decking ideas: 3 Types Wood Plastic Composite Create Perfect Pool Decking Areas >>
Green, More Green
Plants work well in decorating the whole look and vibes of the backyard you're going for. Not only they bring comfortable color and palette but can draw the eyes based on the places where is planted. From the plant of this project, big leaves, smooth and thick branches, which can help to enhance the privacy of your home, as well as also help shade your swimming pool space and keeping it cooler during the heat and long summer holidays in Thailand.
Know more about how to design your pool, browse our blog: Swimming Pool Project - Infinity And Open-Air From Rooftop >>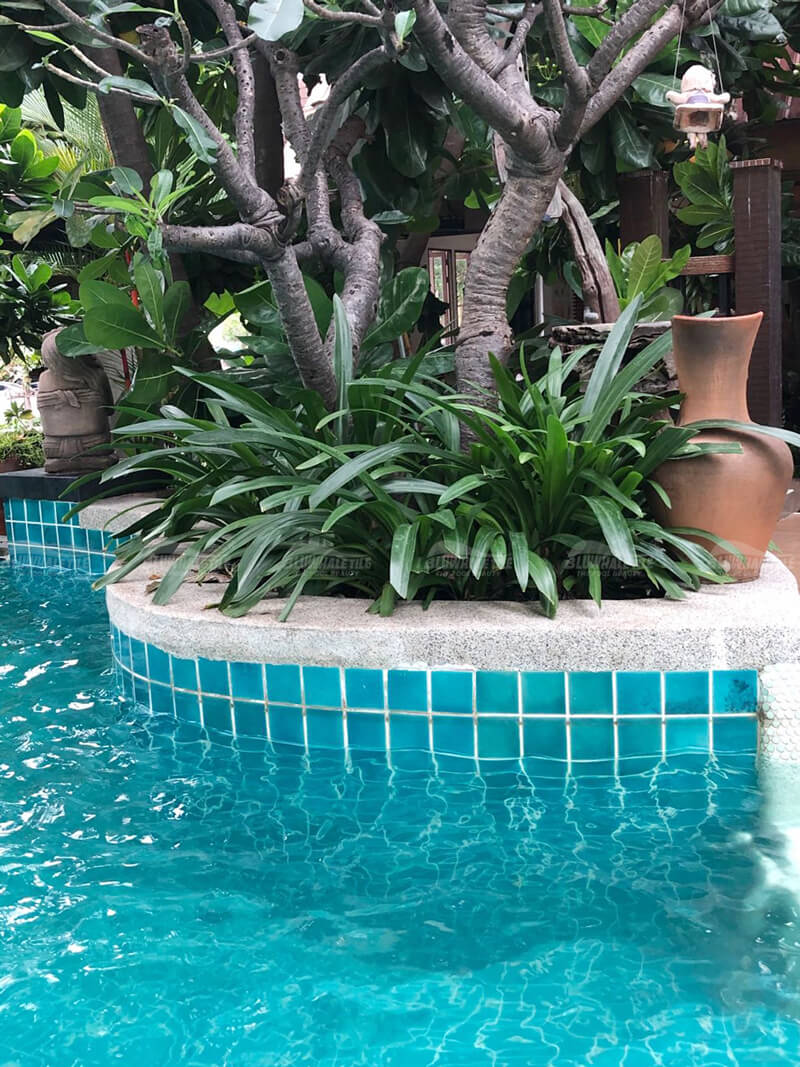 Adding Lighting Effects
No one swimming pool can be perfect without lighting. Appropriate lighting set not only can improve the safety of your pool areas, but help enhance the beauty of your backyard space. Just like this pool, the pair of the vintage light well with the pool style and it shines a lot of light down on the area specified. Up warm hue lights point down at an angle to emphasize this stunning pool waterfall. Moreover, installing these retro lights in the stone walls around the pool can ensure nobody can be tripped.
For more backyard design projects, click this blog: Swimming Pool Bottom Mosaic Art Project in Opera Seine Estate >>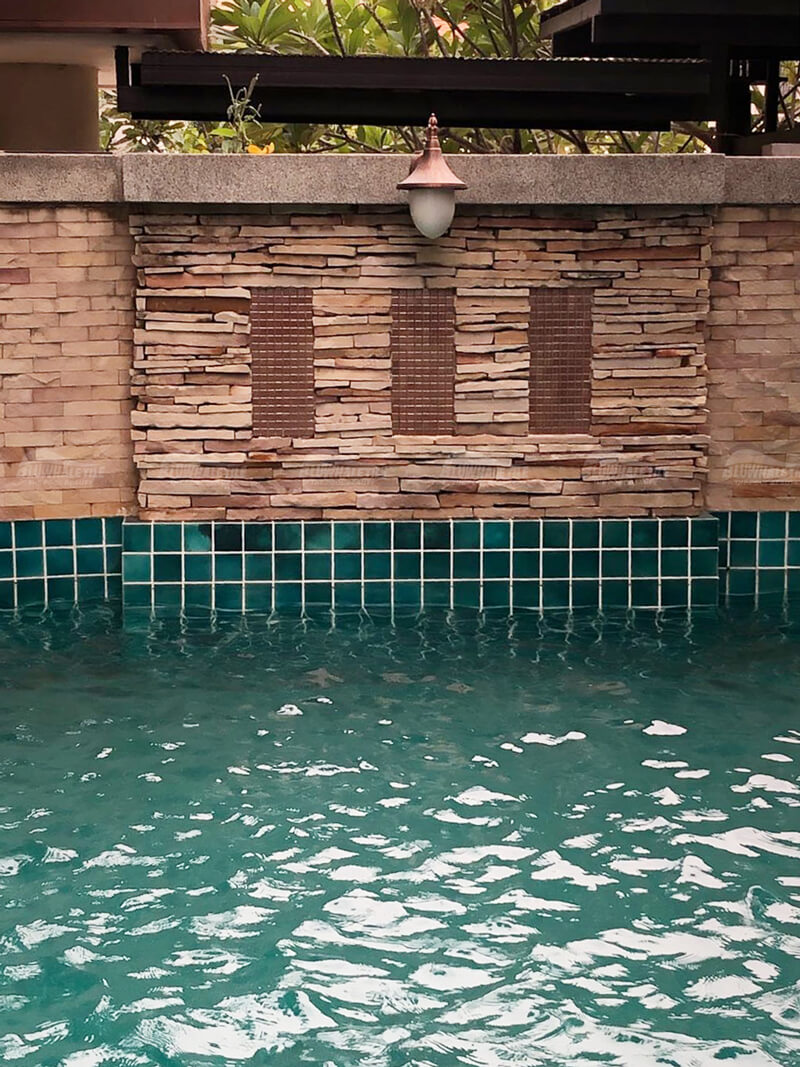 Get Inspired?
Are you inspired by this project? If you're interested in the above-mentioned porcelain mosaic tile, why not order some high-quality tile samples to feel and touch in person? Bluwhale Tile not only is a professional wholesale pool supplies, but is a great partner for your pool renovation project. We're so glad to hear your creative ideas and continue to collect more refreshing pool designs for our global clients! Let's stay tuned!