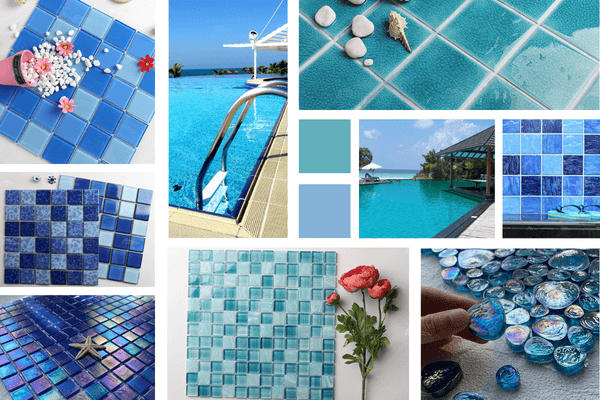 As swimming pool owners, many people look forward to pool season all year. Even if you're one of the lucky ones to live in a climate where you have a chance to year-round swimming, summer means extra fun by the swimming pool. Many times, this means exciting pool parties with your children, plenty of refreshments, and lots of entertainment.
However, sometimes you just need a break. A place to take it easy. A relaxing "getaway" in the comfort of your own spa pool area. Fortunately, your swimming pool is ideal for this, too! Why spend time and money at an impersonal swimming pool when you have everything you need outside your backyard?
Read on for some latest pool tile ideas on using your pool for trendy pool decor...
#1 Add Ice Crackle
Once you have installed your backyard swimming pool, you will need some chic pool tiles to decorate the pool's inner wall. Moreover, in order to balance your swimming pool's surrounding plants, you will want to choose some natural color, like blue, but add something different on the face of the pool tile to change you to a tranquil vibe. Pool tile choice is personal - everyone chills out to their own best - but we all know that the beautiful ice crackle pattern mix of blue color helps us truly achieve a peaceful atmosphere.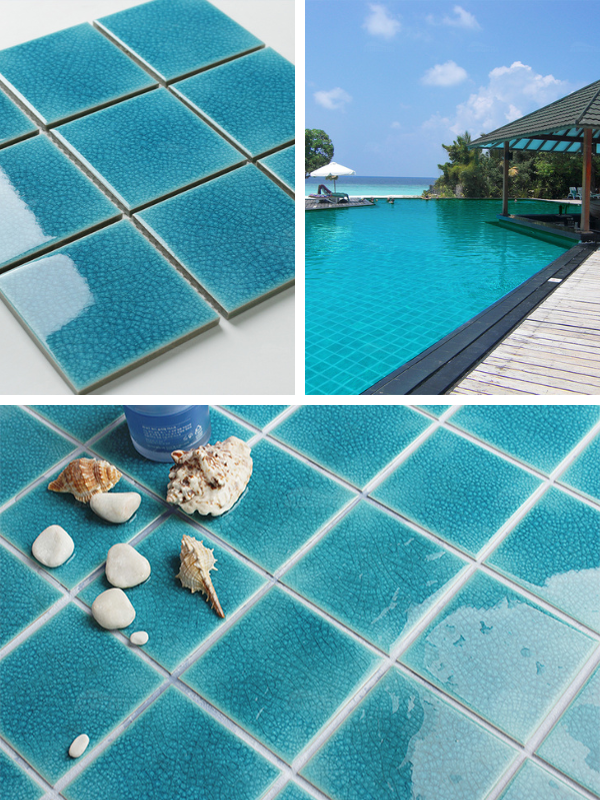 Featured Product: 100x100 Blue Frozen Shiny Ice Crackle Pool Tile BCQ608
#2 Crystal Glass Brings Cool
Before we dive into your 2023 pool tile trends, let's talk about the two main swimming pool tile materials: glass and porcelain. We have talked about porcelain materials above. Glass is hands down one of the most popular pool tile options available this year. This 2x2 crystal glass mosaic not only is glass tile non-permeable, frost-proof, has a long lifespan, and is relatively low-maintenance, but it also beautifully reflects the water for a gorgeous pool setting you might love to show off. The wide range of glass pool tile options lets you customize your pool's look and feel, creating a turquoise sea in your backyard.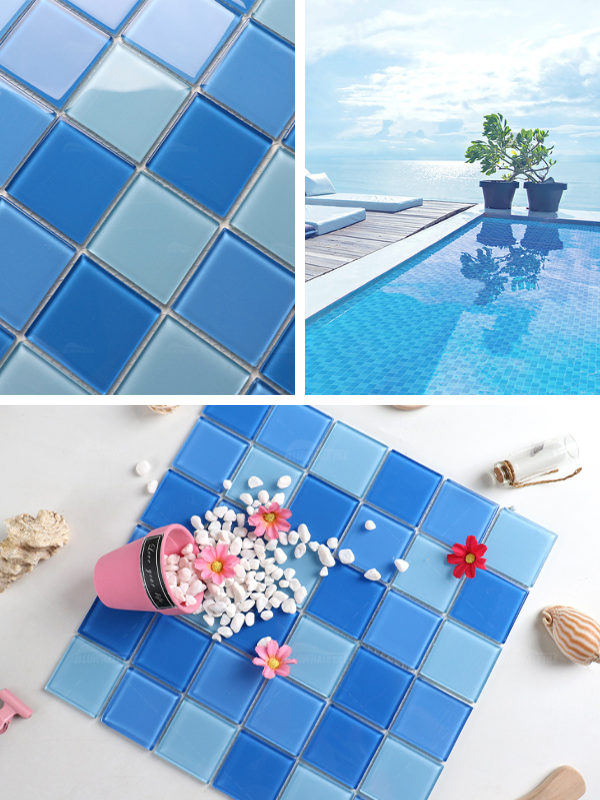 Featured Product: 2x2 Blend Blue Crystal Glass Pool Tile BGK002F2
#3 Blue all 2023
By adding crystal glass mosaic tiles in shades of the lake-blue palette, you can make a look that becomes almost infinity pool-like. Lake-Blue color is universally associated with the color of the sky and the ocean, and the semi-translucence of the glass tiles makes the two blends almost seamlessly.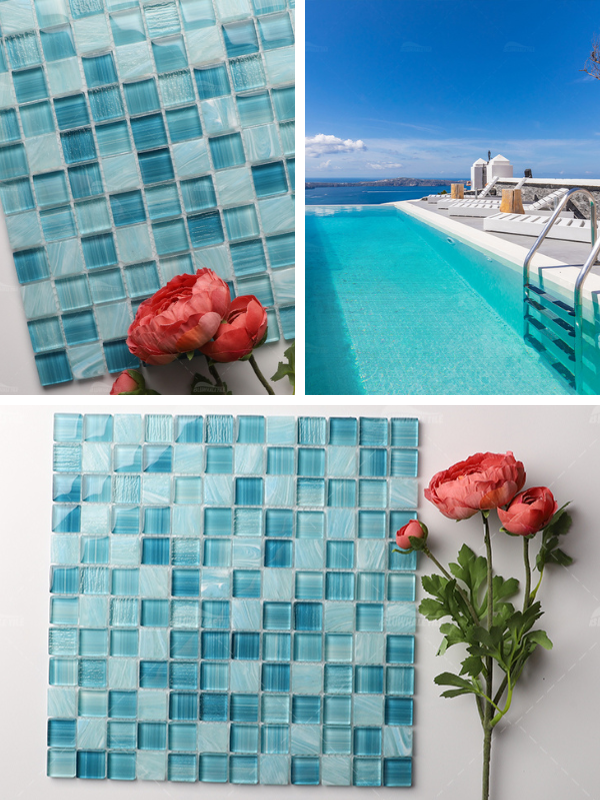 Featured Product: Lake-Blue 1 Inch Hot Melt Mix Crystal GHOM9602
#4 Touching and Feeling
How unique this 95x95 wave pattern pool tile is! Made from porcelain materials, it has long been a top pool mosaic option for swimming pool owners and they do not require a more labor-intensive and save more costly installation, due to the back mesh design. If you love the idea of a unique and creative pool tile, these are the best choice! They can be used to create an appealing swimming pool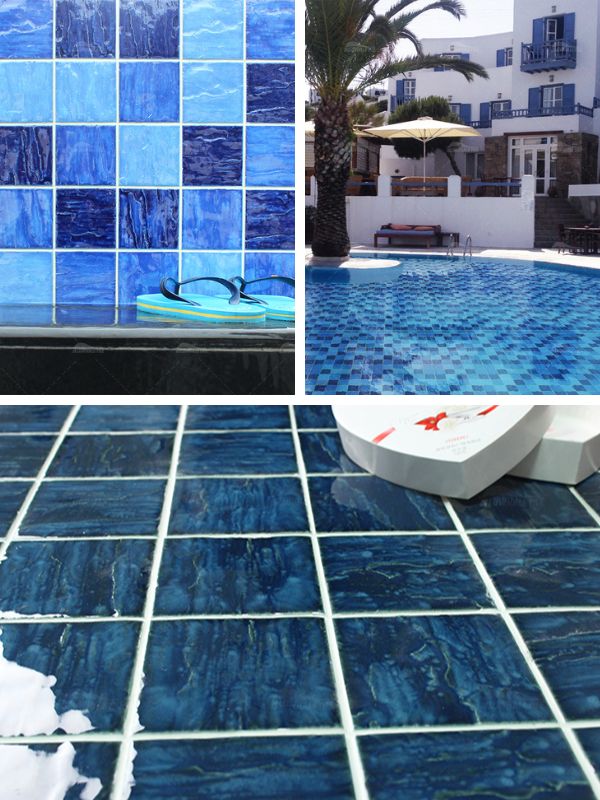 Featured Product: 95x95 Mixed Blue Ceramic Pool Tile
#5 Classic is Timeless!
It is no surprise that our crystal-glazed mixed blue made a huge impact in 2022. In fact, we think the mixed color is the new neutral. So it is time to roll out the blue towel for even more blue tile projects in 2023. With unmatched handmade blue glaze variation and a wide range of sapphire hues, this color is nothing short of irresistible.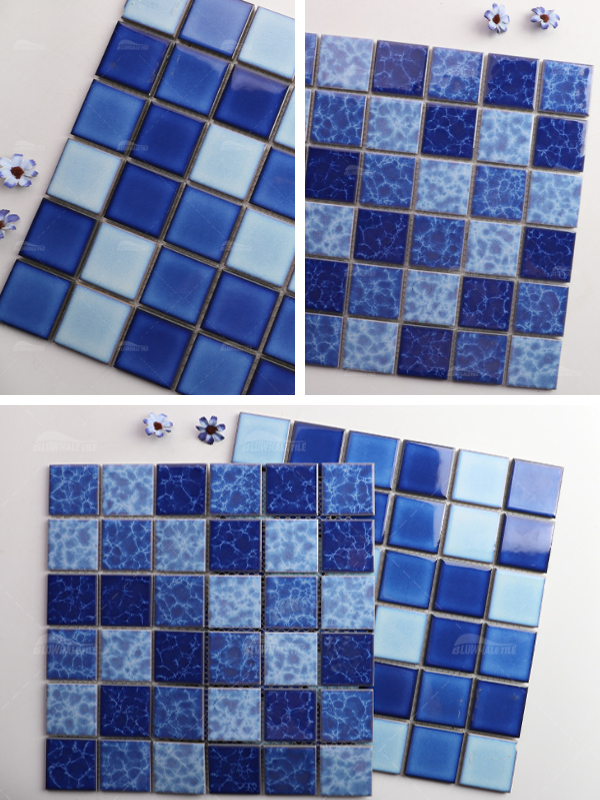 Featured Product: Crystal Glazed Porcelain Mixed Blue Pool Tile KGH6601
#6 Natural Shell Brings Beach Feel
Another prediction from our 2022 pool tile trend forecast that's holding its weight as we move into 2023 is the natural mother of pearl. We have increasingly seen pool designers bring serene natural shell conch glass tile into their spa pools with beachy inner pool walls. These beautiful resin natural shell glass pool tile spa projects have us dreaming of a beach vacation that seems long overdue.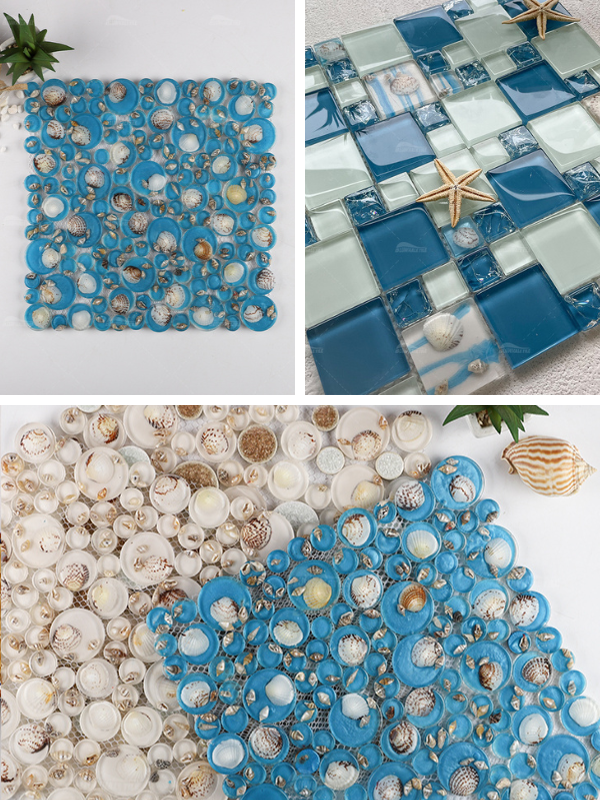 Featured Product: Conch Glass Resin Mother of Pearl Tile GZGH8601
#7 Pretty in Gradient Color
Swimming pools are the ultimate cozy spot of the backyard space during the summer day, so make sure it's looking its best! Adding gradient color pool tile to your pool bottom and waterline area creates a put-together look that your friends and family will love. We mean, look how beautiful this glossy gradient color pool ceramic mosaic is at the spa relaxing place.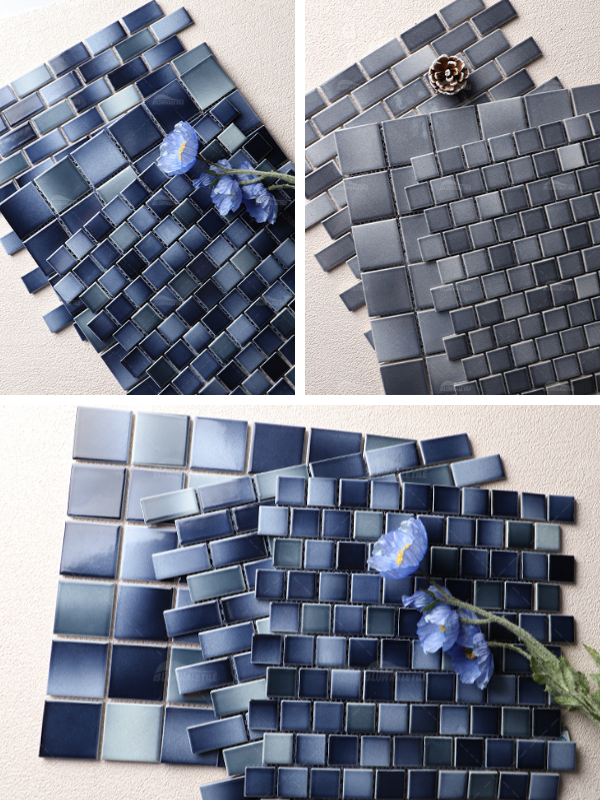 Featured Product: 2x2 Square Gradient Blue Glazed KGA1903
#8 Simple is Universal Formula
Bring that 2023 summer season simple and minimalist into your swimming pool inner wall with a matte and pure pool tile like this one! One way to make your tiled pool inner wall stand out is by using understated white color and a classic square shape. Matte finishes can keep you from slipping.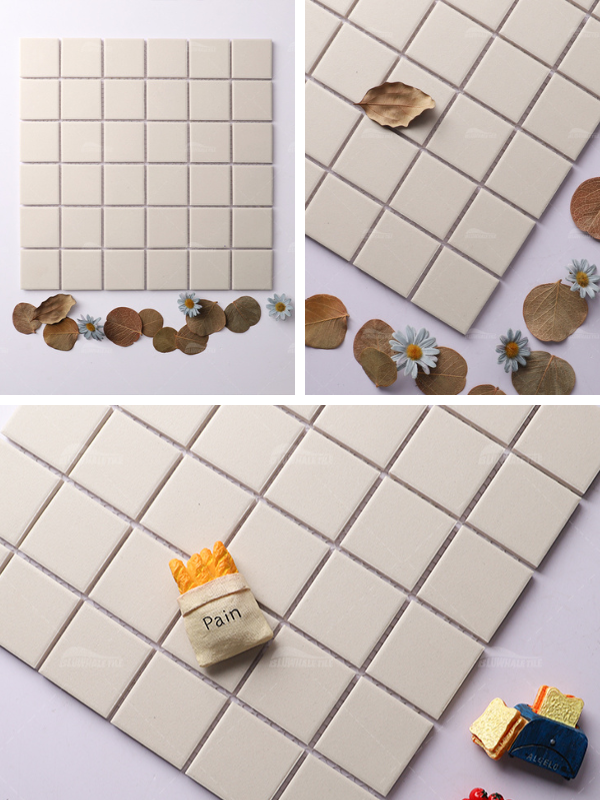 Featured Product: 48mm Full Body Unglazed KOF6201
#9 Handle Pool Tile Decor Pool Edge
A home pool offers a cozy place for relaxation, whether you swimming alone or with your family members. They can tuck a smaller pool into a corner of your yard or adjacent to your patio, where you can accent the structure with exquisite architecture and landscaping features—think tropical flowers, a shade-giving umbrella, or a trickling rock fountain. By the way, don't forget to install the anti-slip pool edge to protect the swimmers from slipping.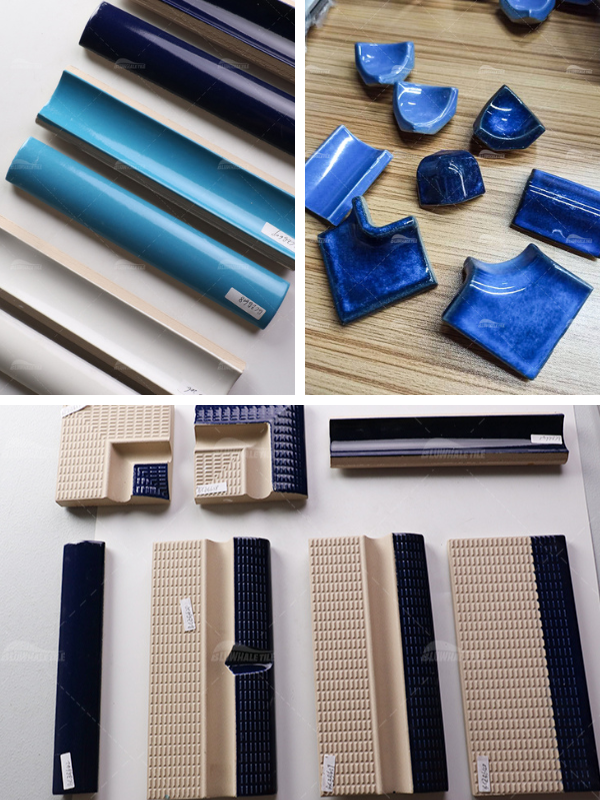 Featured Product: Blue Handle Grip Pool Tile BCZB620
#10 Jewelry Chips!
This bold yet attractive crystal glass mosaic has the best of both worlds: cool and warm hues! These iridescent colors blend together wonderfully and have such a jolly feel that radiates from the transparent glass mosaic chips. The geometric pebbles are a match made in heaven with any spa pool's inner wall and we can't get enough.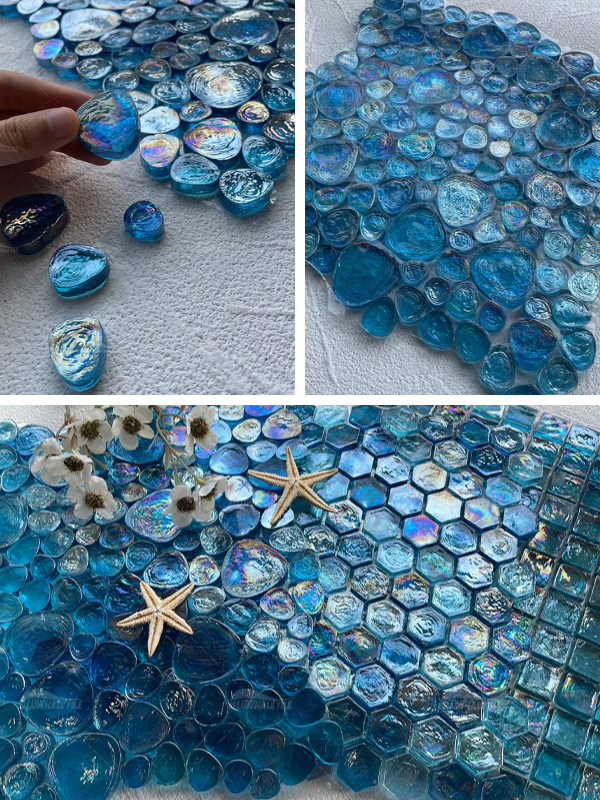 Featured Product: Iridescent Glass Tile GZOF1604
#11 Iridescent Effect
Looking at iridescent blue swimming pool finishes for your backyard? There are so many fantastic choices to achieve a "true blue" look. But did you know that this iridescent blue color has a special meaning, as well? As we all know that blue represents loyalty, confidence, and stability. It also symbolizes wisdom and freedom, making it a wonderful pool water color choice for adventurous backyard pools that inspire and ground you.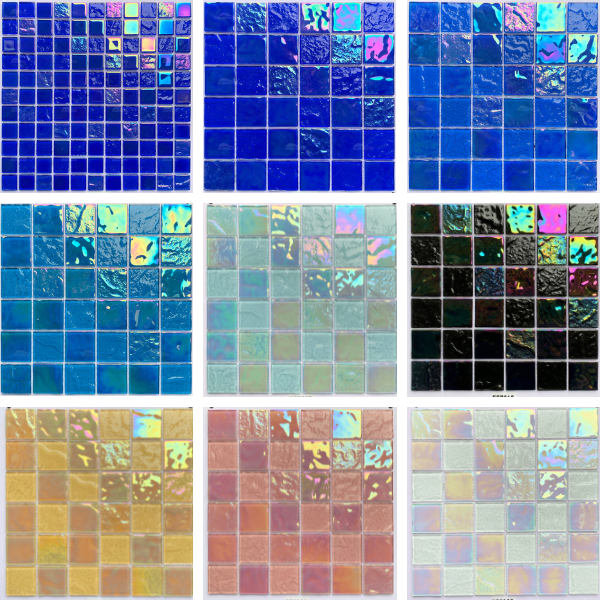 Featured Product: 2x2 Crystal Glass Blue GKOL1601
Get Inspired?
Bring the trendy pool tile ideas to life with Bluwhale Tile. As a pool tile supplier, we take pride in providing today's best selection of interior and exterior tiles to bring your commercial or residential spaces to life. Visit and shop our tile today to begin planning your chic swimming pool tile design, or reach out to Bluwhale Tile's professional and knowledgeable customer service team to know more about opting for premium quality pool tile to turn your pool area design dreams into reality. Interesting in finding more pool tile inspiration for other parts of your residential or commercial space? Order free tile samples now!