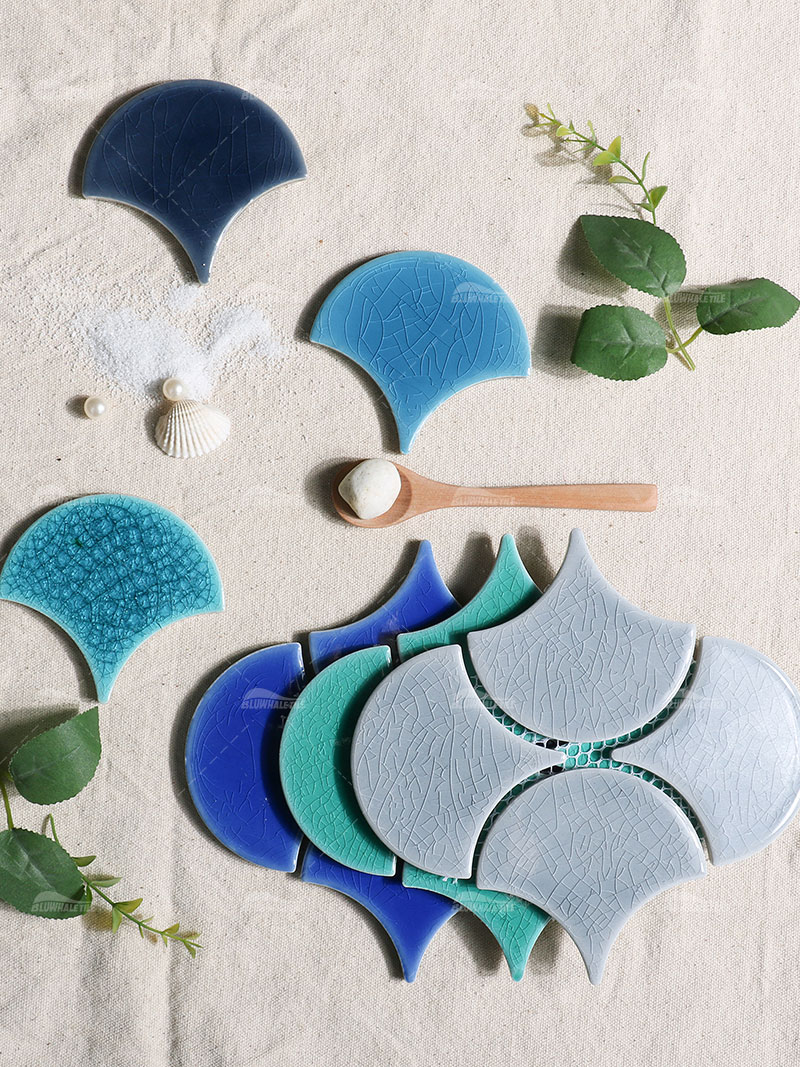 The beauty of Fish Scales knows no limit when it comes to glazed tile. Whether it's a crackle pattern or kiln glazed finish, we want you to create the best choice that matches your unique style. Try mixing different colors, stylish ice-crackle surfaces, going totally monochromatic, or playing with accents. Whatever it may be, the pool design idea is your oyster for that one perfect glaze. The surface texture and glaze color that is made by you, for you. To get the gears turning, we have put together a list of 9 of our favorite Fish Scales that we just can't get enough of.
At the core of our pool tile company, we have a fundamental belief in natural materials and handmade quality. That's why we use safe glazes. Since the swimmer touch closer to the pool interior wall and floor than others do, it's important to keep them safe from harmful chemicals. With our unique Fish Scale, you can rest assured that your pup will be pleasant and healthy.

No.1 Refreshing Dark Green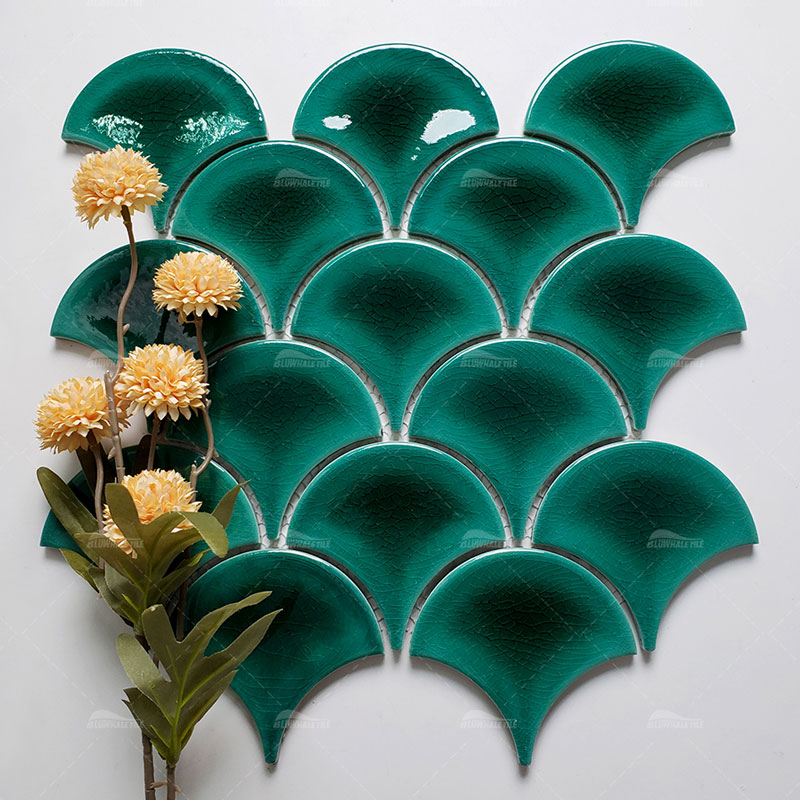 As mentioned before, we only used one shape and one green glaze color. So we consider this an amazing design, which is one of the most affordable and quickest options with our tile! It's even available to ship directly to your door on easy to install mesh sheet.
Get more details on these crackle fish scales: Fish Scale ZGA2701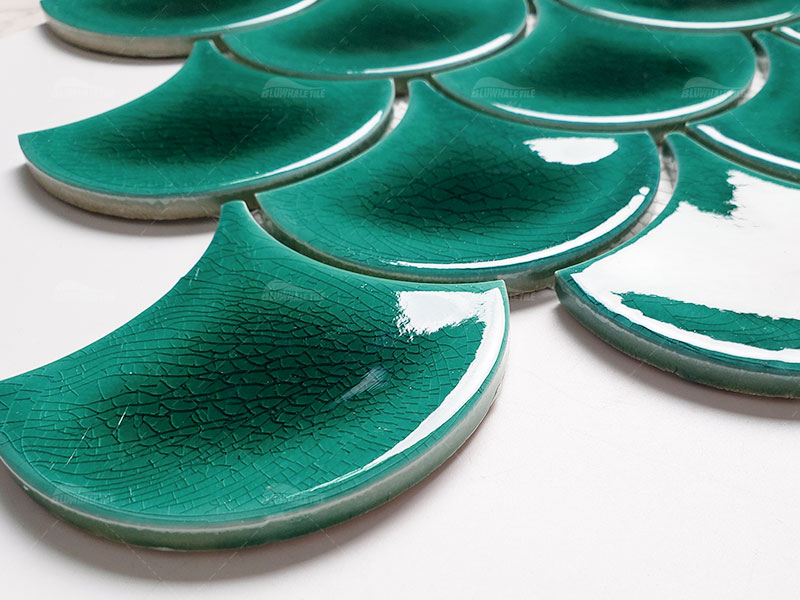 We think refreshing green is the most natural of all our glaze colors. This fresh green packs a punch without overpowering a pool area. The unique crackle finishes only enhance the stunning color, drawing you in rather than reflecting the sunlight, as it would with a glossy surface. We think the use of this green glaze with Moroccan Fish Scales for the swimming pool interior wall is the perfect addition to this fun, personality-filled backyard area. What better way to start your weekend than with this vivid color?
See more ideas of green tone pool design with our blog "Swimming Pool Project: Ice-Crackle Green Tile Makes Tropical Pool"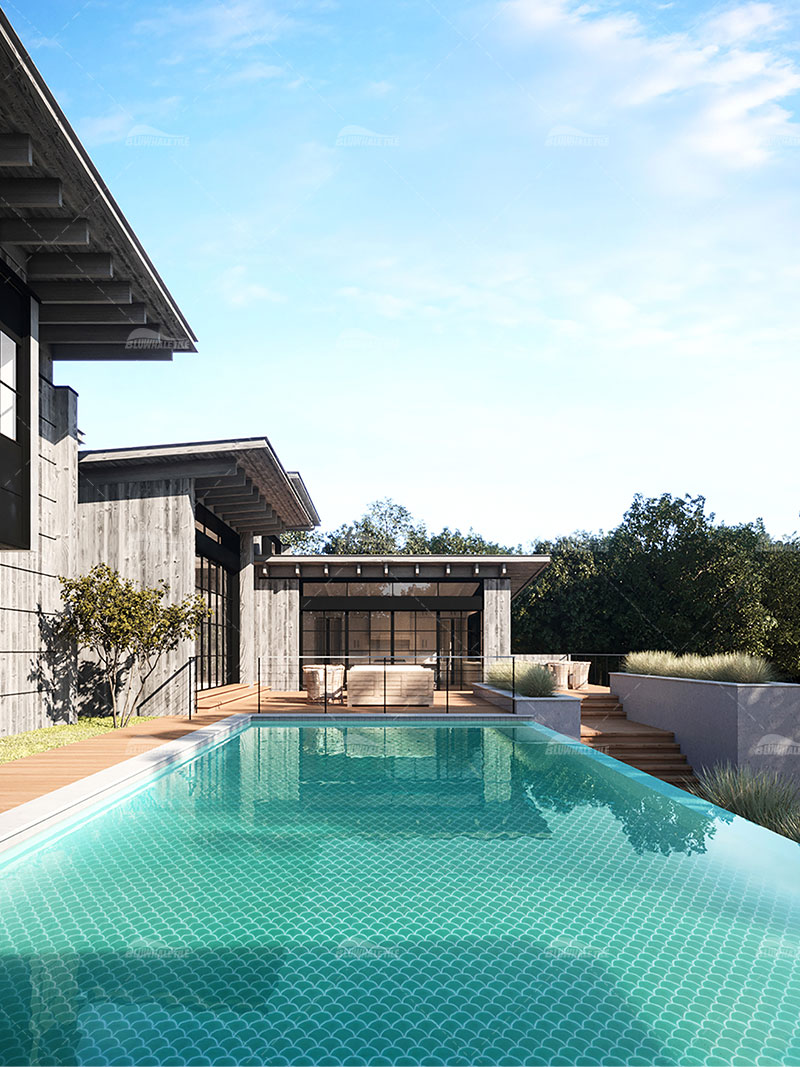 One of our all-time favorites is this immersive green due to its incredible depth and character. This welcomed and popular glaze is a smooth, pure emerald green tone glaze with a glossy finish and charming ice-crackle pattern. Filled with variations of aqua, teal, and hints of turquoise, this color will transform any swimming pool and interior space into a tropical masterpiece.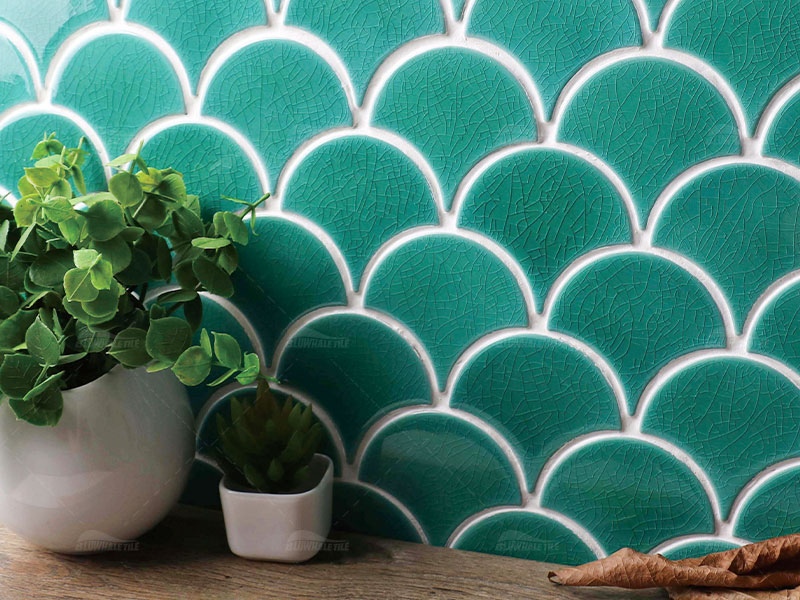 Starting from scratch, these clients had an idea in mind to create a Mid-Century Contemporary Moroccan oasis. Loving this direction, our pool design team quickly got tile samples over to them to get the ball rolling. Picking and choosing exactly which glaze colors they wanted, they landed on the dreamiest even single crackle patterns and refreshing green hue. What a perfect and tranquil oasis for the pool area!
No.2 Natural Blues
Nothing's quite better than your fond pair of natural blue jeans, but our signature ice-crackle blue glaze might come close! This past year as many people settled into their backyard pool area, we saw clients shy away from complicated designs and embrace minimalist glazes as a way to bring personality and comfort into their unique spaces. We're excited for more vibrant glazes whether it's this specific jeans cloth or a glaze you've dream up of mysterious black, romantic pinks, or turquoise green.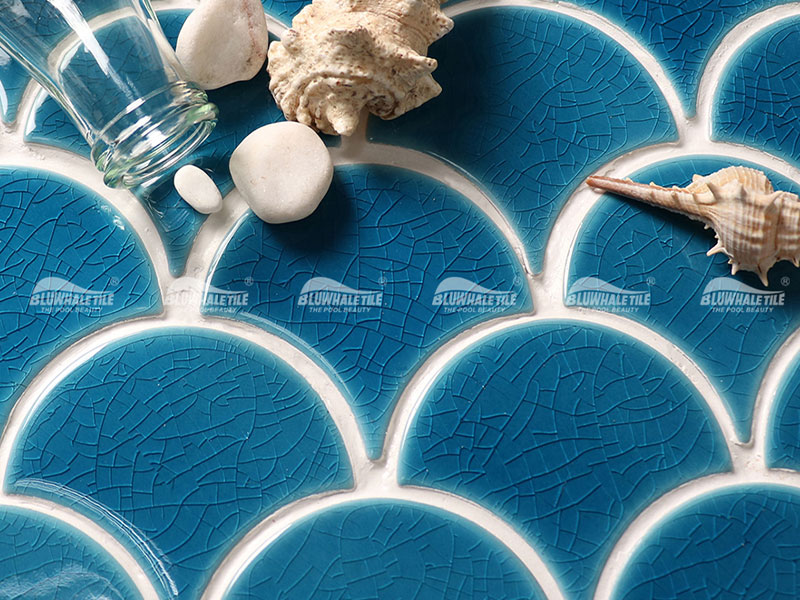 Featured Product: Fish Scales, Ice Crackle, Blues
Our blue glaze is a semi-transparent cool blue with a crackle glossy finish and high variation. This glaze color is a prime example of how sometimes more is the right way. When it comes to our single crackle surface, each fan tile is full of unique depth and character that will remind you're swimming in the vast ocean! Fulled of natural vibes, this hotel swimming pool made it on our list of favorites because it's the ideal example of a single crackle that was made specifically for this lively hotel pool area.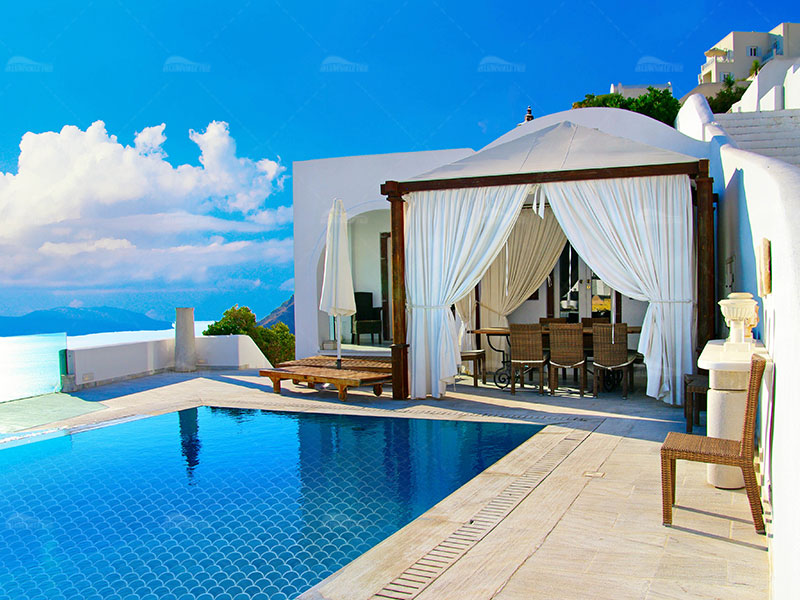 If an airy and modern style is your bathroom atmosphere, then this bathroom vanity wall is right up your accents. These monochromatic blue Fish Scales are the perfect focal point to an otherwise minimalistic space. This ice-crackle pattern has proven itself to flawlessly fit into bathrooms that embrace a blue tone interior - so much so that you can order them straight from our Bluwhale Tile online store!
For more blue hue swimming pool design, visit our blog "Swimming Pool Project: How To Design Refreshing Home Pool Style"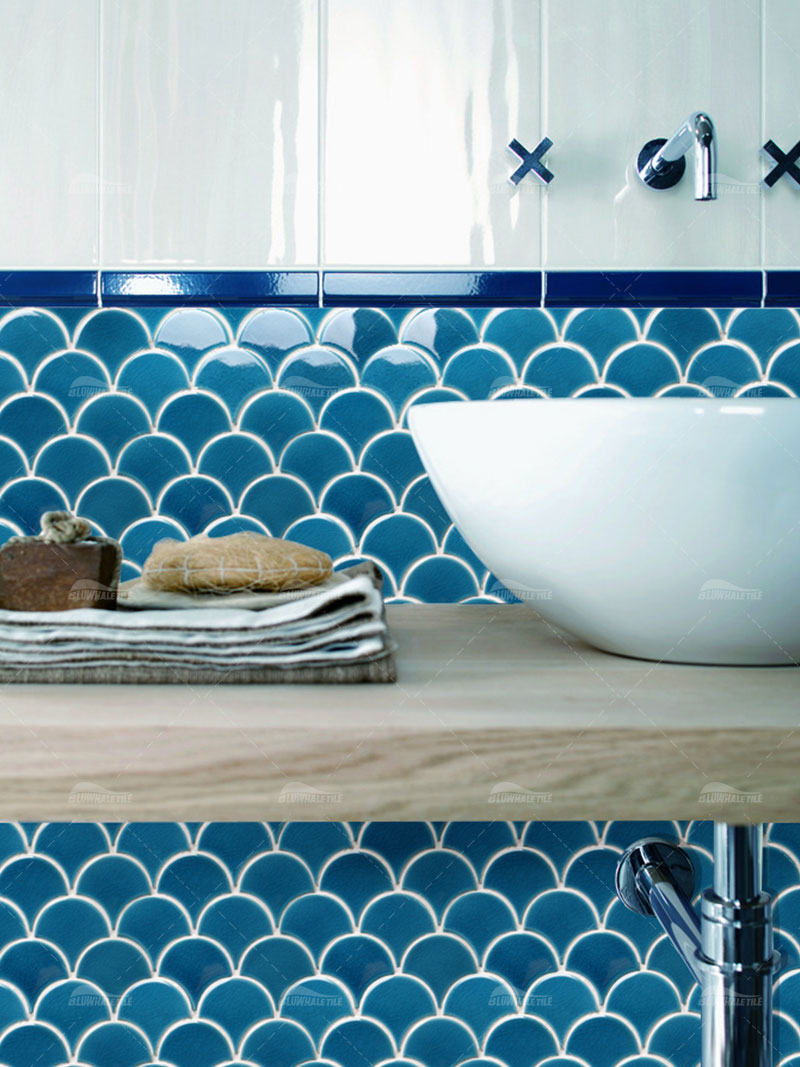 Make waves with our Morocco-inspired Wave Pattern that will have all of your friends in awe. This ocean blue Moroccan Fish Scales is not only stunning but will bring natural ocean vibes and eyeful effects to your pools, showers, or bathroom walls. When tiling in a unique and create pattern, glamour ice-crackle texture will outstanding to the naked eye.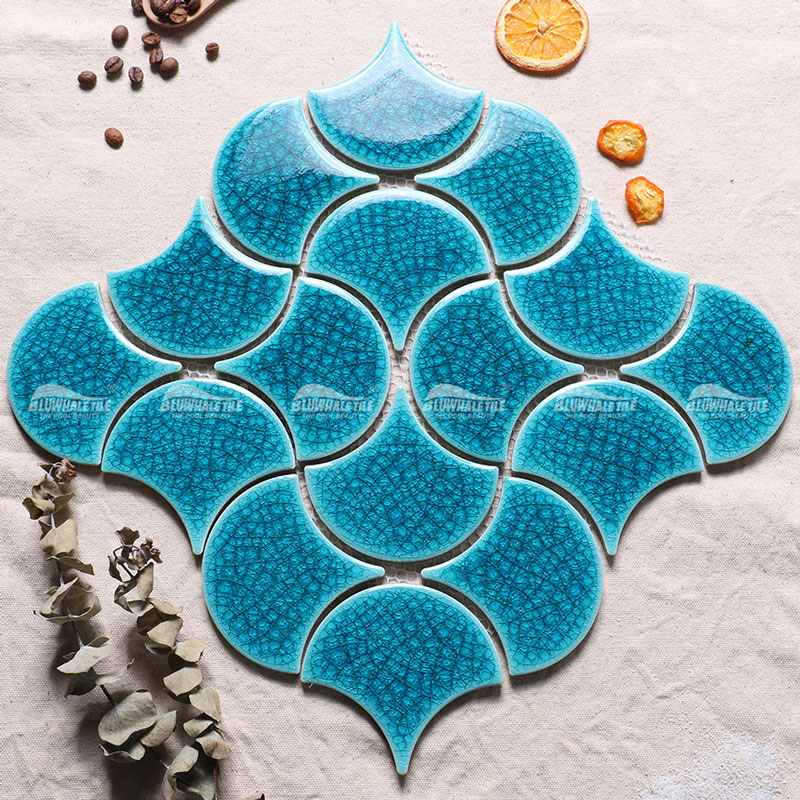 No.3 Simple White
Try another pattern, texture, or surface? Color isn't the only thing to consider when it comes to your glaze choice, and each glaze also offers a textural element, which we call the surface texture. We categorize our ceramic Fish Scale glazes into three general finishes: heavy ice-crackle, single ice-crackle, and pure kiln glaze. These surfaces give off a contemporary and minimal look that always results in a stylishly finished tile installation. It's an easy and ideal way to turn a standard pool tile project into a sophisticated dream with our chic crackle and general surfaces!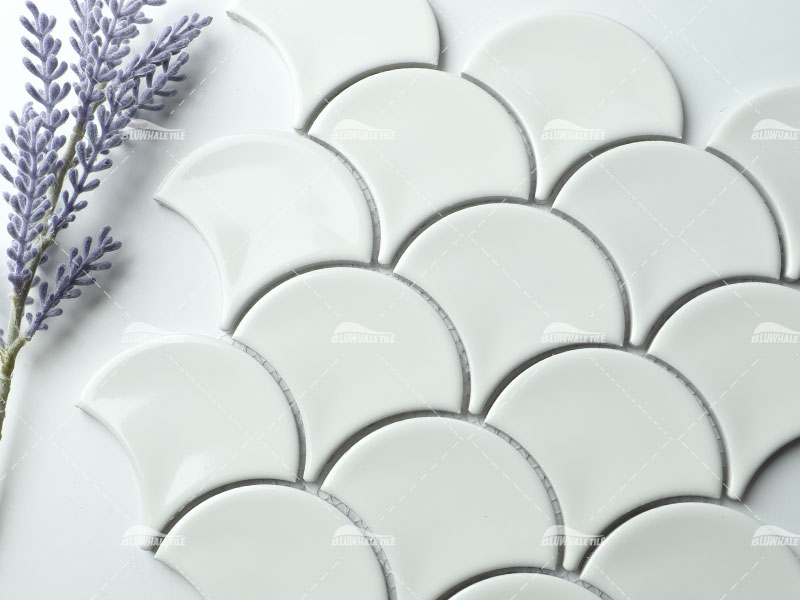 Featured Product: Fish Scale ZGA2201
No.4 Mysterious Black
Cool black! When you don't know what to wear you go for the elegant black dress right? We figure tile should be the same, and this glaze is one of our favorite go-to's when someone wants to make a statement without being too colorful. Rather than being bored, we think this is the perfect bathroom wall decor. What's more, it might be your character and unique outside shower wall tiles.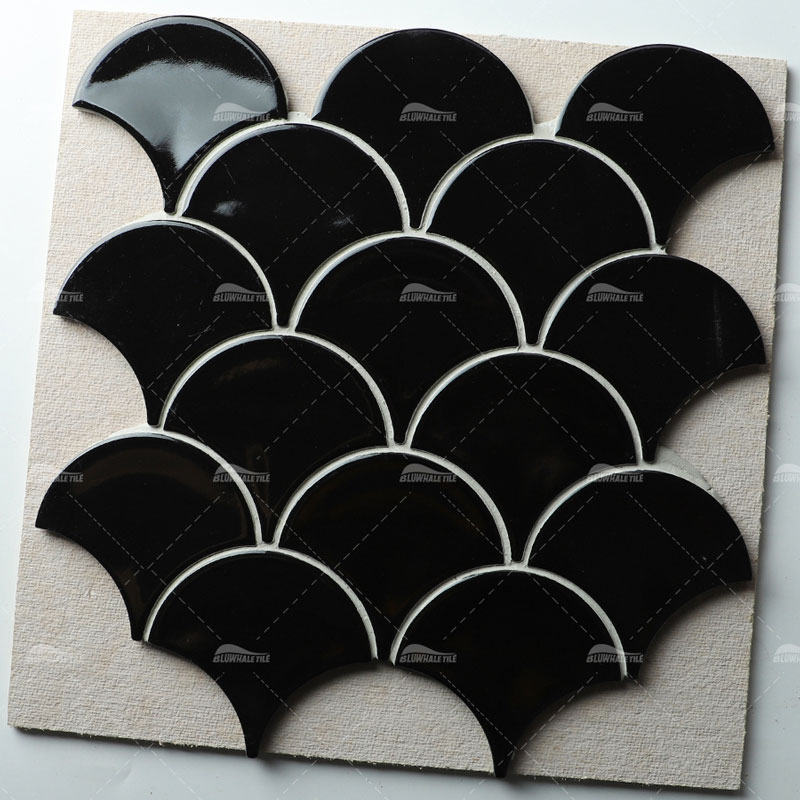 Featured Product: Fish Scale ZGA2901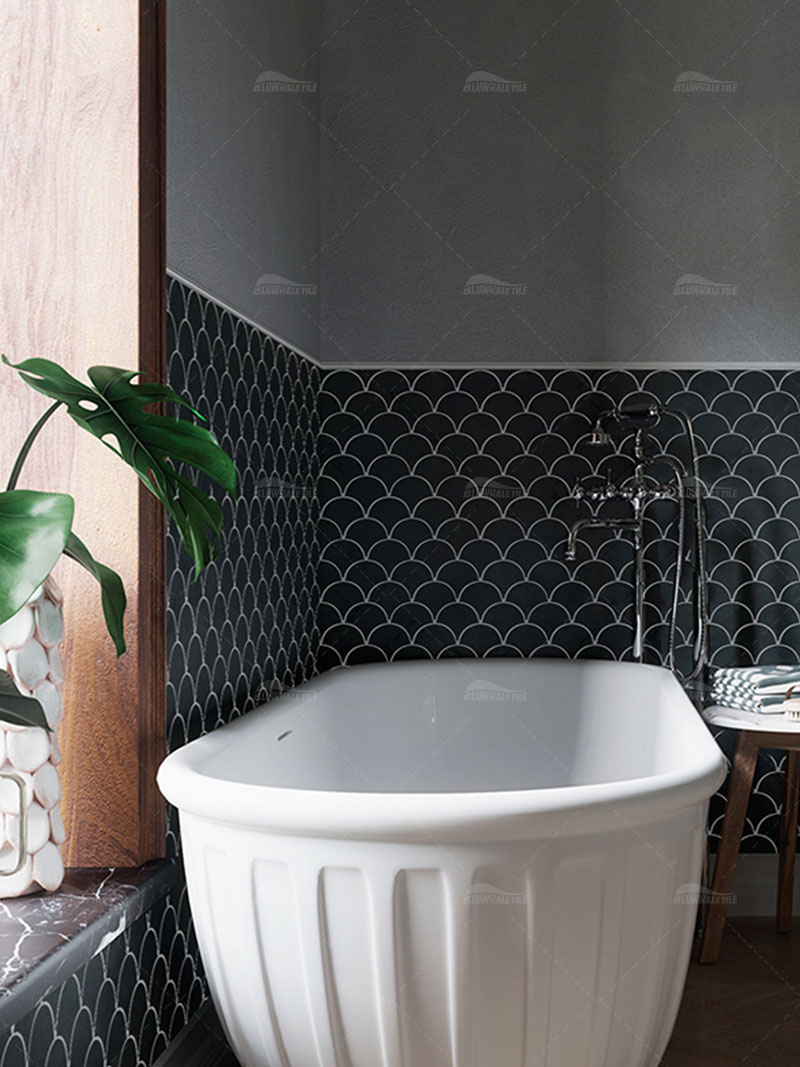 The mysterious bathroom of our client chose this dramatic look to give their bathroom wall that secret relaxing area. For this particular glaze, there's even a mixture of our unique black palettes for the perfect glimmer of gloss and smooth touch of sheen. Using a black tone as the bathroom featured walls adds a layer of texture that's downright hard to keep your eyes off of.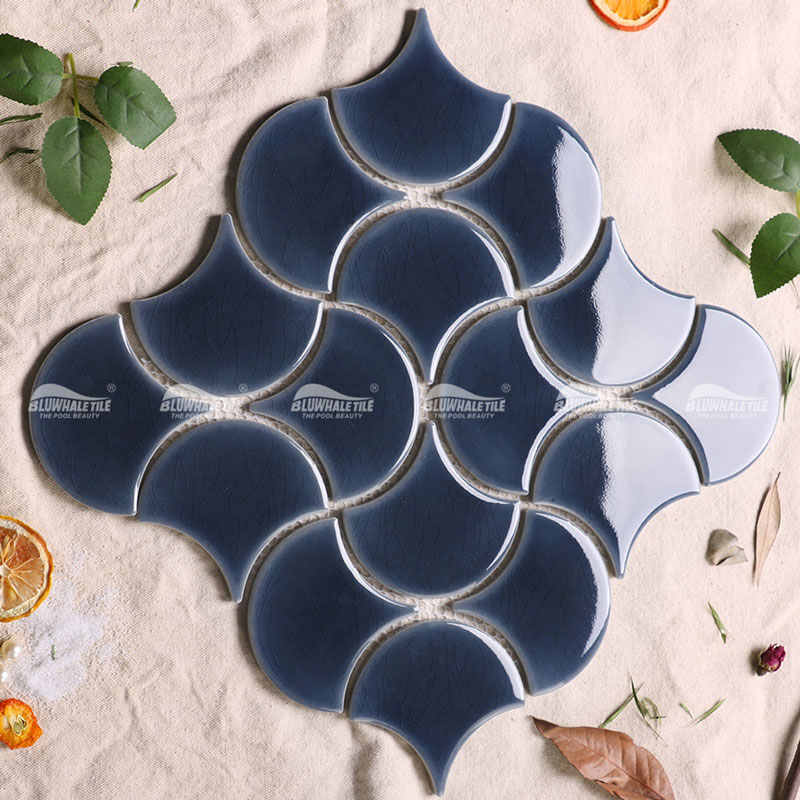 Checking out our another pattern - Wave Pattern. No one wants to spend extra time wiping off bathroom walls or cleaning the pool waterlines. Our ice-crackle kiln ceramic tile is super low maintenance. Simply sweep or vacuum access dirt, wipe with a moderate all-purpose cleaner or vinegar-water and you are fish scales will be good as new!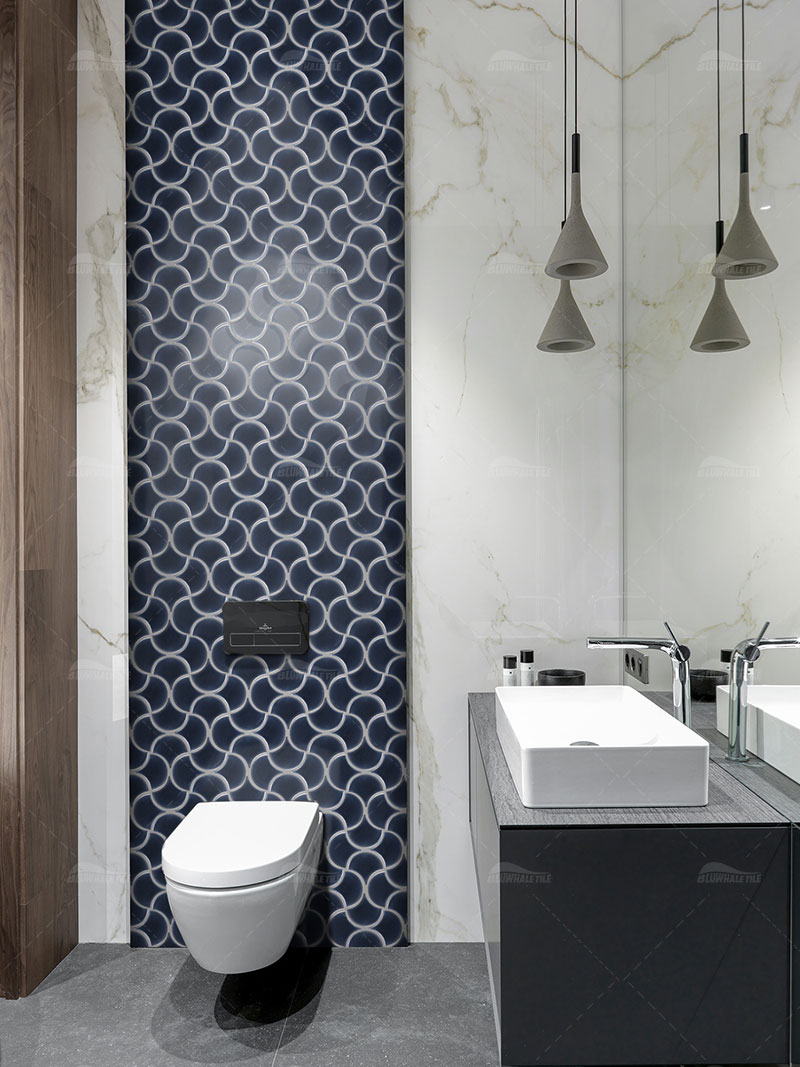 No.5 Light Pink
Keep it sweet and dream with a single-hued Pink Fan Tile. We combine the girlish light pink color with the Moroccan Fish Scales, which is rich in tone and high in variation. This glossy glaze will show off its light mild pink tones leaving your space in romantic vibes.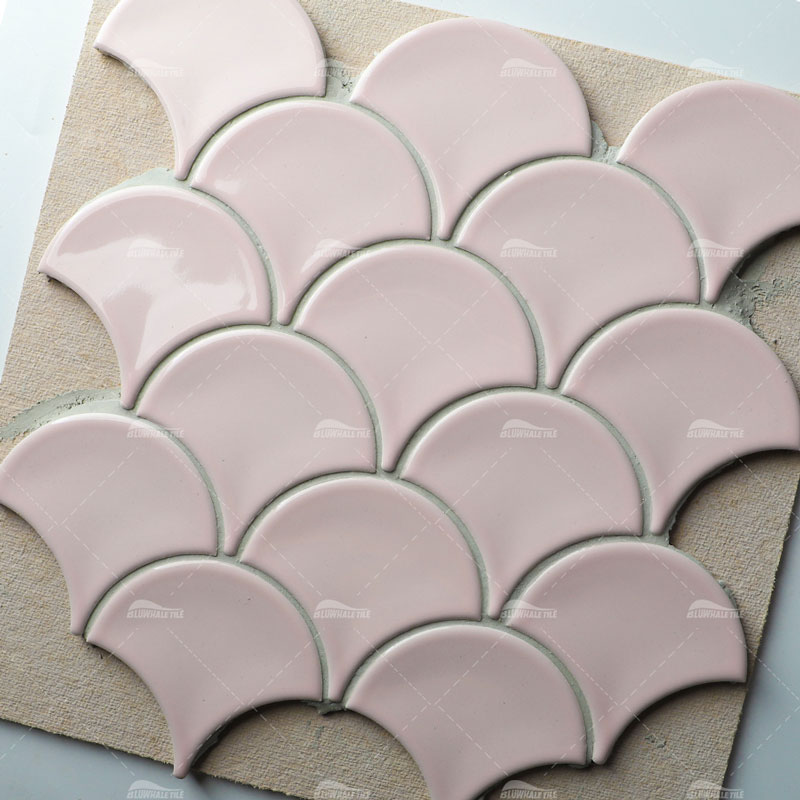 Featured Product: Fish Scale ZGA2401
N0.6 Blend Colors
Blend color Fish Scales! Especially popular in bathrooms, showers, swimming pools, these Moroccan-style Fish Scales are just as stunning and wonderful in your interior and exterior space. This fan shape mosaic tile can be installed in all directions for amazing effectiveness, which will help you create your personal style.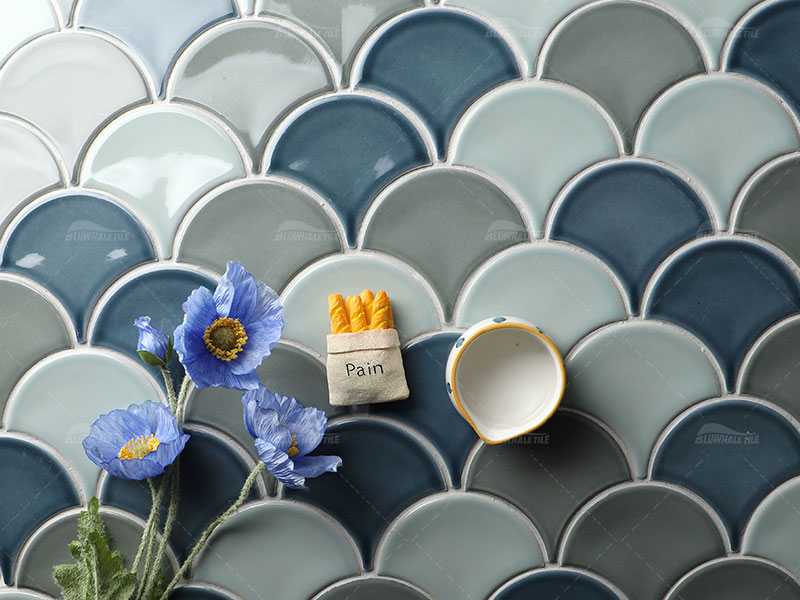 Featured Product: Fish Scale ZGA2001
Adding a blended color to a bright swimming pool is always satisfying, let alone when you can improve the design by utilizing our mix colored fan tiles. This blend color sheet is the perfect way to showcase such a fascinating look.
For more on our handmade Fish Scales, visit our blog "Style Collection: 286X286mm Wave Pattern Crackle Fish Scale Mosaic"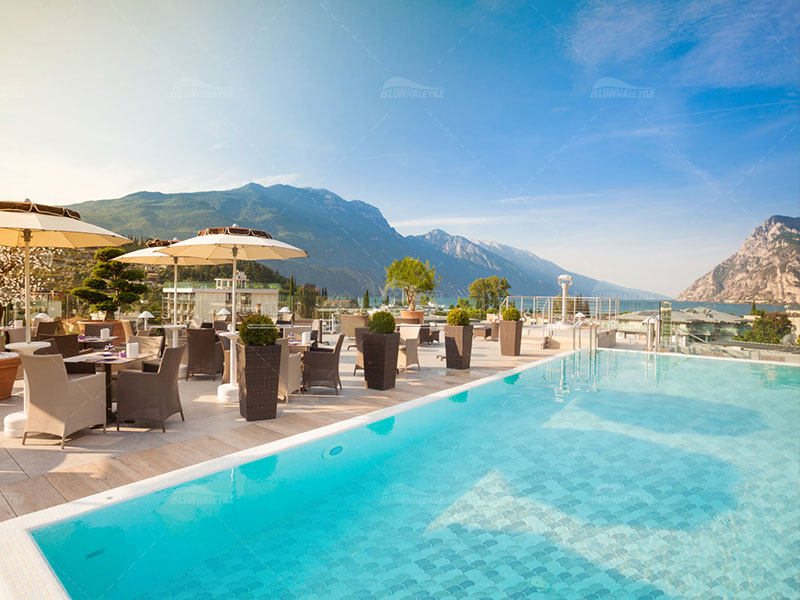 Get Inspired?
Are you looking for Fish Scales for your future swimming pool redecorating plan or bathroom project? Something understated and natural for remodeling your outdated pool, or something sleek and stylish? You will certainly find a tile that is right for you at Bluwhale Tile. We prepare a one-stop service for your plans. Contact us immediately!