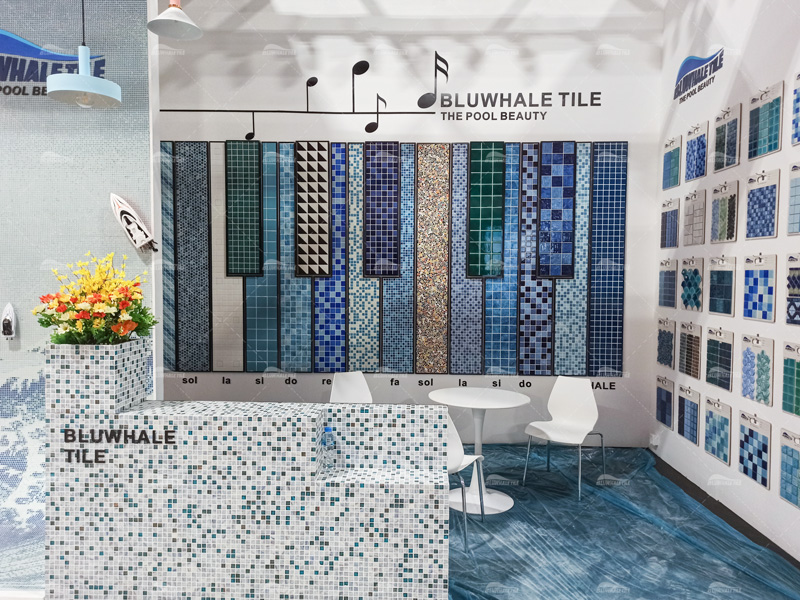 The wonderful Asia Pool Spa Expo 2021 had just finished and much thanks for all visitors stopping by our booth and showing interest in our trendy and stylish swimming pool mosaic tiles. And today let us look back to the event if you were not at the show at that time, this blog will take you to have a closer look at our welcomed items that get perfect feedback from buyers all over the world.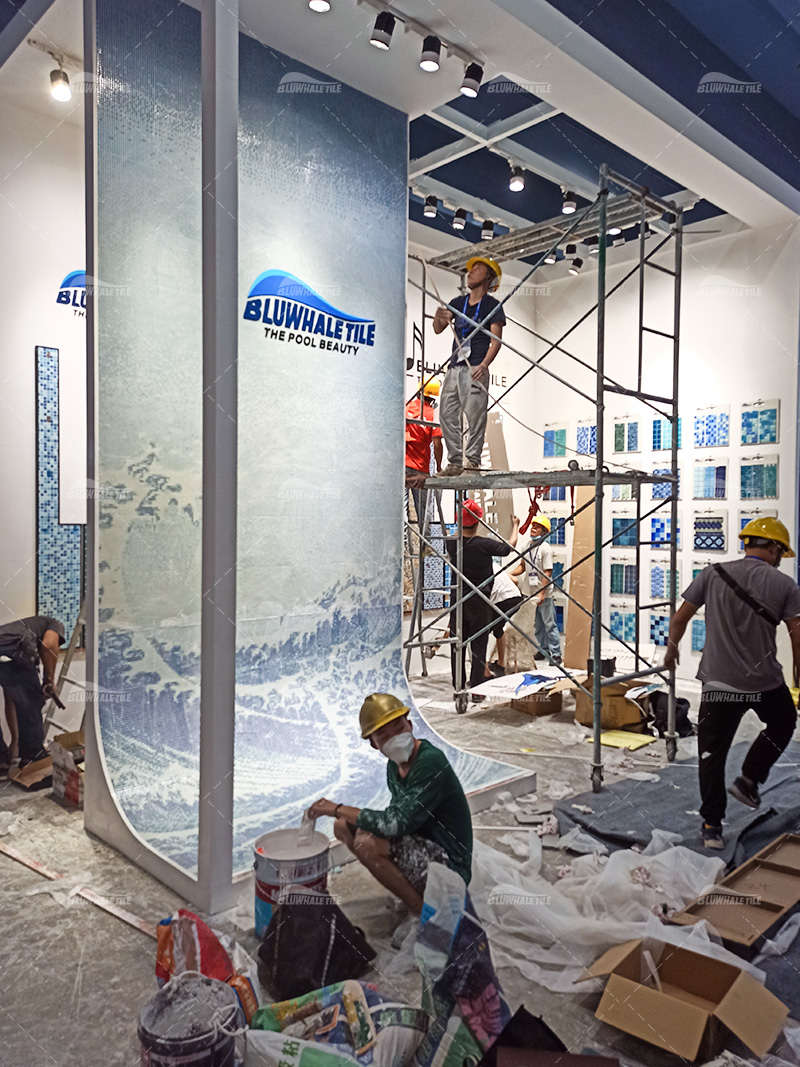 We are beyond excited to share the event from start to finish of this "Pool & Spa Expo 2021" and this unique booth design project. The customized pool mural, latest and modern swimming pool tiles, amazing swimming pool design ideas. Please keep on reading.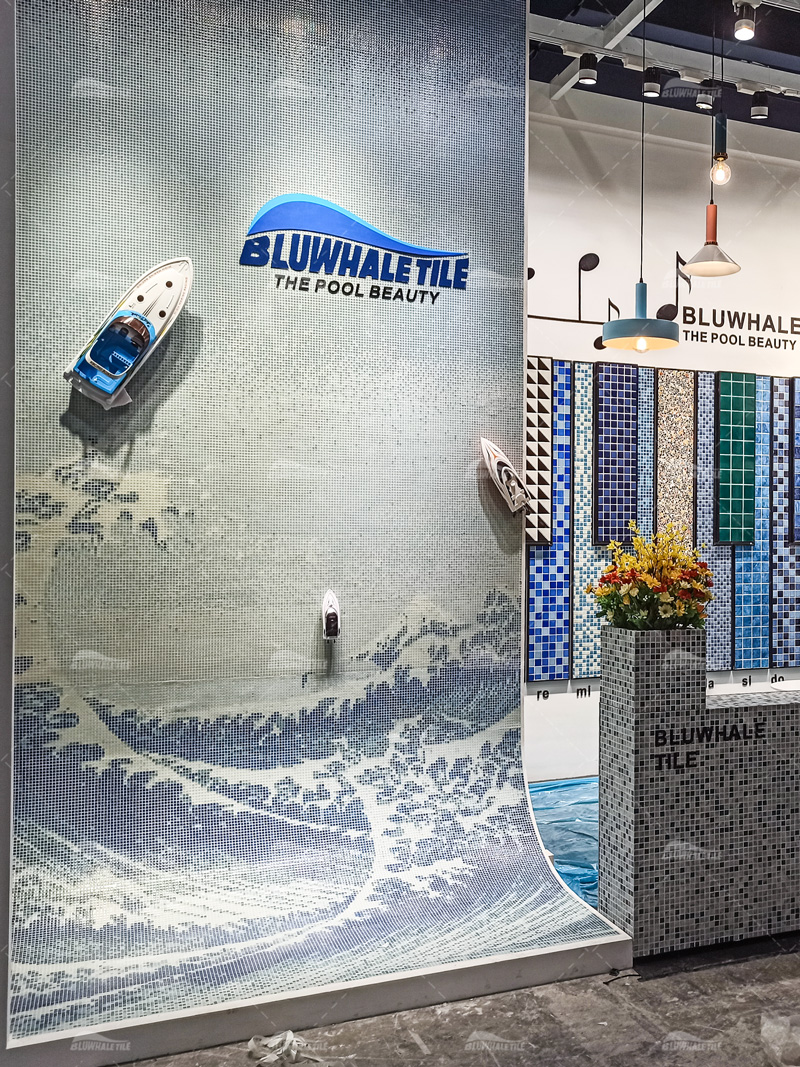 Jane has always been a leader in the design team of Bluwhale Tile so working with her was a no-brainer for this booth design project. She has been creating inspiring swimming pool murals and designs the spacial pattern for different clients, such as vintage floral patterns, lovely sea world animals, and gradient color patterns. Jane's work represents the diversity of hope, power, and energy. She always says,
"I'm designing this art right now because I feel it's important to share the spirit of belief, struggle, and perseverance that have defined the stunning pool murals."
With this as the driving force coupled with our all-team's desire to be a focal point for the exhibition hall and wellbeing for the booth, Jane dreamt up some ideas for this pool mural.
For more swimming pool mural ideas, visit our project page: Bluwhale Tile Pool Mural Project Share Blog >>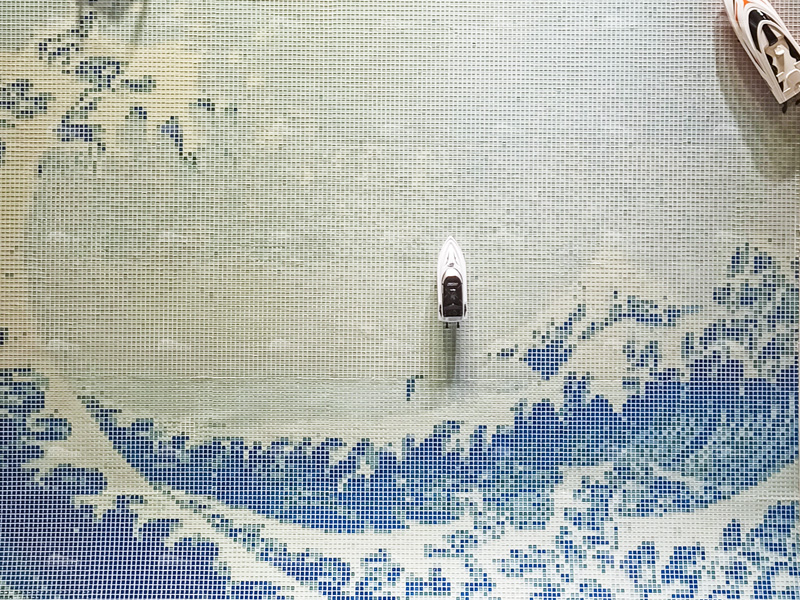 After many conversations, we landed on the "Sailing Sails and the Sea" drawing because this pool mural was part of a statement that Bluwhale Tile could conquer the ocean and rise even better than it was before and this artwork depicted that perfectly. Jane's vision for this mural was inspired by the sea wave on her trip to the seaside. For her, it represents the ideal state of overcome the sea waves and strong sea winds finally. She shows three sailboats forward the Bluwhale Tile, hence symbolizing our shop as an ultimate destination. The eyeful color, mosaic detail, variation of texture, and combination of patterns was the perfect depiction of Jane's driving force behind her pool mural design.
For more pool mural patterns here: Sea World Mosaic Murals Ideas >>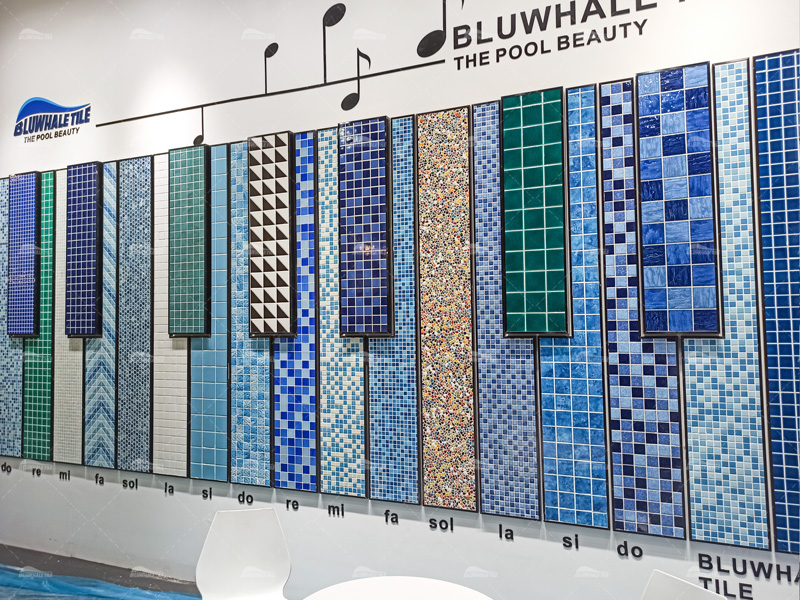 The unique and amazing broad celebrates our modern and popular swimming pool tile looks. In other words, you'll find the scrumptious blues and greens readily associated with water and the ocean. Available in crystal glass, hot-melt glass, and porcelain materials. You can order a wide range of sizes, like 20x20, 25x25, 95x95, 100x100, and etc. What's more, the various patterns will appeal to anyone. Wave textured, ice-crackle, and the ink-jet pattern will be a trend!
For the latest pool tile inspiration, visit our blog: New Things - 14+ Styles of Iridescent Rainbow Glass Tiles >>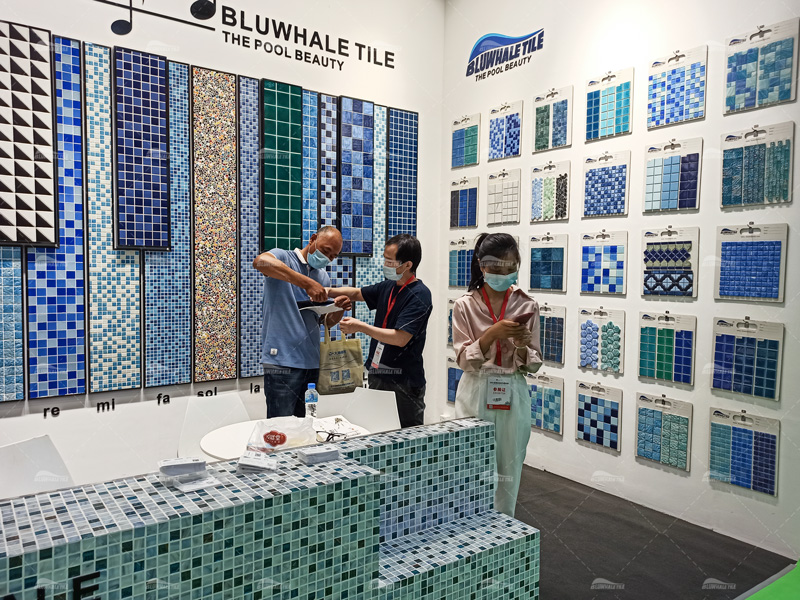 One of the first design elements to draw the eyes to a swimming pool is, of course, the pool tile! However, choosing the perfect one to suit your style and needs can be a little intimidating. You still have a lot to decide on even after you've set your pool project budget and chosen your preferred style. Which materials can you use for a swimming pool tile? What are the most common sizes? How about the stylish palette trends? We can give the right tips to you!
To see more new pool tiles with our blog: New Things - 7 Styles 1 Inch Hot Melt Iridescent Pool Tile >>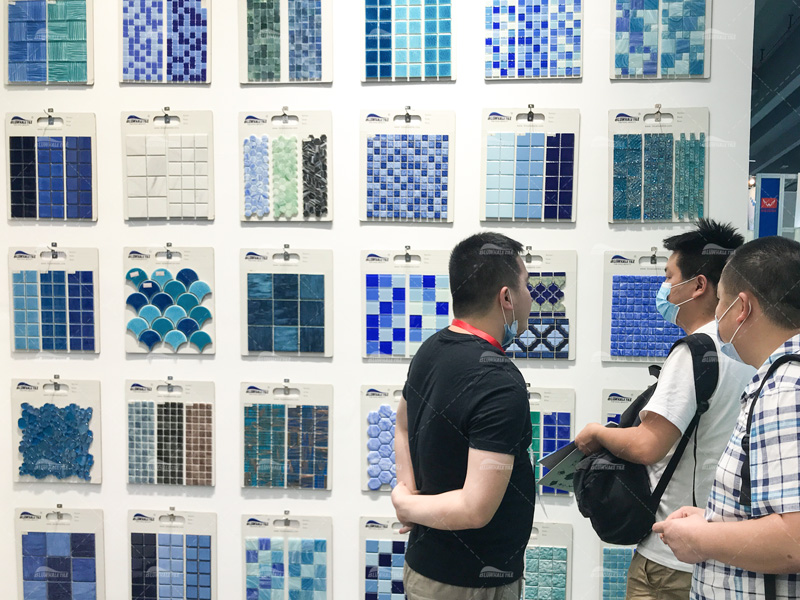 Like everything else in swimming pool project design, you have many options when it comes to pool tile. Designing a swimming pool means you have to pick tiles for the flooring, interior walls, and the pool waterline, as well as any pool steps or benches you may include. The factors to consider while choosing pool tiles may be different for each area.
To see the unique pool tile details, visit our blog: New Things: Classical Series Crystal Porcelain Pool Tiles >>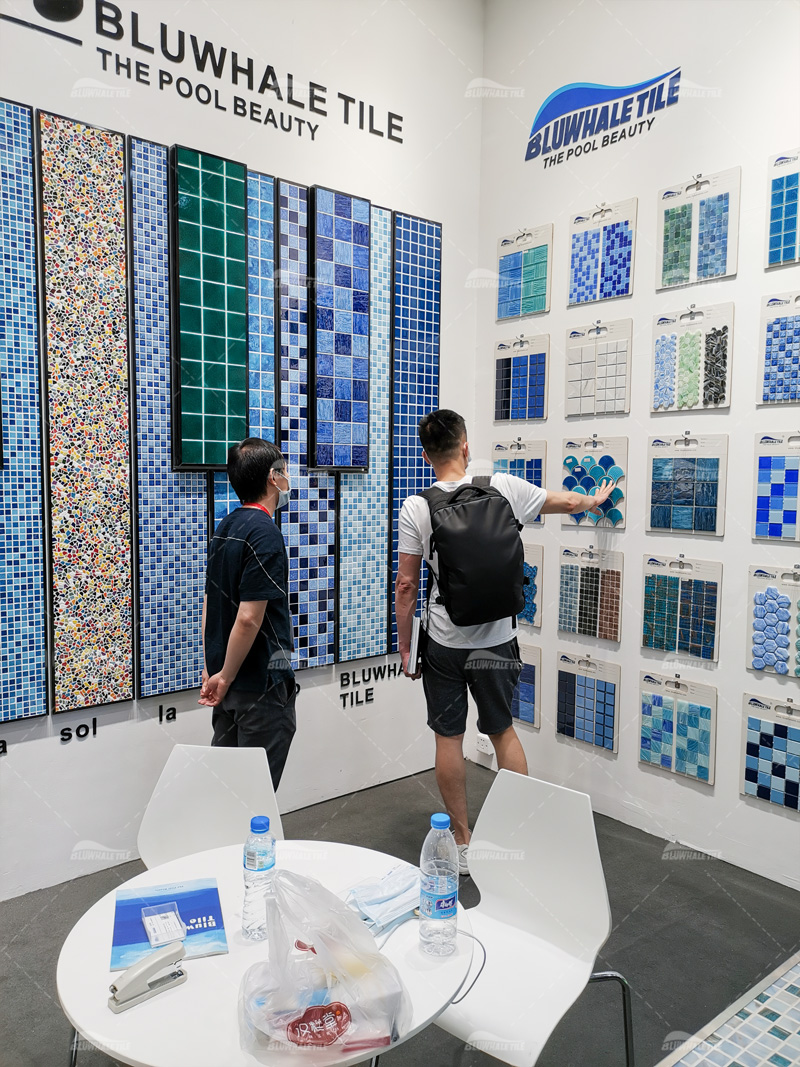 Fish scale tiles are a perfect way to add style and color to your pool tiling job. They are associated with a Moroccan influence when used in the backyard and private swimming pool decor but with the large range of surfaces and palettes of fish scale tiles now available the result of using fish scale tiles can work with most design influences. Let's order chic fish scale tile samples right now!
For more beautiful porcelain Fish Scales, visit our page: Frozen Fan Shape Crackle BCZ715 >>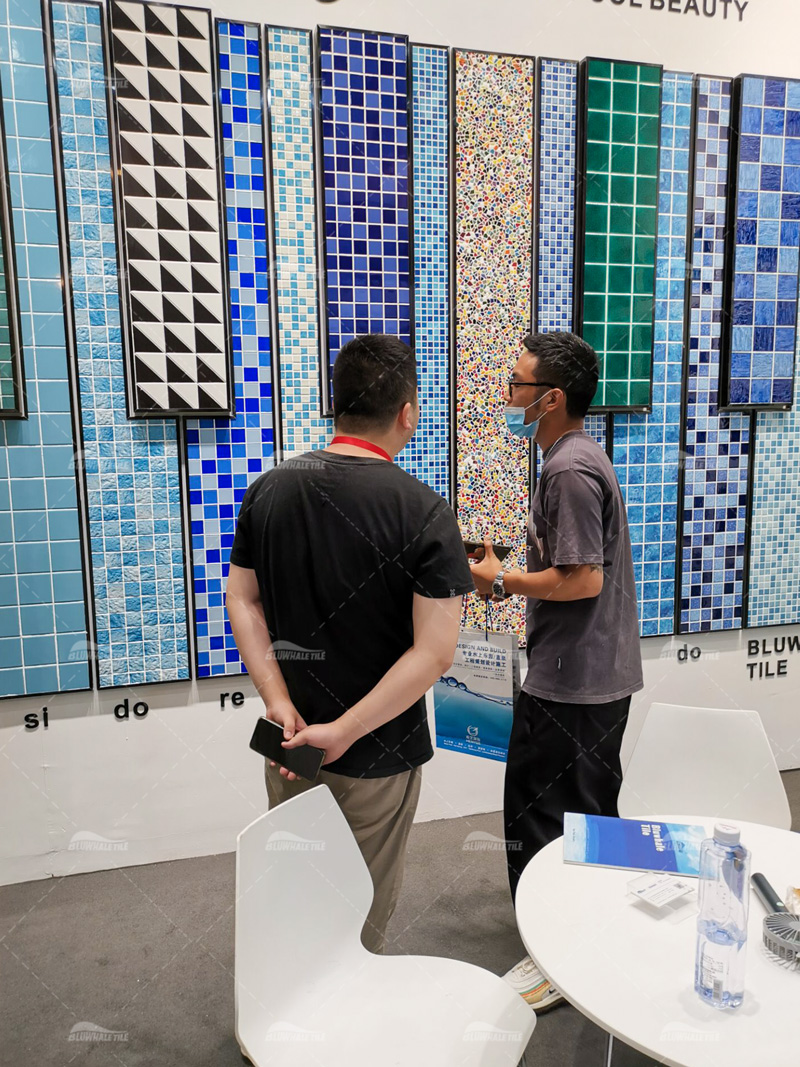 The client is asking about the pool waterline. To decide if pool waterline tile is something essential to your swimming pool, consider the large picture: how does your pool deck design, coping, pool edge decor, or landscaping influence the whole aesthetic? Pool waterline tile is normally half-submerged in the water allowing for the three inches to be visible and with the other three-inch under the water, however, three inches can have a great impact on your overall landscape design.
For more pool waterline ideas, visit our page: Various Creative Pool Border Tiles >>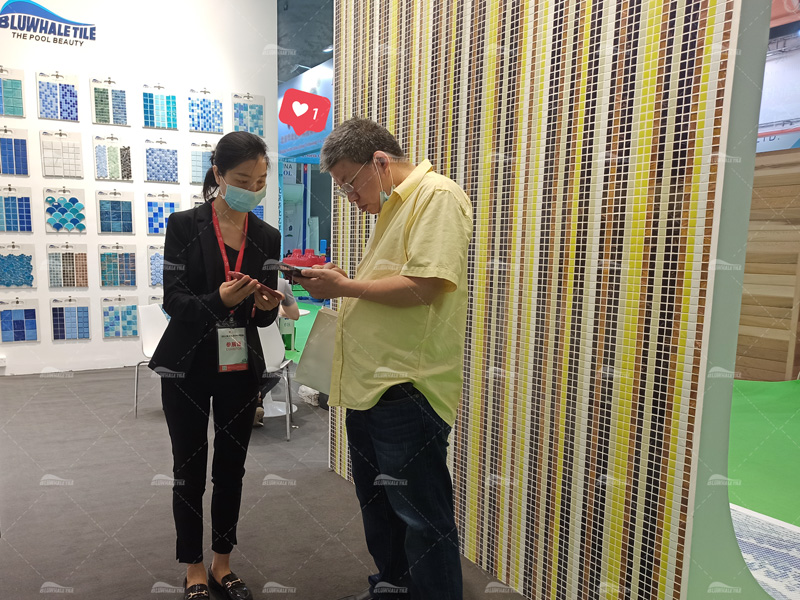 Some people think that the swimming pool lining must be blue or green for the water to appear blue but this not the case. In fact, sometimes the more vivid yellow, enthusiastic red, dark black hues make the water appear a deeper lagoon blue. Just like our feature wall shown below: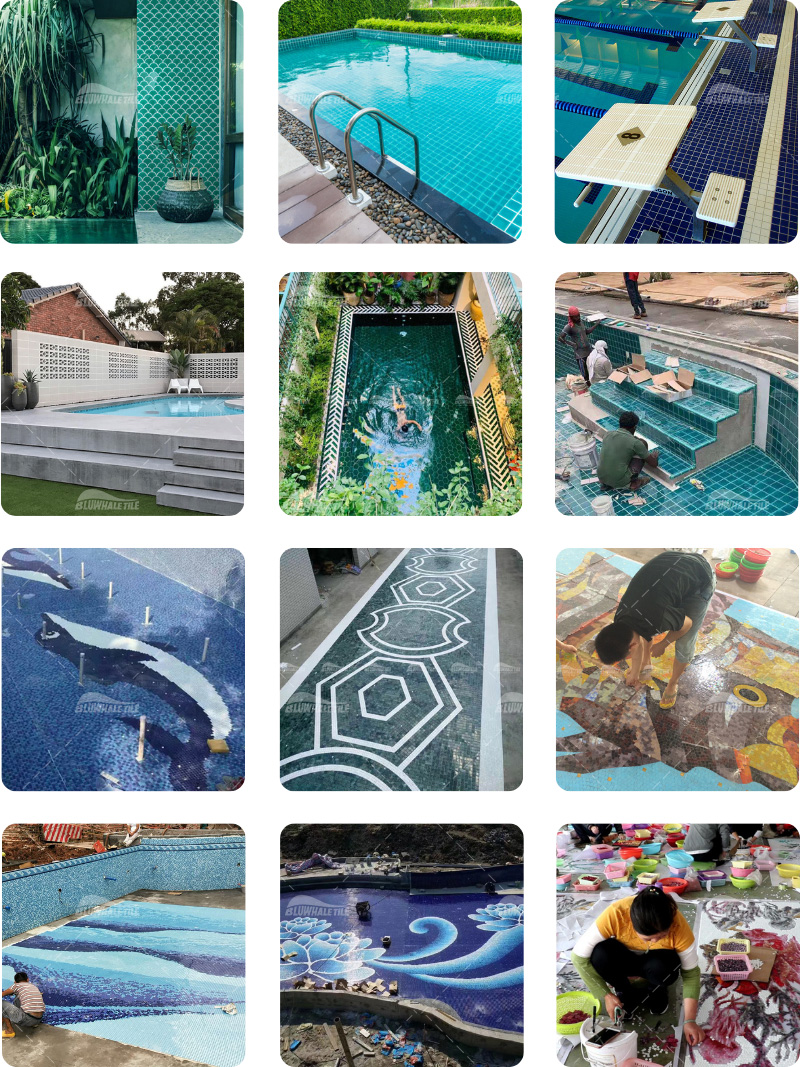 We think we can all agree that no two personalities are the same so why should their swimming pool spaces be? We are on a mission to break the barrier of bland tile and give our fans exactly what they have been dreaming of. So we want to know - What does your personalized blend look like? Let us know here!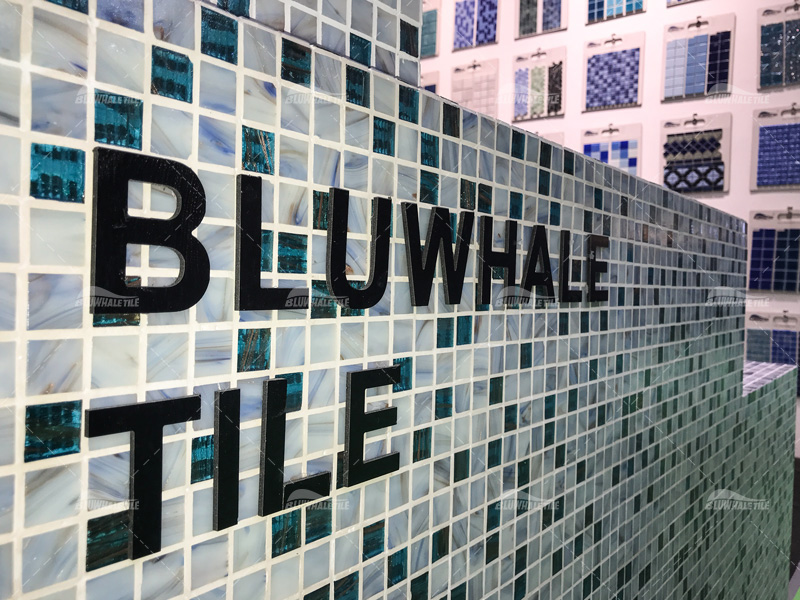 Get Inspired From The Booth
Want to get the latest catalog and order pool tile samples to see and touch in person? Contact Bluwhale Tile right now and give helpful and professional swimming pool design ideas for you.