While you look at these headlines, you might wonder that what's the difference between beach entry inground swimming pool and common swimming pool? If you have not heard it before, I can explain what is a beach entry swimming pool here.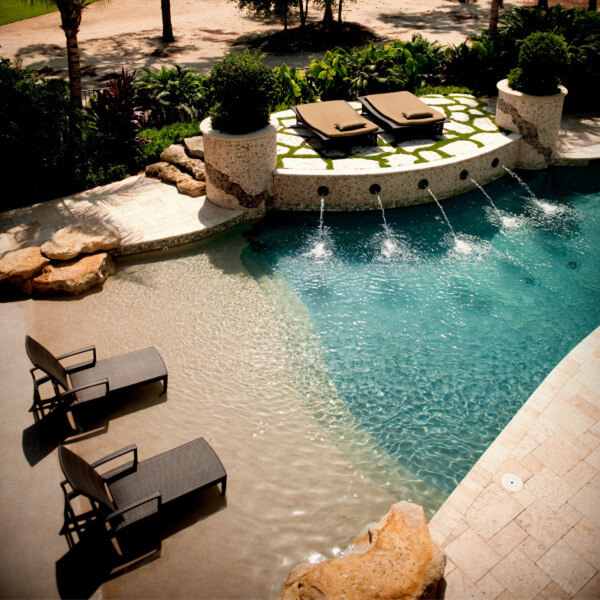 Beach entry inground swimming pool, which means zero entry pool, is designed with an entry that has a small slope into the pool. This pool providing you a long, slow and gradual entry that slopes cannot exceed a 1:7 slope ratio according to the international swimming pool and spa rules. Thusly, the pool can have no more than one foot in depth for every seven feet in distance. This design concept mimics the appearance and functionally of the natural beach in the ocean. When you enter into a pool with a beach entry, your first instinct might be dry, or with zero water on your feet. The entry just like a long slope that becomes progressively deeper and deeper with your every step, so as you walking into the pool, this configuration gives a gentle transition into deeper water.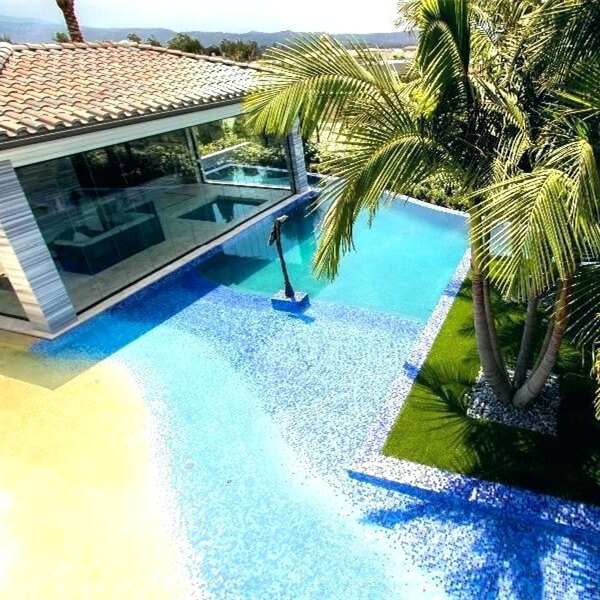 What are the benefits of a swimming pool with beach entrance? Will a beach entry pool be suitable for your family members and their lifestyle? From visual effect to enhanced functionally, this design can give you several advantages.
1. If someone in your family enjoys a pool's recreational but he or she has physical disabilities or inflexible legs, this design is a great choice. Using a beach entry replaces the traditional pool ladder, which makes accessing the water possible for your family members with difficulty lifting their legs, bending their knees, or moving when they synchronously catching a handrail of the pool ladder. They can use a pool-access wheelchair and stay in the depth that suits them.
2. If someone wants to learn to swim or try to slowing overcome of water, this beach entry maybe helps him. Except for facilitating physical access, a beach entry might decrease any psychological barriers to access into the pool. Someone may find that the slow slope into deeper water less fearsome.
3. If you have children who need to be walked safely into the pool, this beach entry can provide an extended area of shallow water which is a safer place of little boy or girl to play in. You'd just spot your children who cannot swim heading into the pool at swimming pool border and call or pick up them away from the pool.
4. If you are a person who has greatly interested in sunbathing, we think that this beach-style entrance pool is most appropriate for you. Relaying on the slope, it can function like a tanning ledge for sunbathers, you can lie on very shallow water to keep cool while sunbathing. Besides, you can imagine that setting up a couple of lounge beach benches from the entrance, soaking up the sun oil all over your body and closing your eyes and relaxing. How pleasant it is!
5. If you have a pet like a dog who relishes playing in the pool, this entry may be suitable for your pet than steps or a ladder entry swimming pool which prevent the falling and drown dangers for pets, particularly visiting guests' pets.
Can I have a pool with beach entry in the backyard? Of course! As "staycations" become more and more popular, the trend of designing beach entry swimming pool continues to grow year by year. Many homeowners prefer adding swimming pool mosaic tiles and beach entry design to their own backyard pool, which create a secret beach resort they can enjoy with family.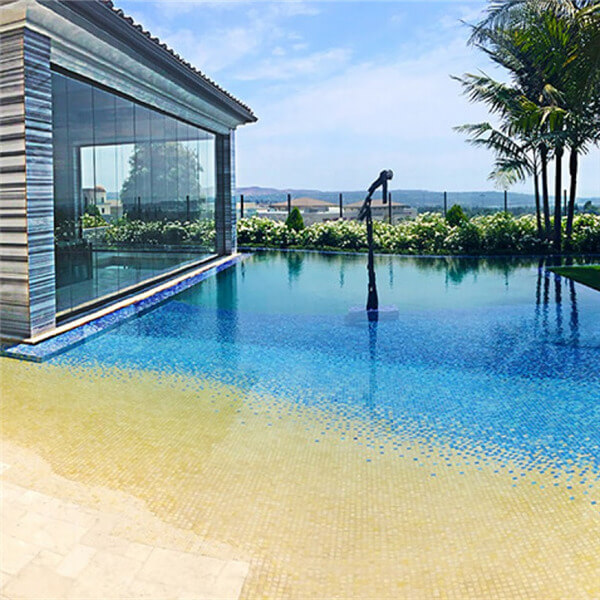 We believe that you have known more this beach entry pool design and its advantages from the above, the next step is to learn how to build a beach entry pool.
The first and most important is making sure that how much budget you can afford. We have some tips can provide you, more detail you can read this: 4 Tips To Cut Down Maintenance Cost That You Need To Spend On Swimming Pool>>>
The second thing to decide is the shape of the swimming and the swimming pool border. The special design will gobble up the amount of length to reach the pool bottom. There are many factors will influence the final amount of length that this entry requires, for example, the shape, the border and entry width. When it comes to talking about the shape of the pool, here is an article for your reference:7 Popular Swimming Pool Shape Ideas For 2019 Summer>>>
The third thing needs to take into account is choosing what material for the swimming, like ceramic pool tiles、custom pool mosaic and so on. In addition to considering material, choosing a reliable swimming pool tile suppliers is also important which can help you reduce more cost. Through high quality, reasonable price, great reputation and perfect service, we have enjoyed the trust of many customers from all over the world, meanwhile, we have various of swimming pool tiles for your reference.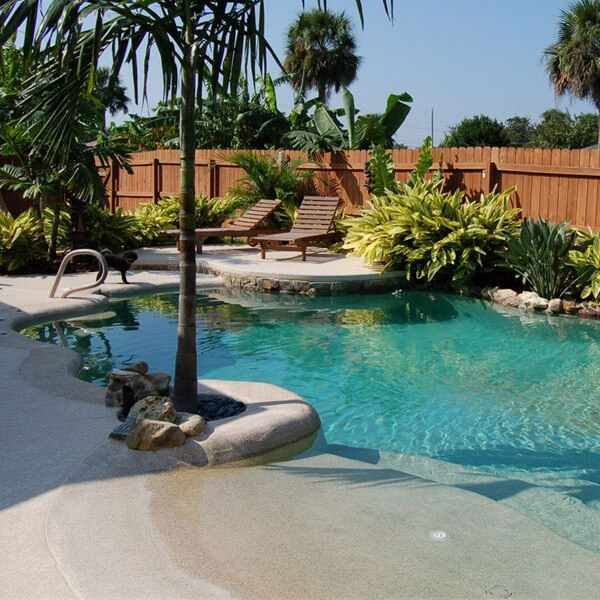 From the above, beach entry swimming pools are better than typical pools both in shape and function. It not only can give you the feel of an original beach but also provide an eased feeling that we cannot find anywhere but in our own backyard. Summer is coming and public swimming pools must become the popular choice and crowded soon. If you have a spacious backyard, you can make consideration of building a beach entry swimming pools.
Bluwhale Tile is one of the most trustworthy swimming pool tile suppliers from China, which have been produced high-quality mosaic for more than ten years. We have established a good cooperative relationship with many customers all around the world. When you have any design inspiration for building a swimming pool or ideas of choosing mosaic material, please do not hesitate to contact us immediately!