There's a new trend in the swimming pool design scene that's infusing backyard pools as well as homes far and wide with joy-including, happy-making atmosphere. That trend? Rainbow iridescent pool interior walls, pool waterlines, showers, and accents.
That's right, iridescent, shimmery goodness is filling all kinks of pool design and interior space with good cheer this summer season. And as you'll discover below, the iridescent glass can be used to improve virtually any aesthetic. From outdoor pool areas to interior bathroom walls, these shiny mosaic tiles are sure to make your space a whole lot happier in the future life!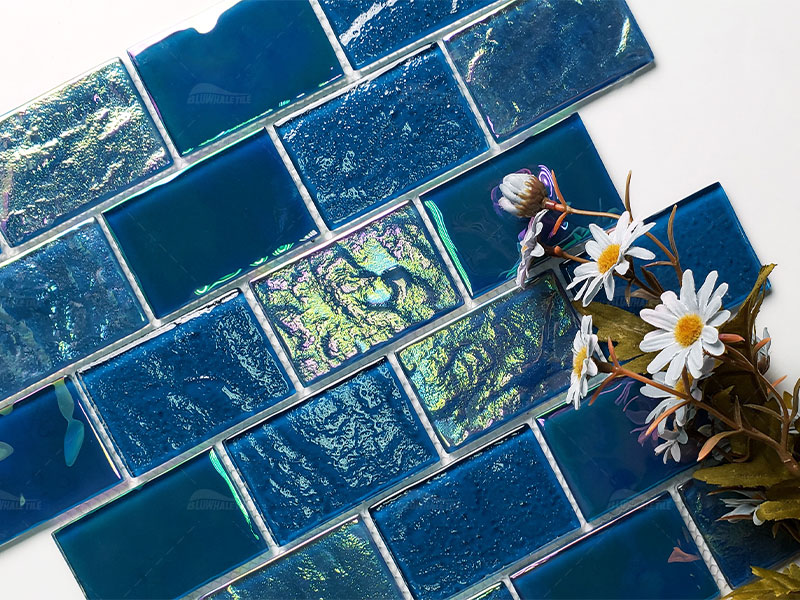 1.Obsessed with Green
Switch things up from solid color porcelain mosaic tile or simple blue mosaic tile and install this eye-candy rainbow iridescent blend blue glass tile! Glass tile is an excellent choice for any swimming pool project whether personal use or commercial use due to the beauty look and how it's easy to maintain. Could you imagine this refreshing, timeless, and stunning high variation iridescent tile in your pool?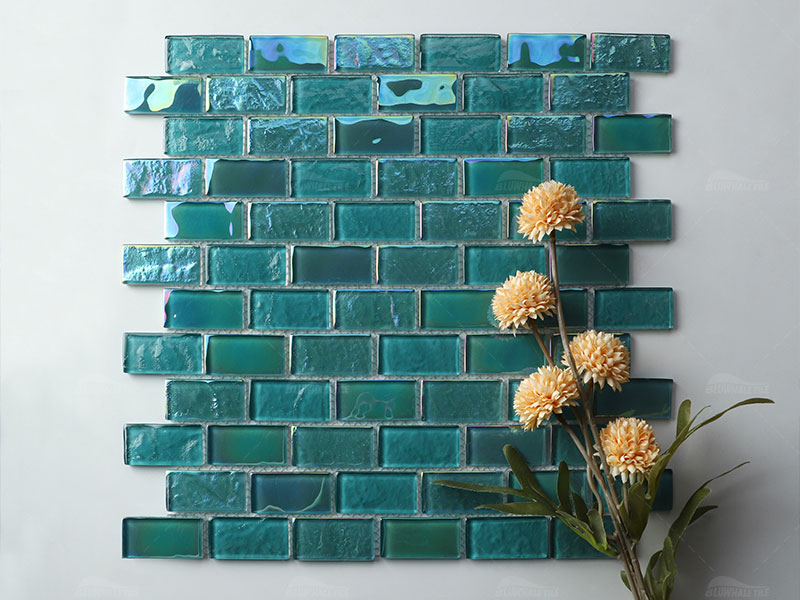 Featured Product: 4mm thickness ripple surface glass mosaic GZOF5001
Rainbow iridescent clear glass pool tile 1x2 for swimming pool, shower, bathroom walls, kitchen backsplashes, Jacuzzi, and spa area. Made with translucent glass and an iridescent finish, this mosaic tile works in both dry and wet spaces. The pool tiles are face-mounted on a clear mesh for easy to install.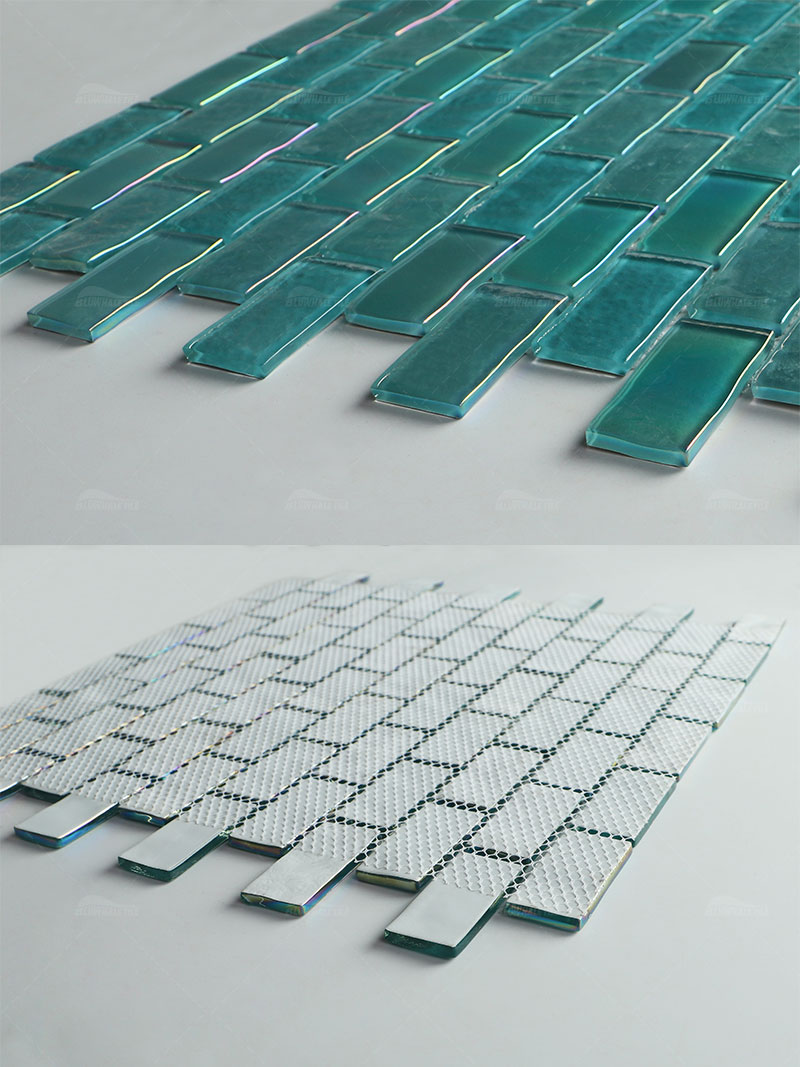 2.Play with Shiny Cobalt Blue
Iridescent tile is not just for pools, but also for experiences. This attractive cobalt blue finish is the perfect thing to combine with pool water. What makes it stand out is the incredible color palette paired with our unique ripple wave surface which makes everything come to beauty. Making the outstanding pool project is what we strive for at Bluwhale Tile, and this new thing embodies that flawlessly.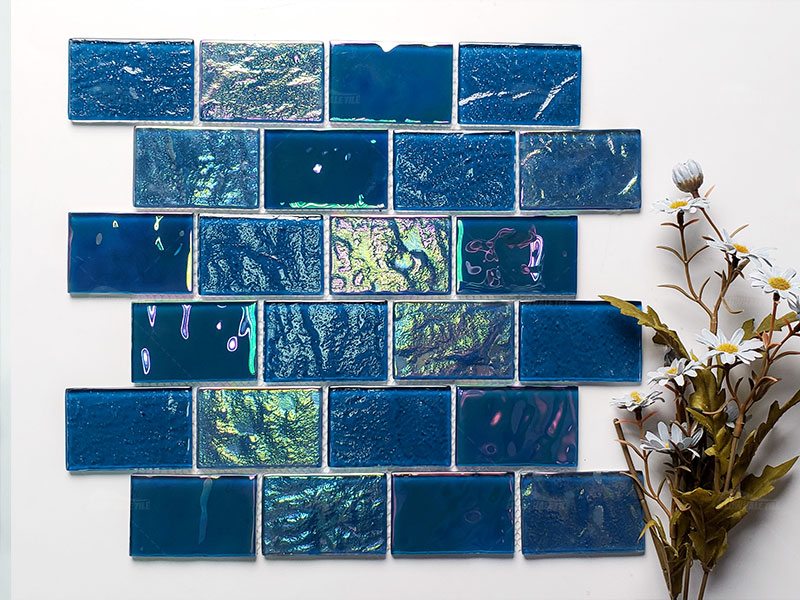 Featured Product: 4mm thickness ripple surface glass mosaic GZOF5002
Cobalt blue iridescent pool glass tile 2x3 for swimming pool waterlines, bathroom walls, kitchen backsplashes, Jacuzzi, and spas. Made from translucent glass for a stunning and amazing reflection effect under pool water. This beautiful mosaic tile is designed to back mesh and saves your installation time.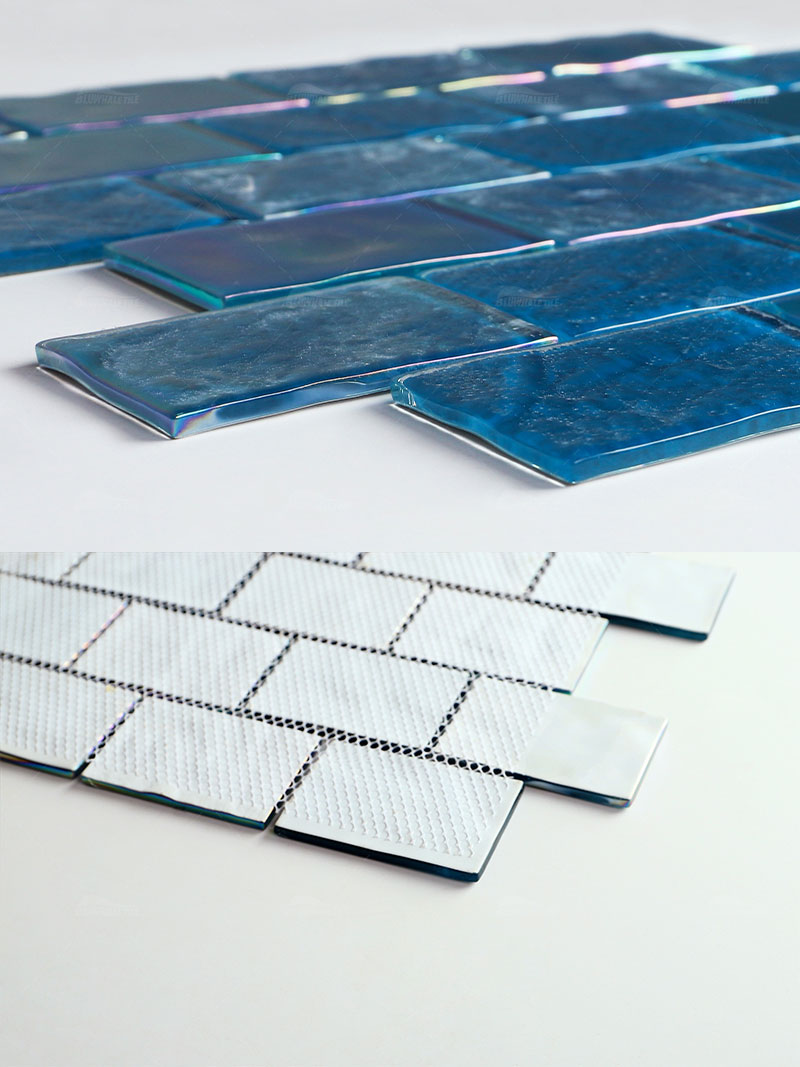 3.Add Color Now
These charming and appealing cobalt blue iridescent glass tiles are giving off ocean major mermaid atmosphere in the right way. A rich, colored glass tile is a great choice in any style of bathroom or kitchen backsplash, by the way, we unintentionally found that cobalt blue combines well with the natural wood tone. Just like that!
For blue-style pool tile ideas, browse our blog "New Things: 7 Styles 1 Inch Hot Melt Iridescent Pool Tile"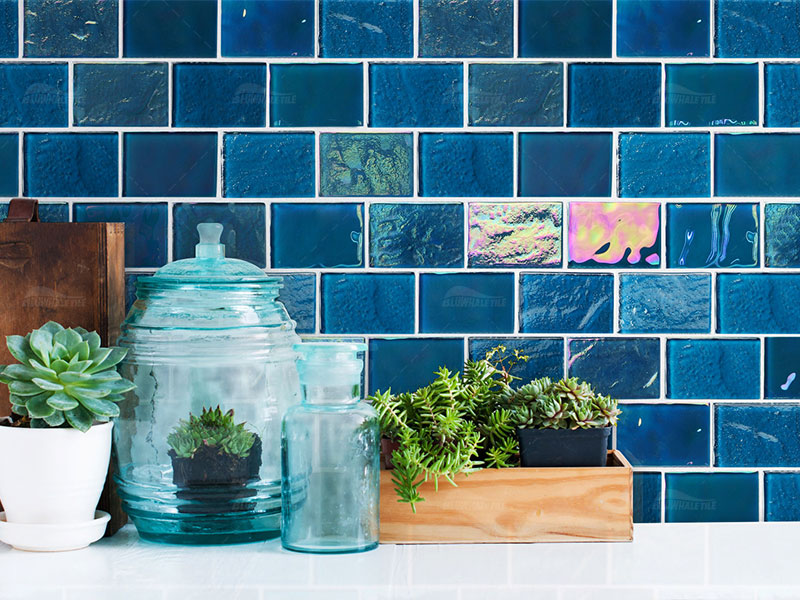 4.Opt for an Iridescent Tile
Want an eye-catching look that instantly becomes the focal point of your bathroom vanity wall? This cobalt blue rainbow iridescent design from our designer Max is a great way to update a pure wall and bring a stylish new look and feel. Even if you only update the small space, a shimmering tile will transform your space.
To learn ways on how to decor bathroom walls, visit our blog "Pool Tile Trends: 2 Inch Ink-Jet Pattern Mosaic With Chic Palettes"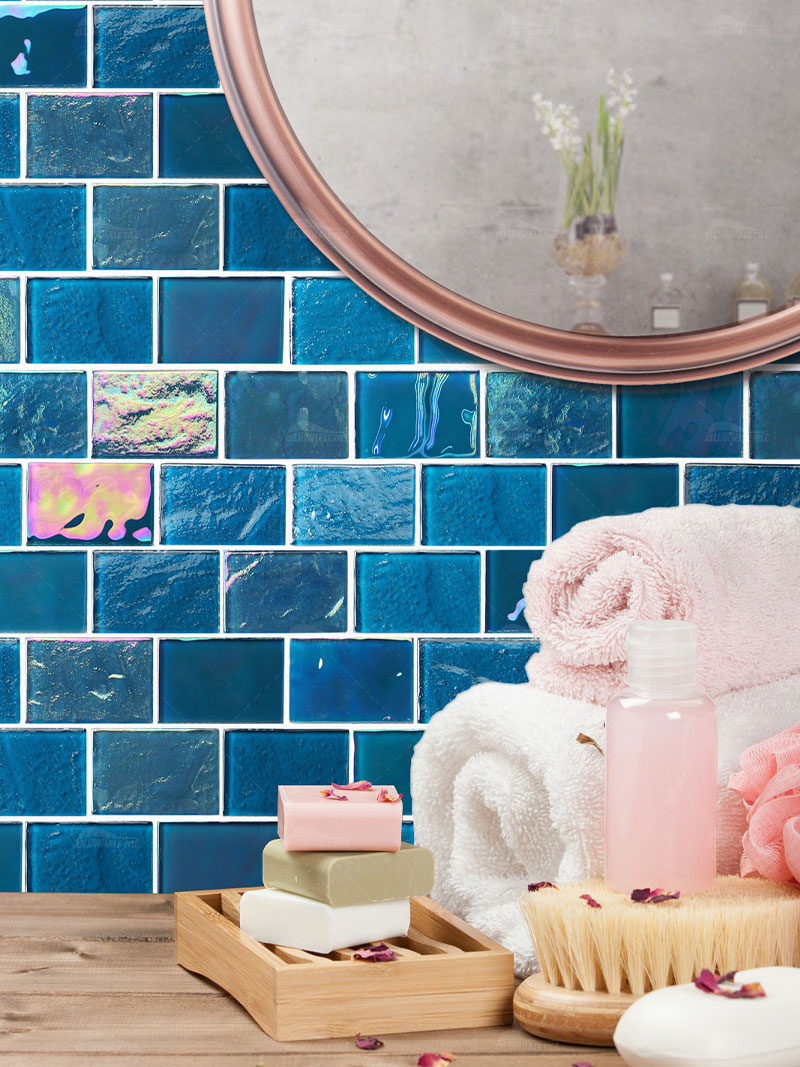 5.Mysterious Black Hues
Glamour and shimmer black tones! Build or upgrade your swimming pool interior wall, pool waterline, spa, water feature, kitchen backsplash, bathroom, and shower walls with the shiny black rainbow iridescent glass tile. Its iridescent surface reflects the sunlight and makes a focal point, bringing a great design aesthetic. Suitable for both dry and wet applications, this new thing will enhance your style!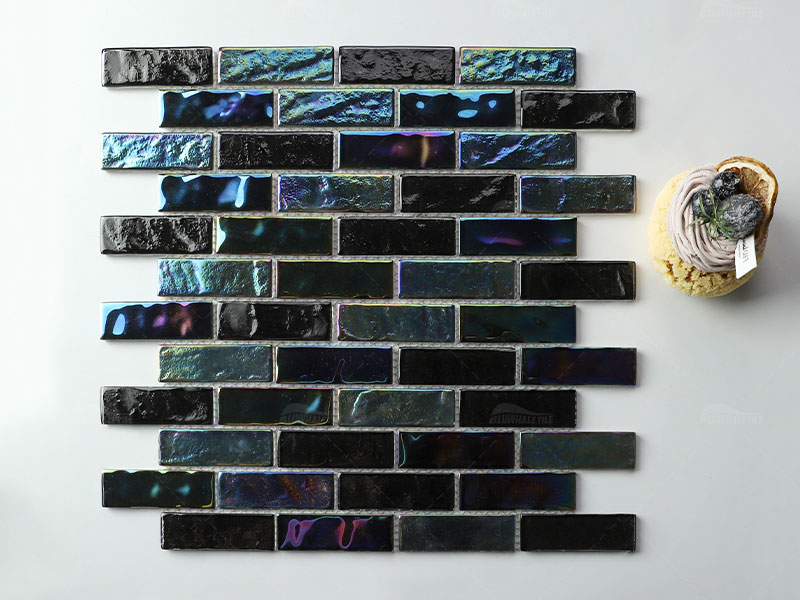 Featured Product: 4mm thickness Ripple surface glass mosaic GZOF5003
6.Interesting Combo
Love this random blend style? The chip size of 23x23mm, 23x48mm, and 48x48mm. The thickness of 4.0mm. Pairing the stunning rainbow iridescent blue tone with a classic rectangle shape proves that a little goes a long way. For those who like to keep things amazing and appealing, this is definitely the way to go.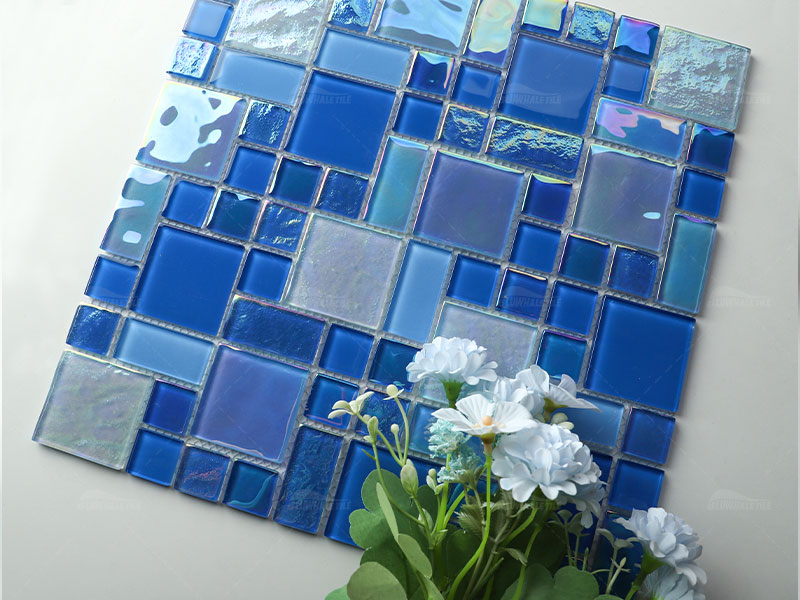 Featured Product: 4mm thickness Ripple surface glass mosaic GZOF5005
Shade and color variations are inherent in all rainbow iridescent glass tile, creating a unique and desirable appearance to the new thing. This glass mosaic tile is face-mounted on a 12-inch by 12-inch sheet for an easy and simple installation. Each tile chip is 4.0mm thick. The glass pieces are stained in their liquid form during the manufacturing process, creating a unique color pattern. Also, its rainbow, shimmer, glossy, and bright surfaces combined with its three style shapes provide a great design visual aesthetic.
7.Pop of Blend Blue
Blend blue is the color of the ocean and nature, which provides a tranquil vibe to any space. The simple rectangle shape + rainbow iridescent color create such a wonderful and playful mood while keeping things natural and ocean-style.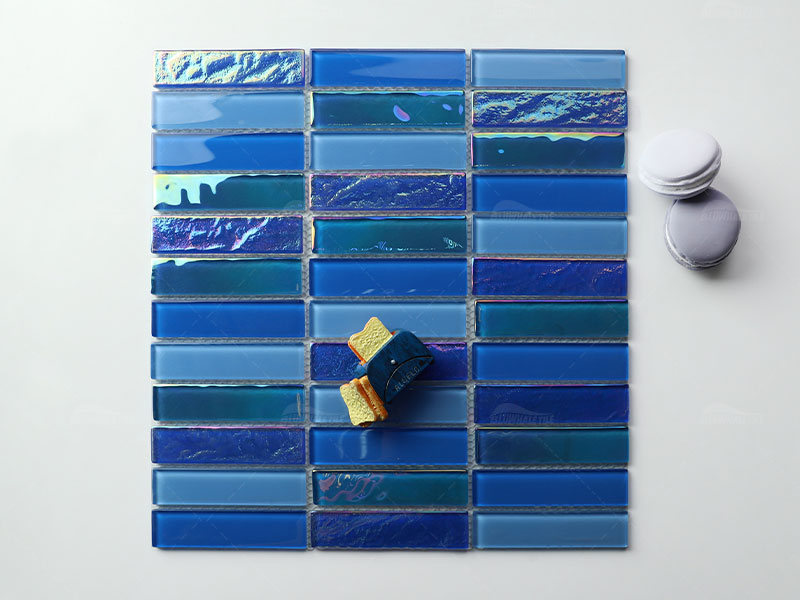 Featured Product: 4mm thickness Ripple surface glass mosaic GZOF5007
The shimmer blend blue 1" x 4" glass pool tiles add a glitz of glimmer and shine to your backyard swimming pool paradise areas that reflect the oasis these glass pool tiles were designed to create. Iridescent glass tile is 100% frost-proof and guaranteed for life.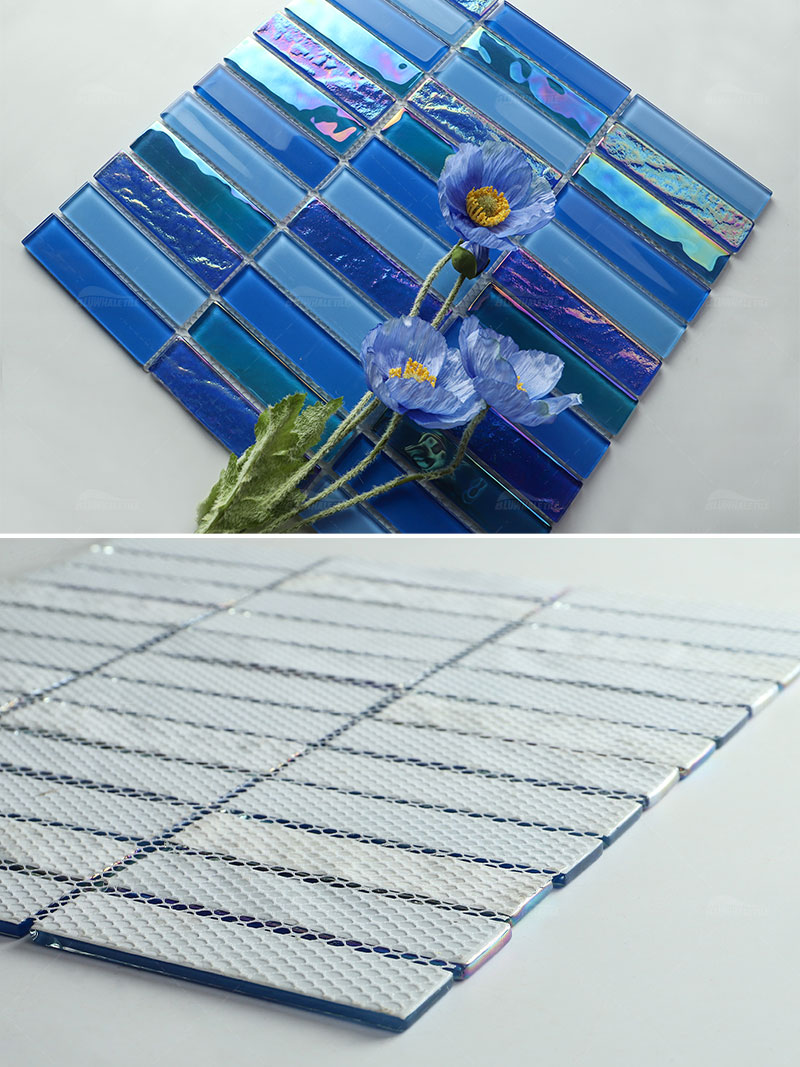 8.Go Blue for Depth
Featuring a shiny, dramatic blend of blue tile that creates the illusion of more space in your bathroom wall. Rainbow iridescent blend blue tiles work on the wall, but be sure to pick a contrasting color like simply white for the bathroom to avoid your space feeling too dazzled or confused.
For more blend blue iridescent tiles, check out our blog "New Things: 14+ Styles of Iridescent Rainbow Glass Tiles"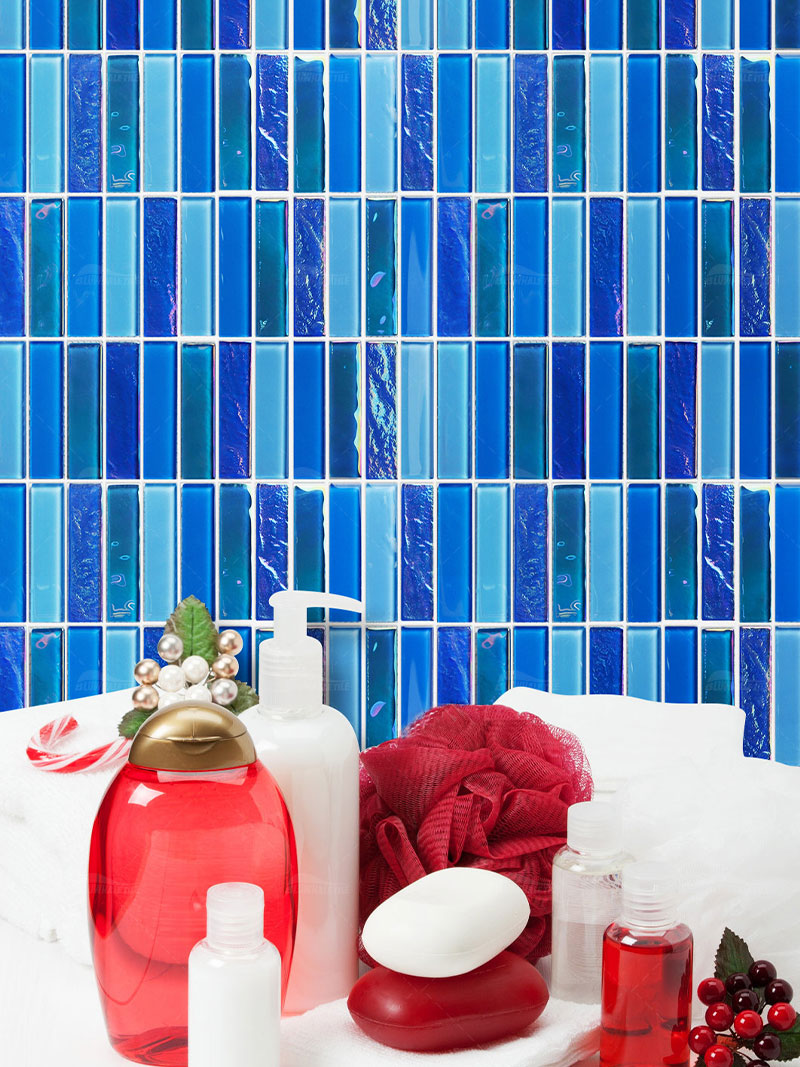 9.Lay it in a Pool Side
Add sophistication and style to your swimming poolside floor with our full line of rainbow iridescent glass tile blends. The tremendous brilliance of glass tile is perfect for your waterline or as a border for steps. What's more, these tiles are great for upgrading your bathroom wall or kitchen backsplash.
For more swimming pool renovation projects, visit our blog "Swimming Pool Project: Ice-Crackle Green Tile Makes Tropical Pool"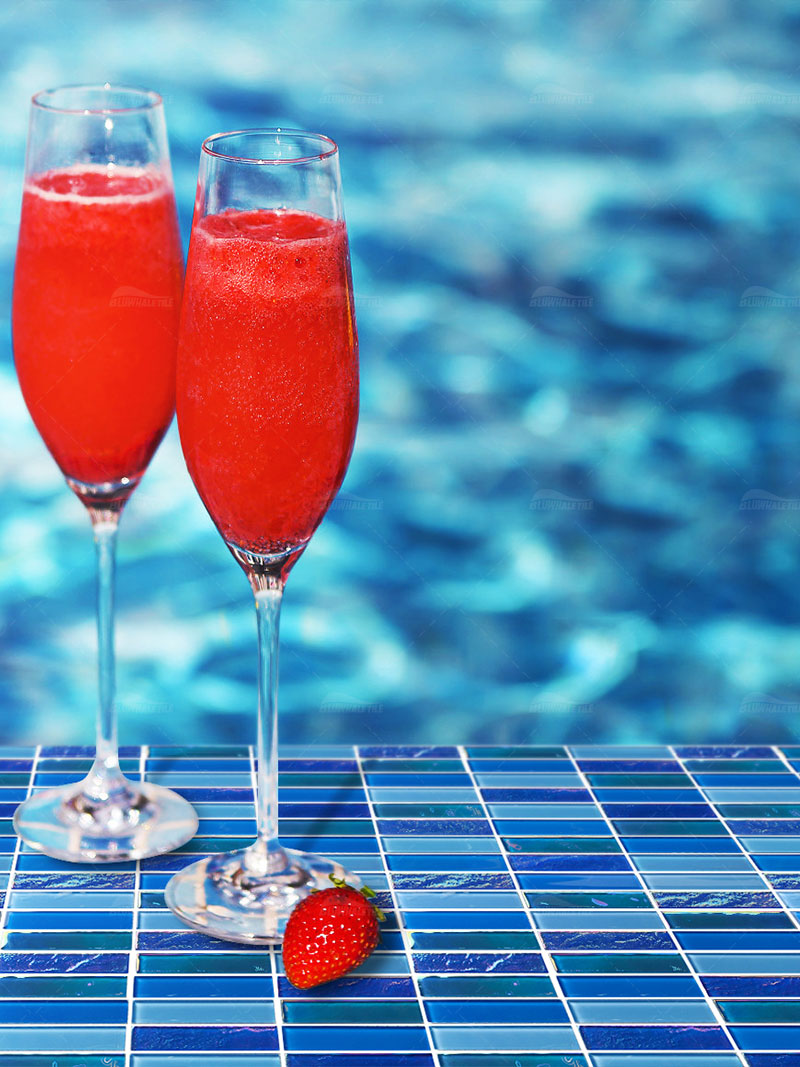 Get Inspired?
Are you looking for Iridescent Tile for your future swimming pool redecorating plan, shower, or bathroom project? Something understated and natural for remodeling your outdated pool, or something sleek and stylish? You will certainly find a tile that is right for you at Bluwhale Tile. We prepare a one-stop service for your plans. Contact us immediately!
Shop New Things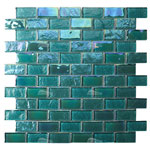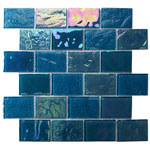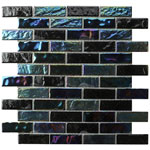 GZOF5001 / GZOF5002 / GZOF5003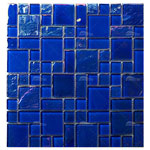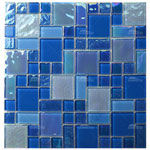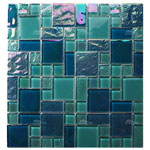 GZOF5004 / GZOF5005 / GZOF5006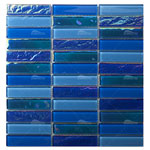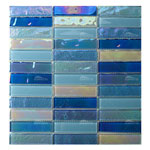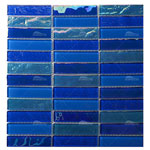 GZOF5007 / GZOF5008 / GZOF5009