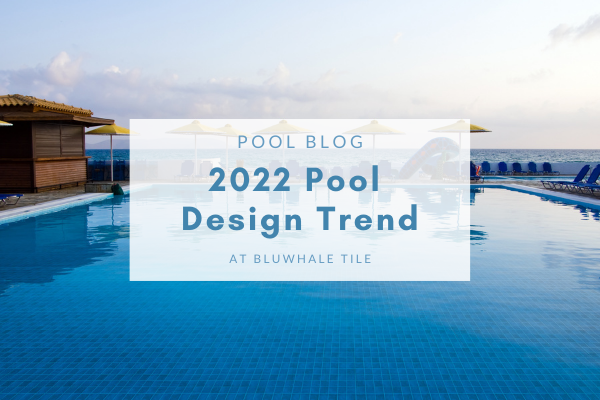 As we know, the swimming pool industry has skyrocketed during the past two years because of the beginning of the COVID-19 pandemic. Not only that, our lives changed by leaps and bounds. We spent lots of time at home increased as many began doing our job at home and enjoy the holiday in our backyards instead of other places. Recently, a staycation is now a significant part of many lives, and the backyards have become our new vacationland.
If you have ever seen photos of a pool from many years ago, you will see quite a big difference in their design then versus swimming pool designs nowadays. The pool designs and poolside styles are ever-evolving and changing during the last few years. From pool colors, pool sizes, water features, and lighting, the swimming pool of your dreams can now literally be the pool of your dreams. With 2021 coming to a close and the new year2022 rolling in, we are preparing to show 7 pool design trends and reading on...
1 Mysterious Darker Pool Tone
The swimming pool interior color doesn't have to be bright or light blue. We believe that the trend of painting the pool interior wall in darker tones, such as dark blue or dark green, has become increasingly welcomed. These mysterious darker tones evoke the visual feeling of swimming in a beautiful lagoon and have the extra effect of making the smaller pools look much larger. Moreover, the darker pool tile colors are also perfect for holding heat so the swimming pool will be much easier to warm up.
To see more dark pool tile trends, visit our blog "Pool Tile Trends: 2 Inch Ink-Jet Pattern Mosaic With Chic Palettes"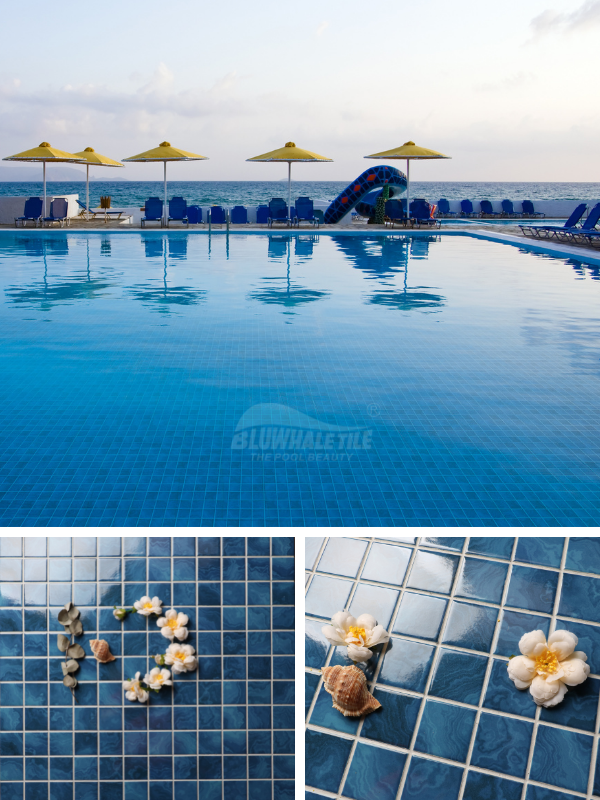 Featured Product: Featured Product: 48x48mm Ink-Jet Ocean Blue KOA2605
2 Smaller Size Might Work Well
When it comes to pool size, we might have a misunderstanding that we need to have a big backyard to build a swimming pool. With an increasing population and neighborhoods becoming more crowded, the backyard is getting smaller. Not only that, the hotel spa and sauna small pool are becoming welcomed recent year. The smaller pool is a trend in 2022, so rather than robbing yourself of the wonders of having a pool in the backyard, you just need to be strategic about the size and placement of the pool. That's right, small is in!
For smaller pool design, visit our project blog "Swimming Pool Project: Round Sauna Pool with Simple Blue Mural"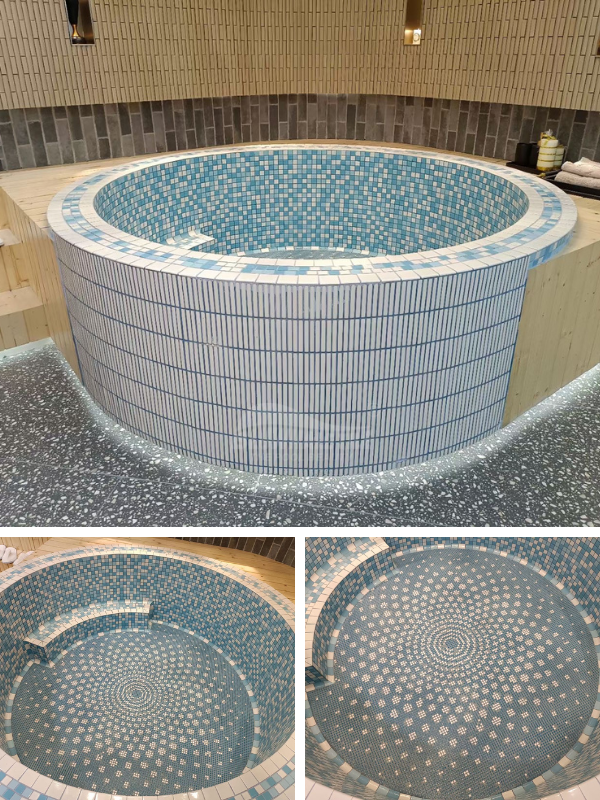 3 Create Natural Vibes
Another pool trend to watch in 2022 is the poolside design. The natural vibe is timeless and stylish. Borders, plants, and outdoor furniture are all feasible choices to create a natural and aesthetically pleasing space. It's an ideal and perfect way to transform your swimming pool into a holiday paradise, with many people choosing to style their swimming pools so that they feel like they are in a tropical retreat. Preparing some tropical plants right now!
Know more about how to build a tropical pool, visit our project "Swimming Pool Project: Ice-Crackle Green Tile Makes Tropical Pool"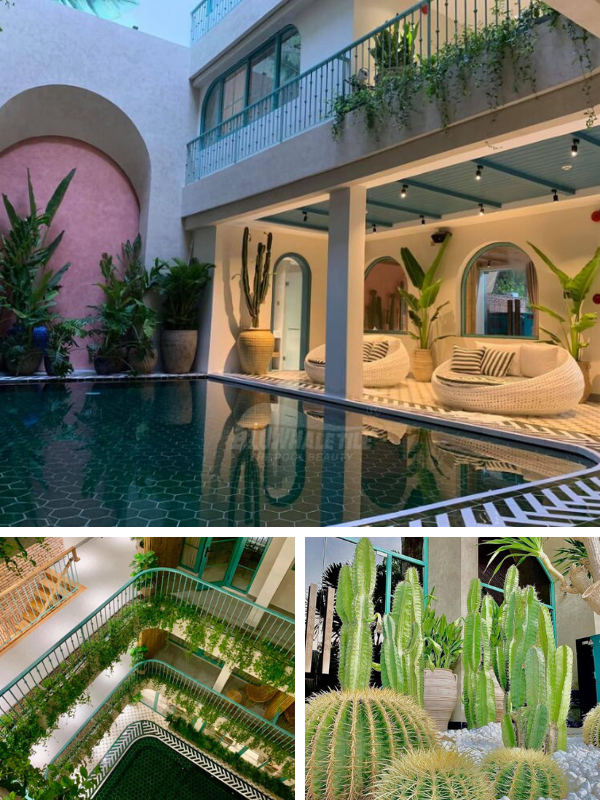 4 Appealing Lighting
Who said swimming pools are only for daytime. Many people are turning to beautiful LED lighting in their swimming pool to enjoy their features after night. During warmer months, when summer holiday nights get hot and unbearable, how about jumping into the cool pool for a much-needed cooldown? With colorful and appealing lighting, the pool owner can change their outdoor feature into a comfortable night swim experience. Many lighting systems not only allow you to see better but provide lots of different colors for your to option for so you can set the personal mood in your backyard.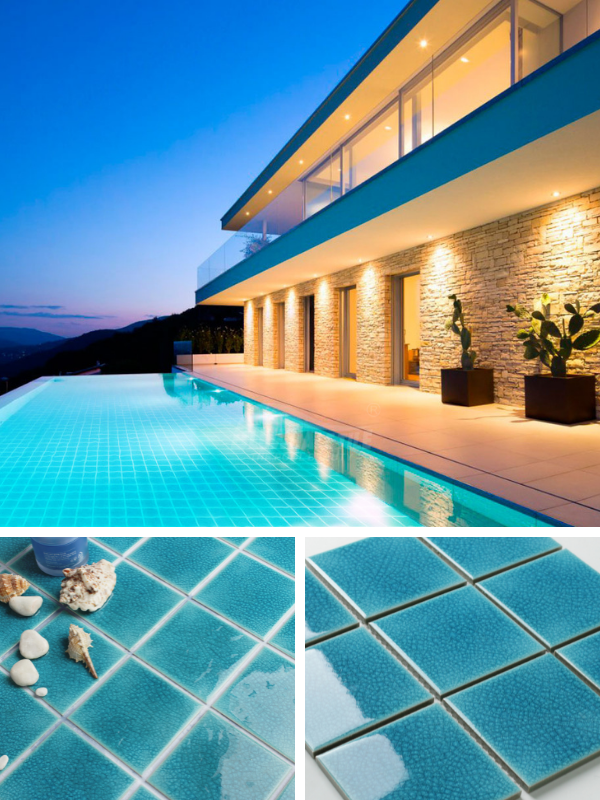 Featured Product: Frozen Shiny Blue Crackle BCQ608
5 Pool Water Features
An extra complement with or without the fire element is pool water features, such as a personal waterfall or attractive fountain. The great sound of the flowing water inspires relaxation and is known to reduce stress. If the swimming pool is in a high traffic area, a water feature can also decrease noise pollution.
For more on this project, visit our blog "Swimming Pool Project: How To Design Refreshing Home Pool Style In 2020"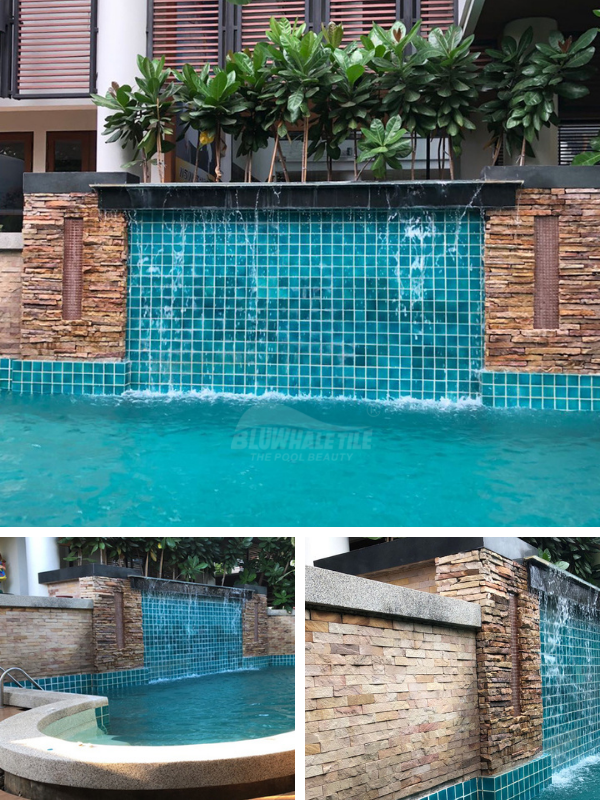 6 Unique Pool Mosaic Mural
Pool looks and styles change! The pool trends that were once modern can become dated and tired. This is not the case with mosaic tile pool surfaces. For many years, pools with handmade mosaic artwork were a bit of a status symbol. They demonstrated luxury, elegance, and craftsmanship that made their swimming pools the envy of friends. Adding a handcrafted and exquisite mosaic art mural to the pool is like adding a piece of art, and it's one of a kind.
For more trendy pool mural projects, visit our blog "Mosaic Art Project: Custom Mirror Glass Mosaic Mural"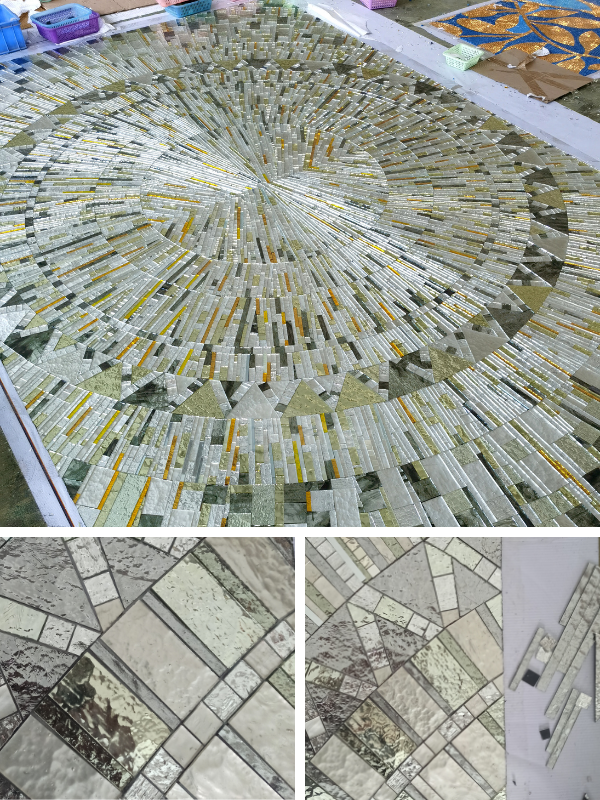 7 Poolside Leisure Area
Have you ever been to the beach and put your lounge chair in the pool, feeling refreshed and relaxed at the same time? Many people everywhere are recreating this feeling in their backyard by installing swimming pool ledges. These designs allow you to enjoy the cool water of the swimming pool and the warmth of the sun all at once. Pool ledges are also part of a border trend that is multi-level swimming pools. What's the benefit about this trend is that it is practical for all ages people. While adults can use them to sunbathe and read their favorite book, the kids can use them to splash around without having to go into the deep area.
For more poolside furniture ideas, visit our blog "Get Inspires: 7 Smart Strategies For Choosing Poolside Furniture"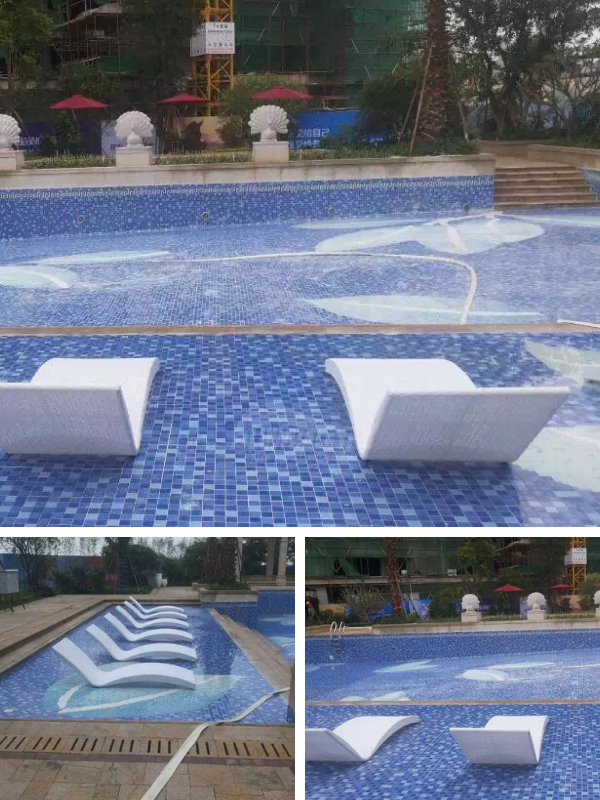 Get Inspired?
The 2022 pool trends to achieve a natural and outstanding setting are unlimited. This is where finding a professional pool supplier and backyard pool designer is vital. There are various pool design ideas in Bluwhale Tile that it's impossible, to tell the truth, unless you opt for a pool manufacturer specializing in tasteless designs like every other pool in the neighborhood. Contact us to share your future pool ideas and order pool tile samples to see and touch right now! Bear in your mind, your space style and your backyard are not like any other, so why make it like all the others?