When it comes to choose mosaic tiles for swimming pool design, most people will think about the color first, because pool tiles almost feature common square, rectangle, round and hexagon shape for option. While if you think about the pattern, you will find more possibility for your pool design. Today we are going to share you 3 new style mosaic art patterns to create a brilliant swimming pool, which is definitely different from custom mosaic picture.
If you are trouble in choosing a pattern for your pool covering, you can get ideas from the post: Which Pattern is Right For Your Pool? >>
As we all know that geometric tile design is getting more and more popular in residential and commercial interior decoration, inspired by the decor trend, we create our own geometric pool tiles composed of unique blue triangle chips. They are made of porcelain or hot melt glass, which is low water-absorption rate, durable quality and non-slip, suitable for swimming pool, spa, and any piscine project use. Read on to explore more about the 3 popular blossom patterns.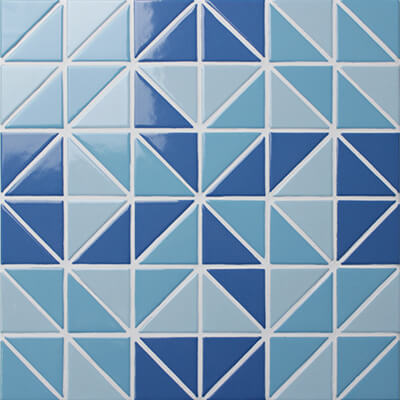 Featured product: Santorini blossom blue 2" porcelain triangle mosaic tile TR-SA-BL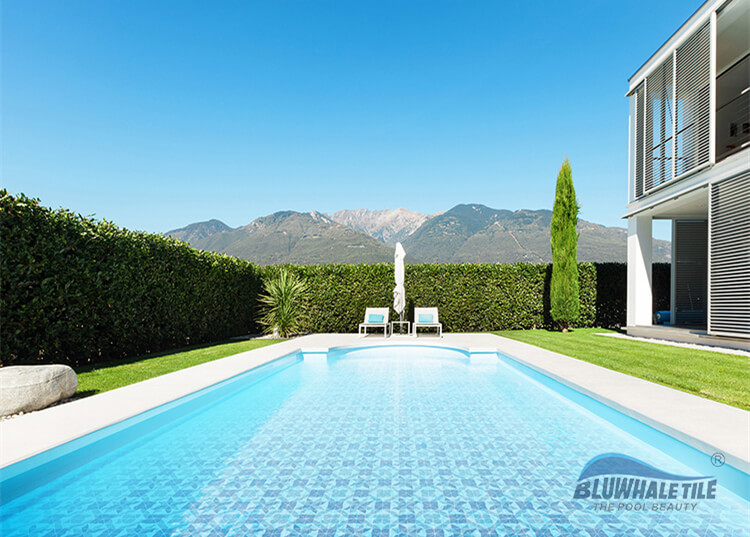 Blossom pattern is a classic design and never out of date. If you want to build a pool in an artistic way, try to consider this item. It is a good news that this tile sheet is easy to install, just repeat it and you can achieve a stunning motif. Like the example above, this blossom flower has turn your standard backyard pool into a piece of art, adding values and timeless beauty to your house.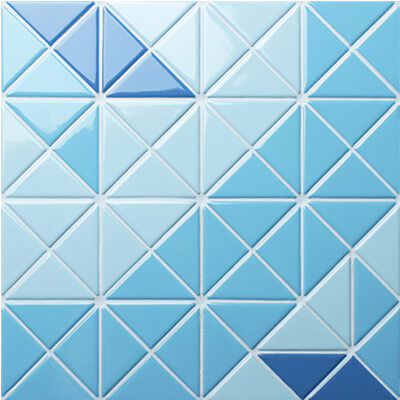 Featured product: Santorini twist blossom blue blend 2" porcelain triangle mosaic TR-SA-TBL2

Installation of twist pattern: rotate the sheet correctly according to the yellow twist point, to form the pattern.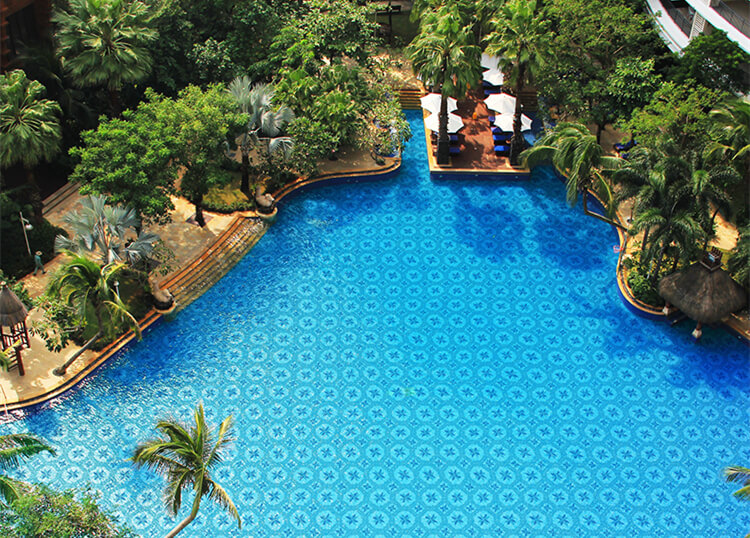 TR-SA-TBL2 is an ungrade of TR-SA-BL, it is a twist pattern, that means your installation will be a little bit complicated. You have to make sure the sheet is rotated correctly to form the motif, which will cost your more time and energy when installation. However, you can finally get two sizes of blossom, and the motif looks more random, free and lively. Take a look at the example above, the combo of eye-catching blooming pool bottom and many green trees structures a tropical pool area for you.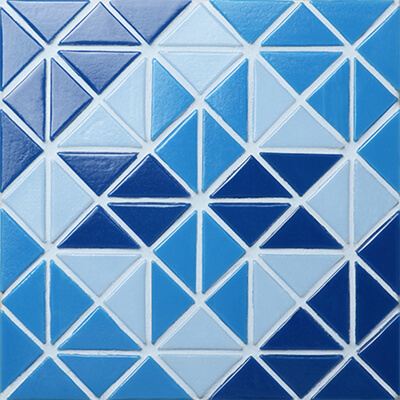 Featured product: Santorini blossom blue mixed 2" mosaic triangle glass TRG-SA-BL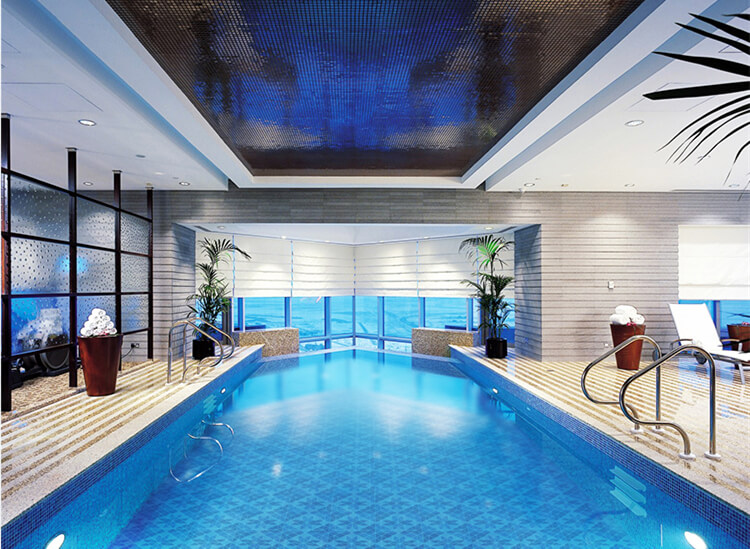 Hot melting glass mosaic tile is also widely used in piscine projects. When geometric pattern meets glass, the tile sheet can give big surprise to any swimming pools as well as bathroom and kitchen. The blend of 3 blue shades can finally complete amount of flowers and squares in your pool bottom, that is so dramatic and looks amazing! Example as above.
If you have got inspiration from this post, you would like to read another post: 6 Geometric Tiles Designs Add A Sense of Dynamism To Swim Pools >>
If you are interested in our new style swimming pool mosaic tiles - Triangle Tile, contact us now and we will get back to you as soon as possible. Bluwhale Tile as one of the most professional swimming pool tile manufacturers from China, we have established long-term business relationship with many distributors, wholesaler, retailer, project designers and builders, and we are looking forward to providing the best pool tiles service to you if you are in market for it.