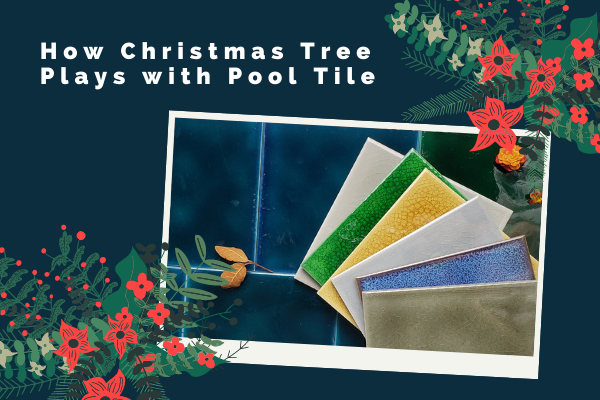 Christmas 2021 will improve the feeling of hope and happiness more than ever before, with people going to put on a truly festive display throughout the home. After a difficult 2020, creating a pleasant and joyful outdoor pool space that stimulates warmth, tactility, and belongingness, with simple decor and heartwarming family traditions, is what we all need in 2021 Christmas.
There are only a few more days until Christmas. If you are still shopping for a beautiful gift, why not give your family a memorable night that will last a lifetime? With gifting experiences over real goods becoming a growing trend, think of giving your family the experience of the outdoor pool party. For example, a unique Christmas Tree, this decor keeps on giving by offering a Christmas vibe in your outdoor backyard and making memories in. Here are six ideas that show how Christmas Trees work well with your pool tiles...
1 Classic Nordmann Fir
The traditional and classic Christmas tree plays an important role in everyone's home during the significant festive but one specific variety reigns. If you're looking for a more conventional feel this 2021 Christmas, the Nordmann Fir is still greatly popular across England and Europe. The Nordmann Fir, with even shape and some sparse branches, has graced many homes for decades and will make your home authentic and nostalgic.
Our classic and normal series might work well with these traditional Christmas, check out our blog for more ideas "New Things: Classical Series - Crystal Porcelain Pool Tiles"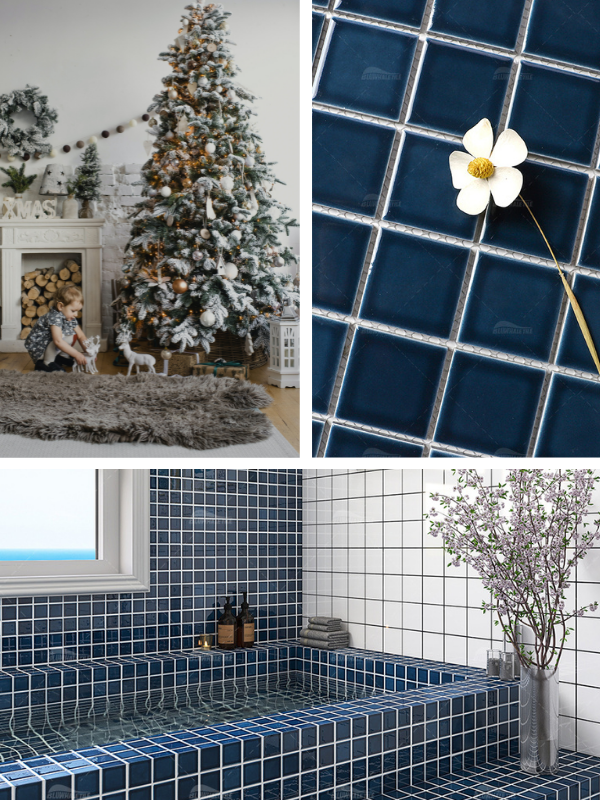 2 Modern Fraser Fir
If you are not interested in the traditional Nordmann Fir and look to go for a more contemporary style take on 2021 Christmas, you might fall in love with the Fraser Fir. It is native to the Appalachian Mountains and is very popular in America, this tree is a much more full-bodied tree in comparison to the classic Nordmann Fir, with its volume offering a larger canvas for more exquisite lighting decorations and others. Plus, this tree is becoming more and more popular throughout England and broad Europe thanks to its association with many of the Christmas TV series and films we like to indulge in year after year.
Modern Fraser Fir and stylish Ink-jet marble pattern ceramic pool tile will be a great partner! Natural Fraser Fir green color plays well with the tranquil dark green tile color, visit our blog for more inspiration "New Things: 2 Styles Marble Pattern Dark Green Pool Tiles"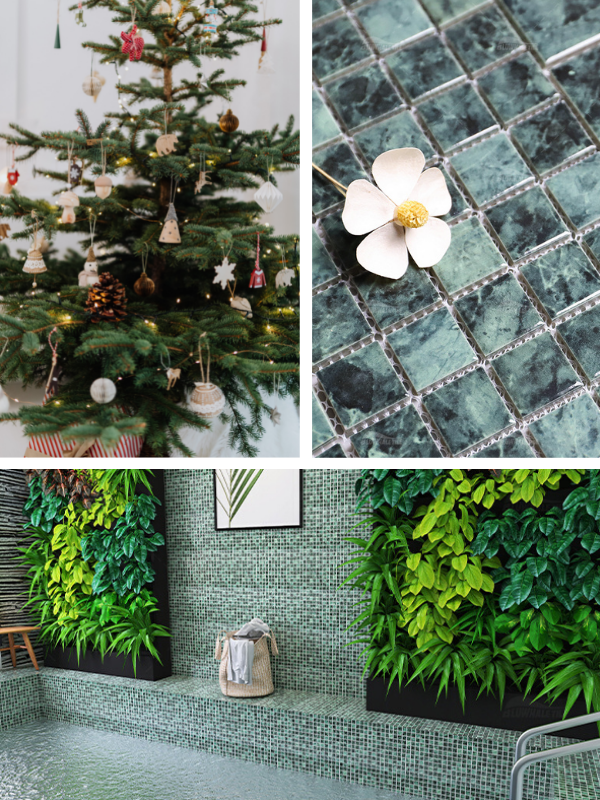 3 Asymmetric and Sparse
When it comes to how to choose the suitable Christmas Tree, artificial trees are growing in popularity in recent years due to their asymmetrical and sparse feature. We believe that, as with many things on earth, nothing is ever wonderfully symmetrical, and the understated Christmas tree is no different. This is leading a rising number of people searching for the beauty of an authentic tree with the convenience of an artificial tree to buy more asymmetrical trees each Christmas. Moreover, the sparse tree provides much space for you to show off the chic decorations and lights you've collected over the years, from the trendy and fashionable to your precious retro things.
When it comes to asymmetric and spare features, we have to share this irregular ice crackle pattern design. Using large 6-inch ceramic mosaic tile as the pool waterline is a great idea! Decor an authentic Christmas tree at poolside will enhance your pool waterline style, for more details with our blog "All About 6 Inch Tile - From Kitchen Backsplash to Your Pool"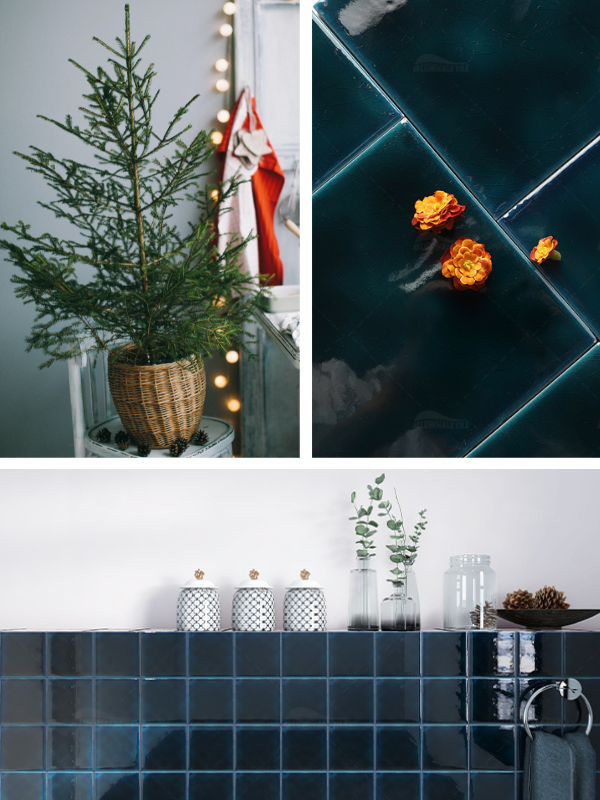 4 Luminous Trees
No one says no to a Christmas tree that lights up! The Christmas tree, with luminous lights, will continue to be a trend in 2021 Christmas, however, it's actually becoming a welcomed accessory all year round, extending this luminous Christmas tree's use beyond the festive season. Those that have a brighter, minimalist, clean, and modern house should purchase these trees, as the bare branches with charming light add a Christmas vibe without overwhelming the outdoor pool.
Rainbow iridescent effect glass pool tiles match well with our luminous Christmas tree. The iridescent glass can be used to improve virtually any aesthetic vibe. From outdoor pool areas to interior space walls, these shiny mosaic tiles are sure to make your space a whole lot happier on Christmas evening. Visit our blog for more inspiration "New Things: 9 Style Iridescent Tiles Find to Decorate Your Pools"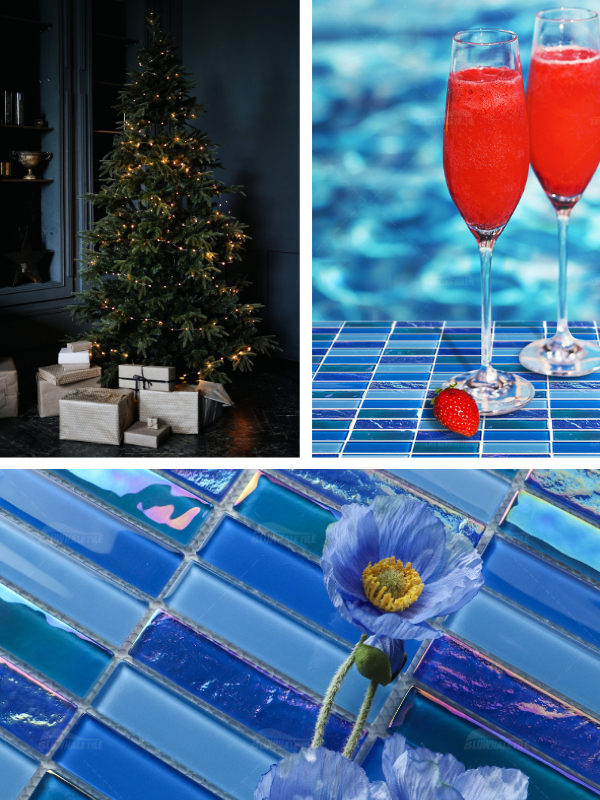 5 Multiple Christmas Trees
A survey we read recently found that 11 percent of respondents are preparing to add more Christmas trees to their homes this year. Some 30 percent said they prefer to have at least two trees, and 11 percent are going to prepare three or more trees. These additional Christmas trees can vary between authentic or artificial, and vary in size, and can be placed in different spaces.
While multiple Christmas tree decoration ideas meet our new arrival hot melt mixed crystal glass pool tiles, you will get a unique outdoor pool space! For more details here "Blend Size Hot Melt Mix Crystal GZOM9603"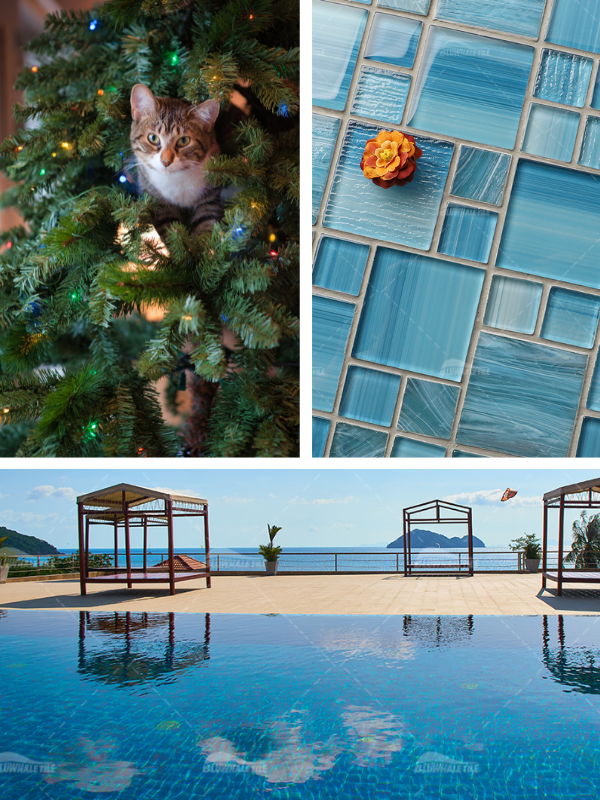 6 Golden mixed Silver
Metallic elements will continue to play an important role in this Christmas. As the stylish, contemporary, modern interiors continue to grace your homes, we expect a golden hue to take center stage this Christmas. Its glamour and cooler tone will help bring the white snow outside in, but without the freezing cool temperatures. We are also excited to see a silver hue, the color of 2020, feed through into pool Christmas designs this year too, helping to make a warm and deep atmosphere as it contrasts against the leading golden hues.
Customized artwork can meet your demands! It not only can match the golden tone and silver hue together but also can make your personal pool mosaic mural pattern to combine with your characteristic Christmas tree style. Let's custom pool mosaic art or tabletop mosaic artwork right now "Trends: Chic Mosaic Arts Decor Your Space"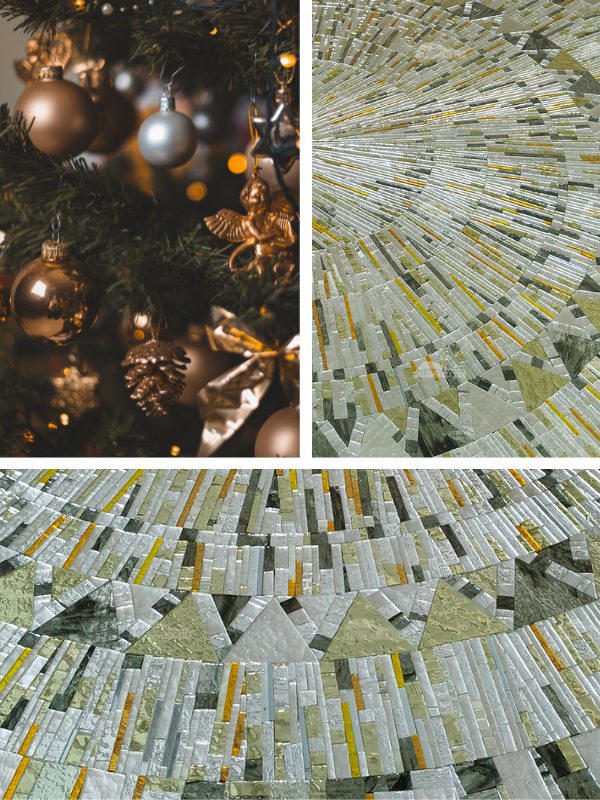 Get Inspired?
Have you got a plan on how to choose the right Christmas to decor your outdoor pool space? Talk to our knowledgeable and friendly designers who are ready to help you pull off the Christmas gift of this year. Bluwhale Tile is so excited to hear your future remodel ideas and we will show different design styles for your option to help find the right choice. By the way, if you're interested in our pool tiles, feel free to order tile samples to see and touch right now!