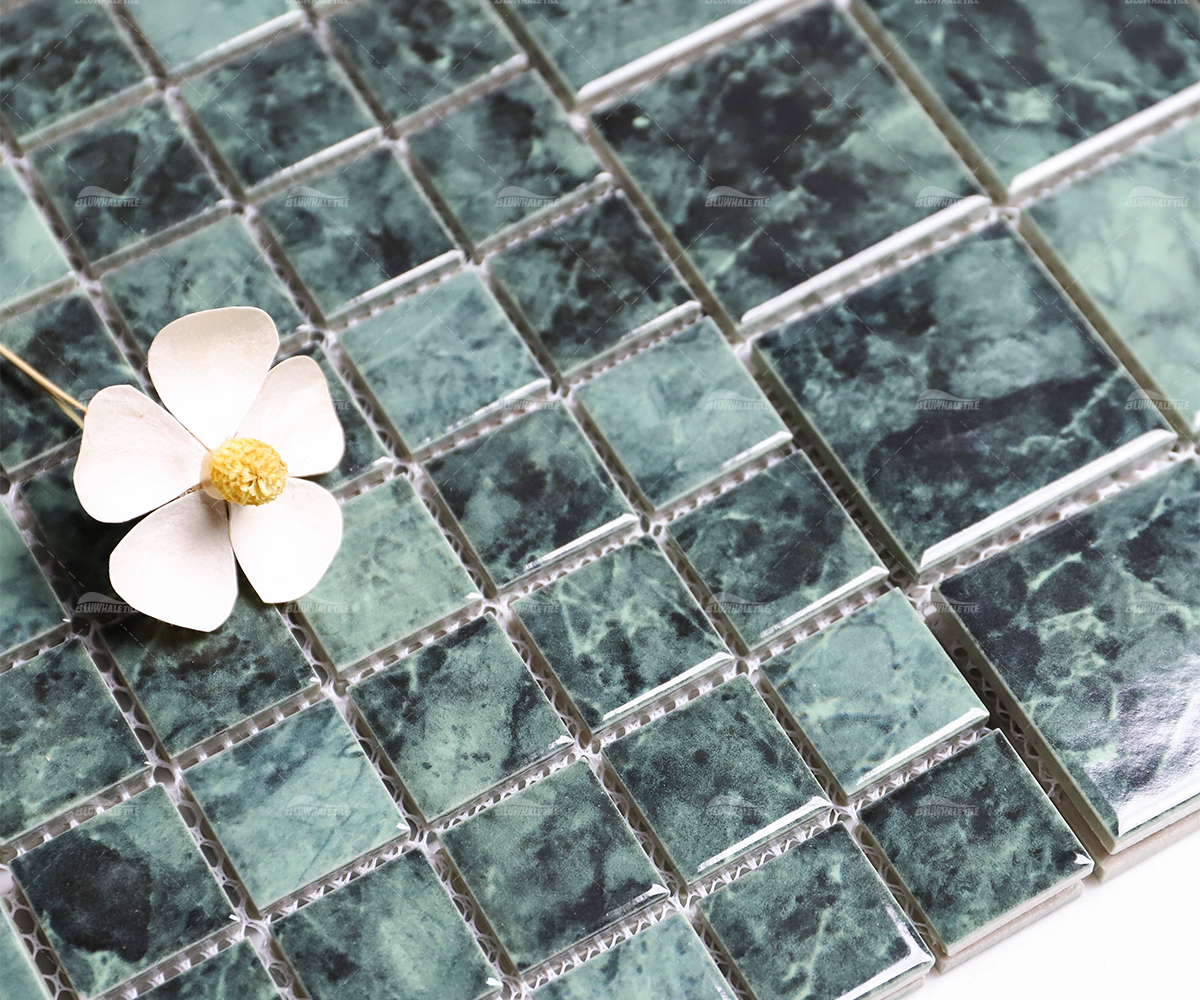 "I love the tranquil but eye-catching dark tones throughout the mosaic tiles. They're beautiful and calming. Almost like looking into the mysterious forest or the mountain. Being that it's made of porcelain, it also brings a sort of durable and modern feel to any swimming pool or spa space. Definitely one of my top favorites!" Jane, our client, said that.
Ink-Jet Pattern!
Play with this vintage ink-jet marble pattern! Dark green color pairs well with these natural marble pattern. We love when clients get creative with ink-jet technology and our ink-jet pattern pool tile is the perfect way to make a statement. There are 2 styles of marble pattern mosaic tile options you can use in your space. Retro and chic ink-jet marble look square tiles add vibrancy to any pool project, while dark green tone tiles can serve a dose of complication.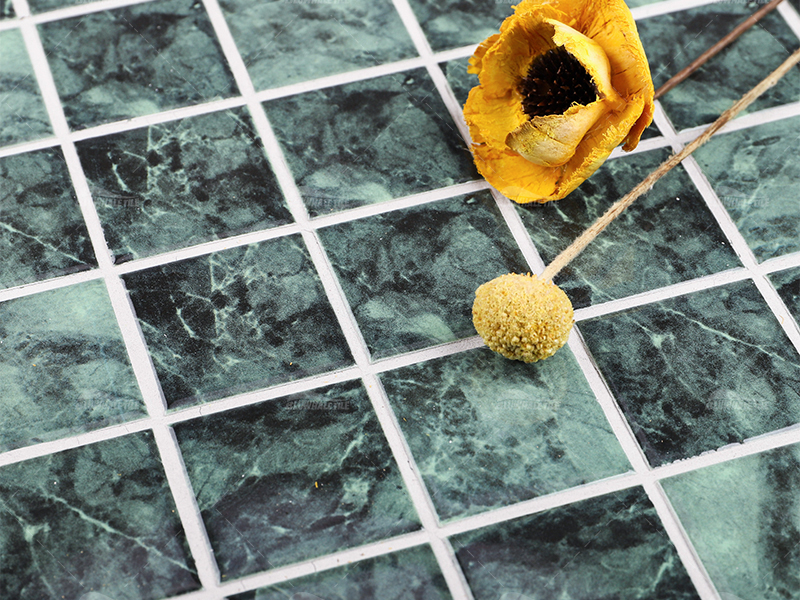 Featured Product: Ink-Jet Marble Look KGF8701
Large Window
Bright and airy pool is designed with such an impeccably curated sense of place and taste, as showcased in this spectacular indoor swimming pool area. Installed with dark green natural marble pattern pool tiles, this indoor pool is the ideal place to soak at a quiet sunny afternoon. The contemporary and breezy design of the indoor pool allows us to focus on the natural landscape.
For more swimming pool design ideas, visit our blog "Pool Tile Trends: Blue Blossom Pattern Recycled Glass Pool Tile In 2021"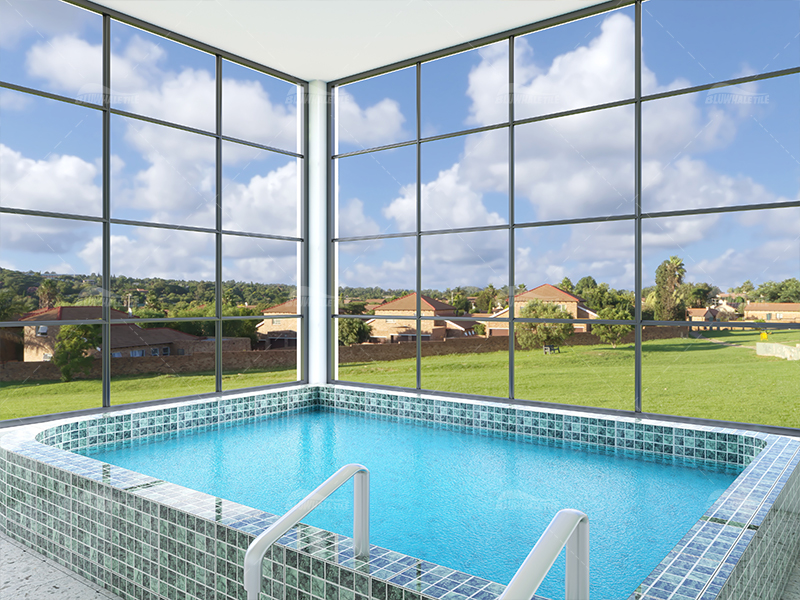 Make A Statement
That's beautiful! You can add ink-jet marble pattern to almost any of our tile shapes, including these 2" x 2" square beauties. Can you imagine a more simple yet chic statement bathroom wall? Now is the ideal time to liven up your bathroom by adding some of your favorite green elements. Plus, this charming look brings out the true beauty pf our porcelain mosaic tile, showing off the difference in glaze, size, and pattern.
For more ways to use our ink-jet pattern mosaic tile, visit our blog "New Things: 3"x3" Inkjet Painting Swimming Pool Tiles"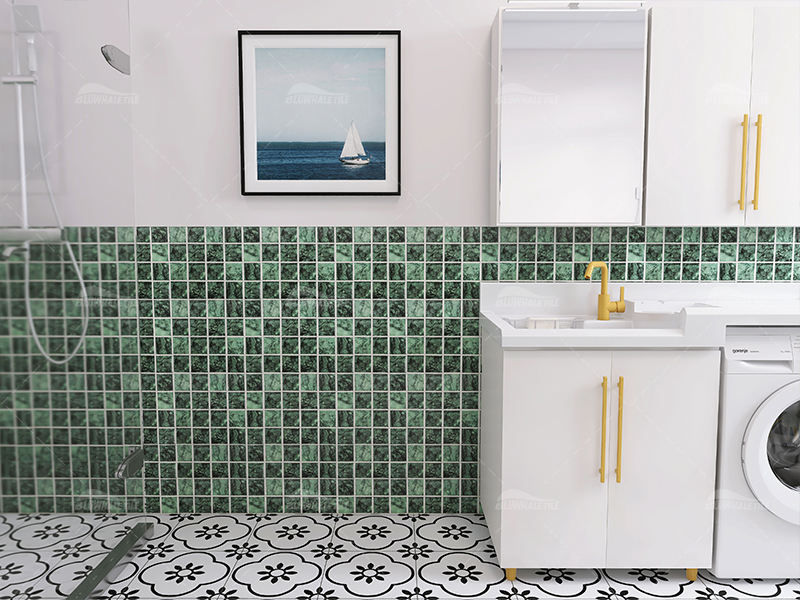 Natural Kitchen Backsplash
Not every kitchen is blessed with large windows to the outdoors. Which is why a kitchen with natural vibes can be so luxurious. Just because you might not see the plants and trees from your kitchen, doesn't mean you can not bring that energy inside. Our ink-jet pattern is the perfect pattern that's both nature and vintage - giving off all the natural leaves hues.
Want to see more natural hue pool tile ideas? Check out our blog "New Things: Fish Scales for Pool and Interior Decor"
Go For 25x25 Size
One of the reasons why square pool tile is so popular is because of its versatility in size. The size of square tiles has also evolved to include more dimensions beyond the standard 2" x 2" square tile sizes. For some thing a little more different, try smaller 1" x 1" marble pattern square porcelain mosaic tiles.
For more on square tile sizing visit our blog "Pool Tile Trends: 2 Inch Ink-Jet Pattern Mosaic With Chic Palettes"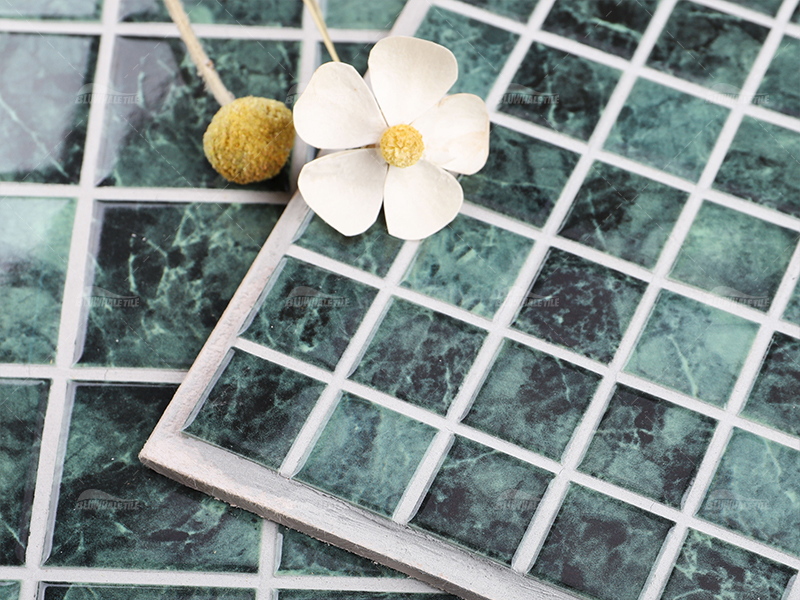 Featured Product: Ink-Jet Pattern Marble Look IGF8701
Indoor Spa Pool Ideas
Next up on our tour of marble pattern ink-jet tile is our 1" x 1" square tile. The design of dark green mix natural marble pattern is know to symbolize ingenuity and we can whole heartedly attest to that with this accent wall and spa pool. Whit it's appealing glaze variation and electrifying details, this marble look pool tile add dimension to your pool whether indoors or outdoors.
For more unique pool tile inspiration, visit our blog "New Things: 7 Styles 1 Inch Hot Melt Iridescent Pool Tile"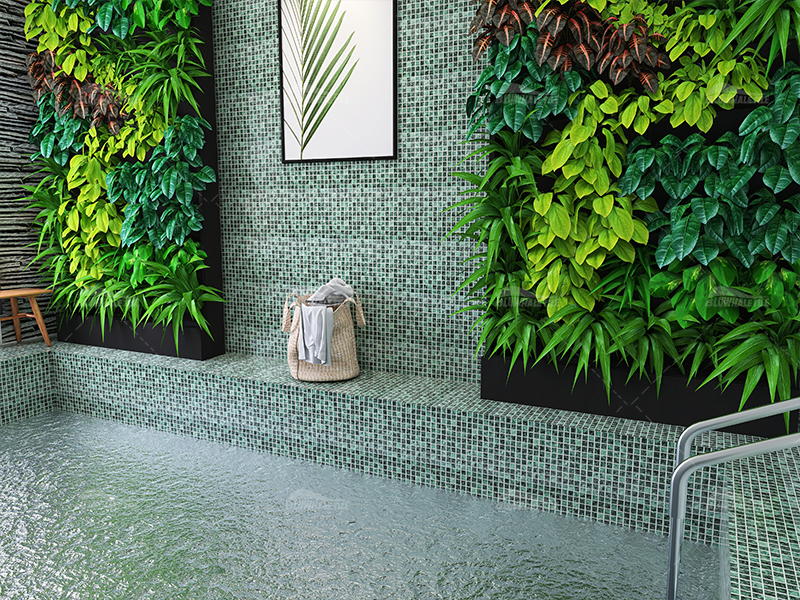 Marble Pattern Bathroom Vanity Wall
Who else can not stop swooning over this amazing bathroom vanity wall? Of course, this was a big bathroom project, but you can definitely scale it down and recreate it in your small bathroom wall. Making tile dreams come true is our mission and no project is too small for us. Therefore, you can install this refreshing wall to your spa pool, shower, entryway. Really, it's suitable for anywhere!
Looking for more stunning mosaic tile for bathroom renovation, visit our blog "New Things: 14+ Styles of Iridescent Rainbow Glass Tiles"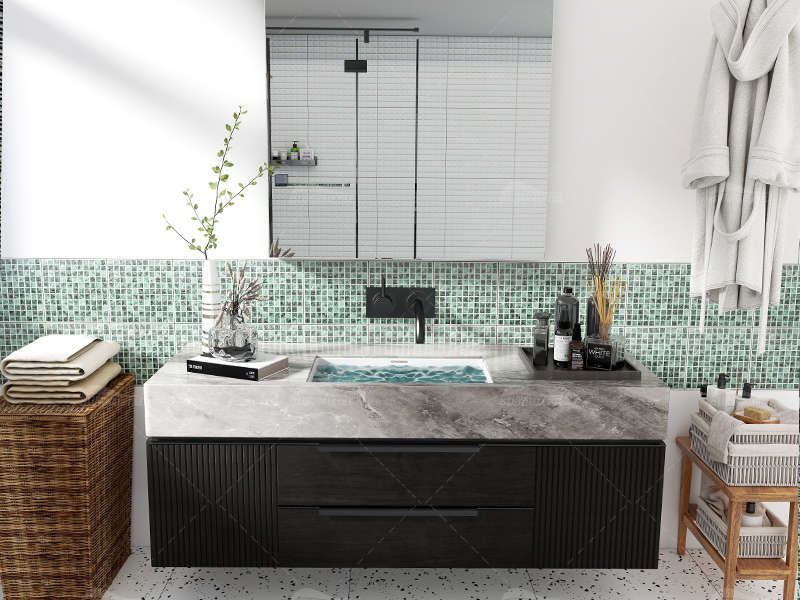 Accent Kitchen Backsplash
Sometimes a classic square tile goes a long way, and that can certainly be true with a outstanding kitchen backsplash. Rather than tiling the common glazed square tile, try a classic square with vintage marble pattern like our designer didi below. Own the large window with that natural sunlight can take your backsplash remodel to the next level.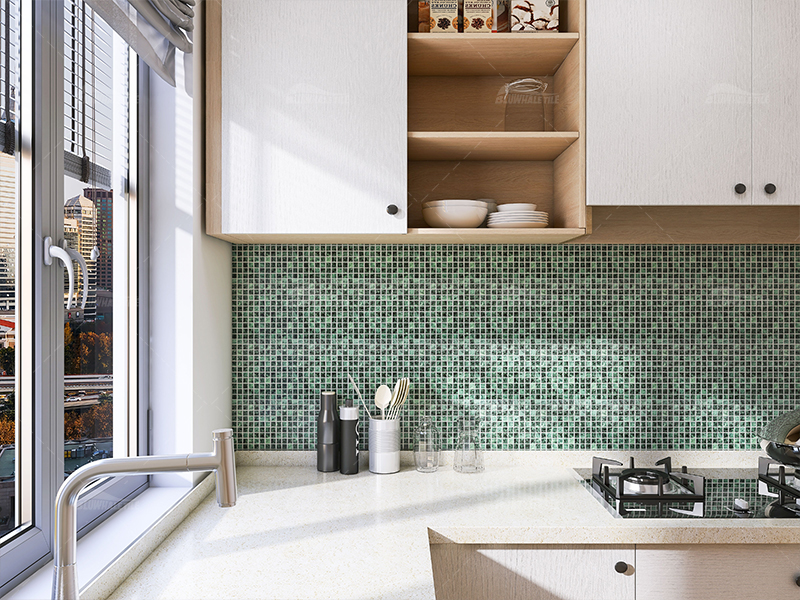 Do It!
Lastly, don't be afraid to push the boundaries. We are here to help you find out the suitable pool tiles and patterns for whatever renovation project you're working on right now. Moreover, don't forget the waterline area design, visit our blog on trendy pool waterline tiles to look at our high-quality border tile selection and reach out while you're going to add these timeless beauties to your own space.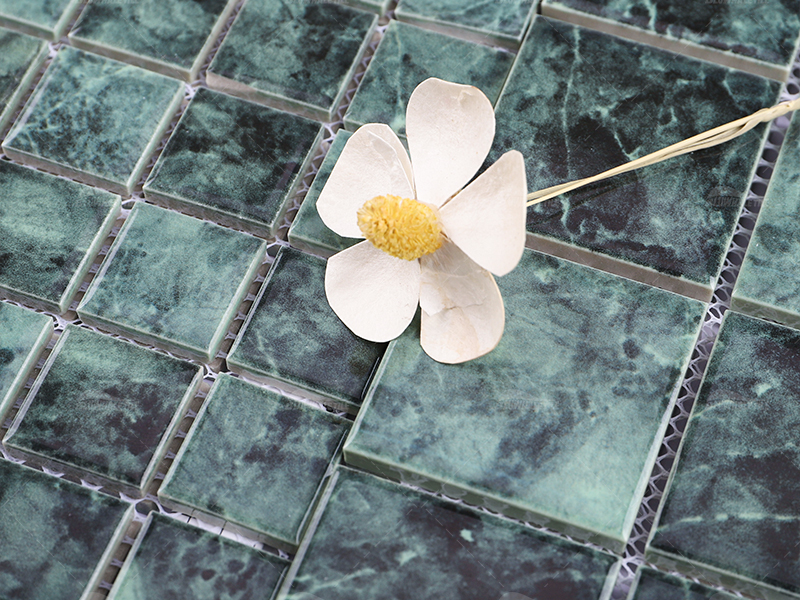 Get Inspired?
Are you looking for Ink-Jet Tile for your future swimming pool redecorating plan, shower, or bathroom project? Something understated and natural for remodeling your outdated pool, or something sleek and stylish? You will certainly find a tile that is right for you at Bluwhale Tile. We prepare a one-stop service for your plans. Contact us immediately!
Shop New Things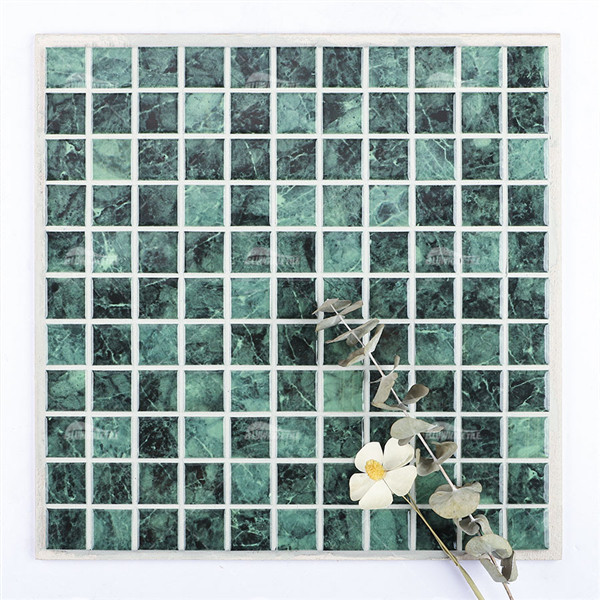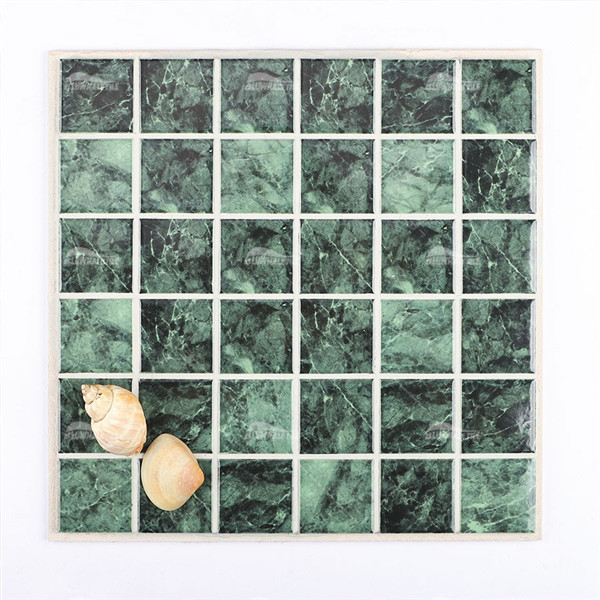 Ink-Jet KGF8701 / Ink-Jet IGF8701