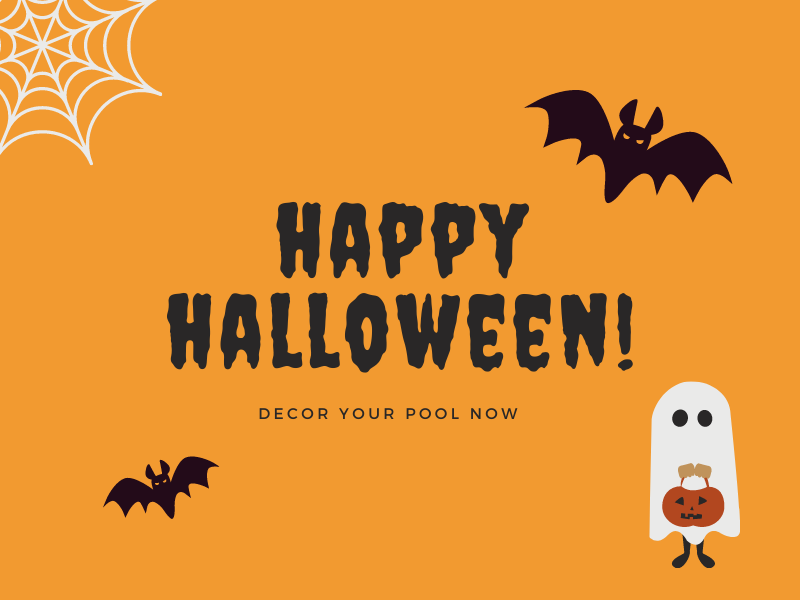 While decorating your interior space during Halloween, don't forget your outdoor space! Trick or treat? These swimming pool tile designs will give you both! Our trick is pulling together chic surface designs that will give you hauntingly great atmospheres for years to come. Our treat is the magic our pool tile artists put into each trendy tile chip. Here are 6 outstanding Halloween-inspired swimming pool tile design projects that are sure to put in a spell.
1 Ghostly Fan Shape White
Moroccan fish scales are the pop shape for bathroom wall design. Our kiln white glaze has enough personality to win its own costume contest. This creative fan shape design on our fambe white glaze color has a texturing effect that adds elegance and vitality to any bathroom or shower space, even with this only one glaze color.
For more ways to use Fish Scales, visit our blog "New Things: Fish Scales for Pool and Interior Decor"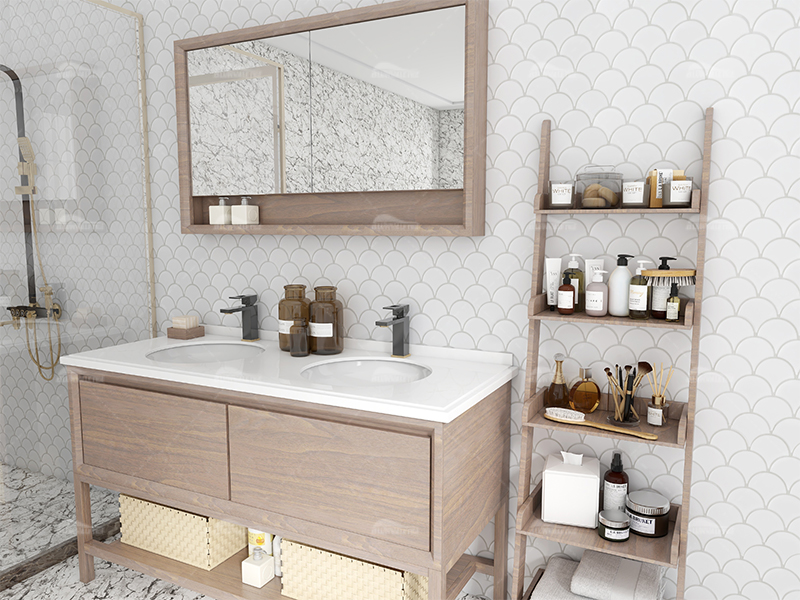 Featured Product: Fish Scale ZGA2201, Glazed White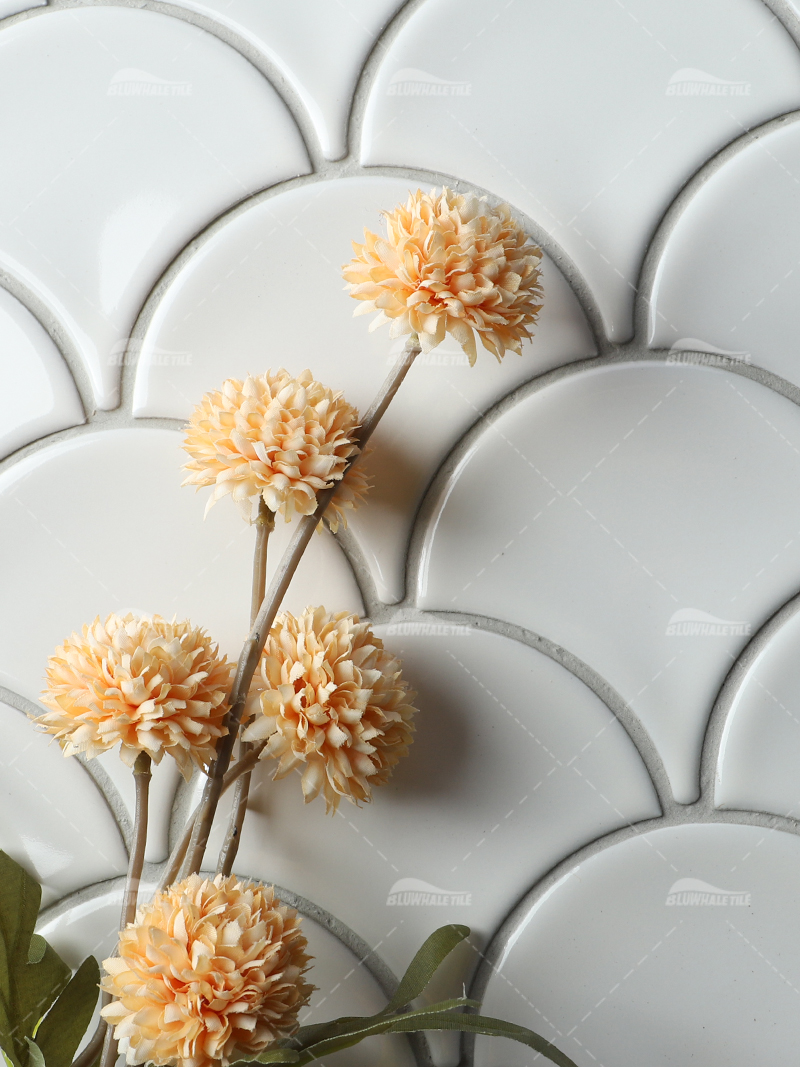 2 Cheer for Marble Greens
There are plenty of ways you can infuse your personal style through pool tile patterns and colors. Retro marble pattern makes this tile looks like the real stone and this dark green brings the mysterious vibes, which will create the Green Halloween for your spa space. An appealing accent wall tends to look less bulky and it's usually easier to clean and maintain. Just like the below show.
For more details of the chic tile, visit our blog "New Things: 2 Styles Marble Pattern Dark Green Pool Tiles"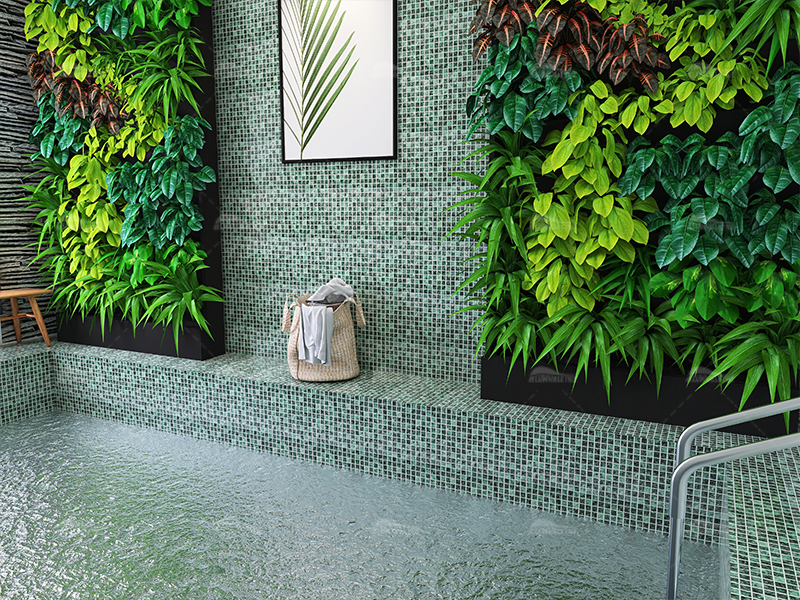 Featured Product: Marble Pattern Ink-Jet KGF8701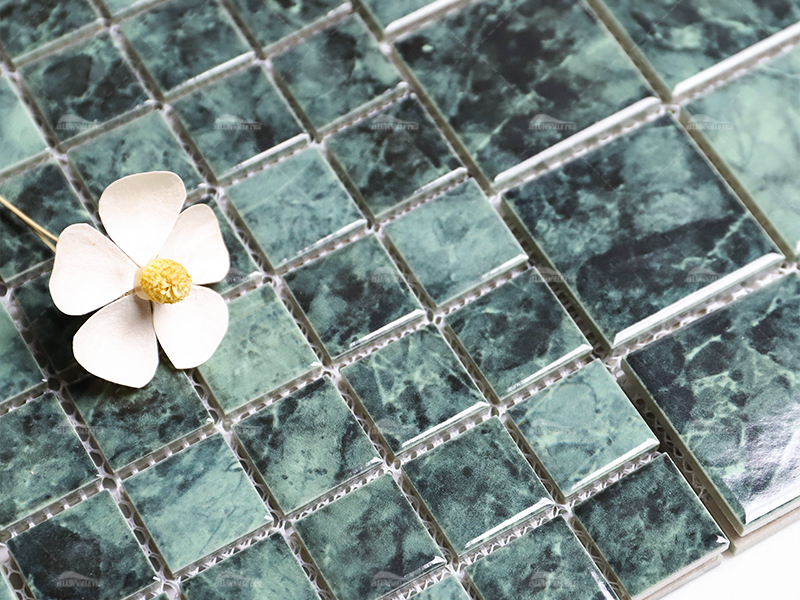 3 Special Orange-Brown Pumpkin Tone
Fulled with Halloween vibes! This bathroom used our 48mm full body squares in orange-brown in their part of the bathroom wall to complement the feature wall in the bathroom. This contrasts with the rest of the bathroom wall, which uses a classic herringbone tile. A featured wall design can also help unify the theme of a bathroom, which creates a subtle and sophisticated orange-brown pumpkin theme.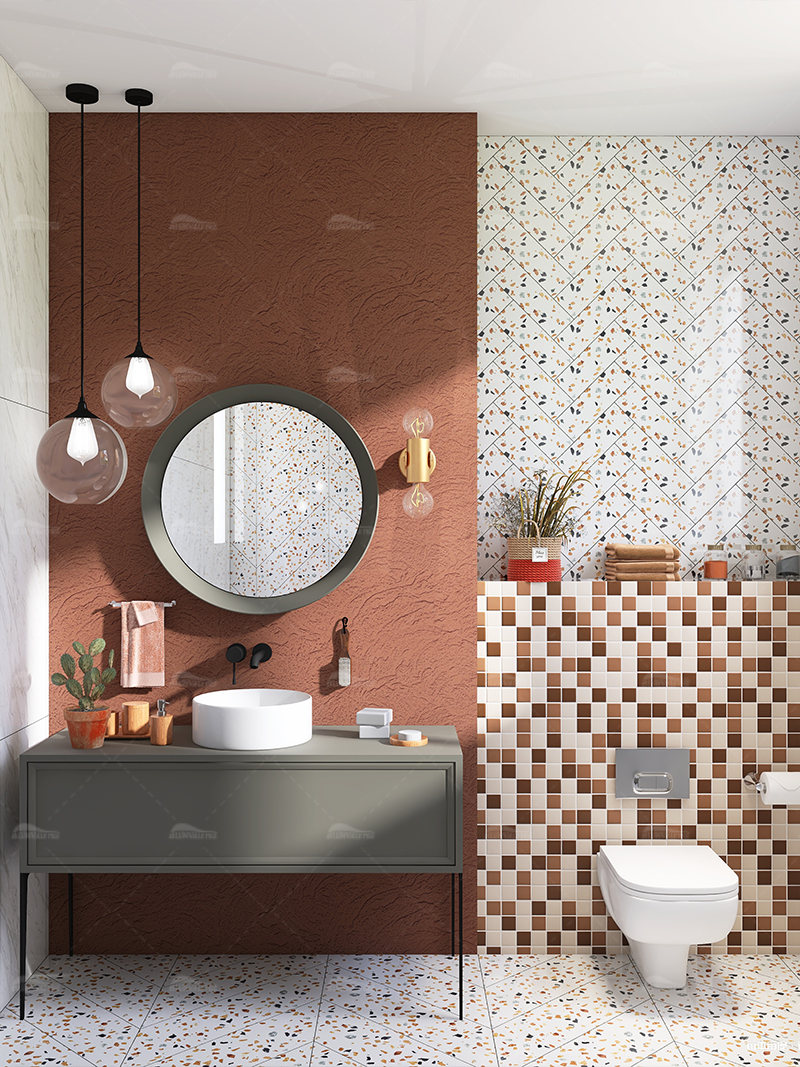 Featured Product: 48mm Full Body Unglazed KOF6009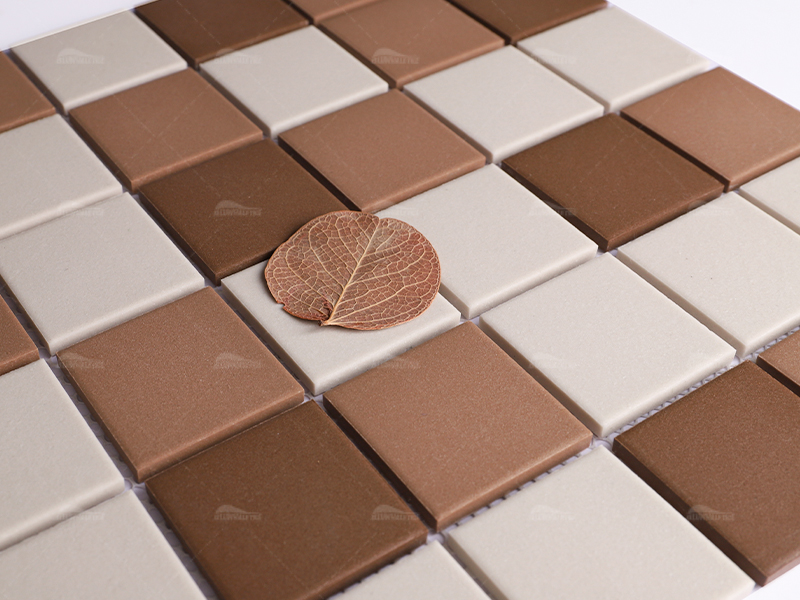 4 Crackle Texture Like Spider Web
Gathering inspiration for the Halloween decor is the first step. Browse the internet, flip through magazine themes, wander the aisles of your favorite street...whatever is it, get inspired! Save photos of Halloween pool decor ideas you found. Pick specific tile surface designs, sizes, and tile colors you vibe with, and put them all together on a mood board to see your vision come true.
For more outstanding pool tile ideas here "New Things: 14+ Styles of Iridescent Rainbow Glass Tiles"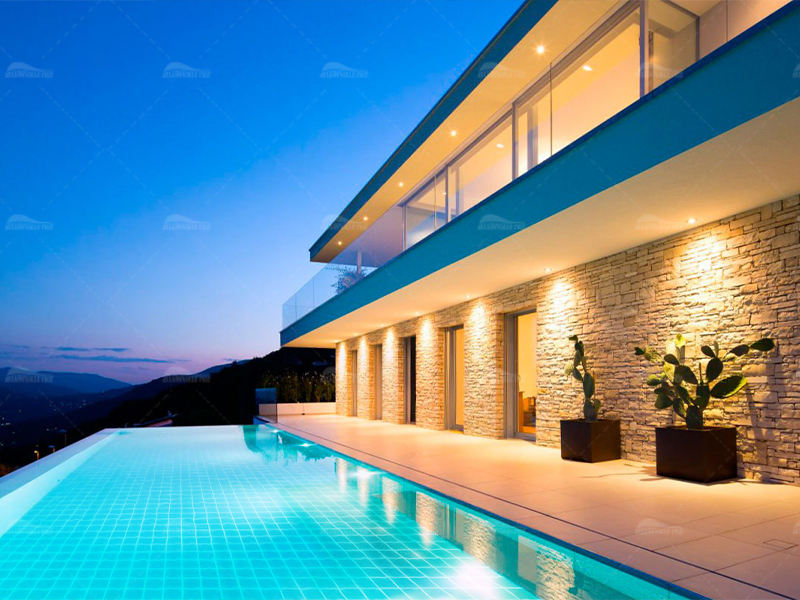 Featured Product: Frozen Shiny Blue Crackle BCQ608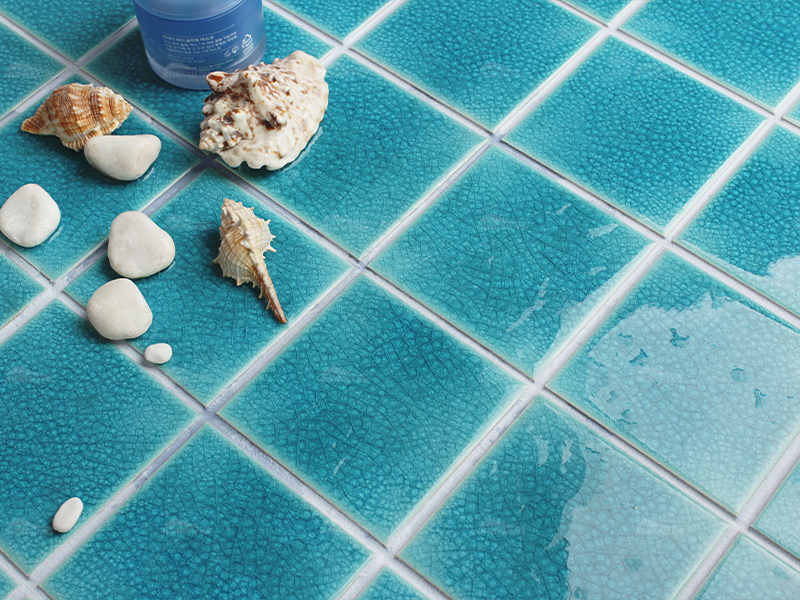 5 Blue Warmth
Most outdoor swimming pools don't come with natural greens to make the beautiful landscape, and even when they do, the placement of landscape is critical. We recommend making a good ol' pros and cons list. For example, large coconut trees provide good coverage, but they will affect your sunbathing. Outdoor furniture and leisure swings around your outdoor pool can be essential design elements but might not provide the amount of aesthetic feeling. Plus, choosing the classic blue pool tile will make your pool the center of attention. Especially on Halloween night, it will bring blue vibes to your home.
Looking for more trendy blue pool tiles, visit our blog "New Things: 7 Styles 1 Inch Hot Melt Iridescent Pool Tile"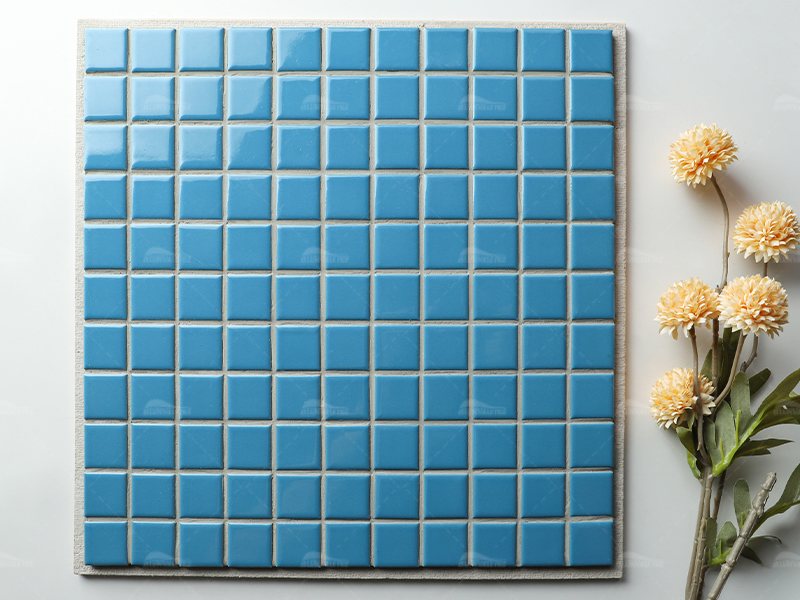 Featured Product: 25mm Square Glazed Classic Blue IGA3603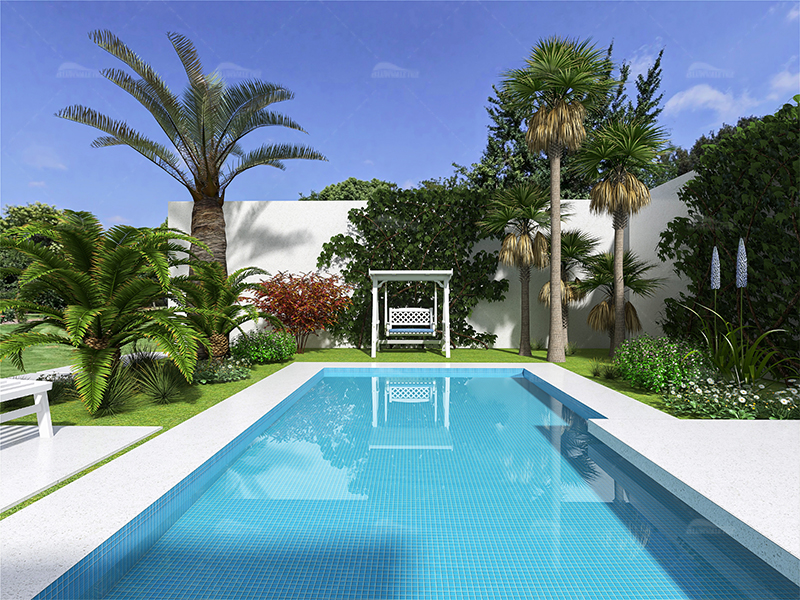 6 Iridescent Dark as Night
Scared of all-black color? How about the iridescent black tone? Special wave pattern brings the unique smooth touch feeling, iridescent black tone makes the mysterious Halloween night vibe, and the vivid brick bone tile pattern creates the personal walls. This new pool tile is one of our favorite go-to's when someone wants to make a statement with an appealing iridescent effect. We're digging this moody tile design.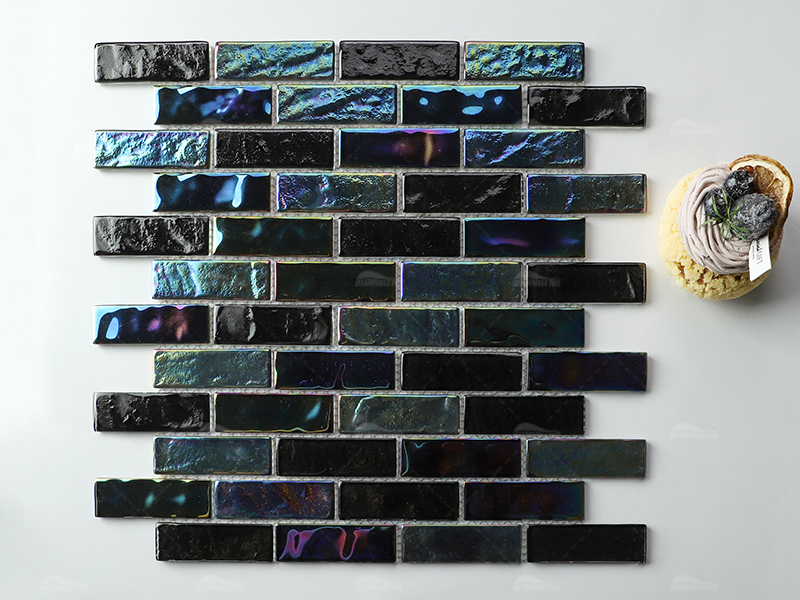 Featured Product: Iridescent Glass Tile GZOF5003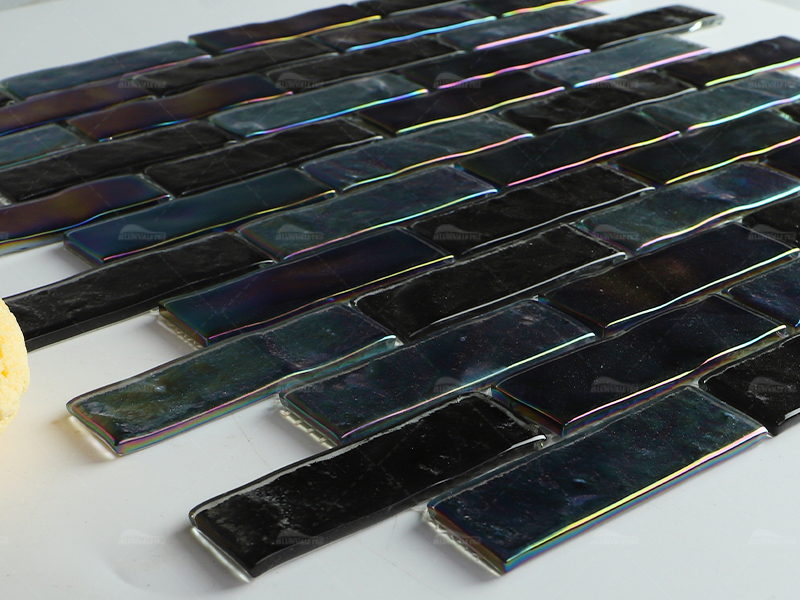 Get Inspired?
Fall in love with our chic pool tiles? Order tile samples to see and touch right now! We love to hear what inspires you and tell Bluwhale Tile more about your pool or bathroom project for a helpful suggestion. Wishing you a very special Halloween!