Waterline tile is one of the most important and often overlooked element of swimming pool installation, small things also can make big effect, and the waterline tile will give an extra "wow" factor and influence your pool style. You can use waterline tile to have popular color to your pool, keeping your pool in best condition and helps prevent pollens, sunscreen and other substances harming your pool's waterline. And today we are finding the answer for how to choose right pool waterline tile. Read on and get some good tips for yourself.
Explore more things about waterline tile? This post gives ideas: 3 Things You Should Know About Pool Border Tile >>
1. Make A Budget
Never go wrong to make a clear budget before you starting any home renovation, swimming pool decoration as well as even buying waterline pool tiles. You should decide the amount of money for your pool tiling project, or, it would be a sad story that you love one tile design that you can not afford it.

2. Make Sure What Type of Waterline You Want
Swimming pool waterline tiles come in wide range of materials, including popualr porcelain, glass, and stone mosaics. Glass is a prevailing option because of its beautiful transparent body and rich colors, it perfectly reflects sunlights and mirrors the movement of water. However, glass waterline tile will cost you more for its higher price and installation fee. While most people still choose it as this product is really unique and different from other tile types.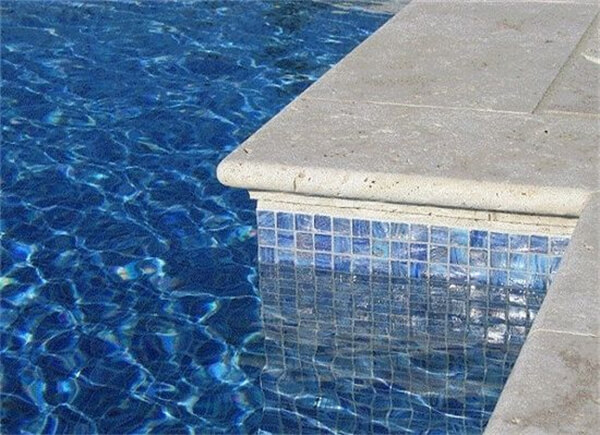 If you are looking for waterline tile to ensure your pool style fitting the natural decor of your house, stone waterline is definitely what you need. Artificial stacked stone veneer is lightweight and easy to install, their colors and shapes can be customized as requested, can easily build a rustic and natural environment for you.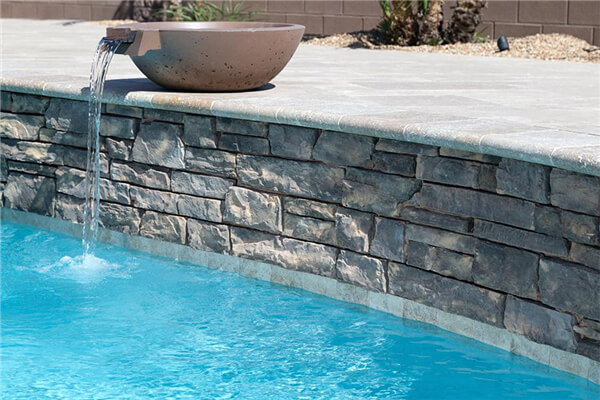 Ceramic waterline tile must be mostly and widely used in swimming pools. Ceramic or porcelain mosaic tile is an ideal choice as it is durable and strong enough to offer a long service life although exposed to water, sun and other outdoor elements. It is easy to install and clean, you can find the one best for your pool waterline as the tile is available in various shapes, colors and sizes.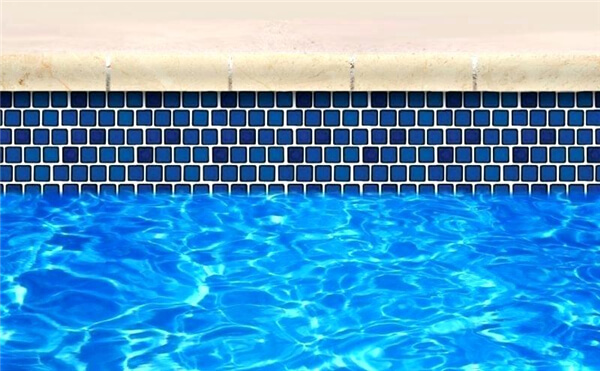 3. Work With A Designer
It is better to work with a professional designer if you have no idea to deal with the above factors. The designers will give you all answer for projects and advice for achieving a pool look you want. They know clearly what you want, come to your house and evaluate the scope of your project, offer a best quote for products and installation labor needed. They can also give a sketch of your pool, this way will give a better sense of what your pool will look like.

4. Combo of Coping
Do not just consider the waterline, and pool coping is no exception. Coping tile gives a grab function for swimmer when entering or existing pool. It makes the pool edge less slippery and keep your pool safer. Importantly, the combo of waterline and coping complete the final look for pool.

Hope you get tips from the post and find your best pool waterlines, if you want to find waterline tiles for swimming pools, you will love this post: Popular Swimming Pool Border Tiles Design >>
Bluwhale Tile has into wholesale pool mosaic tile for over 10 years, we supplies premium quality products and service to all customers including distributor, retailers, architects and designers, if you are in market for our product, contact us for best quote and more details.