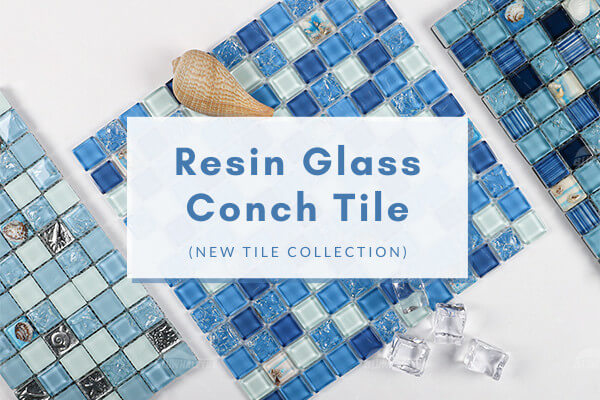 We would like to solemnly introduce you to the latest member of our Crystal glass tile family! A transparent crystal glass favorite, our resin crystal glass conch tiles gleam energy into any swimming pool and interior space they surface. These glass tiles with inner seashell and conch decorations are perfect for making a unique wall for your shower or chic floor for your pool or spa and more! Keep on reading to see our new tiles and get more remodel inspiration from them.
New Pool Tile Style
First and foremost, we want to give our new crystal glass tile a little much-deserved attention. This crystal glass tile is unlike any we've seen before in our online shop. It is not an average crystal glass chip nor hot melt glass chip or a mixture of the two. It is totally in its own lane and yet works great for so many projects. What makes it completely unique? We thought you would never ask.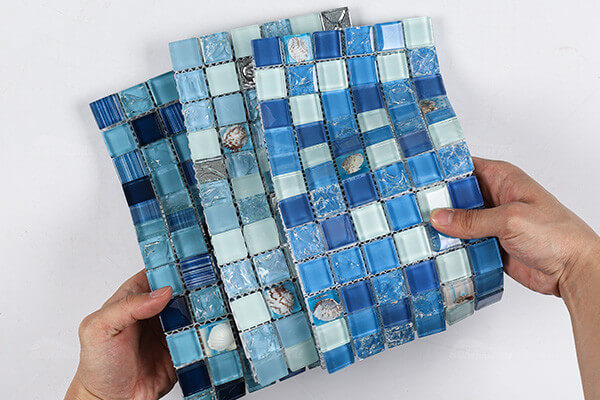 Resin crystal glass conch tile comes with many perfect imperfections. We choose every sea shell and conch from nature so it only makes sense that each one is slightly different because there is not the same leaf in the world. You will get slight differences in each chip, crackle pattern in the finish, high variation in the glossy surface, and a whole lot of added character to your space. Our new resin crystal glass conch tile encompasses all of these nuances. It is an entirely transparent glass chip with crackle patterns or seashells featuring a glossy finish and charming variation. It is the perfect choice for clients who love natural and beach vibes but want a touch of extra character.
For more crystal glass tile ideas, visit our blog "An Introduction to our New Arrival - Hot Melt mix Crystal Glass Tile"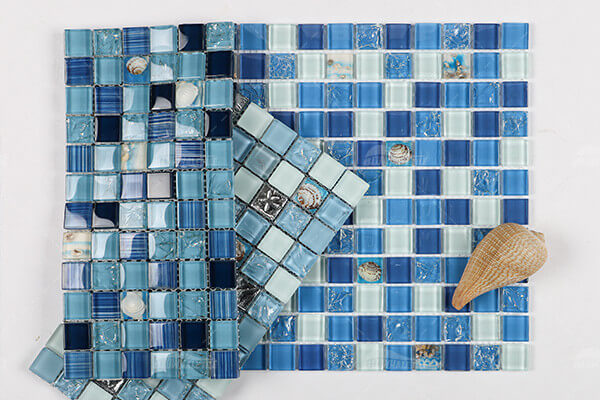 Focus on Inner Decoration
We also call them "Tranquil Beach Holiday". It has an interlocking pattern. The blue-tone crystal glass chips look like the ocean, the transparent white glass chips for the could, and seashell resin chips stand for the beach. These harmonious tones weave a tranquil beach holiday dream. The resin chips have real lovely conch shells in them. Bring nature to your space right now!
For more blue natural vibes pool tiles, visit our blog "New Things: 7 Styles 1 Inch Hot Melt Iridescent Pool Tile"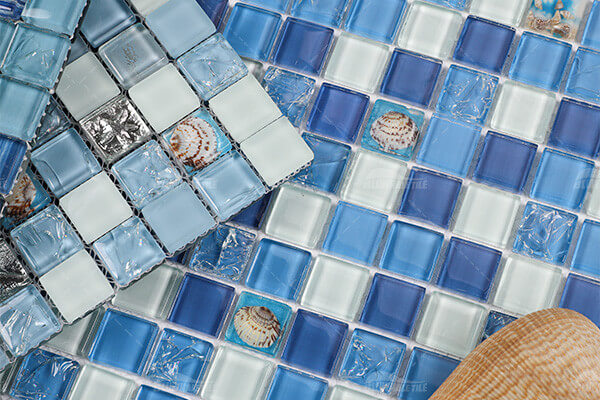 Pattern One
This glass tile is named glass conch tile which is made from transparent crystal glass chips with natural seashells and crackle glass. The glass tile thickness is 6.0 mm and the chip size is 23mm by 23mm. The resin mosaic chips are randomly added to the mosaic tile. Moreover, the inner stuff is also random. Smooth touch feeling and chic crackled looking crystal glass tiles and yet safe for applications such as pool inner wall, shower and bathroom wall. This kind of mosaic tile is the latest design which makes the mosaic tile vivid.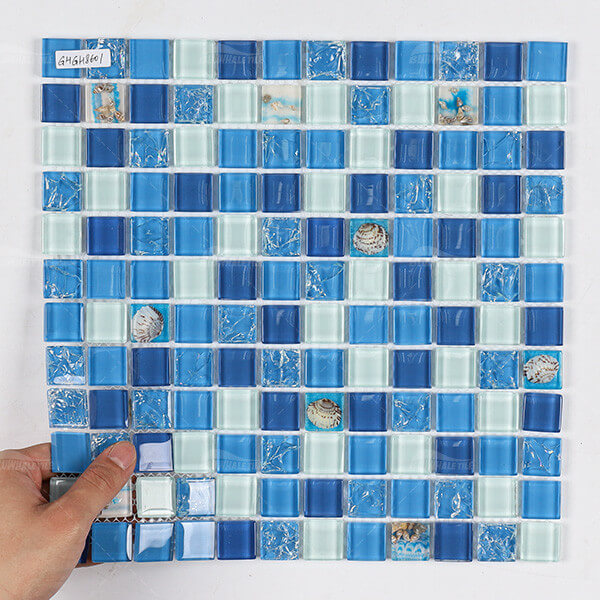 Featured Product: Glass Resin Mother of Pearl GHGH8601
Pattern Two
Pattern Two is different from Pattern One, due to its darker tone. This eye-catching and appealing resin crystal glass mosaic tile is made from eco-friendly recycled glass materials. Their surface is glossy and high variation, making every crystal chip sharp and shine. It's easy to clean and low maintenance because it has the feature of zero water absorption. 1-inch chip size is also very modern to use in shower or pool waterline areas. Each sheet of this resin crystal glass conch tile is approximately 1.14 kg and is mesh mounted for easy installation for your remodeling projects.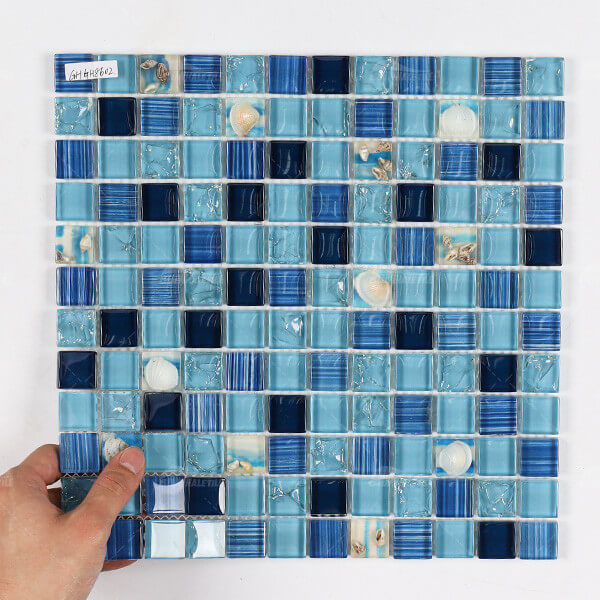 Featured Product: Glass Resin Mother of Pearl GHGH8602
Pattern Three
Adding silver glaze things into it makes a different feeling! They are made from silver glazed ceramic chips, resin chips with inner seashells, and crystal glass chips. On the back of our tile, it is mesh mounted so is easy for cutting. The resin chips with natural seashells are randomly added to the mosaic tile. What's more, the inner stuff is also random. This kind of mosaic tile is a new design that makes the mosaic tile lively. The inner natural seashell brings a strong feeling that it is a wonderful picture. Combine with the sky tone, the ocean color, the sunshine feel, and the beach vibe. How beautiful the artwork is!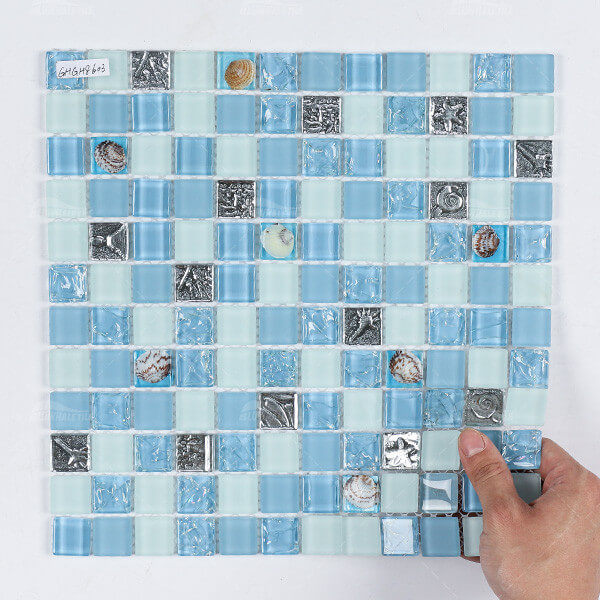 Featured Product: Glass Resin Mother of Pearl GHGH8603
Completely Tiled Out
If you love these resin glass conch tiles, don't be afraid to go all out and tile it all right now! We are obsessed with how blues this shower turned out. From the cozy, sea blue square resin glass conch tile to the floor, this shower is a tile love's dreamy space. The inner decoration and glossy high variation of the resin glass conch tile bring natural vibes while the floor adds the perfect ocean-atmosphere. The ideal part is how easy it is to clean and maintain this space due to the glass tile!
Looking for more modern pool tiles with our blog "New Things: 2 Styles Marble Pattern Dark Green Pool Tiles"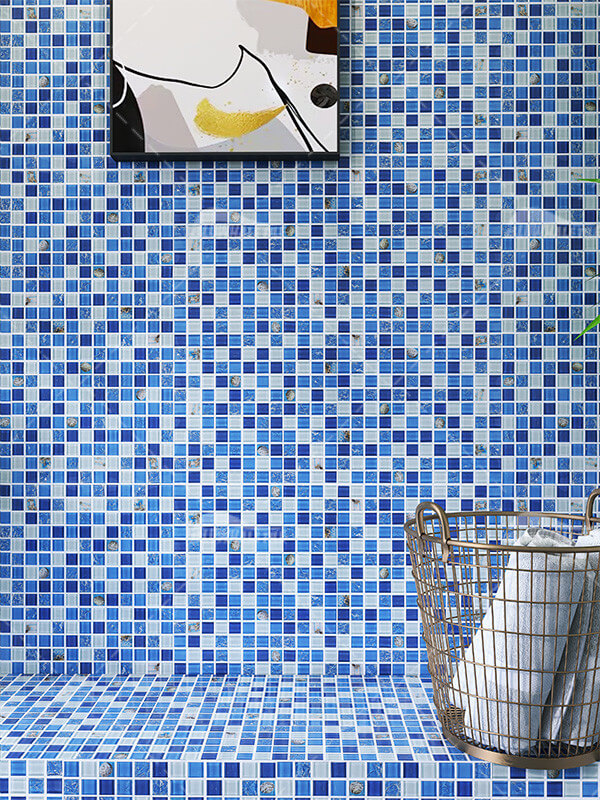 Natural Style Spa Area
What is the perfect backdrop for a spa? And what is the ideal inner wall decor of a spa? Glass Tile of course! This new arrival resin glass conch tile is a great addition to any spa, whether indoor or outdoor, particularly for a floor-to-ceiling tiled wall. The point of these installations is picking something you will never get tired of, and we know we will always love these natural things, such as blue tones, natural seashells, and glass materials! Moreover, combining the resin glass conch tile with greeny plant decorations makes the space even more special.
To see more spa projects, visit our blog "Swimming Pool Project: Round Sauna Pool with Simple Blue Mural"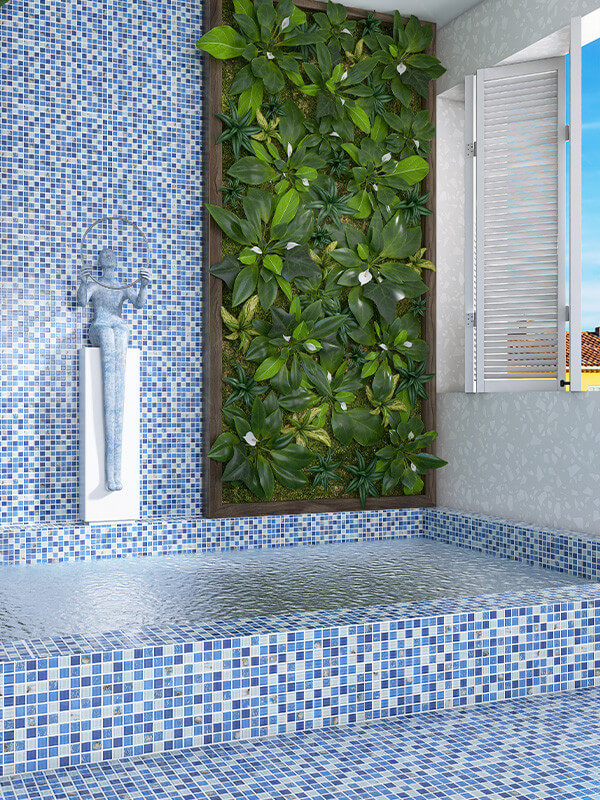 Get Inspired?
Bluwhale Tile makes the pool tile special! We're doing business in tiles for many years. The pool tile market has been providing lots of simply blue or green tiles for years. We would like to make some changes to create some new things like adding some natural conch in the crystal glass tile, having some inner crackle design and silver glaze ceramic chips, making some difference in the finish. We're so happy to hear from you, comment your ideas below and order tile right now! Free tile samples are available here.
Shop Tile Now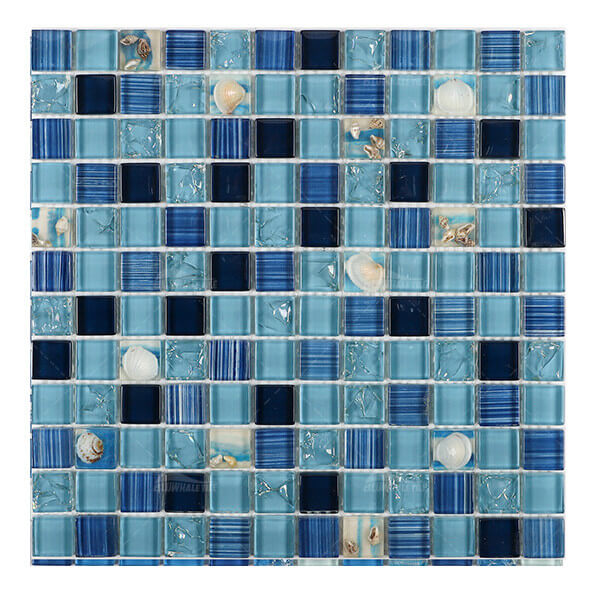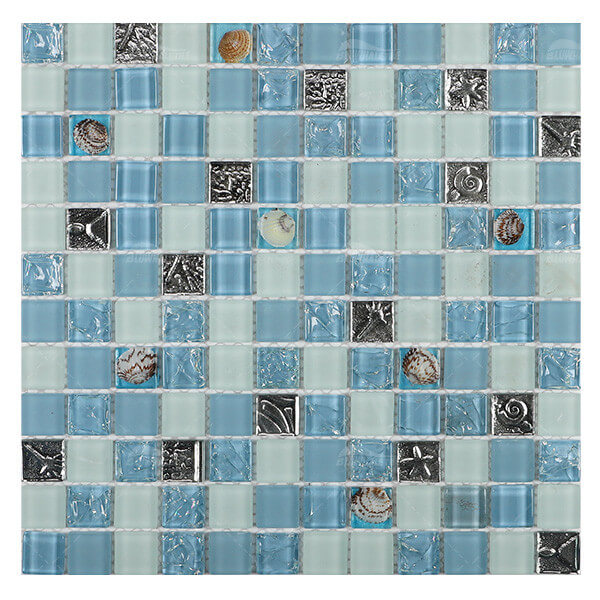 GHGH8601 / GHGH8602 / GHGH8603