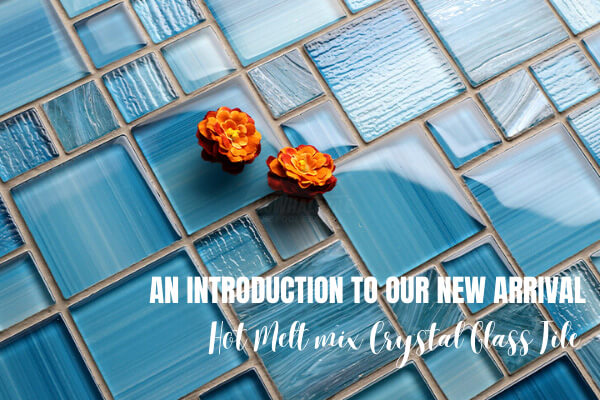 Glass mosaic tile adds a multicolored punch to your swimming pool design. Like other pool tiles, glass mosaic tile comes in a variety of palettes and patterns to combine with every type of backyard. Glass mosaic tile sheets are different pieces of glass combined to form a unique design. They come in sheets that are easy to install on the bottom or waterline of the swimming pool.
With the flower blooming and the garden of home or hotel being stocked with beautiful flowers, we can feel the springtime is just around outside. As more palettes, plants, and sunshine make their way back into our daily routine, we can not wait to see these things come into our backyard space as well. From blue to green colors, you can incorporate a new hue into your backyard pool all year long with hot melt mix crystal glass tile. Here are various styles you can use glass tile in your spring pool renovations.
1 Inch Hot Melt Mix Crystal Glass
1. Go Blue in Pool
If spring is your favorite season, then this chic glass tile is for you! The glass tile is filled with a natural and airy sky blue tone and unique hot melt chip mix crystal chip design making this the ultimate blue sky that people will be envious of. Pair all of that up with a timeless and classic square tile shape as well as spring is here to stay. You can also go the extra mile and decor the pool waterline area with these new things.
For more blue pool inspiration, visit our blog "11 Blue Tone Pool Tiles For Your Next Project"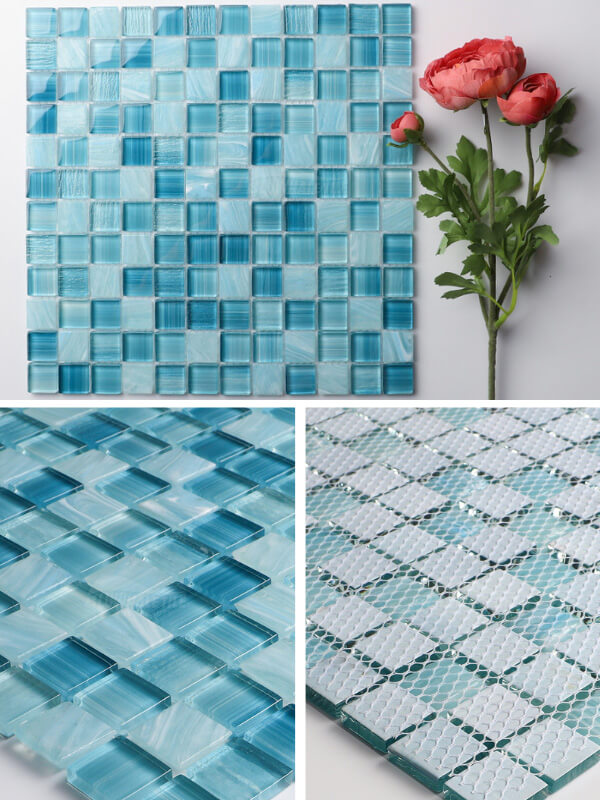 Featured Product: 1 Inch Hot Melt Mix Crystal GHOM9602
2. Obsessed with Sky Blue
Spring is not only green but also blue, so why not add an outstanding blue pool interior wall to your outdoor poor or indoor spa? This stunning hot melt mix crystal square tile is the perfect way to add character and dimension to your wet or dry space in a simple yet dazzling way. The bright and cozy blue color is the ideal shade to pair with the blooming greenery of your backyard in springtime.
To learn more about blue pool tile, visit our blog "New Things: 7 Styles 1 Inch Hot Melt Iridescent Pool Tile"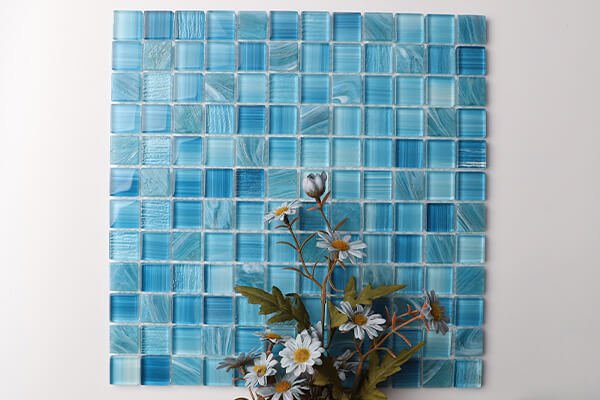 Featured Product: 1 Inch Hot Melt Mix Crystal GHOM9603
3. Try Mix Different Materials
A simple way to bring in tone to your swimming pool this season is by choosing a natural and high variation glass tile color. This square glossy mix matte mosaic tile is a melting lake tone staple piece. One of the best parts about this beautiful and attractive tile surface is the mix of hot melt glass chip and transparent crystal glass chip, making it easy to decorate the whole swimming pool interior wall. You can also see and touch the texture which gives this glass tile an extra charm.
If you are interested in glass pool tile, visit our blog "New Things: 9 Style Iridescent Tiles Find to Decorate Your Pools"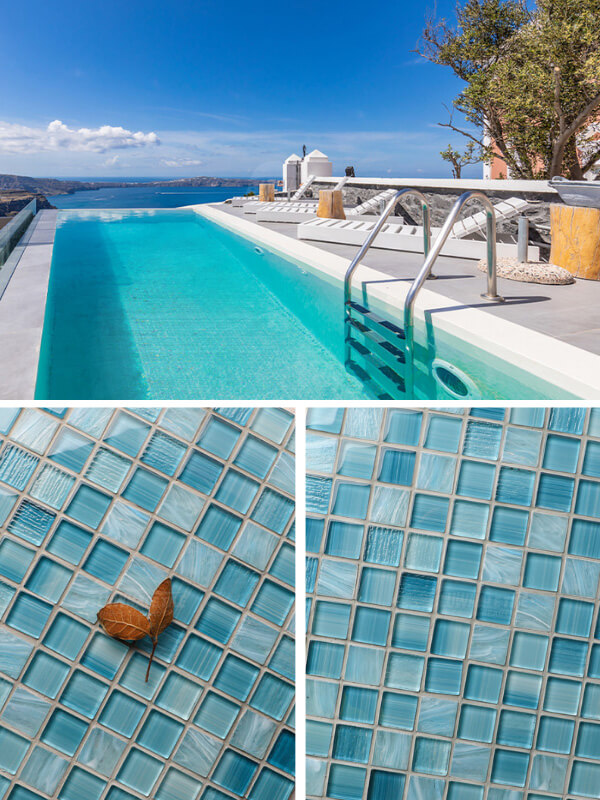 Featured Product: 1 Inch Hot Melt Mix Crystal GHOM9602
Shop The Tile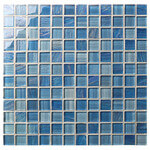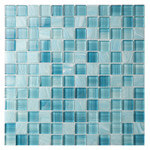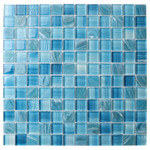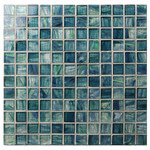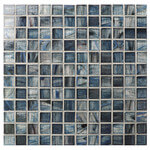 1.GHOM9601 / 2.GHOM9602 / 3.GHOM9603 / 4.GHOM9901 / 5.GHOM9902
2x2 Classic Style
4. Beach Blue
Bright and cool hues are starting to make their appearance, so get ahead of the game with this stunning and unique ice blue tile. Matte hot melt glass chip pairs wonderfully with the glossy clear crystal glass chip, and this glass tile is beyond magical. Natural blue color and thoughtful tile design details can make any swimming pool space feel larger than before, and try to touch this tile finish, you might fall in love with it.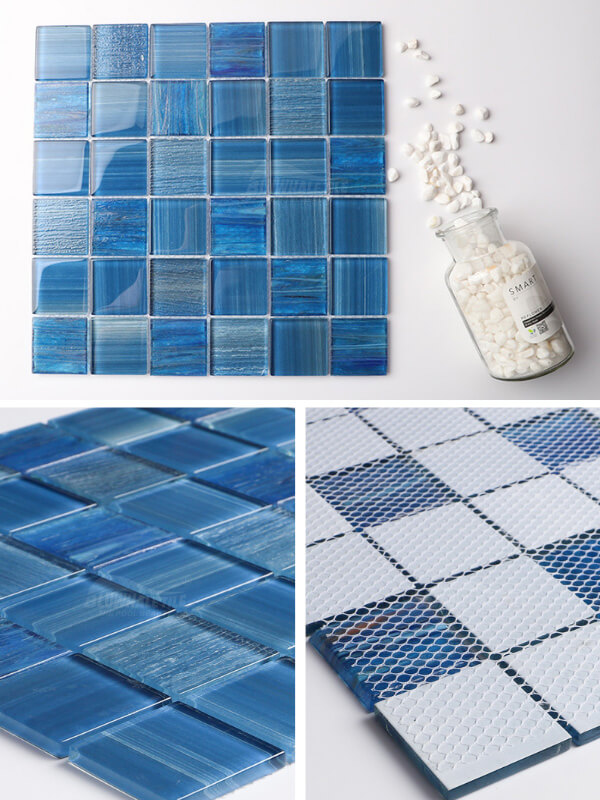 Featured Product: 2 Inch Hot Melt Mix Crystal GKOM9601
5. Mysterious Palette
Just like your favorite pair of dark blue jeans, our classic dark blue color is completely irresistible. This hot melt mix crystal blue glass tile has a glossy and matte finish, medium mix high variation. It's a great option for a swimming pool, bathroom wet space, or shower because its low water absorption feature and special surface design can hide all the unwanted dirt that inevitably sneaks into the swimming pool interior wall and waterline area.
Get more pool waterline ideas, visit our blog "Swimming Pool Waterline Tile Ideas For 2022"
Shop The Tile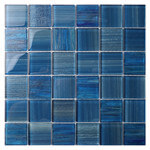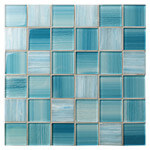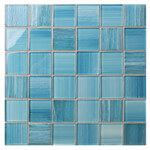 1.GKOM9601 / 2.GKOM9602 / 3.GKOM9603
Blend Size Style
6. Candy Blue
As we know that springtime is the season of new beginnings, making it the ideal time to refresh the space whether interior space or outdoor space and this hot melt mix crystal glass tile is a perfect example. The blend size works well with spring-inspired colors making a gorgeous focal point while also adding an extraordinary touch of personality to the natural style swimming pool remodel plan.
To see other ways you can add pops of tone to the swimming pool, visit our blog "What is the Perfect Color to Paint A Swimming Pool?"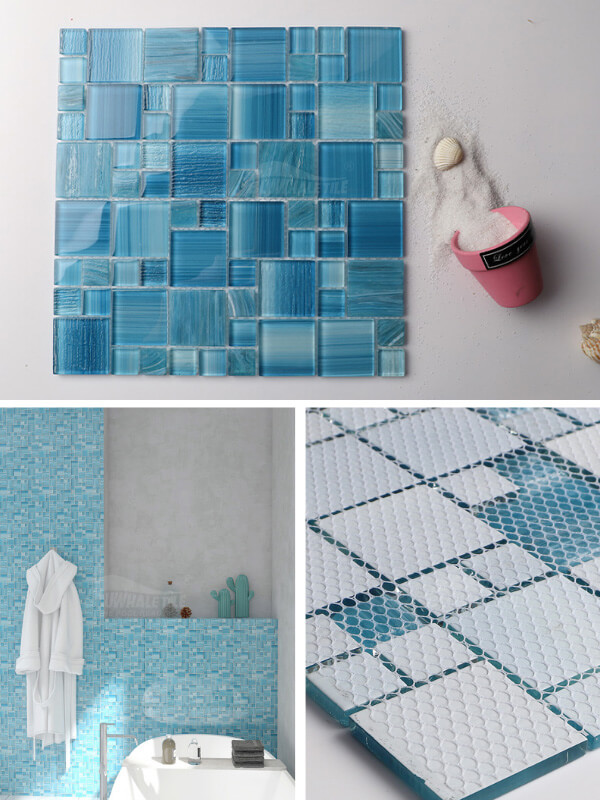 Featured Product: Blend Size Hot Melt Mix Crystal GZOM9603
7. Chic Sapphire
Sapphire is known to have a whole array of mystical variations and the same goes for this blue color. This showstopper of blue has a wonderful powdered pattern with a matte surface mix glossy finish. Dipping its toes into all sorts of tones like lake blues, sky blues, and deep ocean blues, this chic hot melt mix crystal glass mosaic tile is pure magic.
For more outstanding pool tile, visit our blog "New Things: 14+ Styles of Iridescent Rainbow Glass Tiles"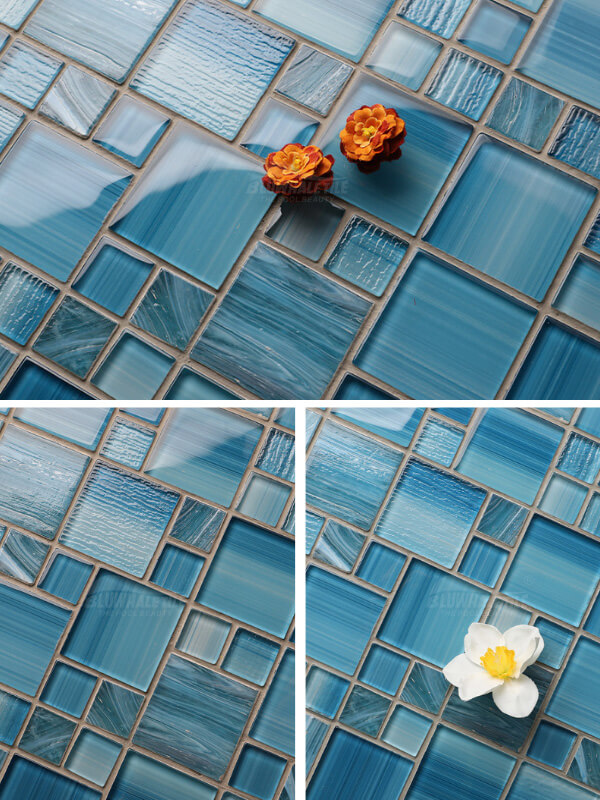 Featured Product: Blend Size Hot Melt Mix Crystal GZOM9601
Shop The Tile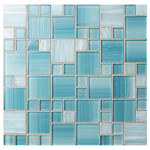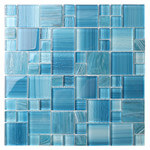 1.GZOM9601 / 2.GZOM9602 / 3.GZOM9603
Get Inspired?
Love this hot melt mix crystal glass tile? Tile samples are highly recommended to see the finish, color, and size of the mosaic tile if you have not seen this tile in person. The tile surface and color variations are inherent characteristics in all tile collections. Bluwhale Tile would also like to hear what inspires your future project. Comment below or directly tell us more about your ideas and get a free tile sample with us!