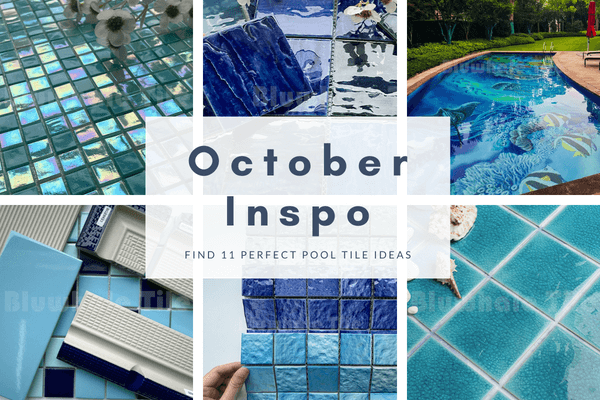 Swimming pool tile can make your pool different from others. Fall has arrived, the pool will close and with it comes all the charms of this enchanting time of year. We are celebrating the change of the season with a recent popular pool tile! Incorporate these tile styles in your pool for looks you will love year-round!
#1 Shining in the Sun
Shiny glass or matte glass? Vibrant colors or soft neutrals? Eccentric mosaics or elegant monochrome? There are many different factors you need to consider when picking the right glass pool tile, but the three most important ones are safety, durability, and attractiveness. Just like our welcomed iridescent glass tile - it provides a luxurious, visually appealing style to your pool and will increase the resale value of your home.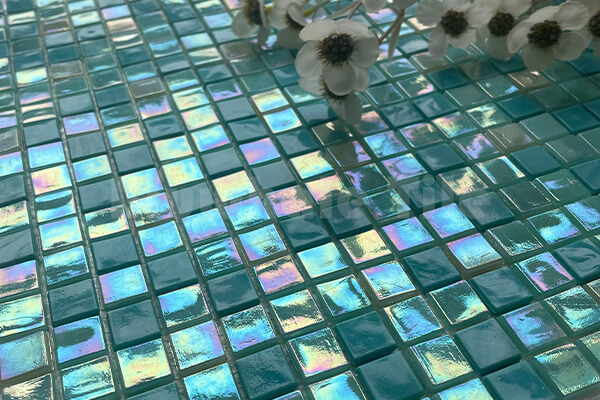 Featured Tile: Jade Iridescent Green Iridescent Glass Pool Tile BGC014
#2 Custom Mosaic Art for Pool
Pool Mosaic murals are your chance to let your inner artist shine under the water! Combining art with functionality, these custom pool mosaic art can be installed as waterline or wall decoration as well as at the bottom of the pool. If you love flowers, bring these patterns inside the bottom of your pool to give your swimming pool a gorgeous statement.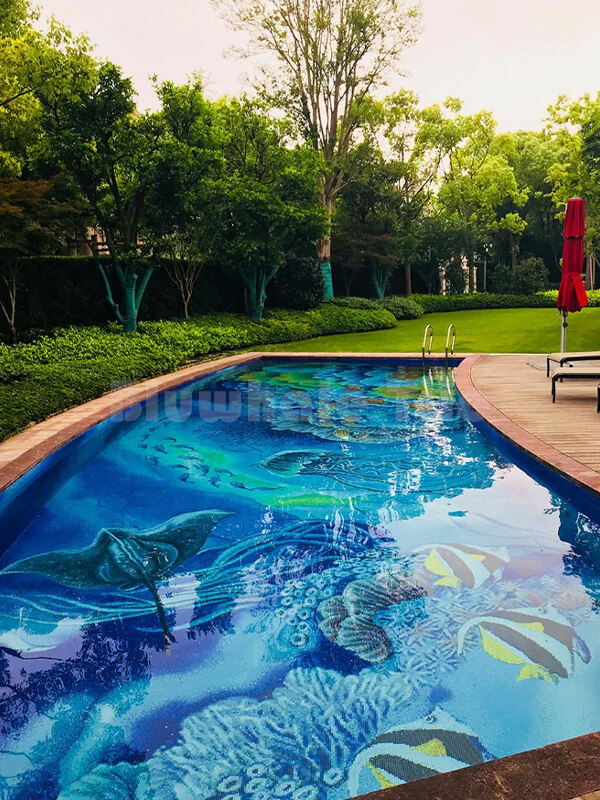 Featured Tile: Flower Series Custom Pool Mosaic Art BGE021
#3 Crystal Glaze Porcelain
Choosing the right tile for your swimming pool also depends on your overall budget. If you are planning on tiling a larger pool for example, then going for more affordable options such as ceramic pool tiles, might sound like a better option. Our Crystal Glaze Collection might suit your lower budget!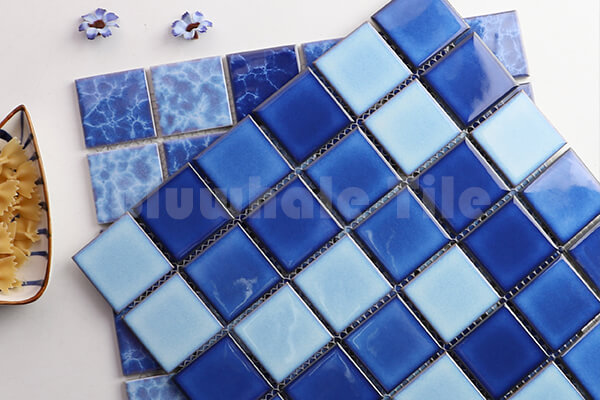 Featured Tile: Crystal Glaze Porcelain Dark Blue Pool Tile BCK635
#4 Obsessed with Ice Crackle
When it comes to choosing the right pool tile, it is important to pay more attention to the quality instead of the price. High-quality swimming pool tiles are worth the upfront cost because they are durable and low-maintenance, thus they will make your swimming pool last longer and will save you money in the long run. Just like our popular 4 inch swimming pool tile, with a unique ice crackle pattern design and classic square shape, perfect for any pool style.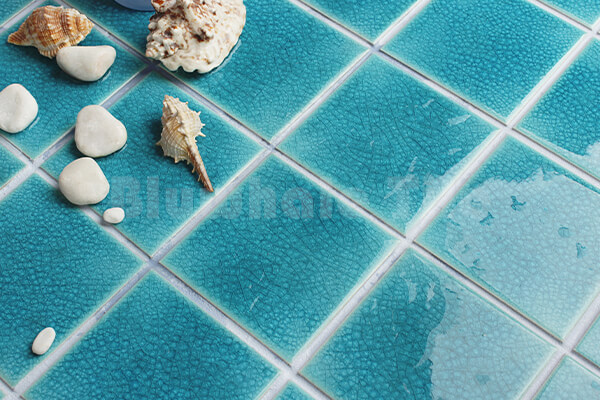 Featured Tile: Frozen Shiny Blue Crackle BCQ608
#5 Large Size!
Size matters when it comes to choosing pool tiles. Larger tiles can cover up more space and make your pool look larger. Choosing the right pool tile size will make a big difference in your swimming pool. Like our 150X150 Ice Crackle Pool Tiles will make the pool more inviting and vibrant. If you are after a luxury look go for white mosaic tiles that make the pool appear larger and the water look sky blue. Blue is another popular choice and dark blue tiles will turn the water a deep ocean color.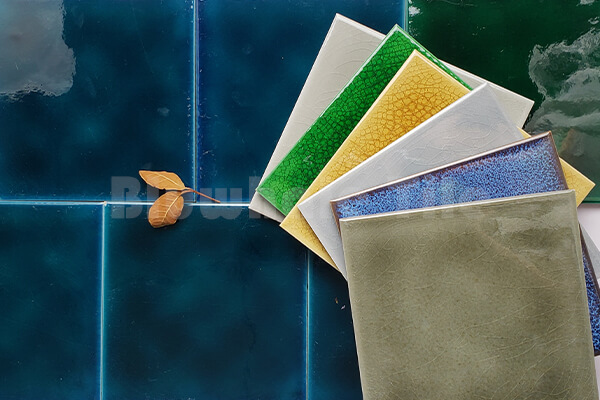 Featured Tile: 6x6 Large Square Crackle Dark Blue WBB2601
#6 Penny Round & Pool
How about using penny round tile to decorate your pool? We always use them on our bathroom wall, however, they can make a statement in your spa pool area! Penny round tile is unique, modern, and lovely, creating an amazing look for a pool remodel project. They totally worth the investment because it's durable, low-maintenance, and beautiful.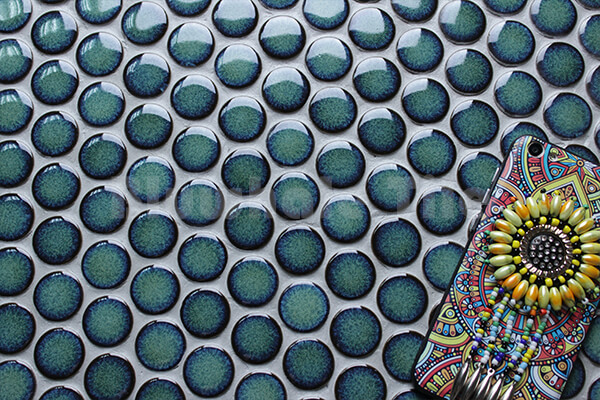 Featured Tile: Dark Green Penny Round Tile BCZ923A
#7 Special Finish?
We all love these finished designs! While touching these surfaces, you will get a special uneven touch feeling. Moreover, when you look at this tile under the sun, it will look like real water flowing through the finish. This pool tile is our hot sale this season. Because it's strong, affordable, and comes in every color, texture, and design you can imagine, which is why it has grown to be so popular over the years. If you are trying to stay within a budget, ceramic tiles are a great option. However, they do not reflect light as much as iridescent glass pool tiles.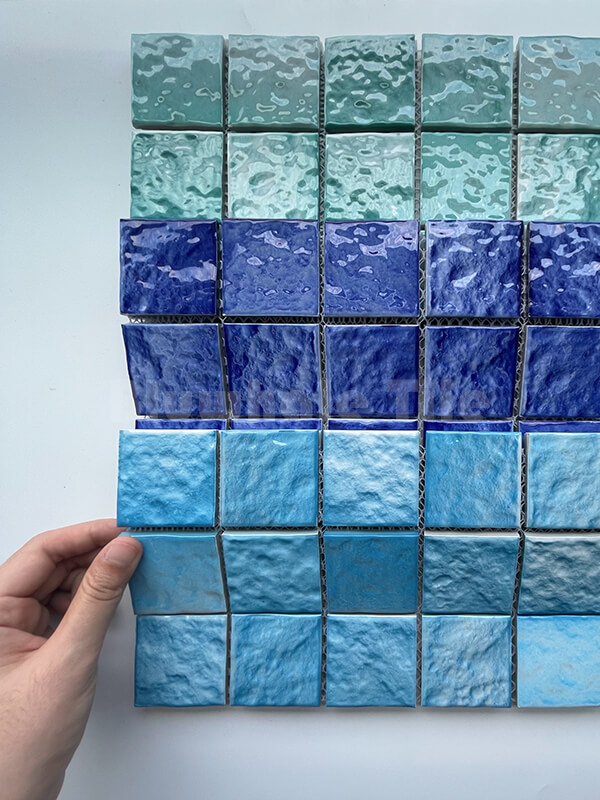 Featured Tile: 48x48 Ceramic Wave Light Blue BCK704
#8 Look Like Real Water Flowing
If you are installing a new pool, renovating an old one or you are trying to design the perfect ocean ambiance and don't know how to choose the right tile. We highly recommend you opt for this 95x95 wave surface ceramic pool tile! The uneven and glossy finish design makes it reflect more sunlight and makes your pool more vibrant and ocean-feel.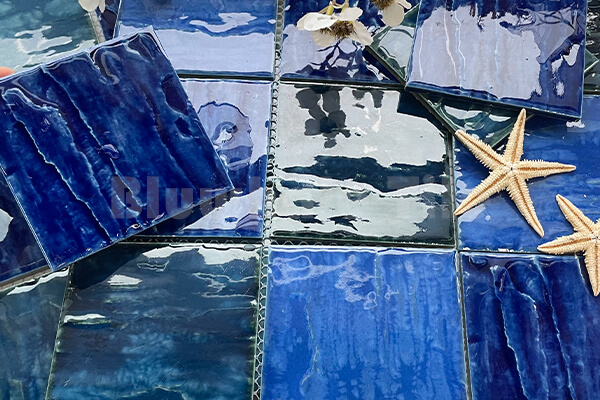 Featured Tile: Ceramic Wave Mixed Blue BCP003
#9 Pebble Border for Pool Waterline
If you want to make a swimming pool more appealing and inviting, you can achieve this by refreshing the waterline with these ceramic pebble tiles. Mosaic tiles with eye-catching designs work wonderfully to add an extra touch of style to your swimming pool. Pool Waterline tiles run along the waterline of your pool and serve as the finishing touch. They are a good design element and make your pool complete. Typically, three inches of the waterline is underwater and three inches are above water.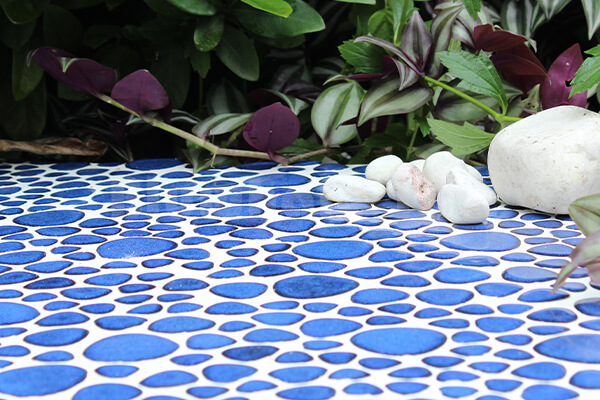 Featured Tile: Pool Waterline Pebble Shape Blue BCZG606A
#10 Don't Forget Pool Accessories Tile!
A beautifully colored, glossy pool tile might be attractive but don't forget safety comes first. Opting for anti-slip pool accessories tiles around the pool is the best choice to ensure your family, friends or clients can enjoy the swimming pool without worrying about accidents.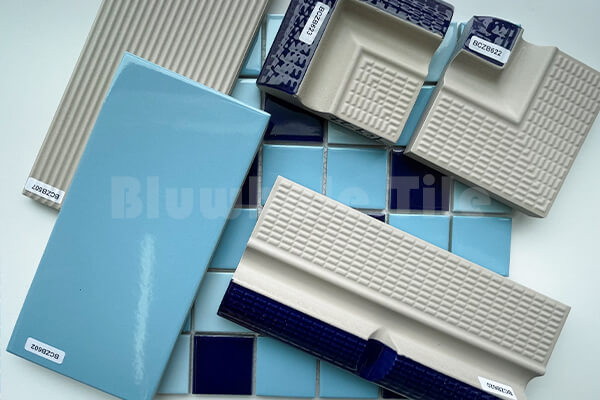 Featured Tile: Pool Tile Accessories Blue BCZB620
#11 Poolside Floor
The anti-slip poolside floor design is necessary! A successful outdoor design should flow as a natural extension of the interior footprint. Matte-thickness porcelain floor tile versatility allows you to use the same or similar tile inside and out so that your surface choices create continuity in your design.
Just like our Outdoor Tile Collection, they are water-resistant, scratch-resistant, stain-resistant, and fade-resistant. And they are perfect for handling weather conditions. Each subset is produced slightly differently and may consequently have additional advantages that lend themselves to specific applications.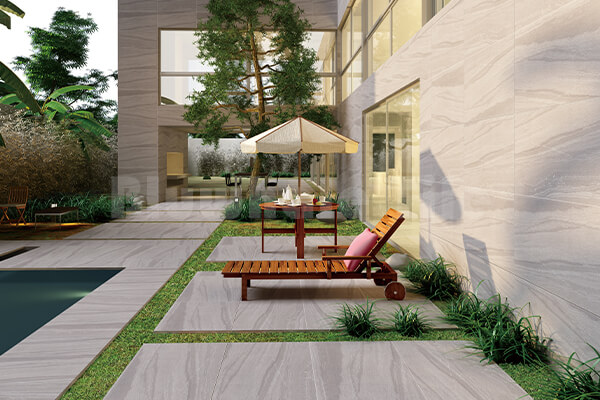 Featured Tile: Matte Porcelain Floor Tile ZMC9903
Get Inspired?
Bring the latest pool inspirations to life with Bluwhale Tile. As a pool tile wholesaler, we take pride in providing today's best selection of interior and exterior tiles to bring your commercial or residential spaces to life. Visit and shop our tile today to begin planning your chic swimming pool tile design, or reach out to Bluwhale Tile's professional and knowledgeable customer service team to know more about opting for premium quality pool tile to turn your pool area design dreams into reality. Interesting in finding more pool tile inspiration for other parts of your residential or commercial space? Order free tile samples now!