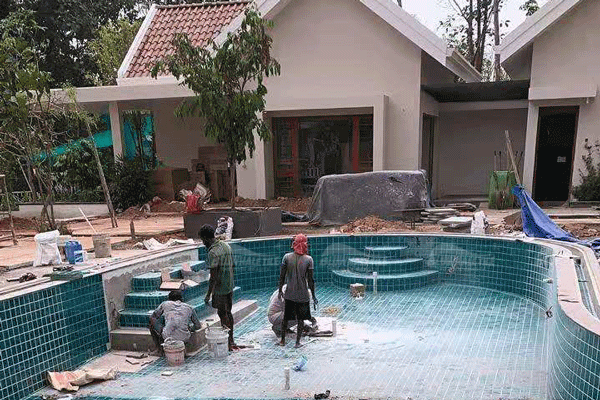 Just like any other space of your house, there's a great timing you have the desire to renovate and rebuild your backyard swimming pool. Might be your old plaster has begun to crack, or maybe you want to add some interesting new features to your pool, or might be you are inspired by many latest pool design trends of 2020. Whatever your requirements are, Bluwhale Tile can help you make renovating dream and chic pools with these six steps:
Step 1: Getting An Creative Idea
It's so worth celebrating you have got a creative and dream idea that will help transform your beautiful backyard into your own private oasis. But like any house pool renovation project, a swimming pool rebuild is an involved and demanding job to start. Whether you want various a number of latest and attractive pool tile installed or are highly interested in making a cozy spa, you need to have a final goal in your mind of this project. Meanwhile, you needn't plan out every insignificant detail imaginable. Renovation projects like this usually change and evolve over time, and you might finish discovering a creative new pool surface you hadn't initially thought during the later steps of the pool renovating project. If you can't determine, we have much stunning pool renovation job that you can visit for inspirations right now: How To Design Refreshing Home Pool Style In 2020 >>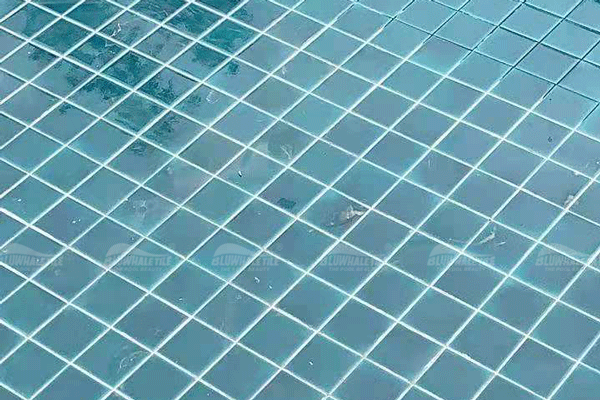 Feature Product: Frozen Malachite Ice Crackle, Green, BCQ704

Step 2: Finding A One-Shop Pool Supplier To Consult
The second step is to make certain if your dream project is within your expected budget, and the only way to do this is to get some helpful consultation from a professional pool contractor like Bluwhale Tile. To adequately decide the cost of a pool renovation project, we will need to visit your pool actual look by email or online face time. We'll able to tell you what the necessity of your renovating pool is, what must need to be removed, what can stay the same, and other steps your project will need to take. We'll also open many meetings to discuss your pool, your ideas that you sent by emails, inspirations, and expectations for your pool renovation, as well as answer any questions. Like this India private pool design shown, love this refreshing green hue? We help him to draw the pool shape and choose the pool surface material. He was so excited to see the result!
Checking out how strong we are: Bluwhale Tile Thanks All Clients At Pool Spa Expo >>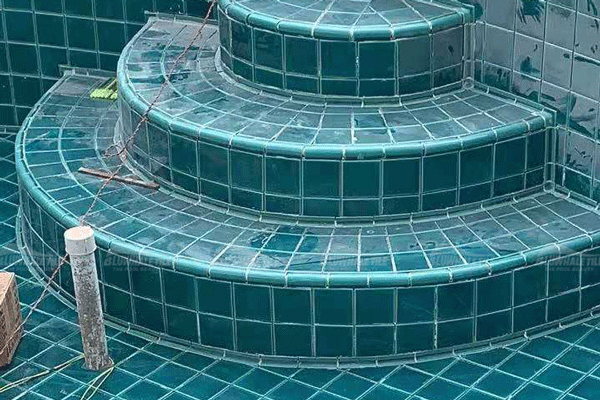 Step 3: Beginning To Design
In this step, we will start working on helping you to measure the actual size and simulate the renovating pool shape that you like. All these things can include sketches, illustrations of the model, and help you put the tile on your pool. It should help you determine what pool or feature you really want. It's significant that you finish a pool design in this step, rather than doing some change during the project, which will easily make you cost more money later on.
For more inspirations visit our blog: Natural Design and Warm Tones Pool Project >>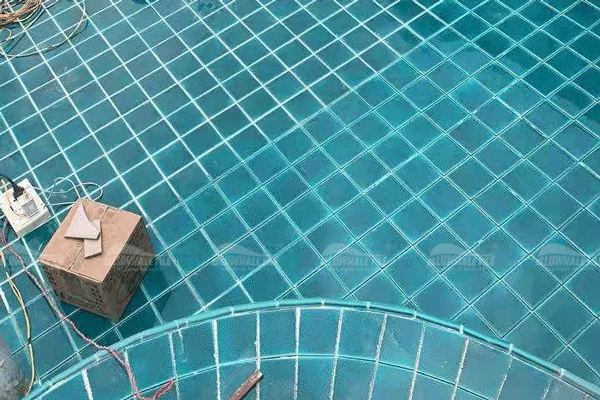 Step 4: Choosing A Suitable Palette And Finish
This step will set the whole tone for your swimming pool. The pools can be full of fun and entertainment, but the building process can also be a very stressful time for many. Choosing the shape, determining the whole hue, buying suitable pool tiles, and worrying about the installation process can become overwhelming during the building time.
Sometimes, people always need space for tranquil solitude after busy working. With a green tone swimming pool or spa in your private backyard, you can relax the tired eyes and clear your mind for a while. Like our 100x100mm ice crackle, glossy pool tiles in this project, cozy palettes, and unique shining felling will help you escape to the busy world and decrease the stress levels.
Know more about pool palette click this blog: What is the Perfect Color to Paint A Swimming Pool >>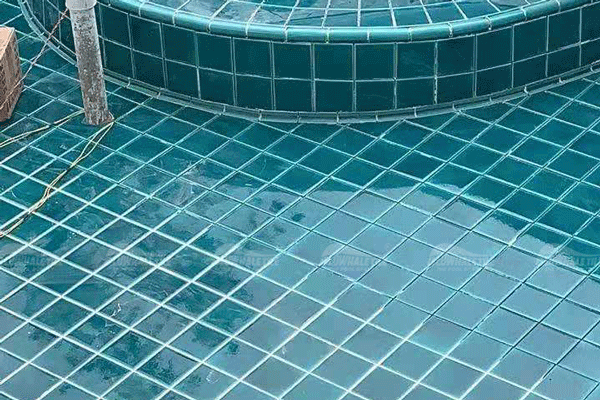 Step 5: Installing It
Once you've finished choosing the ideal pool tiles and decided your pool design, you might need to hire some experienced workers to begin working on the renovation! This might include dismantling and removing unwanted elements from your old pool and installing the trendy elements that you desire. Reinstalling, adding modern and cozy new pool finishes, and more all take place during this step.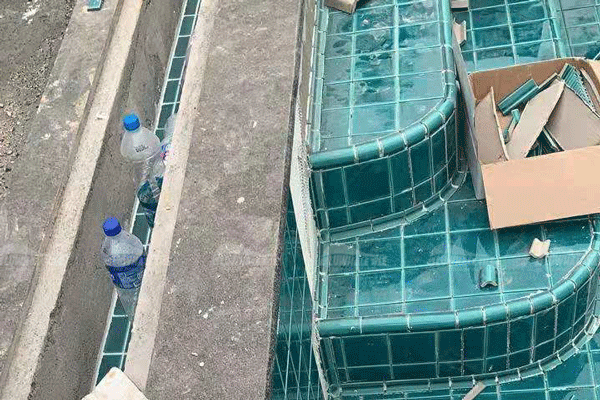 We always make certain that our clients are completely informed of everything we do so that there are never any disagreeable surprises. If something unexpected does come into sight during your installation job, we will help you handle it as soon as possible. By the way, our swimming pool mosaic tiles are back-meshed design, which will help you install it easily and speed up the renovate time.
Another pool project building project might inspire you: Remodel the Backyard Space From Queensland >>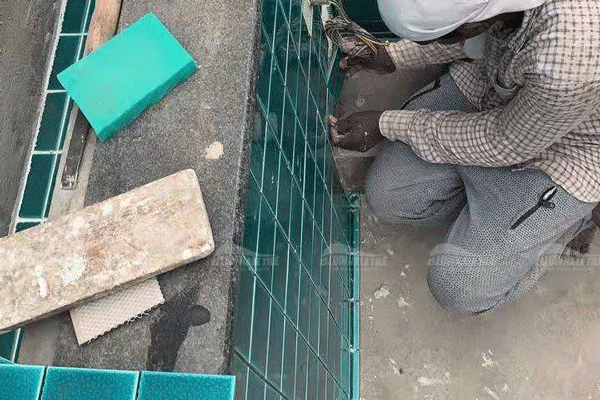 Step 6: Relaxing and Touching
After your workers have finished their work, you might have a beautifully renovated swimming pool for you and your family to relax! We're so sure of our work that we provide generous warranties on the pool surfaces and tiles we use, and if any unexpected problems do arise, you can always call us for help. We will help you to handle anything about tile installation immediately! As long as you are willing to keep the private swimming pool clean and healthy, moreover, you must have an individual paradise in your very own backyard.
Maybe this latest pool project will make you feeling France style: Appealing France Hotel Pool Design >>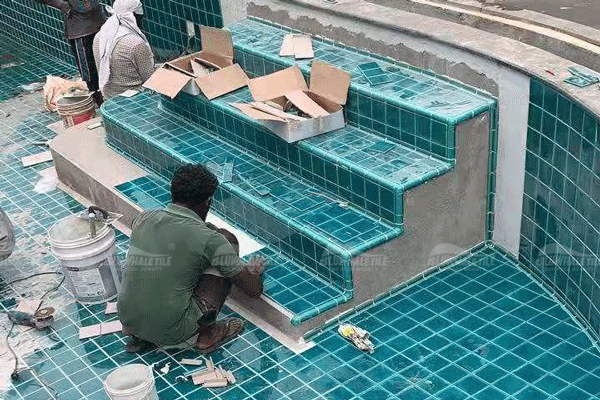 After following these six steps for your swimming pool renovation project, you'll have a wonderfully rebuild pool for you and your family to relax for years to come. If you need a faithful pool project partner to help you achieve this dream space, believe the honest expert Bluwhale Tile. We perform pool building and renovating projects from all over the world, ranging from design the pool around decking to the hotel fountains stylish design. If you'd like to know more about our other services or contact with our professional designer, why not call us right now at +86-757-8278 1208. We can even give you free samples for your future pool surface.