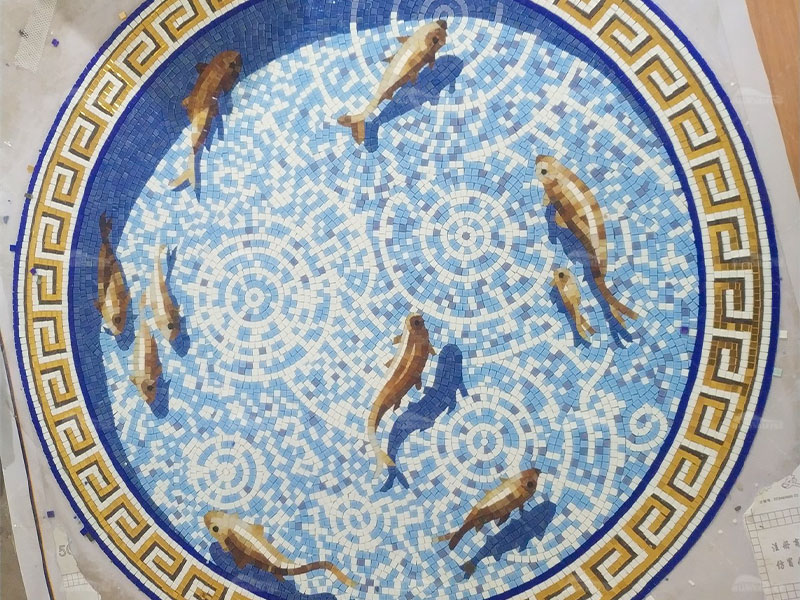 For many homeowners or hotel owners with spa pools or swimming pools, pool mosaic art is always an additional option. Used to enhance or change the backyard space, adding a stunning and chic handmade pool mosaic art can easily change the overall concept. Reading on this Fish Pool Pattern Mosaic Art design might inspire your next project.
How To Determine Your Style
The process of building custom spa pool mosaic art is a detailed one. With all the time, money, and decisions that go into it, it can feel like an overwhelming production. Working with a professional pool supplier or experienced pool designer helps make the process easier to navigate. It provides you a professional who can be there from start to finish, with decision-making assistance along the way. Selecting the materials, styles, patterns, colors, pool features, and deciding the ideal in-ground spa pool shape for your property, all need to be taken into consideration. So how you decide what works best for your backyard swimming pool?
Pool Mosaic Art Design Drawing
Determining to add a unique and stylish mosaic art to your swimming pool or spa pool is a big decision. From the cost involved, the permits and construction stages, working on a pattern design, choosing the suitable materials, and the maintenance required, it is a detailed and time-consuming process.

Checking out this vintage-style fish pool pattern mosaic art. According to the ideas of our client, Steven, the hotel owner, we change the border color from brown and khaki to sparkling gold and natural dark blue. Choosing the shimmer hot-melting glass mosaic tile, each chip size of 10x10mm, we love this change! On the whole, we don't change the original shape, round, and the radius of a circle is 1200mm. The border size is 276x104mm. For the details of the design drawing, please look below: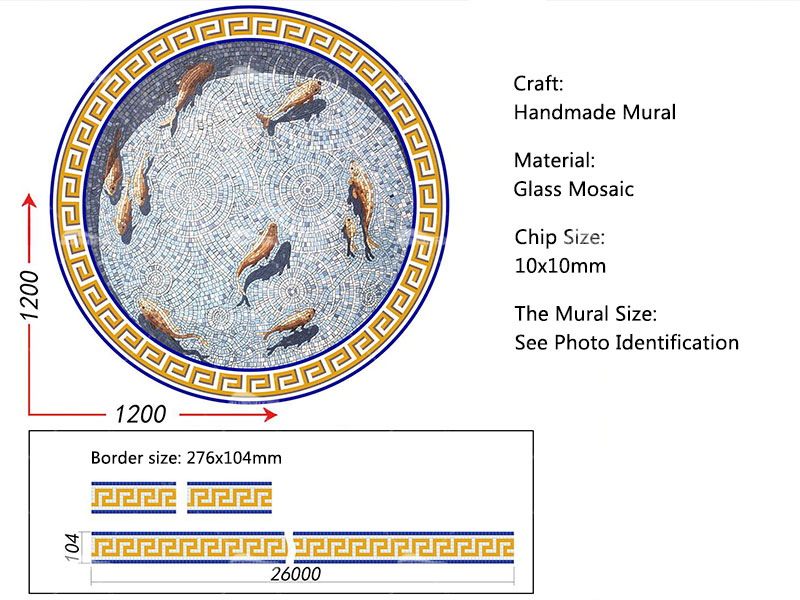 Shiny Hot-Melting Glass Tile
A beautifully designed pool mosaic art is more than just an extension of the architecture of a hotel or home, but rather a giant magnet that draws attention to your spa area! However, glass pool tiles were traditionally used to decorate the pool waterline instead of being the main covering swimming pools or spa pools, except for some luxury hotels. But now, that is changing! The various colors for glass tiles, amazing finishing effects, and ability to offer more colors and styles for pool design make glass pool tiles trendier than ever!
Especially for handmade pool mosaic art, choosing the shimmer hot-melting glass tile is surging in popularity due to its wonderful transparent body and a wide variety of rich colors, which perfectly reflect sunlight and the movement of water. This element can truly improve your hotel spa or backyard home pool into a shiny oasis that will entice your guest to spend more time here!
For more beautiful glass tile, visit our page: Glass Tile Collection >>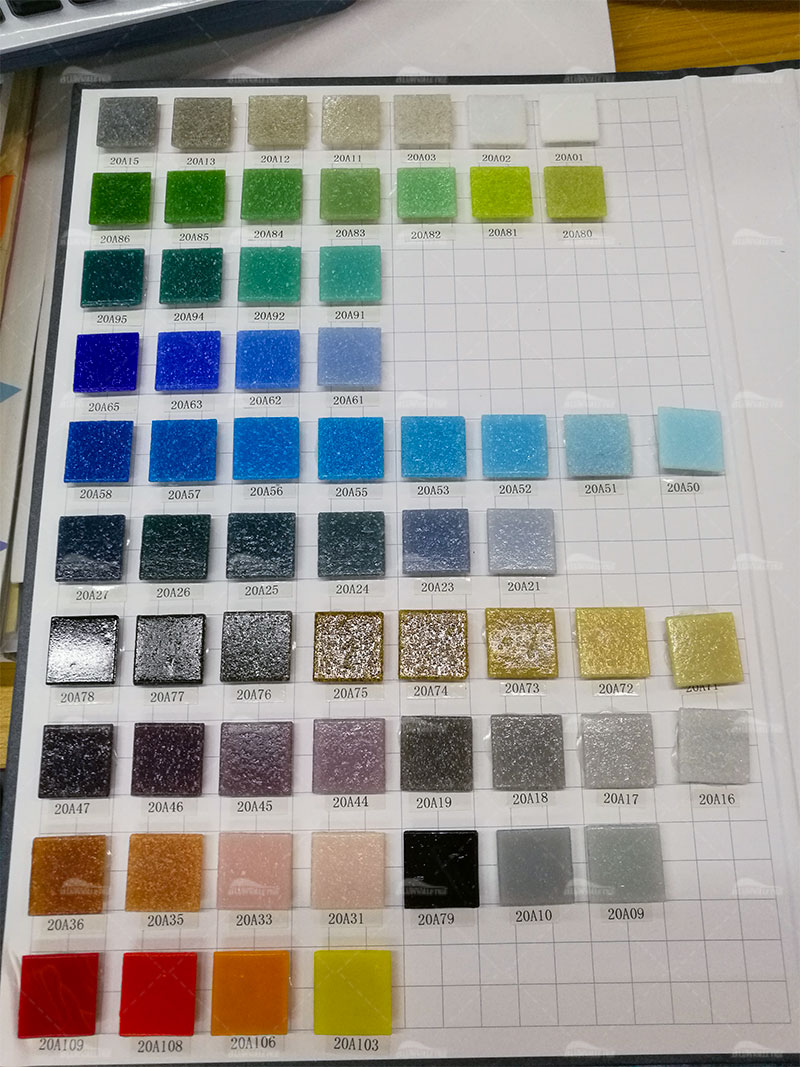 Bling Gold Tone Border
Sparkling border! Especially treated non-slip hot-melt glass tiles are the perfect surface touch to your dream spa pool, especially if you're looking to the border of the spa pool. While glass is often the most expensive type of pool tile, these tiles bring a variety of finishing effects such as crystal, pearl, and gold. These can shimmer and sparkle that makes the spa pool come alive. Hot-melt glass mosaics are also ideal for anyone who wants to create a depth of illusion in their spa pool. They are easy to clean and maintain compared to natural stones and can withstand more pressure than porcelain ones.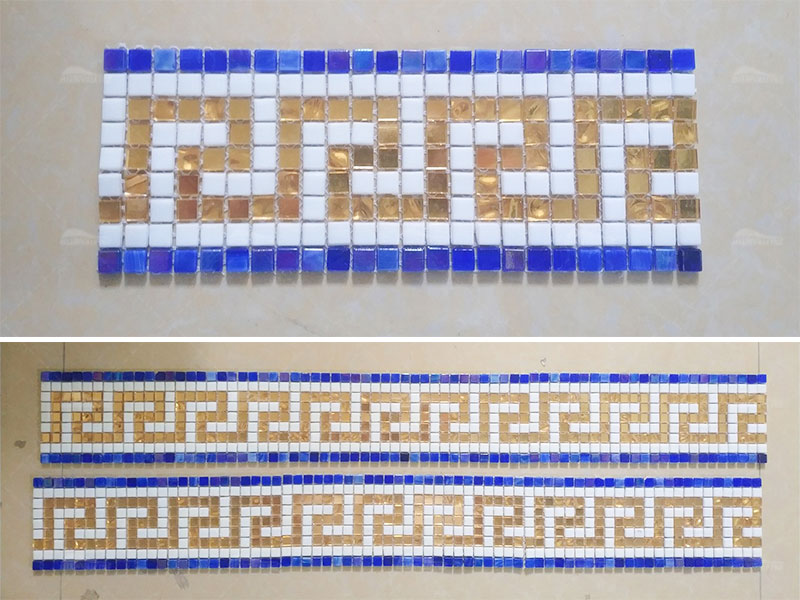 It's not just about looks when it comes to choosing pool waterline tiles or spa pool border decor tiles. There's a practical element to this detail. Discoloration can occur at the point where the water ends, thanks to sunscreen, spa pool chemicals, body oils, and dirt. Just like a ring around the collar! Adding tiles around the waterline or border is a great way to camouflage this transition and trick the eye so that you will never see a difference in the whole color!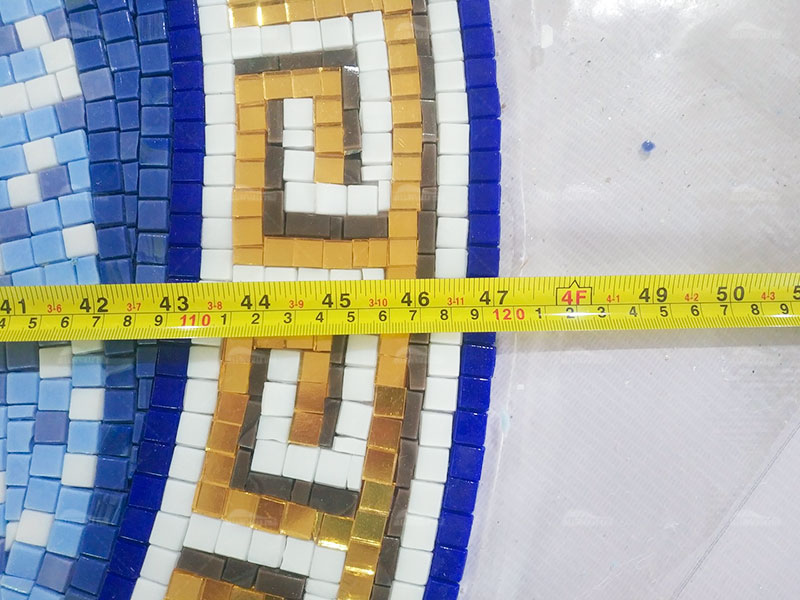 Going the opposite direction is really the perfect way for your spa pool border tiles - think small when it comes to your spa pool tiles! Spa pools are all about making an impression, and mosaic tile is sure to stand out! Especially if you're keen on designing detailed and captivating border patterns, we suggest you stick with mosaic tiles with small chip sizes. Smaller tiles are perfect with a round spa pool shape too because they are easier to wrap around curved circumference.
For the best pool waterline, visit our page: Pool Waterline Series >>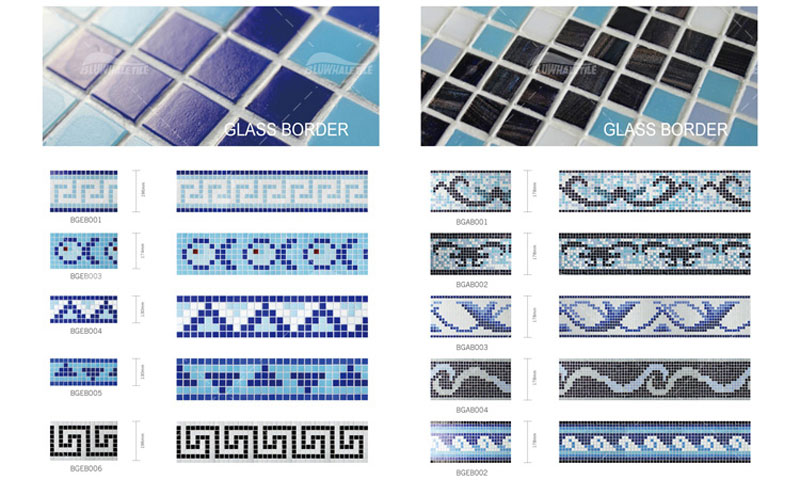 Whether you have a unique pool mosaic art border, infinity pool edge, elevated spa pool, or pool walls above the surface, waterline tile is a significant design element to draw your eyes on any pool! When it comes to border tile or waterline tile, a very popular trend is using the chic ocean animal patterns or arabesque-style patterns in modular design.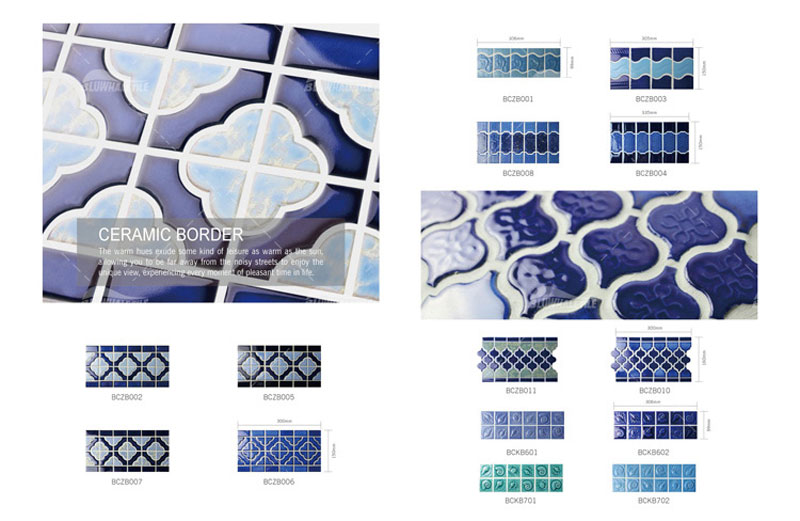 Details determine success or failure. Therefore, choosing border tile or waterline tile is one thing, but don't forget to select the corner tile, which is the best to define the spa pool's mood is critical. The color of the corner tile matters because of the reflective effect that water has on pool mosaic art.
For more high-quality corner tile, visit our page: Pool Accessories Series >>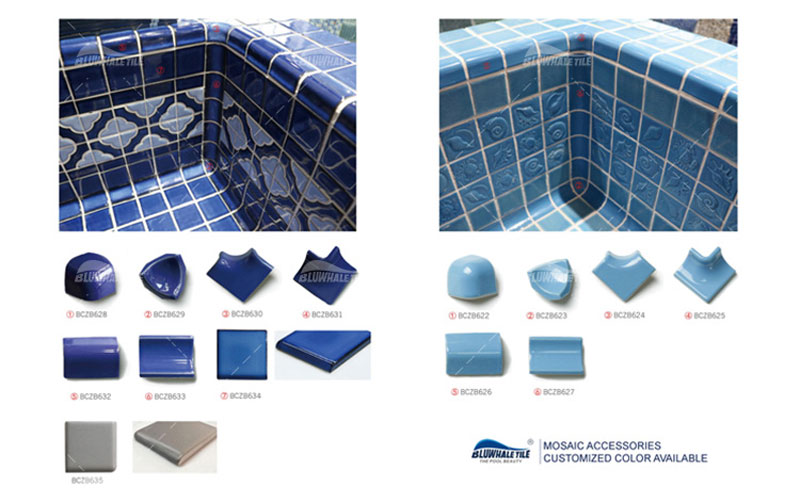 Checking our handmade process right now! Transform your spa pools with custom handmade mosaic murals and be transported across a different part of the world. From the vivid ocean world, lovely sea fish, to elegant flowers and plants, anything is possible with mosaics. Whether you want some bold animal patterns to make a statement to your pool or want an entire detailed scenery of your favorite natural dolphin, you would be surprised and delighted with the possibilities.
Details of The Mural
Swimming pool mosaic art designs featuring the exciting sea and freshwater life are some of our best-selling pool tiles! Want a simple one fish or several fishes? Want a large dolphin or two?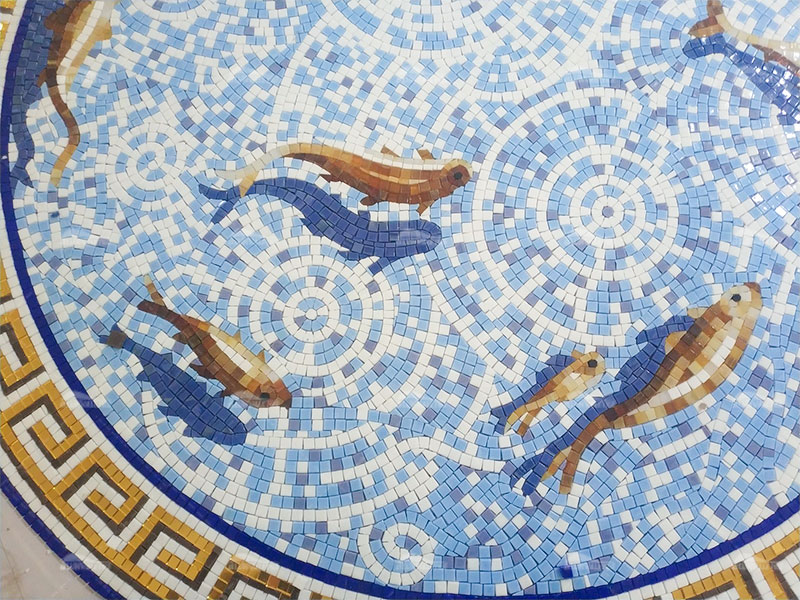 Welcome nature into your spa pool with ocean fishes, sea stars, multicolored coral reef - whatever your favorite animal is, we can incorporate it into a mosaic mural.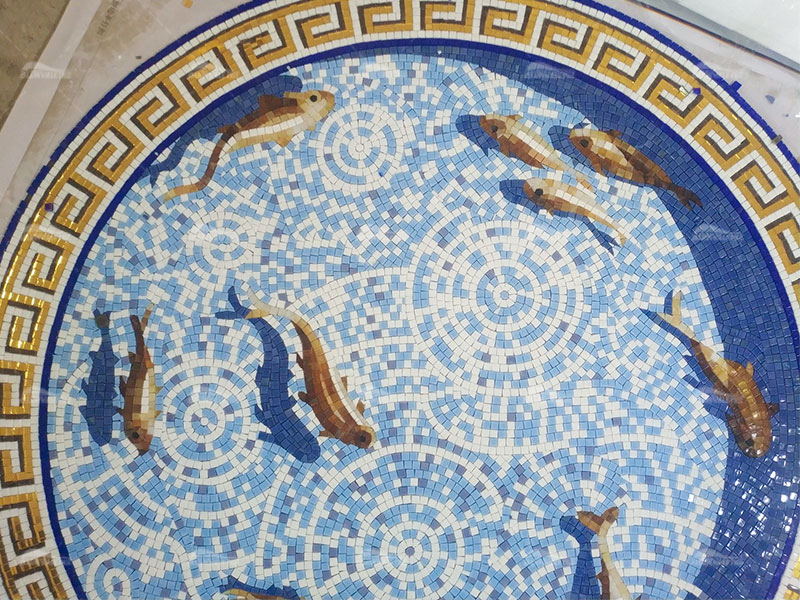 Customized Your Mural
Swim or relax alongside a school of colorful ocean fish over a coral reef or explore the spectacular scenery of mountains all from the comfort of your spa pool or swimming pool. Get a custom-made mosaic art of dolphins, your favorite sea animals, farm animals, or turn your interior pool wall into natural leaves or flowers. Fly high with eagles or dive into the ocean alongside cute dolphins and amazing sea creatures.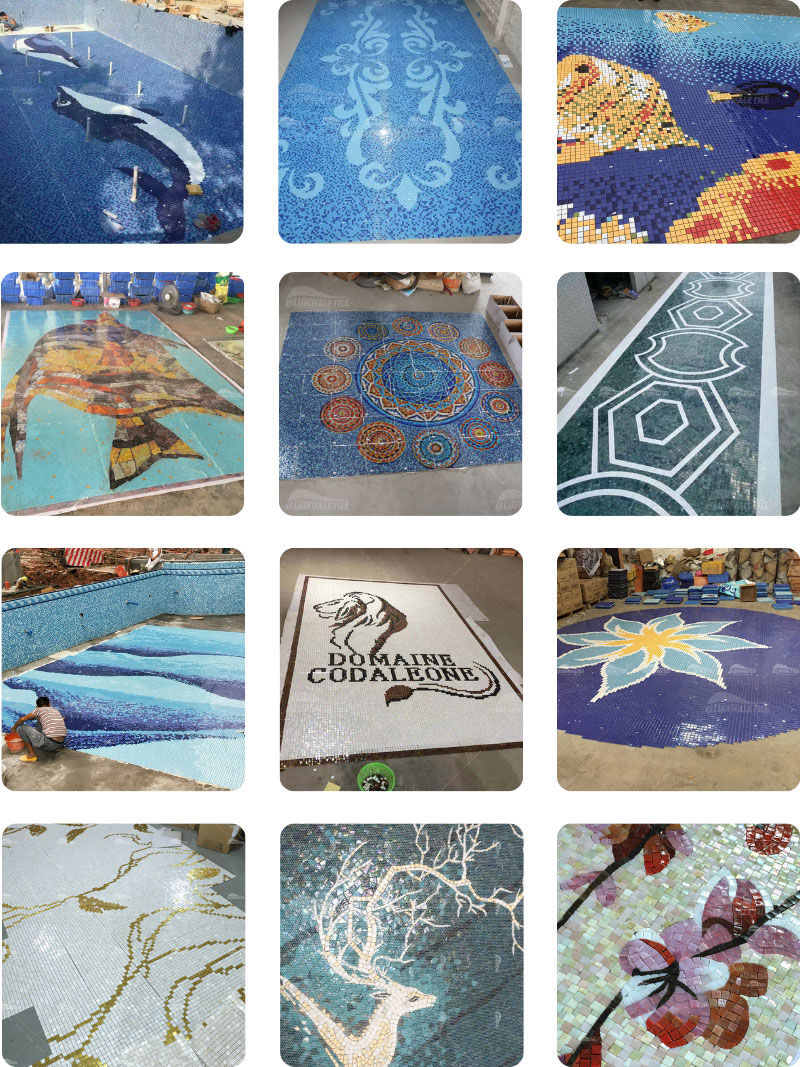 Get Inspired?
Keep an eye on our social media pages and the website blog space for more stylish updates on this swimming pool project. If you enjoyed this piece we have some more mosaic art customization stories you might like:
Swimming Pool Project: Round Sauna Pool with Simple Blue Mural >>
Swimming Pool Project: Blue Tone Leaves Bring Natural Ambient >>
Love them? Contact us for more inspiration right now! Bluwhale Tile is waiting for you all the time.