When designing your dream Sauna Swimming Pool, you really want to make it stand out and be the envy of your family members and friends. Nothing makes a statement quite like a totally luxurious sauna round in-ground swimming pool. So, what makes a sauna pool luxurious? You will get a few guidelines and helpful tips that will help you design your personal and outstanding project that will be a total design statement, and give you years of enjoyment. Let check out this hotel project right now!
1.Get Your Reno Ready
Whether you're a hotelier or a home decorator, why would you settle for a sauna area that isn't a complete jot to linger for? Well, you probably already agree with that, which is what brought you here. And you may also realize that the most significant phase of any sauna area renovation is planning. A thorough plan can save you from costly mistakes and disappointing results. So what do you need to consider before your start your reno plan?
Gathering inspiration for your sauna area is the first step. Flip through the pool design magazines, browse the internet, let your eyes wander the aisles of your favorite online pool shop, take a walk in nature...whatever is it, get inspired! Save photos of sauna pool renovation ideas you found on Instagram. Pick specific materials or mural patterns, and tile colors you vibe with, and put them all together on a mood board to see your vision come to life. One thing we've learned is that you can avoid some major sauna pool design mistakes right off the bat by visualizing the reno project before ordering your pool tiles.
2.Choosing tones
Because our client sauna area for this project is limited, relatively small, and contained space, the perfect perfect spot to try out more adventurous colors and unique patterns. As with the sauna room lighting, the sauna pool color choices set the hue for the entire space. A light blue tone evokes the sea or the wide sky, the characteristic flower shape mural gives a regal feel, and a simple white wall is clean but the blue grout color makes it more integrated with the whole design. Think about what materials of tile, or tile sizes, tile surfaces to enhance an extra dimension. See our pool tile ideas as a starting point!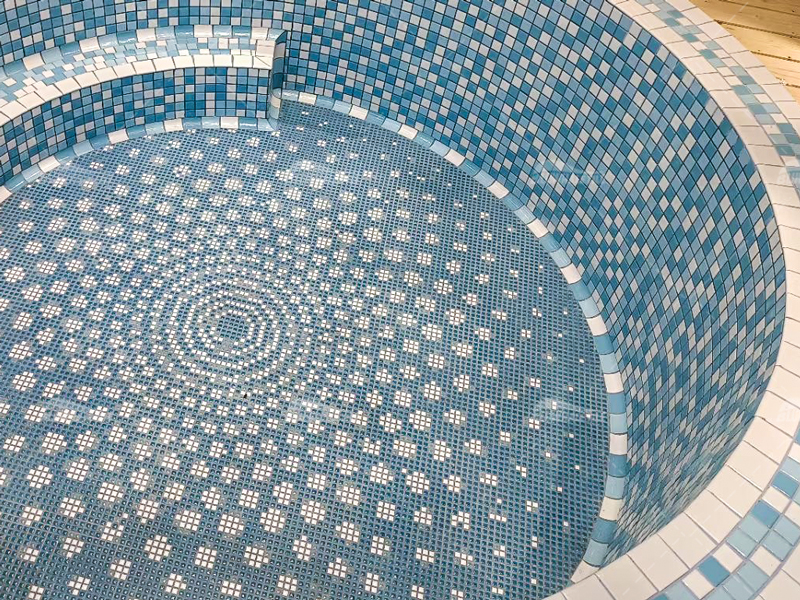 3.Design Highlights
Create the pool mural is the most important step in this reno project. Venturing outside the typical square pattern that our client, the hotel owner, Steven, had chosen for inspiration, we knew we wanted to suggest a unique pool mural pattern that we love for its intricate and decorative details. One that would pair well with the character of his sauna space, the modern-vintage-inspired, flower pattern consists of many small square mosaic chips.
The complicated pattern first came about in the Bluwhale Tile pool mural collection when we worked with Jane, a designer, specializing in pool mural pattern design. Inspired by her last hotel large pool mural flora pattern, Jane came to us to help Steven create this look using our 9.5x9.5mm square glazed mosaic chips in blues and whites. We love most about this pattern is that anyone can feel their vivid visual effectiveness by wandering surrounding this pool. Paired with our 48x48mm mix-colored pool tile as the wall, this pool mural makes an outstanding statement for any space. And that's correctly what inspired this amazing look for Steven's hotel reno.
Want to know about more blue-style pool ideas with our blog: Blue Tone Leaves Bring Natural Ambient >>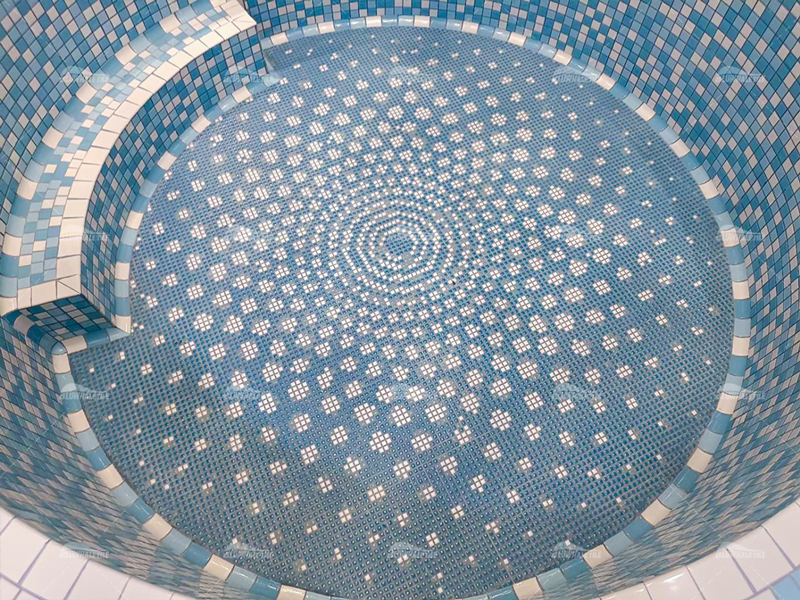 4.25x25 Glazed Pool Tile
The Classic Series comes in a 1" x 1" format with a glazed smooth, glossy surface. Perfect for fountain walls, sauna spa walls, swimming pools, showers, etc, make a statement with these small sizes and blue-white color porcelain mosaic tiles from Bluwhale Tile. Samples available upon request.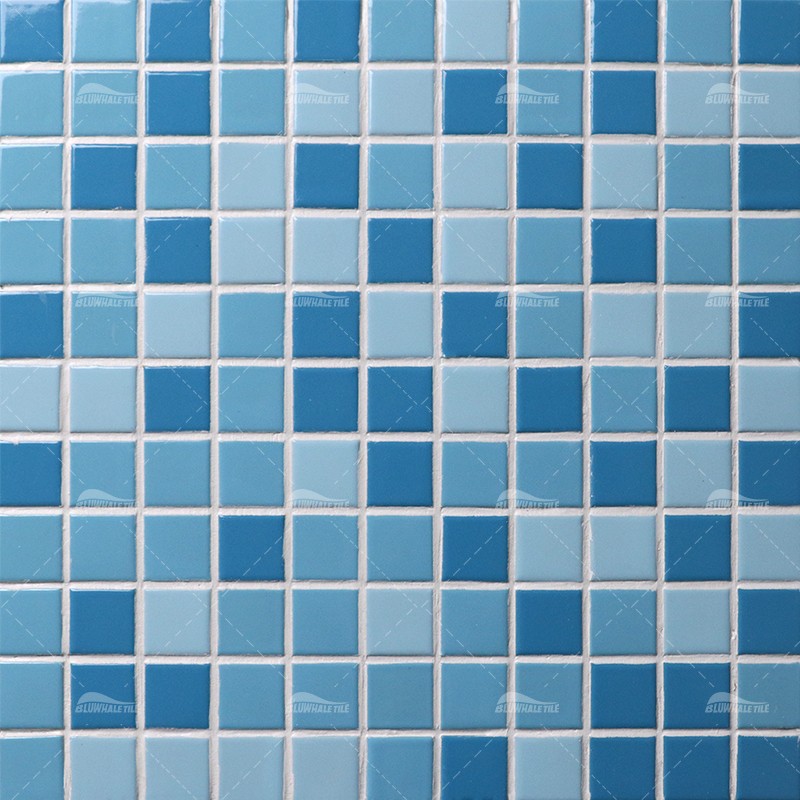 Featured Product: Classic Blue Mix BCI001, Blend Blue
5.Pool Tile Style
Within the blue color palette, there are various shades and a wide range of designs and patterns available in this category which can help you give a natural and refreshing atmosphere to your pool project. Choosing a pleasing blend color pool tile can make your swimming pool look modern and stylish. Just like this project shown below: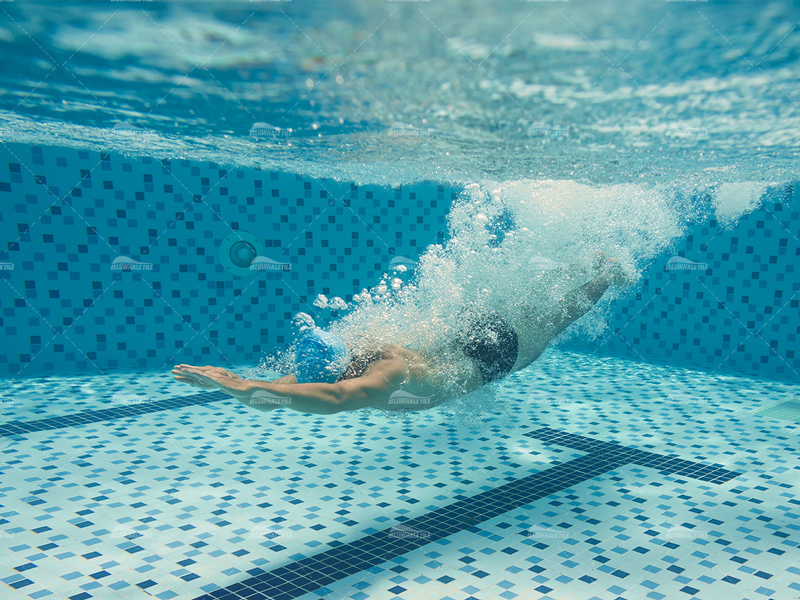 6.48x48 Glazed Pool Tile
The Glazed Classic Series comes in a wide range of colors, including mixed colors and solid colors. With a 2" x 2" format, smooth touch feel, and glossy surface. Suitable for standard competitive swimming pools, shower walls, etc. Free tile samples available upon request.
Featured Product: Classic Blue Mix BCK002, Blend Blue
7.Kit Kat Tile As Pool Outside Wall
Who says the pool outside the wall must use the same color as the interior wall? In this project, we suggest using the funny Kit Kat tile and combine with the light blue grout, which can echo the entire sauna pool blue tone style.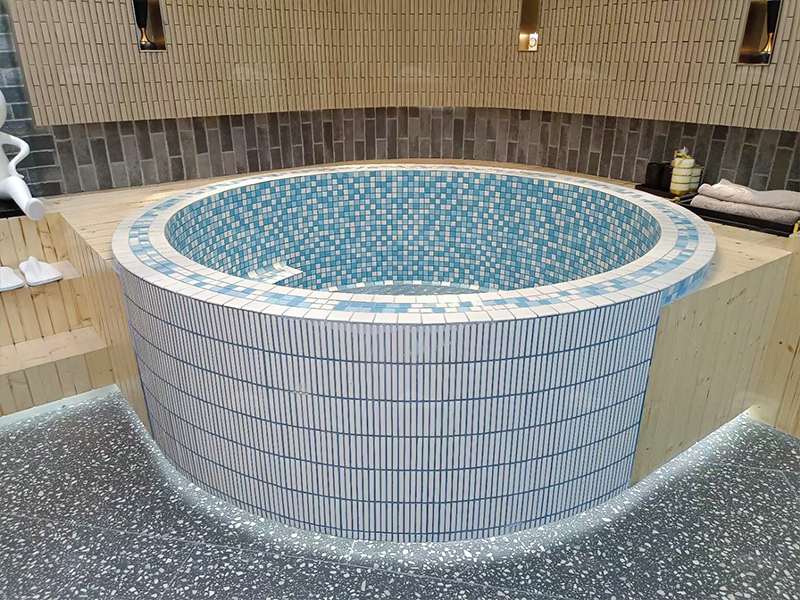 8.Kit Kat Tile or Finger Tile?
Kit Kat Tile also named Finger Tile, has been popping up in shower walls, bathrooms, and backsplashes since early years and it's not going anywhere. This tile is favored by interior designers, architects, and pool builders for its thin profile, creative finger shape, and various palettes. The fact is just super cool! Therefore, we try to use it on our pool project, and then we get the stunning look!
For more ways to use this glaze color, visit our blog: Kit Kat Tile Makes Fun in The Bathroom >>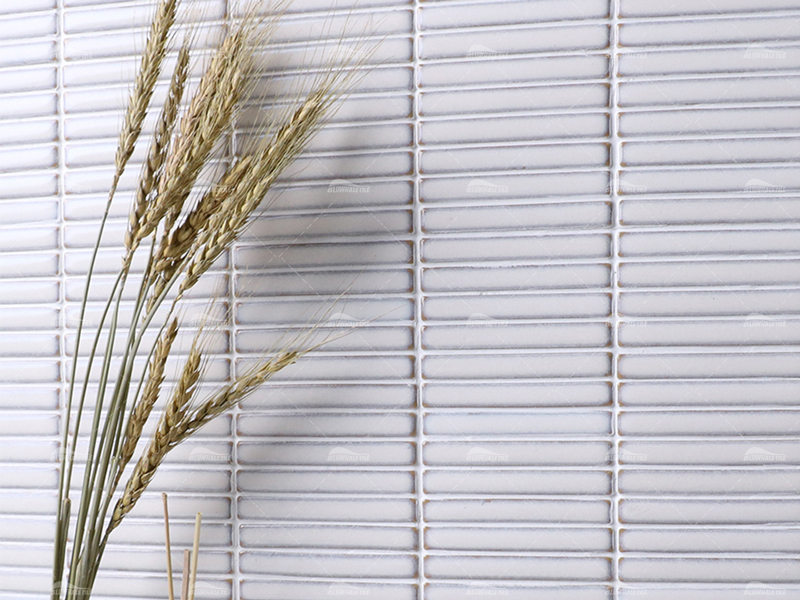 The sheet size of 12x92mm, the thickness of 8.0mm, and the gap of 2.0mm. A sensational decorative yet practical and beautiful mosaic tile. Choose grout colors carefully.
Featured Product: Stack Bond CZO251A, Kiln White
Not only can get a great look like the pool tile, but the finger tile can also improve your kitchen style. The Kat Kit kitchen design is everything we've always dreamed of in a backsplash. This light and the airy wall are the perfect greetings upon entering this kitchen space. The kiln color palette is made all the more interesting with color variation.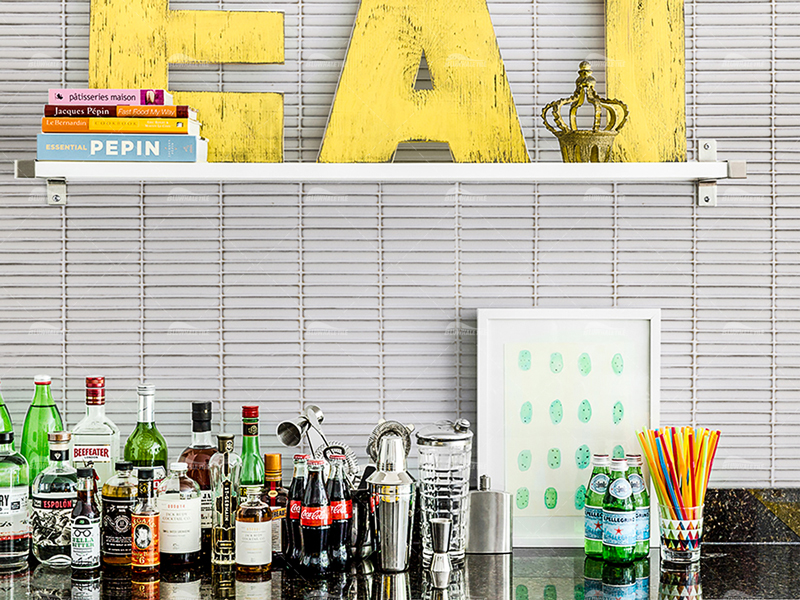 Get Inspired?
Inspired by this sauna pool project? Love this blue-style indoor swimming pool? Order these tile samples online now! Need some help? Just only need to contact us immediately and you will get various swimming pool design inspirations!