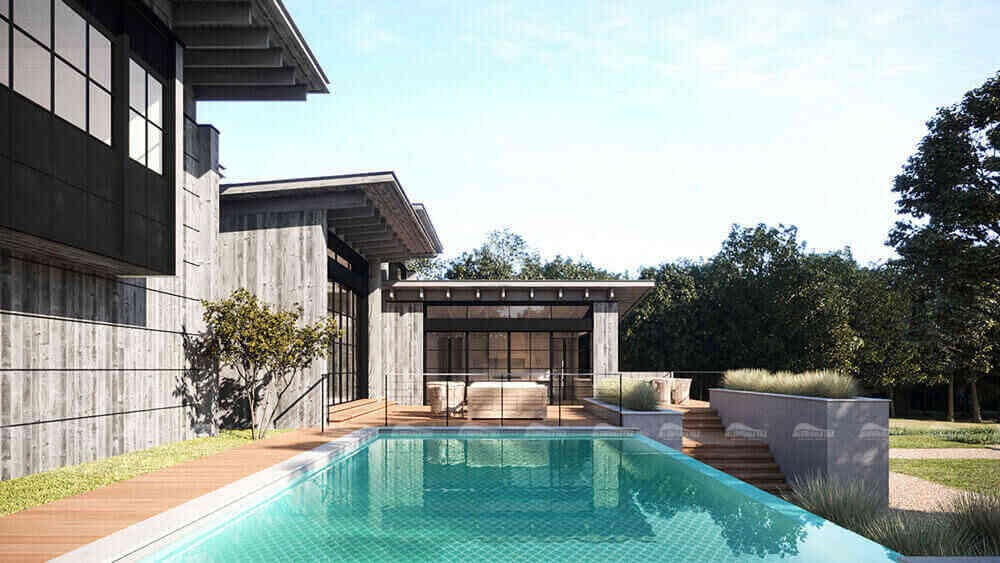 Wow! Congratulations on choosing to start a swimming pool project, it's one of the great choices you could ever make for your whole family! Might be you have a nice vision in mind of your dream backyard private space. Or you may have chosen your pool decking material but have you thought how the material feels underfoot on a high-temperature day?
The level of entertainment to be had in and around your fresh swimming pool will be influenced by the level of thought and concern when planning the pool surrounds, also known as your pool design. It's the negligible considerations that will make a large difference in how your family members enjoy your pool.
1. Located In?
You should know about that where will the afternoon sunlight in your backyard? The afternoon is always the time you will enjoy your swimming pool, the sunlight is also at its strongest at the same time. The dazzling afternoon sunlight in your eyes while swimming in or sitting on the sun lounge watching a book in the afternoon will become very uncomfortable and You'll end up with a sunburn.
Might this blog of pool trends will help you: What Is The Hottest Swimming Pool Trends For 2020 >>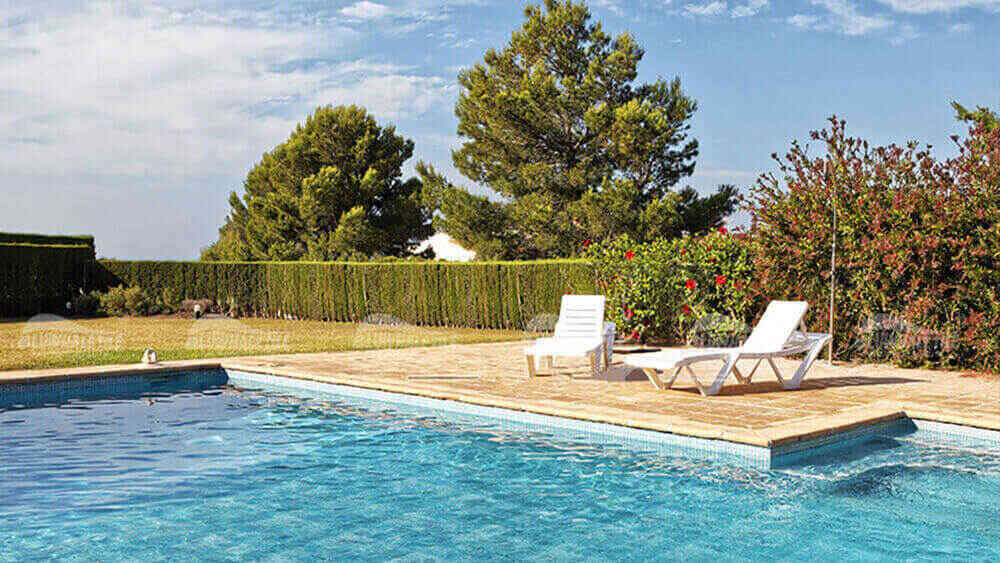 2. How Will You Play In And Around The Pool?
Paying more attention to planning the entertainment spaces in and around your swimming pool area will ensure you create a wonderful backyard to be had fun now and for many years to come. Besides, the space surrounding the pool entrance and steps should also be well thought. Because if you don't plan enough space for getting in and out of the pool, the most basic needs will become a big challenge.
For more ideas of pool entrance design with our blog: What Is A Swimming Pool With A Beach Entry And Can We Have One >>
Furthermore, it's a good idea to have some sun lounges or even a sunbed alongside your swimming pool. Or might be you prefer to place a table and umbrella for relaxing.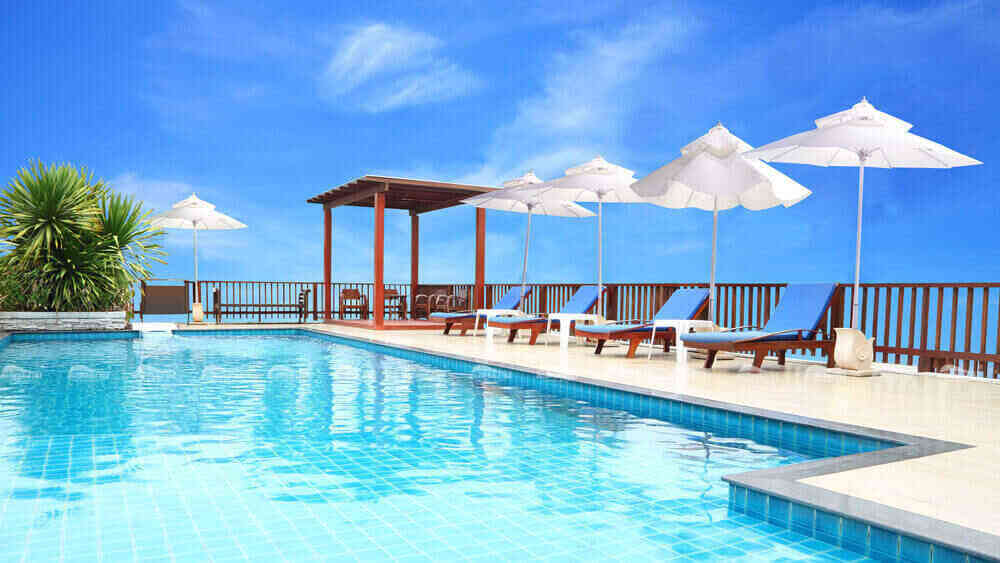 3. How To Make The Unique Pool Mural?
However, the appearance and feel of your swimming pool undoubtedly have the capacity to showcase your individual personality. Interesting, aesthetical, or sophisticated? Although there are a number of options of pool mosaic tiles to choose from, from porcelain to glass materials, some pool owners would prefer to make something that is certainly one-of-a-kind.
This stunning pool project might inspire you: Vintage Hotel Pool With Mandalas Mosaic Art >>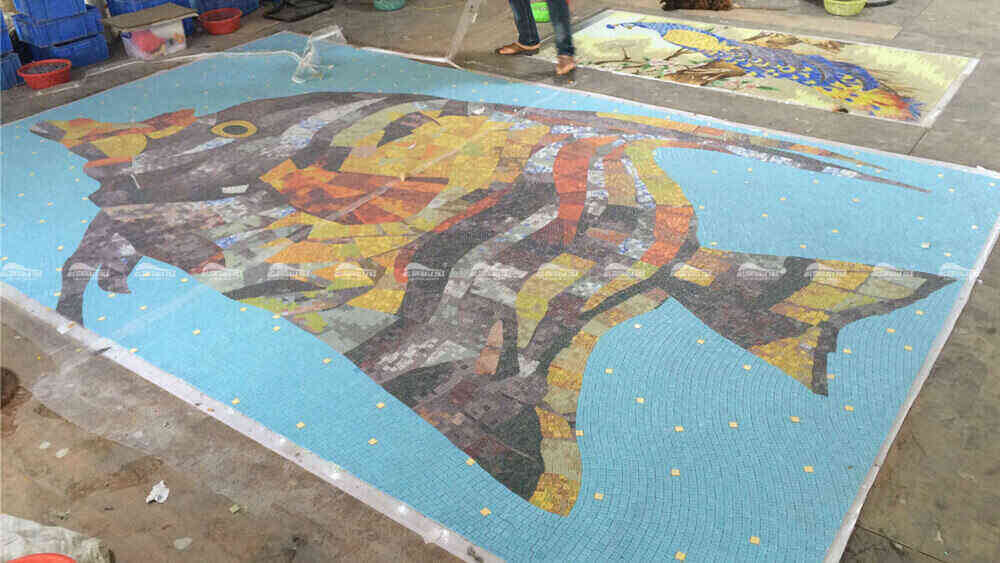 Bluwhale Tile specializes in customized unique pool mural to help those who truly want to stand out from the others. Like this client, he sent the original drawing and his pool sizes by email. And then our designer worked with him to modified and create the individual custom pool mosaic mural - OCEAN FISH. It took us two weeks to finish this design process.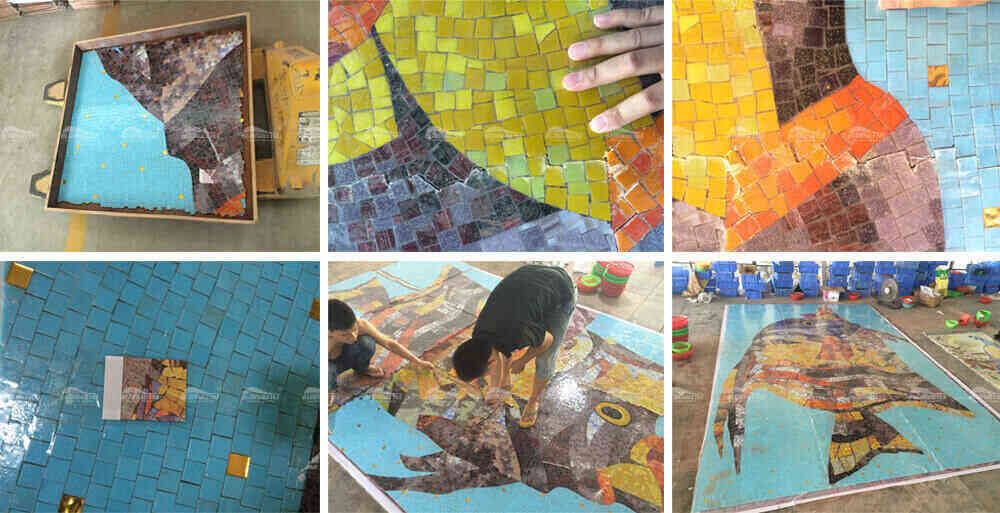 Receiving the confirm design drawing, our factory workers finished this large mural in about 20 days. If you're interested in how to complete a pool mosaic mural, this work process video will tell you more:

4. How To Decor Around The Pool Within Budget?
You should think it over while planning the hard spaces around your swimming pool. It's an ideal way to fully tiled pool around space, however, if you're going to decrease natural landscaping costs, might be a small amount of tiling paired with synthetic grass ground will be a perfect compromise!
By the way, if you have a limited budget of building landscape, it's worth keeping in mind that most pool owners often use only two sides of a pool - might be focusing your investment in hard finishes on those two sides and just allow one row of tiling on the other two unused sides of the swimming pool.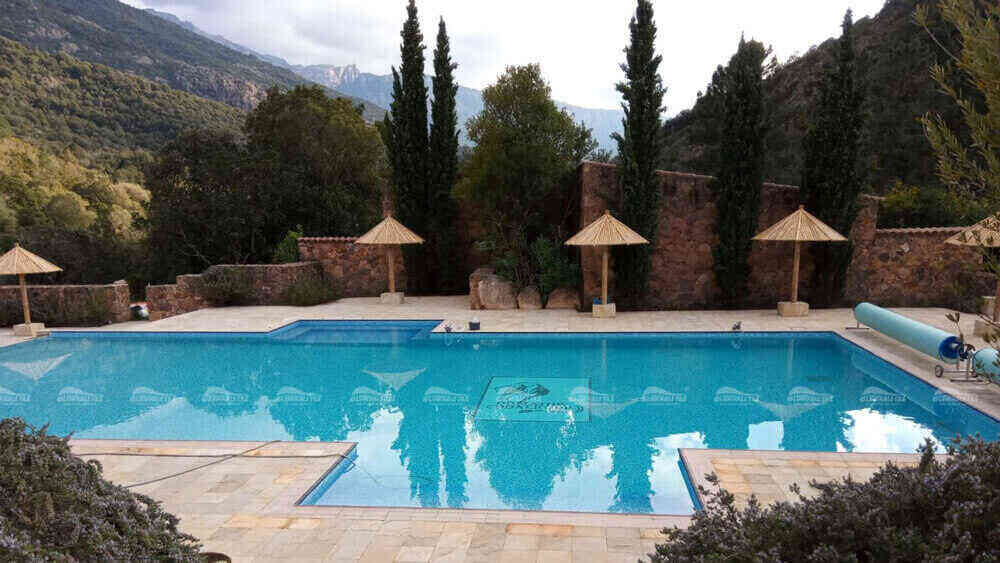 Know more about this project with our blog: Appealing France Hotel Pool Design
5. Should I Need To Consider Pool Fence?
The options of swimming pool safety barriers are everlasting, be sure to consider all options to suit your personal style! For example, pool metal compliant screens to surrounding your pool or beautiful frameless glass fence.
For our many clients, the most popular design is both glass and tubular swimming pool fences and not just the single glass. Moreover, a transparent glass pool fence not only can act as a sound barrier but also improve the safety factor.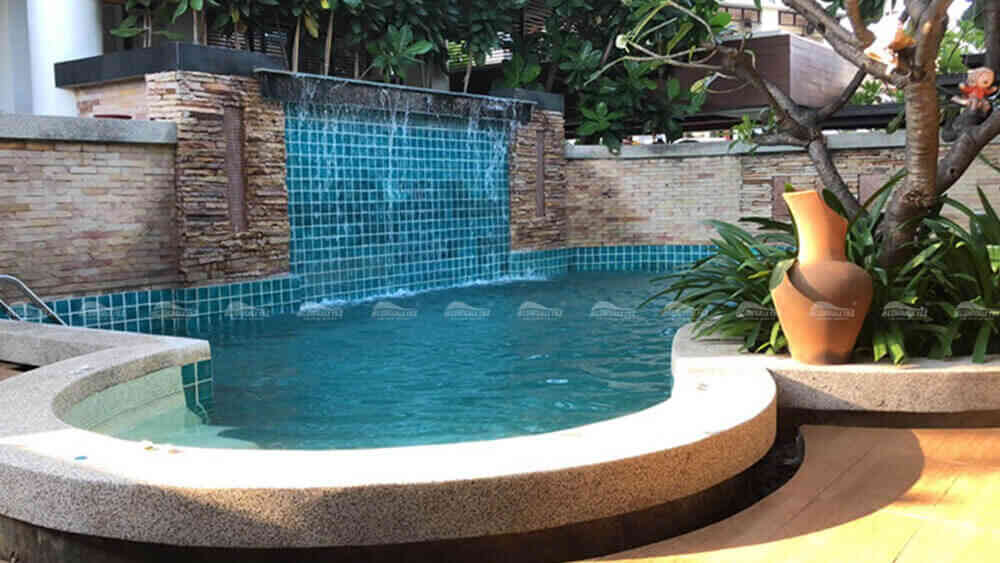 Know more about this project with our blog: How To Design Refreshing Home Pool Style In 2020
6. Should I Take Pool Equipment Into Consideration?
The answer is YES! The swimming pool equipment usually occupies a minimum area of 1.5 meters in length and 1 meter in width - this space will improve with the additional gas or electric heating and in-place cleaning. You should confirm that place the pool equipment within 8 meters of your pool edge, which will make you get the best optimum filtration.
For the convenience and practicality elements, the pool equipment should be placed easily accessible. As well as try to avoid setting it alongside an entertainment area or outside your leisure room window. Even if the quietest equipment on the market, they still make some small noise.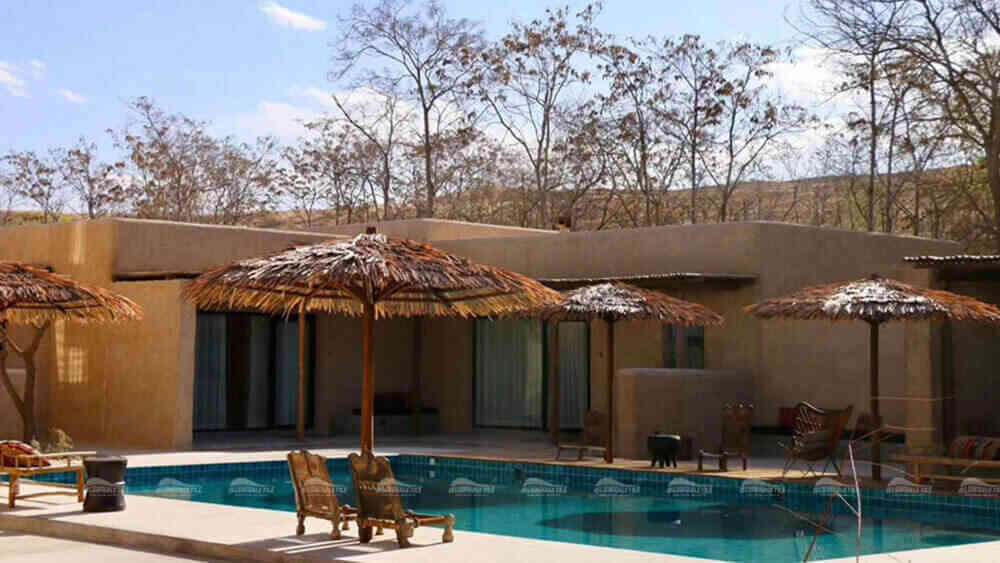 Know more about this project with our blog: Natural Design and Warm Tones
7. What Color For Outdoor Space Is The Perfect?
If you read the trendy swimming pool magazines, you might find that most outdoor tone schemes are either neutrals like whites or greys. While choosing the suitable pool hue, pool interior tiles, pool decking materials, and pool furniture and pool be sure to check the hues and textures you have chosen complement each other and work.
Porcelains, travertine, and limestone tile options are the welcomed and coolest underfoot. If you want to know more about wood plastic composite deck materials, visit our blog: 3 Types Wood Plastic Composite Create Perfect Pool Decking Areas >>
For more porcelain paver ideas, might be this blog will help you: 9+ Thick Outdoor Porcelain Pavers >>
Travertine materials also popular in recent years, learn more tips about this paver with our blog: What Are The Perfect Pool Deck Surfaces To Protect Slipping >>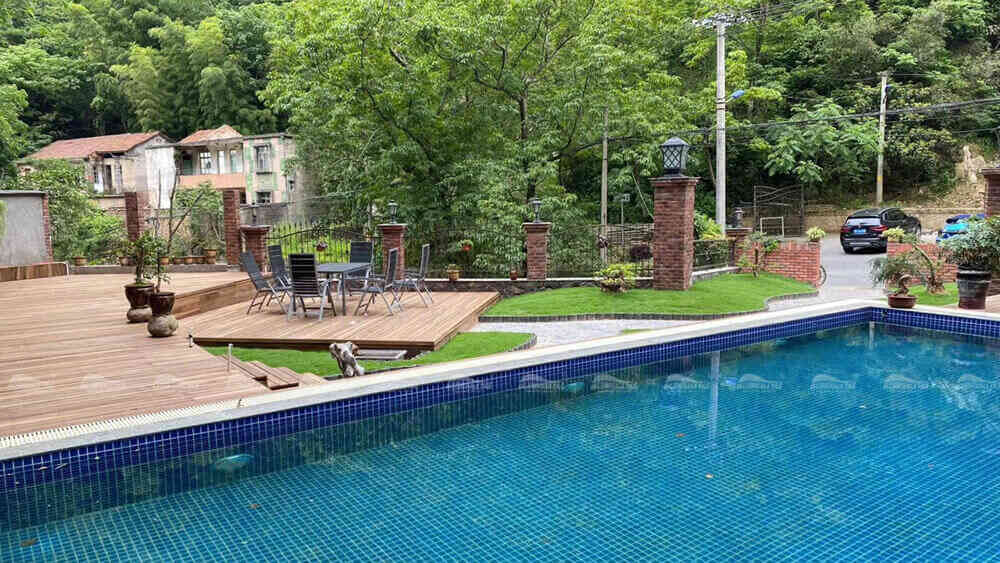 Know more about this project with our blog: The Trendy Finishes For A Modern Pool Design Project
8. How To Style Your Pool Space Economically?
Last but not least, it's significant to invest in the main hard surfaces of your backyard flooring space - stick with eyeful colors and this then forms the unique foundation of your outdoor swimming pool. Putting some greenery or beautiful might be an economical and practical way.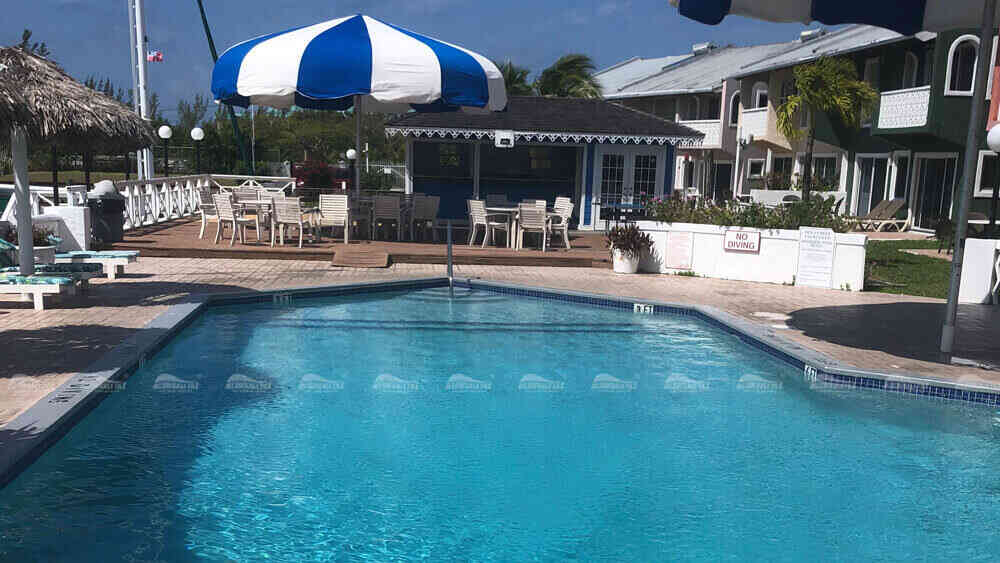 Know more about this project with our blog: Vintage Hotel Pool With Mandalas Mosaic Art
Bluwhale Tile pool designer will draw on their rich experience in the pool industry to provide sound suggestions and planning for not only your backyard swimming pool design, but also the surrounding natural landscape design. Contact us to share your future pool project ideas right now!