Nothing better than a refreshing swim during a heat summer holiday can bring greater entertainment in the pool areas. However what about the style of the swimming pool, how to choose the pool murals and the other materials? So many pool design ideas, it can almost be overwhelming! Fortunately, we received our France client's pool photo today and now share it to you. So come on reading this blog to get more inspirations:
What Complete This Appealing Project?
Welcome to this hotel! This simple design pool takes the concept of less is more and runs with this thought. The natural stone tile as pool deck areas, several unique sun umbrellas, large pool with characteristic pool mosaic murals complete this resort leisure space!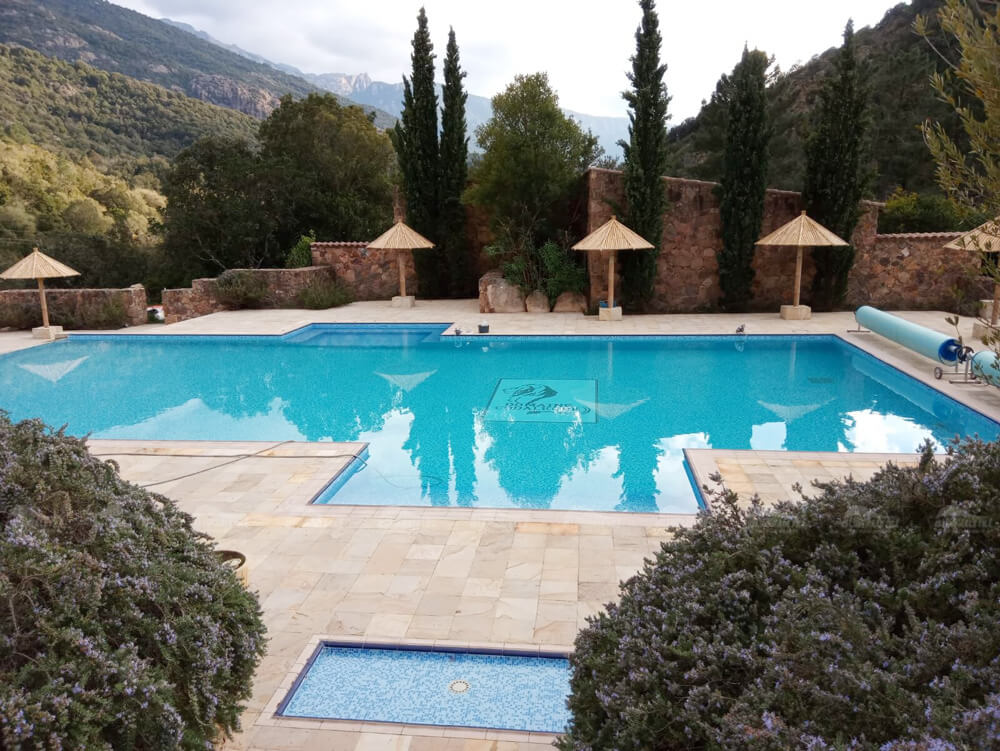 Why Choose Glass Mosaic As Material?
Wanting to get a unique, yet classic look? Then look no further! Choosing materials such as iridescent pool glass mosaic tiles and customize pool mosaic murals in the design of your pool can provide the chance for you to create your dream swimming pool space with an eye-catching visual impression that your guests and friends will not soon forget.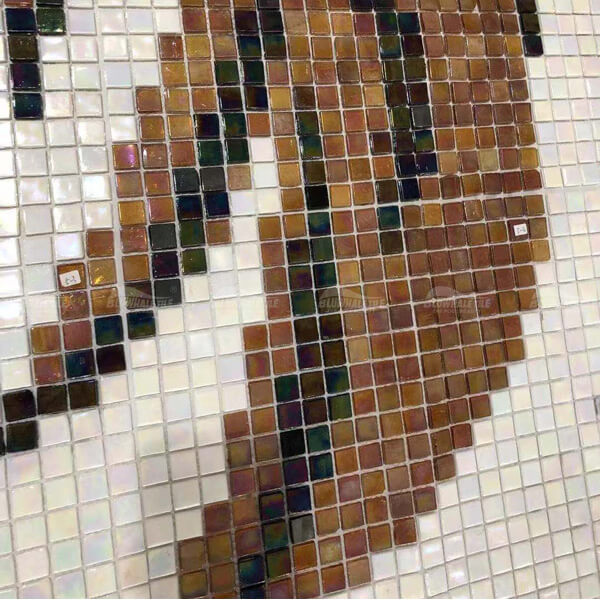 Featured Product: Swimming Pool Glass Mosaic Series

How To Puzzle This Mosaic Murals?
All the customize pool murals are handmade by our professional workers. Our France client has shared his thoughts with us that mainly use white and brown colors and put his hotel logo in the center of the mural. And then our designers combine the client's ideas and her personal though, drawing a design picture includes simple style rectangle size and the striking logo of DOMAINE CODALEONE.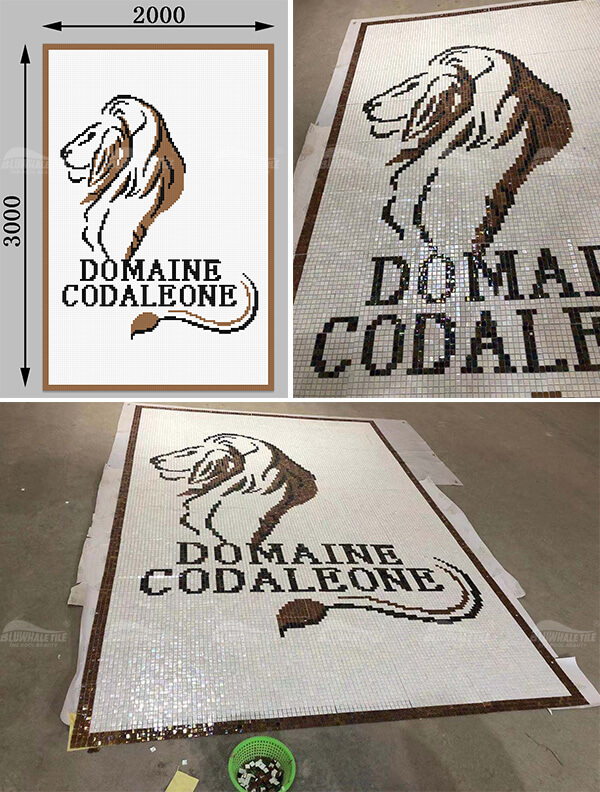 Featured Product: Iridescent Pool Glass Series
After the confirmation of the client, we send the final design to our factory and the workers will find the corresponding iridescent glass mosaic and puzzle them according to the design drawing requests. Pool mural has been finished soon because our mosaic tiles have the back mesh design.
Video: The Making Process of Handmade Mural
What Color Is The Suitable For This Pool?
As the commercial pool design and in order to combine with the surrounding mountain, we suggested using the blue tone as the pool main palette. Not only echoes the blue of the sky but reflects the around beautiful mountain clearly. In the project, we choose a 25x25mm blend blue swimming pool glass mosaic tile as the main materials. Cozy touching and clean chips might be the best choice.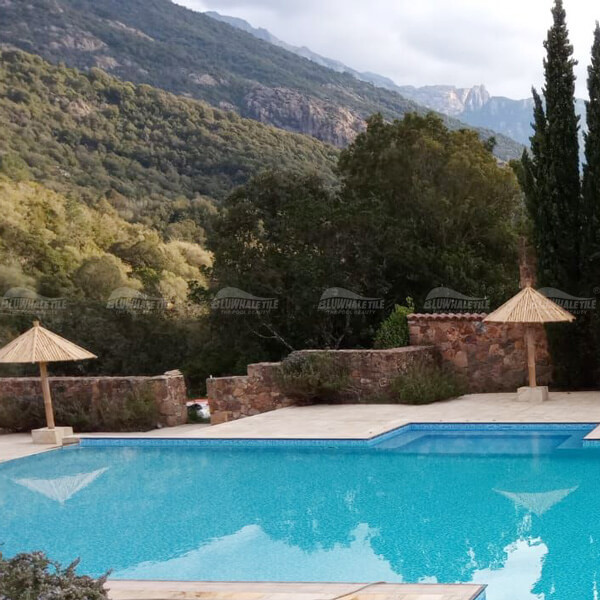 Featured Product: Crystal Glass BGK002F2
How To Choose The Best Pool Waterline?
Don't forget the pool waterline design! We believe that waterline pool tiles made from mosaic glass tile as a series upgrade. While more beautiful than porcelain tile, glass mosaic pool tile had reflective properties that can light up the whole space. Glass pool waterline is known for its ability to reflect daylight in a cozy, soothing way. Not only that it can also mirror the movement of the pool water, which can heighten the sensation of the waves.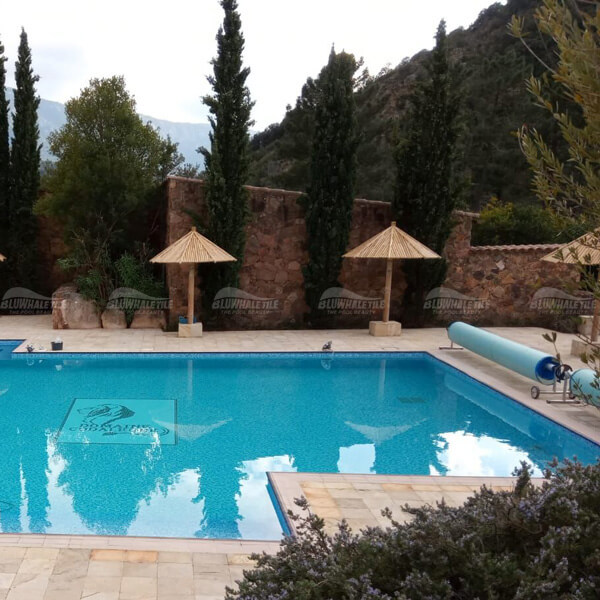 Featured Product: Crystal Glass BGI003F2
Pool Edge Tile Adds Safety
When it comes to design a hotel swimming pool, it's recommended to taking the safety into consideration. Choosing the anti-slip pool edge tiles may be a great idea to improve the safety of the pool.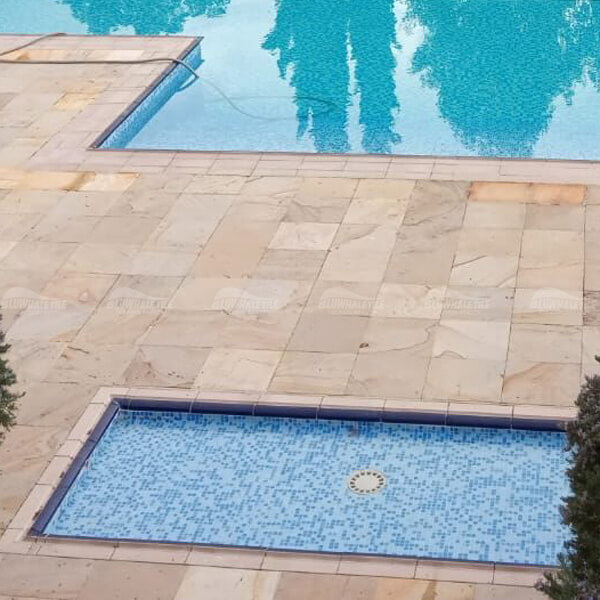 Featured Product: Grip Pool Edge Tile BCZB607
Natural Anti Slip Pool Deck Is Necessary
Creating a more organic addition to your commercial or residential pool? The natural pool goes well in this resort that has 18mm travertine natural stone pool deck, as the pool becomes a seamless extension of your hotel property. Sometimes, adding greenery might be a good idea just like this project. Trust me, the natural pool decking is a choice you will grow to like it.
Featured Product: Travertine Tile ZOD2902
Sun Umbrella Plays Well
Incorporating outdoor leisure spaces to your pool areas helps to tie it in your hotel seamlessly while creating a whole new space for your guests to enjoy. Choosing summer outdoor furniture is a fun way to add character and personality to your resort outdoor space. Using several natural design sun umbrellas is an easy way to switch up space and bring a new vibe to your pool.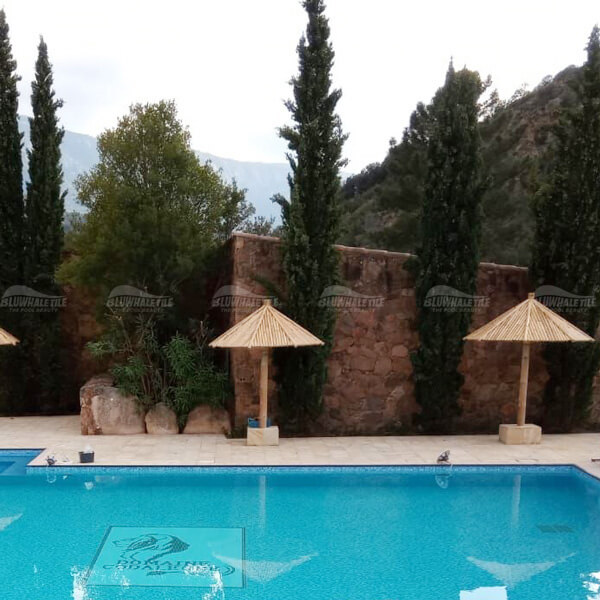 Featured Product: Outdoor Umbrella SU201-CT
The Result
Mr. Patrick loves this simple and natural swimming pool very much, especially the customize pool mosaic mural, so do we! Hotel pool design projects are best handled with a professional team. So we often encourage your clients to become hands-on in decision making. It's highly helpful to work with the professional partner you can connect with who shares your ideas.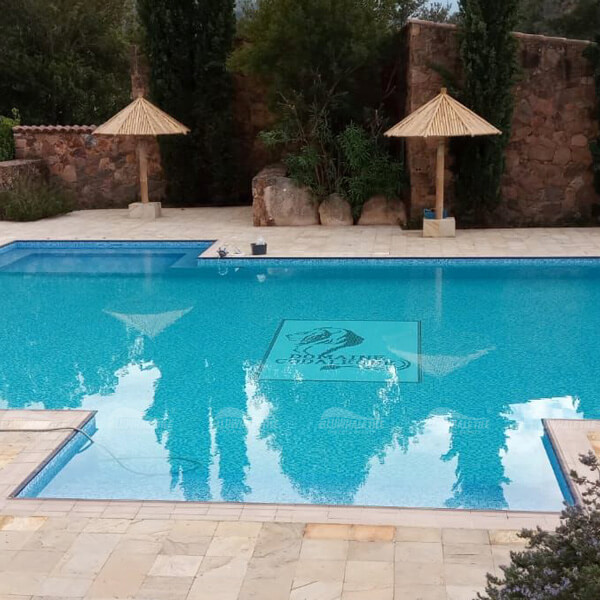 Get Inspired?
Love this hotel pool design? Bluwhale Tile can help you make your commercial space or home backyard a perfect space of leisure and relaxing to share with friends and family members for decades to come. Whether you're interested in customized pool and spa mosaic murals, decking or outdoor furniture design. We will turn your vision into reality. Therefore, no matter your project is too large or too small, please contact us to share it now!
If you're interested in natural pool design, check out this project: Swimming Pool Project - How Does The Leaves Pattern Mosaic Mural Create A Sparkle >>

Maybe this hotel project with customizing pool mosaic mural can inspire you: Swimming Pool Project - Natural Design and Warm Tones >>

Checking out this resort project with more ideas: Philippines Seaside Hotel Pool Renovation >>