A stylish resort swimming pool allows the swimmers to relax during the vacation and a perfect place where imagination and inspiration transform from original ideas into tangible and physical manifestations. Therefore, a great swimming pool should be a place that rouses the creativity into profound creations.
When it comes to something that sparks the imagination, what better way to stimulate mind than delving into mosaic mural projects and porcelain tile mosaic art that both reflect the owner's characteristics and taste? The summer is over, so it's the right time to renovate your old swimming pool to get the trendy mosaic mural! If you don't have any ideas yet, keep on reading this hotel project:
Why is Ceramic Mosaic Tile?
Due to the process of firing at high temperature, ceramic tiles are among the sturdiest finishes for pool bottom and spa decorations because they resist chemical corrosion and other damage caused by changes in temperature. Ceramic tiles also last longer than other types of pool interior wall surface materials for example pool liner or plaster. That why ceramic can maintain its integrity for a lifetime unless you're tired of it.
A stunning swimming pool is the ultimate hotel accessory. Adorning it with ceramic tiles is not only a good way to add beauty and sophistication to the pool project but bring a sense of peace and comfort. We adopt 48x48mm glossy surface ceramic tiles which have reflective qualities to make to pool look larger.
Check out here for more beautiful mosaic tiles: The Latest Product Catalogue >>>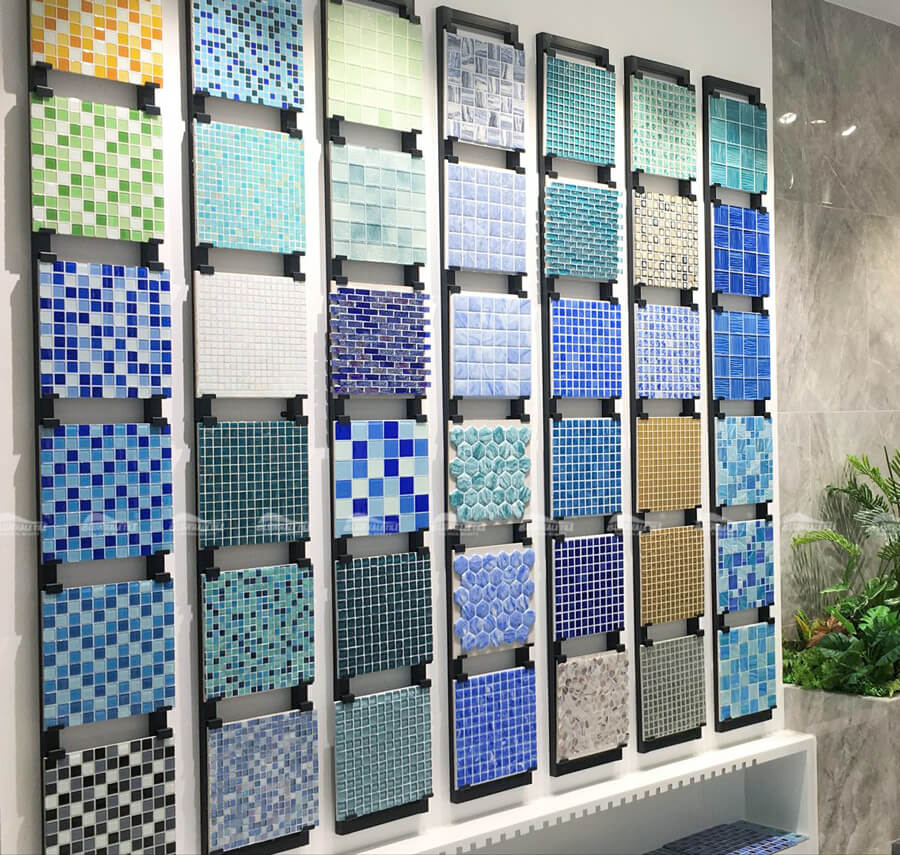 Pattern Design

Blue, light blue, dark blue and bluer. That's the standard for many customers when they share their ideas with us for the first time even this client is no exception. We always advise blending colors or custom something completely new.
Did you ever want to refer to your swimming pool project as a flower ocean? Giving life to the pool with a big flower pattern design will make this possibility possible! This time we use four main palettes: beige, ocean blue, light green and yellow. Combining with the client's ideas, we only design a flower and put it right in the middle. Using shiny yellow for stamen, light green tone as the leaves, lining the flower edges in beige and use ocean blue hues for the bottom color.
A lively and active pattern will bring your swimming pool projects to a whole new level of entertainment and charm. Think of flowers that will ultimately remind you as if you are exploring the flower ocean!
Tips: For any pool design, it's signification to decide on a theme that blends with the surrounding landscape and your hotel style. Some customers want to create a colorful flower paradise just like this blog mentioned, while others prefer a classic blue tone feel. Whichever you decide, it's best to choose suitable tones that are appealing to your guests and pair well with your hotel color.
Wanna more swimming pool bottom pattern design drawing, check out our blog: How Landscape Painting Blend Into Pool Bottom >>>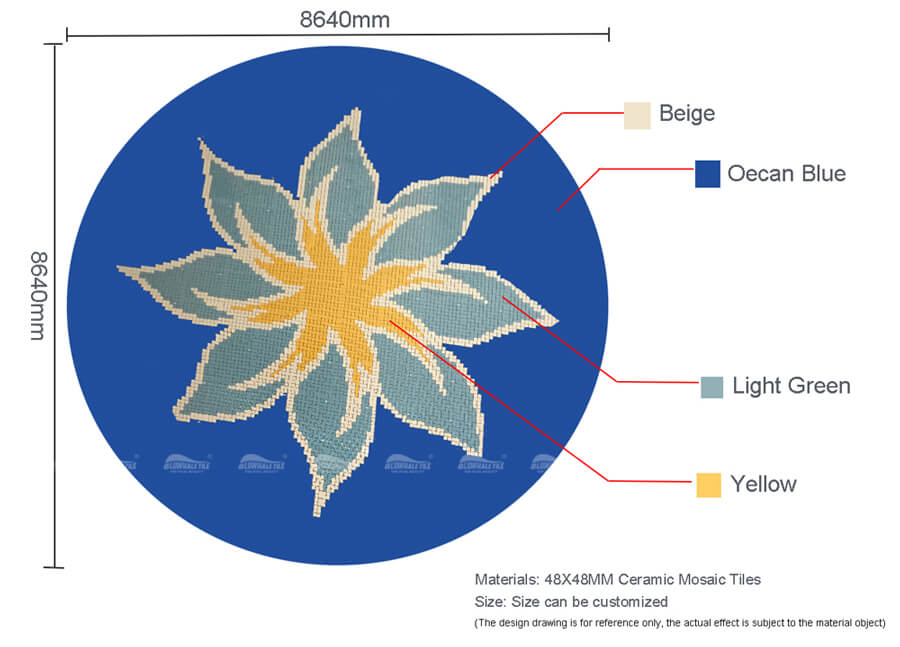 Making Process
After confirming, we sent the detail drawing to our factory workers. Before combining the mosaic sheets, they will clean each chip and ensure each one is intact. Next step, they tag each sheet with every sheet so that our customer install the mosaic art more convenient. Having a look at the below details, each chip has a high gloss finish and charm glazed color, moreover, the smooth surface makes the flower more lifelike!
For more factory making process details, check out our blog: Unique Custom Pattern at The Pool Bottom >>>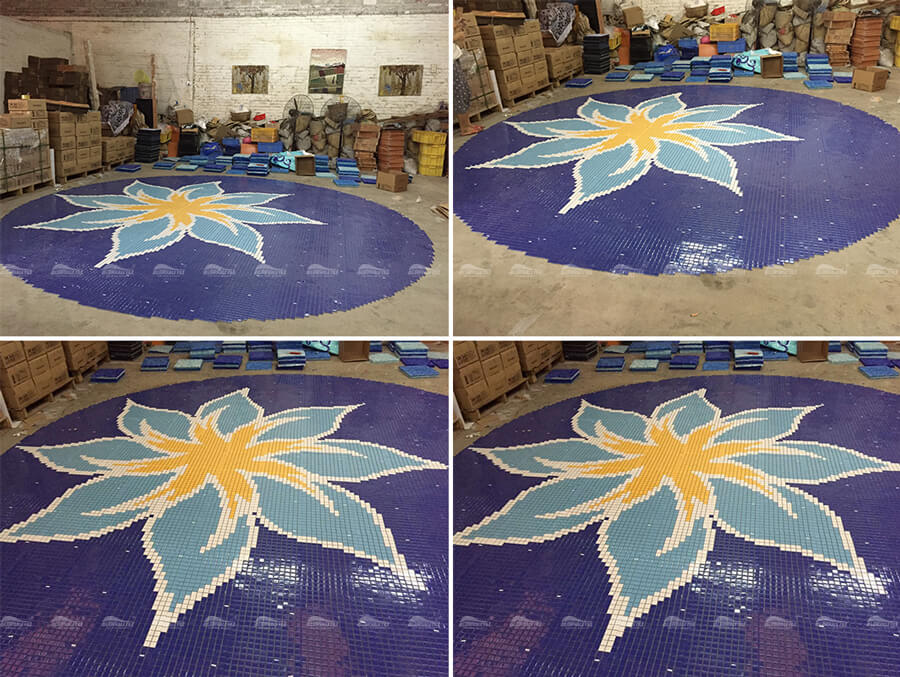 Result
Recently, we received photos of this completed project! We all so glad to see the attractive flower mosaic mural at the swimming pool bottom and so happy that get the praise from our clients. We believe that his hotel will become more wonderful after he finishes the surrounding decoration.
For more stunning swimming pool projects, check out our blog: Natural Design and Warm Tones >>>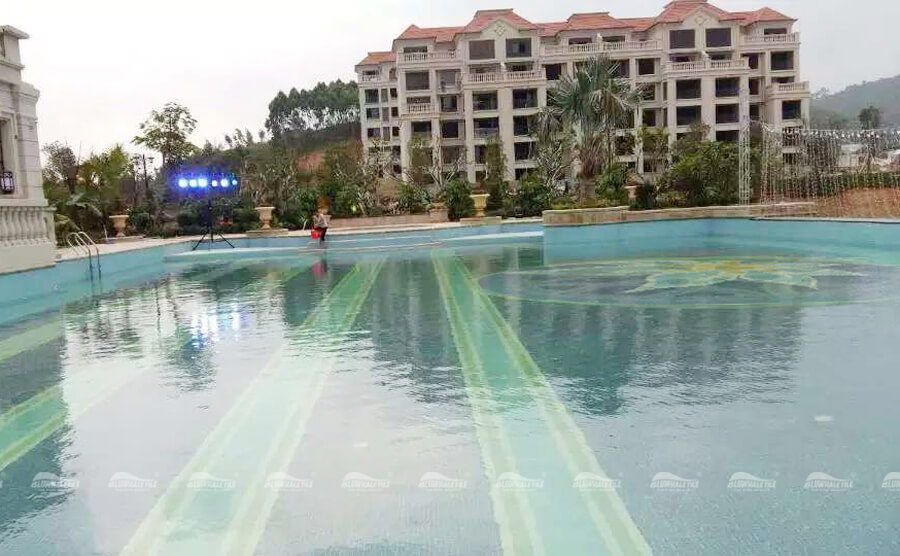 Get Any Ideas?
Is this swimming pool project of flower mosaic art inspire your future plan? As a professional pool project materials supplier, Bluwhale Tile is committed to designing more stunning mosaic art with global customers and developing more high-quality products. We're welcome to leave some comments and ask for tile samples to feel how charming the mosaic tiles are!