Nothing can be more comfortable and relaxing than swimming in the pool and feeling the cool water temperature or sitting by the poolside talking with your friends meanwhile drinking a sweet juice, enjoying this pleasure moment. Sounds excellent, don't you think so? Certainly, the perfect swimming pool can provide a wonderful swimming experience for everyone. However, what's the perfect pool for a hotel or gym club?
I want to custom a vintage flower mosaic art for my lap swimming pool Ken said. Three months ago, we received ken's email to help him design a unique pool mural, which is consisted of crystal glass mosaic tile. Combined with ken's taste and his hotel environment, we decide to utilize dark blue palette, rose pattern, and retro pool waterline to decor. Let's read on to know more about "Lap Pool" and Ken's pool project.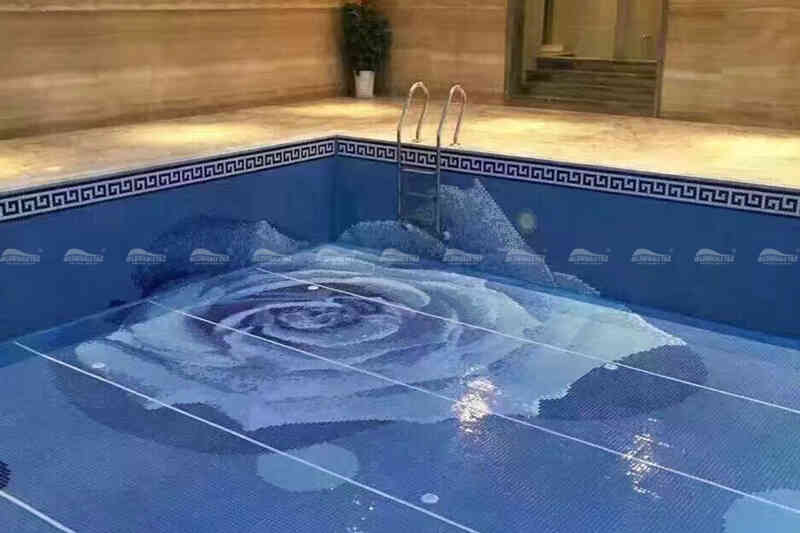 What Is The "LAP POOL"?
Maybe you haven't heard of the lap pool. Lap pools are big size pools that similar to the traditional one. But lap pools have distinct differences of being long and thin rather than traditional square or circular pools. The rectangular shape of the lap pool is what makes it suitable for hotel gym space or narrow spaces. The special length makes it easy to swim, while its limited width means it can fit and exercise more easily in many spaces. This rectangle shape also makes it more contemporary and aesthetic than the traditional gym-style pool.
Generally speaking, the Olympic standard pool is built as being 50 meters long with lanes that are just 1.8 wide. But this is not practical thought for many common lap pools. Like Ken, he wishes to have the lap pool installed in shorter length, and design characteristic flower mosaic mural.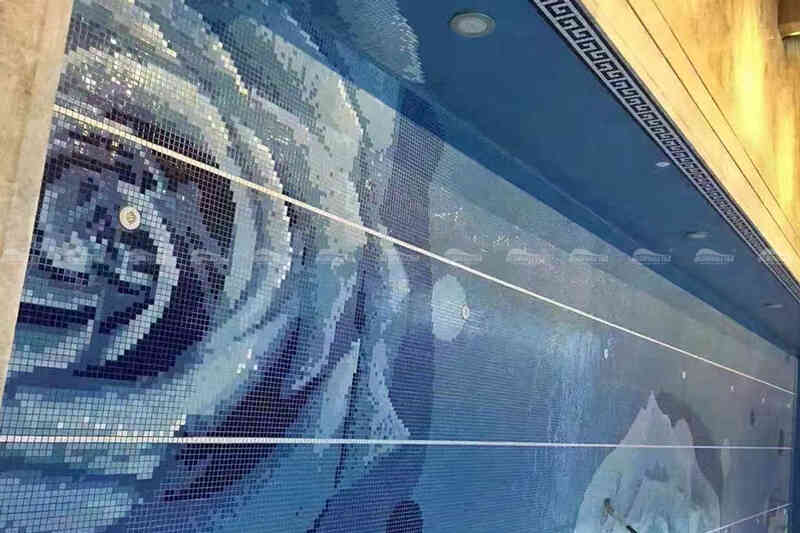 What Is My Budget To Build A Lap Pool
Someone might think the cost of a lap pool ought to be much lower than the regular swimming pool. But the actual cost of building a lap pool is comparable to that of installing a full-size pool. There are abundant types and styles of lap pools available, therefore it makes sense that the cost of lap pool would vary substantially.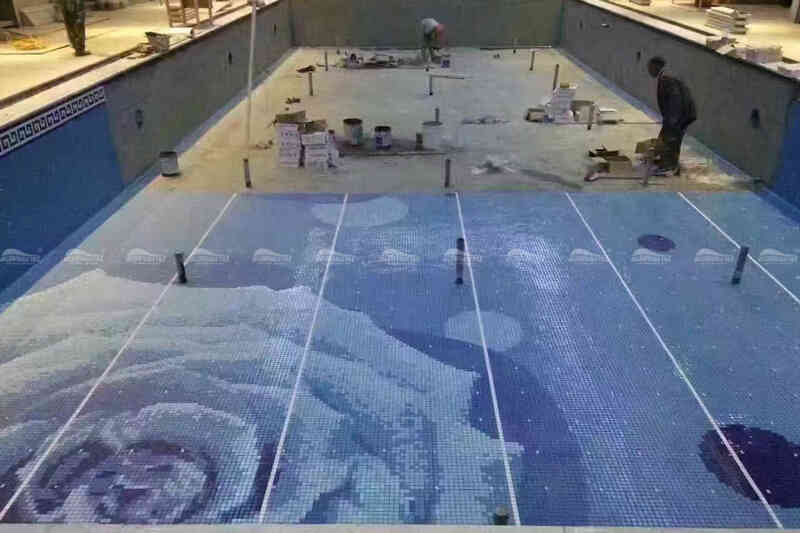 What Feature Should I Add Into A Lap Pool
When considering costs, there are many additional and beneficial features that can be built into Ken's pool so that his guests can use it as comfortably and as constantly as possible. As for Ken, he adds the below five elements into his pool project:
Pool Mosaic Mural
One of the best ways to help create a charming and tasteful swimming pool space that is full of color and integrated with the whole hotel pool area is with the use of aesthetic feeling swimming pool mosaic mural. There are many kinds of pool tiles are available but one of the most welcomed kinds of materials are glass tiles. The beautiful pool mural is consists of crystal glass mosaics. Like Ken's pool mural show, we use blue palette glass tiles mix white glass tiles to finish this awesome flower pattern mosaic art.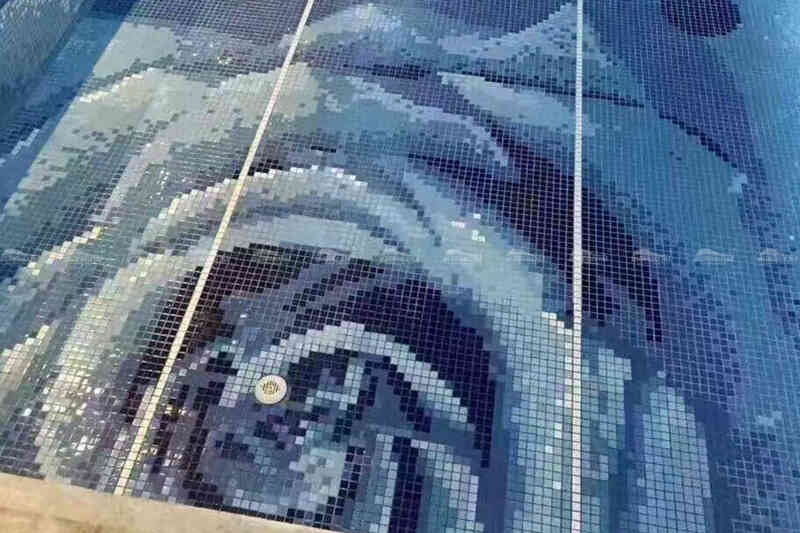 As we all know, immersion and movement in cool water on hot summer days are a way to help reduce stress feeling. Hotel gym pool allows guests to spend time doing exercise. Blue tone lap pools help swimmers stay in shape and get rid of any frustrations that they might feel while every workday. While entering the lap pool, and seeing the blue large rose flower and the tranquil blue hue, the swimmer likes to enter another world that allows them to reconnect with their peaceful inner feelings.
Pool Waterline
A swimmer often has a vision for the pool. For many pool owners, this includes pool mosaic mural in colors that suggest visually relaxed and tranquil feeling. The pool waterline is not an exception. Combined with the whole blue pool tones, the same color can help remind swimmers of a day at the shore. Using the wave pattern pool waterline also helps show off the blue pool waters. What's the best pool waterline? The style of the pool waterline that suits you is the best!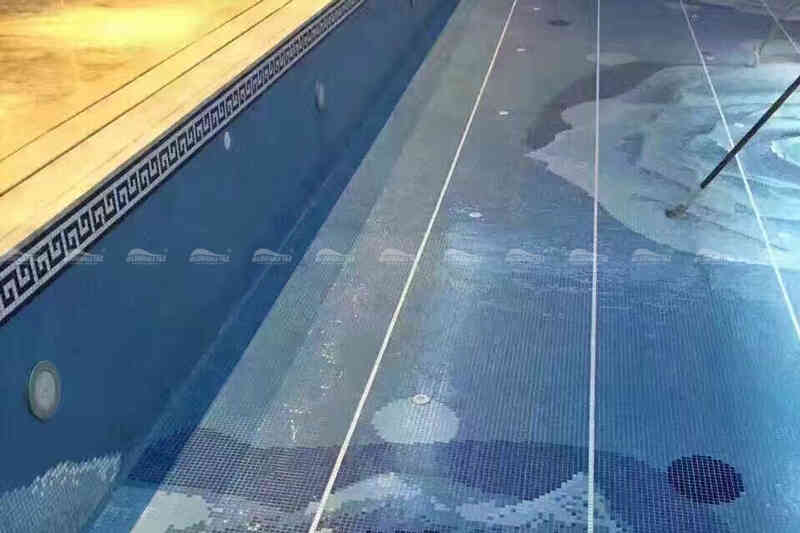 Pool Ladder
Due to the purpose of a lap pool, they are typically used for gym or exercise rather than leisure, it's not necessary for them to have stair access like the home-style or recreational pool would. Instead, the perfect way to maximize space in the pool is to set the pool ladder into the pool interior wall so that no swimming space is lost. Another way is to offset steps within the swimming pool, which are an ideal choice because they take up less space than traditional steps. these two kinds of ways will include a stainless stain pool ladder with rail for maximum safety when entering and exiting the swimming pool.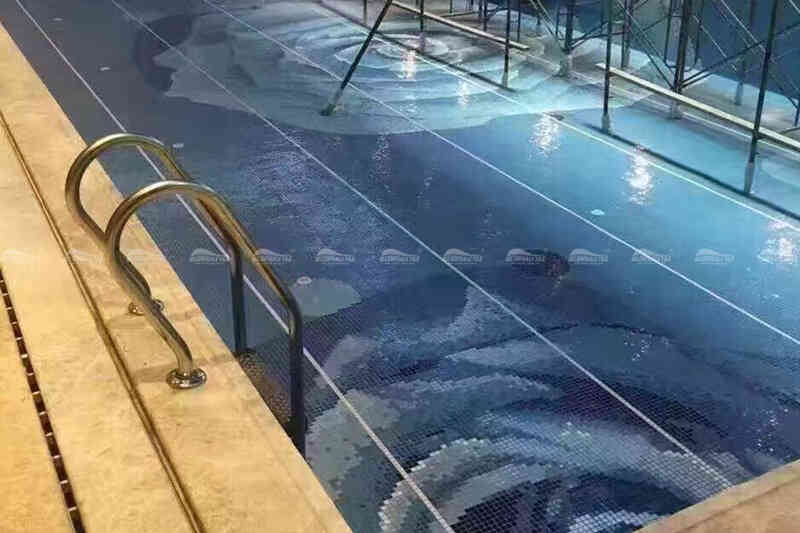 Pool Porcelain Deck
Checking out with Ken's pool decking area. He uses the durable beige porcelain tiles for the decking. Porcelain pavers are an ideal and welcomed option for swimming pool surfaces. Not only versatile but affordable, this material allows the pool owner to create wonderful designs to improve the appearance and feel of their swimming pool project.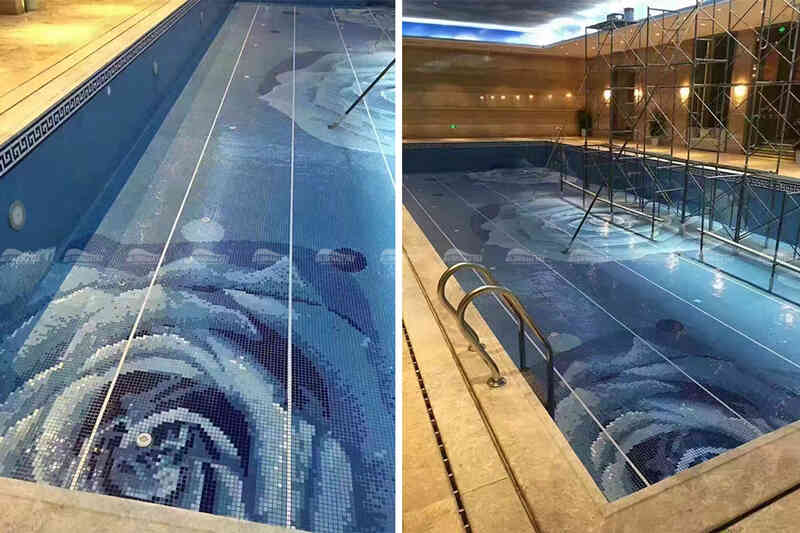 Get Ideas?
Bluwhale Tile will help make your swimming pool project a cool design! We have hundreds of pool tile options, covering any styles that were posted in our online shop. We're so proud of our innovation and aiming to help clients to build and renovation their pools. Contact us and share your creative ideas for future pool plans.
If you are interested in other style hotel project, visit our blog: How Does The Leaves Pattern Mosaic Mural Create A Sparkle >>
Know more about home-style pool project here: How To Design Refreshing Home Pool Style In 2020 >>