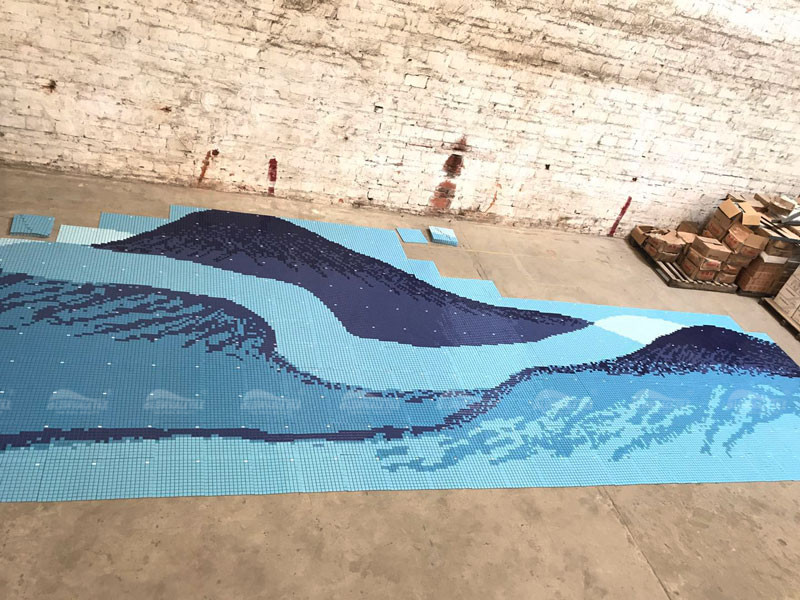 Yesterday, we receiver the swimming pool installation process photos from one of our customers who are almost fanatical in Chinese landscape painting. So interesting clients that we haven't met before! He told us that the building process of a resort's pool goes well and very glad to see the beautiful landscape painting being installed on the pool bottom.
After visiting our previous project blog "Swimming Pool Bottom Mosaic Art Project in Opera Seine Estate", he decided to email us for his resort's building plan:
Go Landspace Pattern

Learning about his inspirations during the several days chatting, we knew that the swimming pool was an irregular shape. However, the paper of Chinese painting is rectangular so the complete landscape can't be fully displayed. According to the message he provides, we made a drawing that combines the actual shape with the most suitable part of the landscape.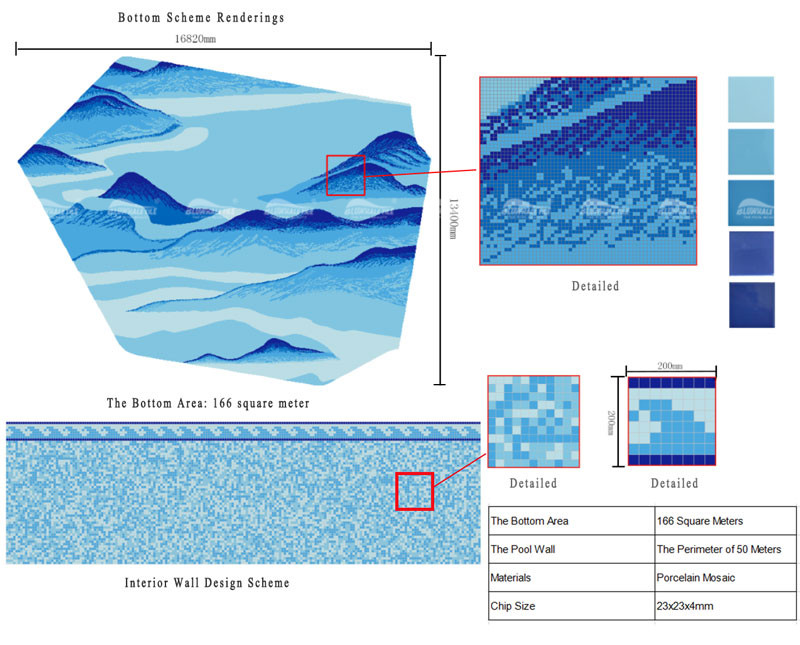 The whole area of the swimming pool is 166 square meters, where the total length is 16.82 meter and the width is 13.40 meters. One prominent personality of Chinese painting is its treatment of empty space as a solid space. Just like the below pool bottom pattern design, we left the top right corner blank and the mountain was all around. What's more, the second point is that we choose the light blue tones pool mosaics as ocean water. For the mountain, we use three colors to describe it, sky blue as the foot of the hill, the middle blue as mountainside and the dark blue as the mountain top.
For the swimming pool interior wall, we choose the same hues as the bottom whole tones. But, we gave some creative on the waterline pattern. If you look carefully, you might find that the waterline is made of many ocean blue spindrift.
Adding Chinese Thing, Be Fun

After he confirms our design draw, we sent it to our factory immediately. Due to our professional design team, the whole design was soon conceived by the workers. Determining the exact amount of the porcelain mosaic and preparing plenty of space, the workers started the paving very soon. It took us 20 days to finish this job and we took photos of different process and sent to our customer.
Installation Process
Thanks to the workers' efforts and the goods were delivered to him without a hitch. Near the end of the project, he couldn't wait for the project to finish and recorded a video to share with us. As a creative tile manufacturer, one thing we love is creating personal relationships with every client because we want to share our tiles ideas all the world and share your awesome project with others.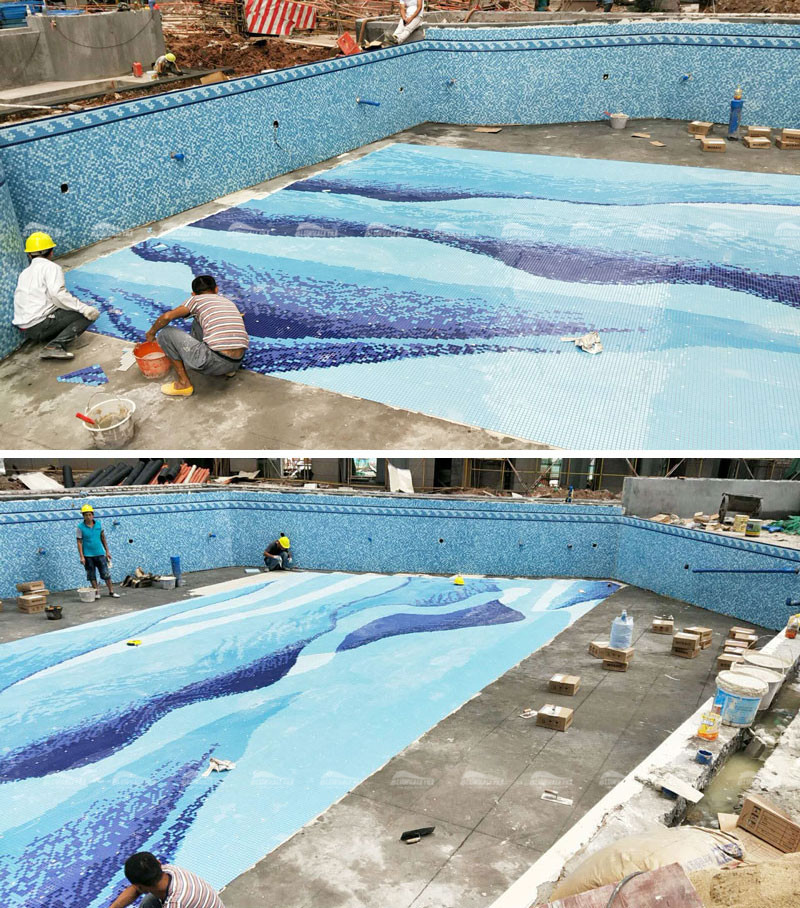 Get Inspired?
Bluwhale Tile is interested in hearing what inspires you! Why not order some pool tile samples to touch and see directly? You might full in love with our exquisite pool mosaic tiles and stunning pool arts.