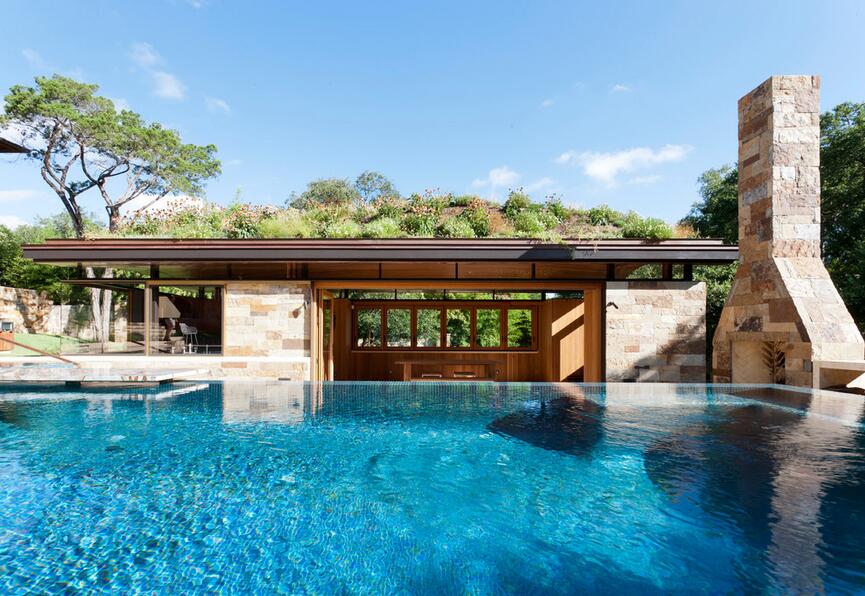 Pool House, Westlake Hills, Texas Located in the City of Westlake Hills, this pool house, swimming pool, spa and terraced landscape employs a unique sustainable design strategy. Impervious cover and storm water run off regulations within the city are very tight.

This project choose a high quality solid color porcelain mosaic tile to build the pool, It's durable, easy on the feet, and offers a beautiful underwater shimmer, making it a common choice for pool .

Finding the right tile takes time, careful research, and an understanding of the look you're trying to achieve - not only in the pool itself, but for the surrounding areas as well.

Bluwhale tile offers a you a turn-key pool building solution ,which is available from pool designing , material supplies and a dootstep delivery service .

Our team will work with you to design your luxury outdoor oasis. From the first call, to the completion and opening of your swimming pool or spa, Bluwhale will demonstrate world-class customer service and support that our customers come to expect and deserve. We understand the engineering behind our pools and spas and have the confidence and skill to make your dream outdoor space come true.

Bluwhale offer pools and spasbuilding material that are among the best of the best in China. We know you seek superior high quality and unique design material for your pool, and we have the experience to create stunning custom pools and spas. We are recognized throughout the industry as a leader in custom pools and spas and look forward to providing you with your very own luxury pool or spa that will exceed your expectations.