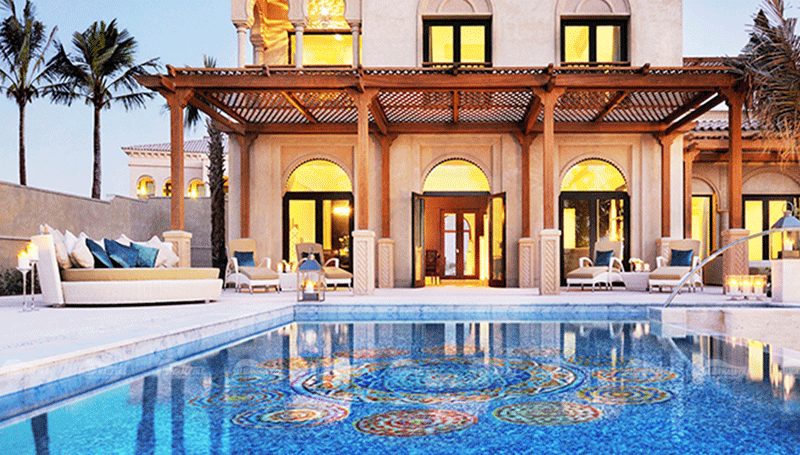 A vintage and luxury hotel is not complete without a comfortable, unique built, charming pool mosaic art, an in-ground swimming pool that accentuates the hotel's features. Furthermore, there's nothing better than relaxing by the pool in the tranquil leisure area on a hot summer holiday or spending a warm night unwinding with a completely relaxed swim - a vintage and luxury that no hotel is complete without. If you're in the market for a trendy hotel pool design, might be this project will inspire your future plans:
An In-ground Pool That Suits Hotel Style
As we know that the choices truly are limitless when it comes to starting an in-ground pool project. From the whole shape, materials, or even pool mosaic pattern used in construction to complementary color tones and more.
A vintage and luxury hotel should utilize the whole outdoor space as an extension of the hotel itself. The aim of an in-ground swimming pool designer - Bluwhale Tile Team should be to create a unique pool that not only enhances the hotel environment but also creates a wonderful atmosphere for relaxation and entertainment. It's recommended to choose a reliable partner with years of experience and an abundant portfolio to make sure the pool is a nice space addition to your hotel.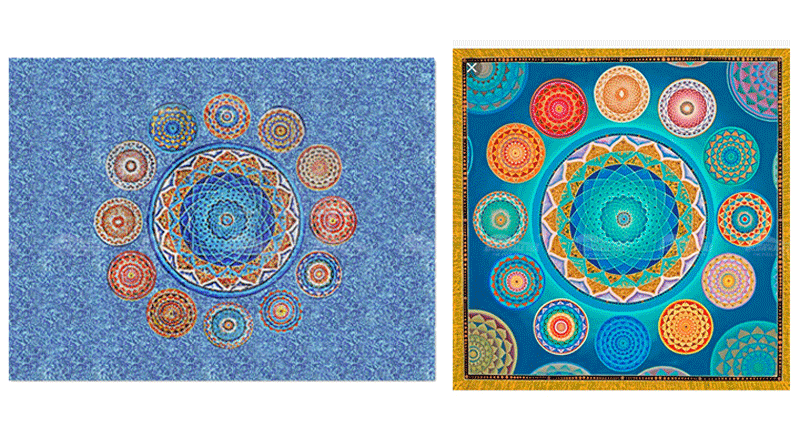 After received the hotel owner's email, we start to design the pool mosaic pattern. As you see below, the primary design drawing from Mr. Mark was so abstract and we need to design the more realistic that can combine well with our mosaic tiles. Because Mark was a Mandala's patterns enthusiast and he said that it can make his mind. While his eyes begin to focus on the Mandalas, his mind to wander as it will. Therefore, he believes that put this pattern into the pool can make the swimmers more relaxing!
Learn more about our design process in our blog: How Landscape Painting Blend Into Pool Bottom >>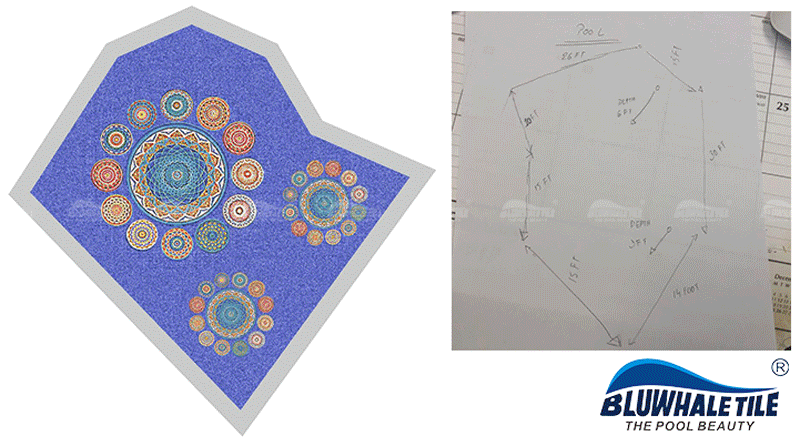 Installing Mosaic Art To Inspire
Keeping Mark's belief and personality in our mind, we were excited to create a custom pool mosaic mural to decorate his hotel swimming pool. This meant including words of benevolence and using colorful hues to lighten up the people who spend their holidays in Mark's hotel whether you're swimming in the pool, walk by the pool or look down at the pool from upstairs. Luckily, our mosaic tiles are all back-mesh design as well as the workers have finished the whole mosaic mural in our factory and set the number in each sheet. Mark's workers just only need to follow the beck number to install the whole murals.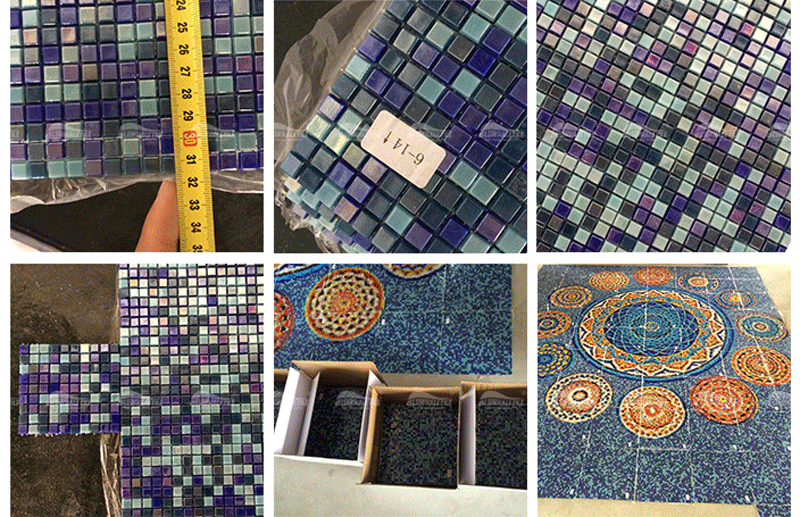 Giving Personality To Custom Mural
We all love to receive creative inspirations and custom the fun pattern. It allows our clients to communicate their characteristics through our hot melt glass mosaic which is made up of the mural. Whether you have a clear aim and idea of how to showcase your personality, or need some help, we're here to make your mosaic dreams a reality!
Mark came to us hoping to draw some inspiration from his polychrome Mandalas pattern. The gorgeous palettes and perfect geometric line shape that Mandalas uses made it the ideal template for our authentic design. From there we use the classic blue color as the ground color which stands out the magnificent Mandalas pattern. What's more, our hot melting mosaic tiles have the iridescent effect that makes the Mandalas more beautiful and actual. Through the twelve small Mandalas pattern around the large one, we expanded upon the intention of relaxing the swimmers and bringing the peaceful ambient.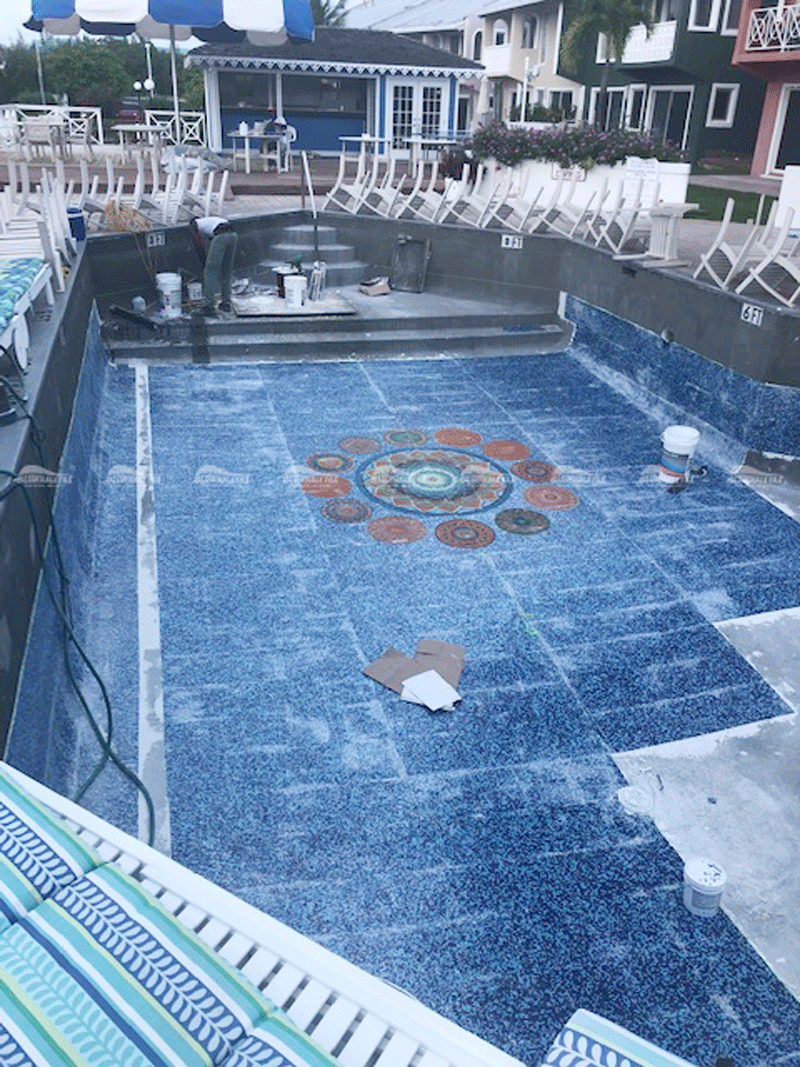 The Great Addition To Your Vintage Hotel
While looking for a way to improve your vintage and luxury hotel's in-ground pool, searching for a way to make your pool stand out. Except for customizing a unique mosaic art, we're preparing some beneficial tips to consider adding.
No in-ground swimming pools are complete with a deck. Swimming pool decks can be installed in a variety of materials such as porcelain pavers, natural stone pavers or wood plastic composite. And can come in lots of sizes and thicknesses. A pool deck is what ties a pool in with a hotel's features.
Know more about the benefits of porcelain pavers with our blog: 9+ Thick Outdoor Porcelain Pavers >>
For more latest wood plastic composite decking ideas, browse our blog: 3 Types Wood Plastic Composite Create Perfect Pool Decking Areas >>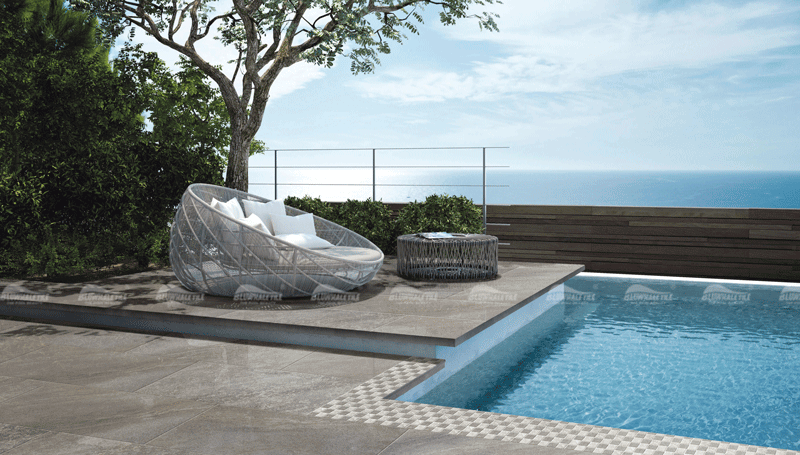 Don't neglect the edge tiles! Keep your edge anti-slipping and simple with a classic blue tone. For this stunning project, we also used our edge collection, which is matte and high antiskid.
For more edge design project with this blog: 6 Steps To Your Dream Swimming Pool Renovation >>
Through a long and lazy afternoon at the pool by providing shade options. Combines the sun lounge or patio sofa sets with the umbrella to create seating and leisure space. The large umbrellas make perfect additions between sun lounges to break up the constant summer hot sun.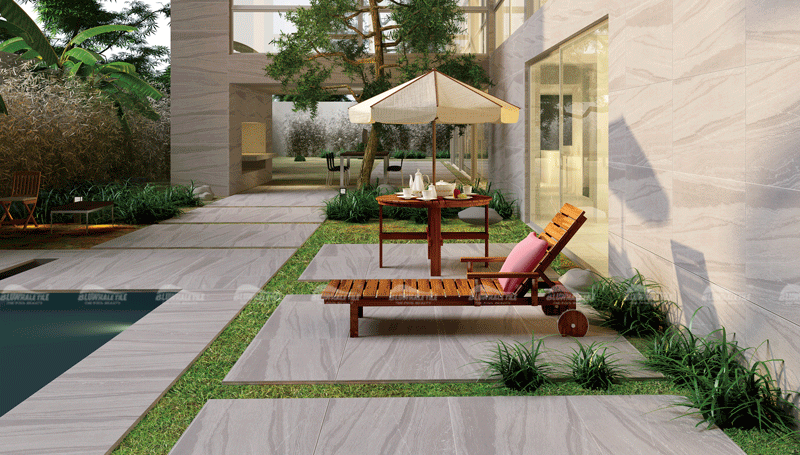 Contact us for more project cases! We're so excited to hear your inspirations and what inspires your future project. As a one-shop pool supplier, Bluwhale Tile will be your honest pool project partner. Why not order some tile samples to see and touch? Might be you will get some ideas while touching our tiles.