Except ceramic mosaic tiles, glass mosaic tiles is a popular alternative for many swimming pool installation, and they are getting more and more common to see because of their wide choices, versatility and functional qualities. Glass mosaic will not fade or warp as years to come, this type of tile requires less maintenance and cleaning than porcelain mosaic tile. Due to its translucence, glass mosaic is reflective to light, this makes it looks iridescent and glowing, ideal for creating a much more brighter and inviting space to any pools.
Last times we have shared our new trendy pool tiles in the post of "The Coolest Porcelain Pool Tile Options For 2019 At Bluwhale Tile", and today we are also going to share our different and creative glass pool tiles designs for you. If you have no idea to choose a right glass tile for pools, this post will give your some unique selection that never seen. Read on and get inspiration.

Part 1: Pure Blue Glass Triangle
Our triangle glass series provides 3 shades of pure blue colors to choose from, including light blue, ocean blue and dark blue. The 3 colors are classic and timeless, and they will make a great difference to your pool due to its triangular shape. People often choose square and rectangle tile for pool covering, triangle is rare to see, if you wanna break the traditional look of your pool, try to consider our triangle tiles. Read on to see how we blend these tiles into pools.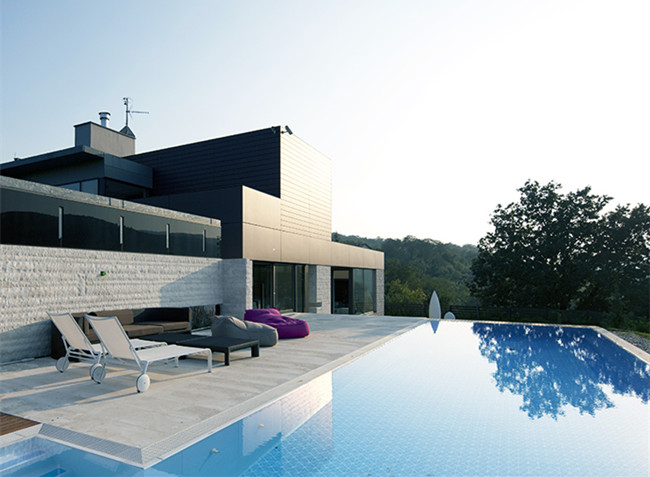 Featured product: light blue triangular glass mosaic pool tiles TRG-SA-P1
The combo of L shape and our light blue glass triangle tile structures an undying pool design. It seems there is a river on the rooftop, which looks amazing and definitely adds values to the villa house. The triangle tile looks beautiful under the water and sun light.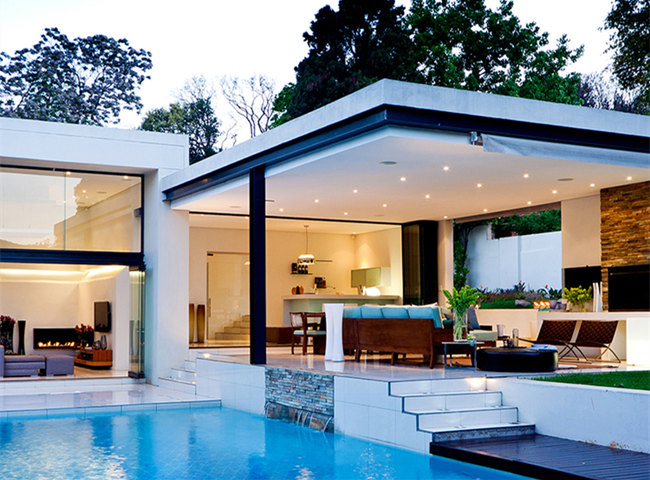 Featured product: ocean blue triangle pool china glass mosaic tile TRG-SA-P2
The outdoor pool is blended seamless into the front of house, which takes full use of this area. The rectangle-shaped pool won't be dull by finished with ocean blue glass triangle tile, building a sea-like pool perfect for relaxation.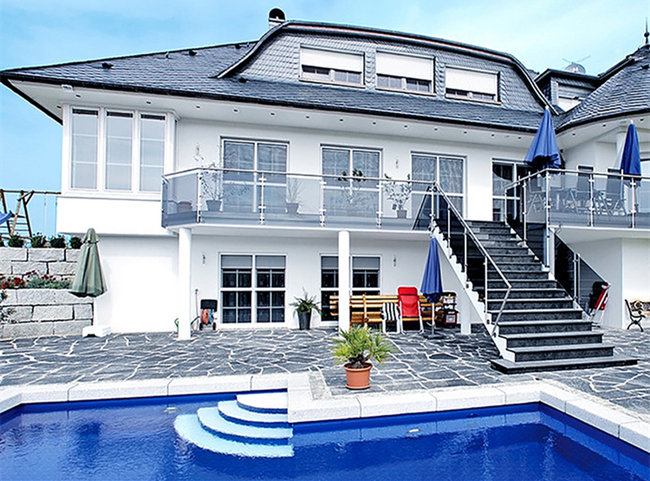 Featured product: dark blue triangular glass swimming pool tiles TRG-SA-P3
Dark blue is a hot choice as it adds depth to any spaces, and can easily build an ocean-like swimming pool. The backyard pool is doubtlessly where you want to spend your summer time with your families and friends.
If you love the 3 glass triangle tile in pure color, you would like to discover our 4 pure blue ceramic triangle tiles: 4 Popular Pure Blue Triangle Mosaic Tiles for Swimming Pool Design >>
Part 2: Geometric Pattern Glass Triangle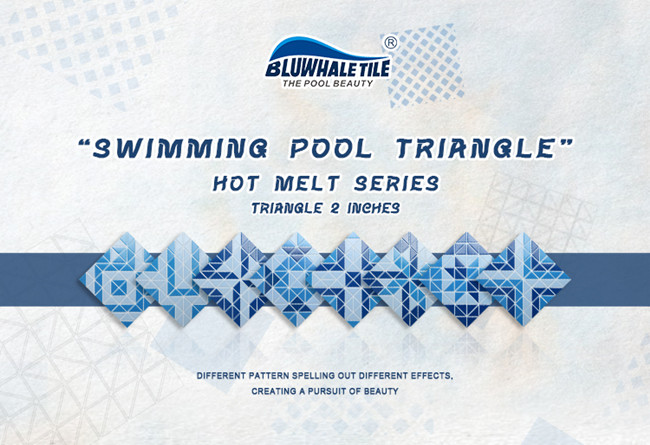 Bluwhale tile has into pool glass mosaic tiles production for years, we are keep making innovation on our products. When creating triangle meets motif, we bring a brand new and bold glass pool tile collection. We believe that our glass triangle tiles will add big fun to everybody's pool and enjoy their swimming time. Read on and explore more about these interesting surface patterns.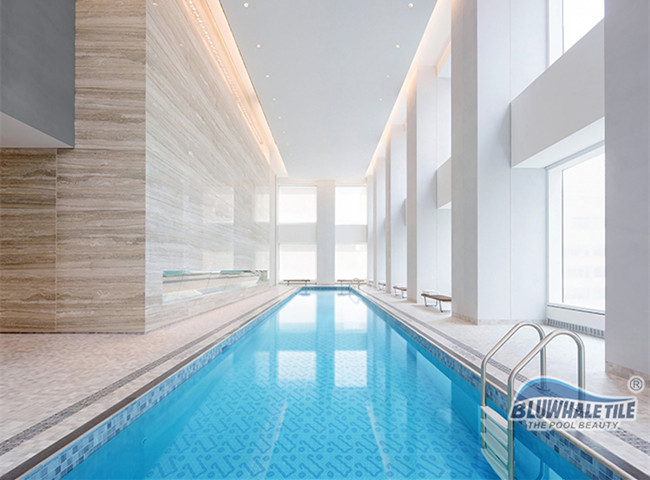 Featured product: puzzle pattern glass triangle TRG-SA-PZ
The long rectangular shaped indoor pool with a geometric tiling bottom makes a delightful environment for all swimmers and competitor. Unquestionably, the swimming training time won't be boring any more.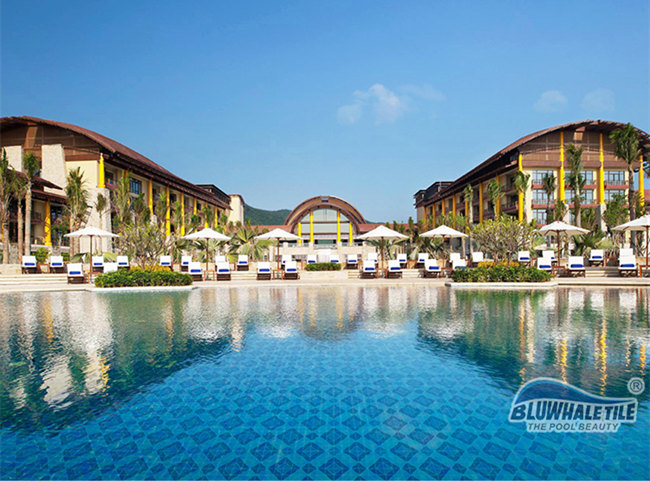 Featured product: geometric square pattern glass triangle TRG-SA-SQ1
Everybody will "wow" at their sight of this huge pool. The large-scale pool looks fascinating and striking with geometric square pattern mosaic, which makes a statement to the resort hotel, every visitor will have a nice memory and be here to stay.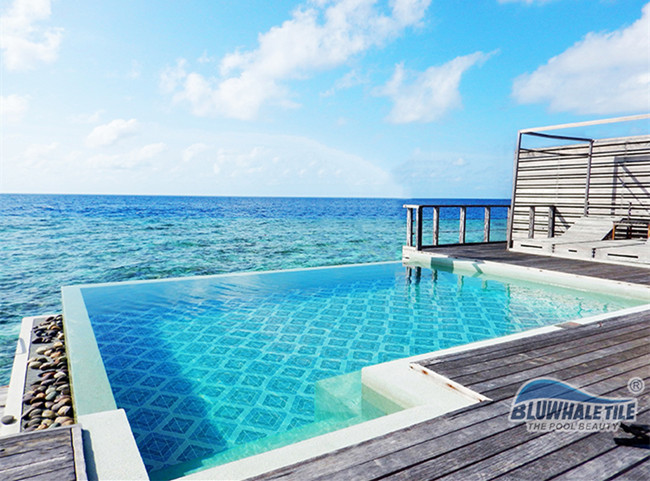 Featured product: geometric square pattern glass triangle TRG-SA-SQ
A dreamy and welcoming example for any commercial pool project, this design gets more and more popularity in most seaside hotel. Although the pool is small-scale, it still stand out due to its position by the sea and eye-catching mosaic patterns.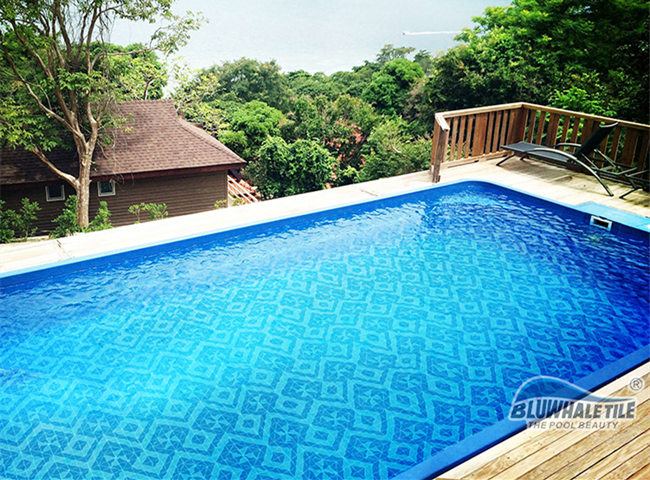 Featured product: windmill tile pattern glass triangle TRG-SA-WH
Why not install a rooftop pool if you have a vacant rooftop on your house. That would be a right investment for your house, providing a good place for family's entertainment and relaxation, especially your children will appreciate it a lot. Even the pool has limited space, selecting a geometric pool tile will liven it up! Example as above.
Take a look at our rooftop pool project if you are going to have one in your house: Rooftop Swimming Pool: Infinity And Open-Air >>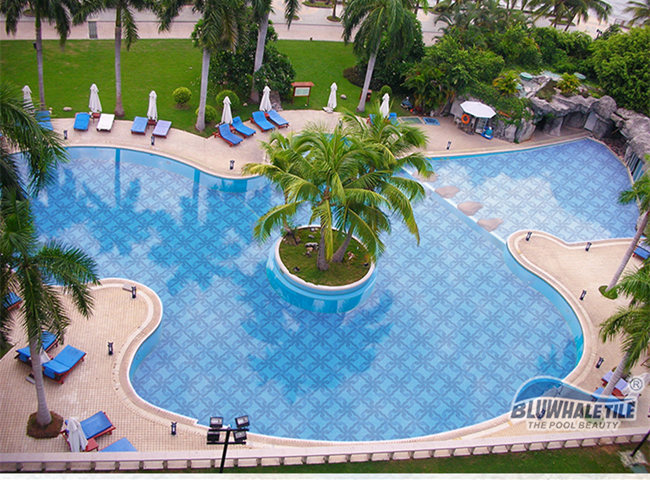 Featured product: windmill pattern glass triangle TRG-SA-WM1
What kind of pool you want for your summer? I say it is tropical pool! Irregular shape and number of palm trees around the pool area, everyone will love this natural and cozy pool paradise. The big windmill tile pattern makes the pool impressive and lively.
Feel inspired from the above glass triangle design? If you want more triangle design for pool, please head to our triangle series. The shape of pool mosaic you choose will decide what your pool will look like, if you want something different for your upcoming project, try to consider stylish triangle tiles. And you may like to read the post "A Style Pool Takes Shape In Geometric Triangle Mosaic", here you can get more ideas how triangle mosaic add geometric beauty to your pool.
If you are looking for professional glass pool tile suppliers from China, Bluwhale tile with over-10-year experience is a great partner for you. Please do not hesitate to contact us if you are in market for glass mosaic tiles for swimming pool, here we will offer the best price with superior products for all customers worldwide.