Some people loves to keep everything to be trendy, up-to-date and looking it best, especially for interior designer, decorators and architects. Mosaic tile is a matter of taste for your swimming pool in the same way. As summer is already here, it is important for us to get the pool we want. People including homeowners as well as interior designers do like beautiful tiles for pool covering, and Bluwhale Tile is happy to provide the pool tiles you want. It is never wrong to make a selection on your pool tile at the beginning of the whole swimming pool project. Today, no traditional square or rectangular shaped mosaic tiles for classic pool look, today we are going to sharing something different and coolest mosaic tiles to make your pool "WOW"!
What do you think of using pool tiles of triangle shape? It is rare to see, and unquestionably, you will fall in love with the following bold design triangle mosaic tiles special for pool project. Read on and explore more about these beautiful pieces.
Part 1: Pure Color Lasts Forever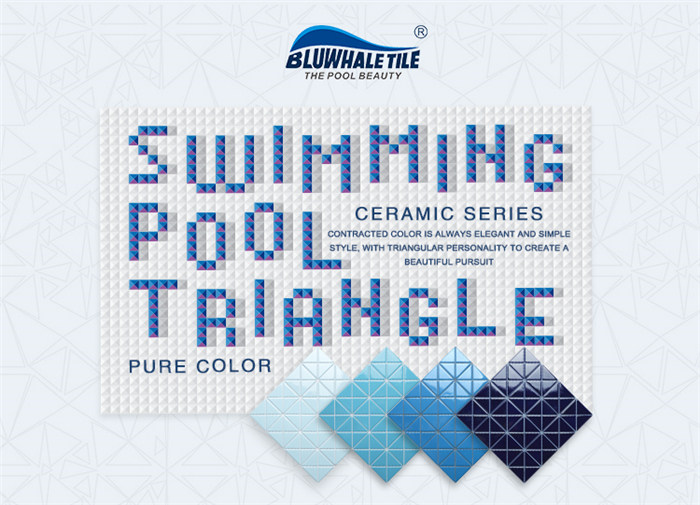 Blue is the top color for swimming pool because it is the color of the sea, no one won't like swimming in an ocean-like pool. Pure blue color is widely accepted by many people as they can make classic pool design and won't out of fashion. As you can see, the biggest difference between our triangle tiles from regular pool mosaic is the shape, which can bring a great geometric beauty to your pool that regular tiles are hard to offer. You will absolutely believe that these triangle chips would be the new trend for pool 2019 after you see how they dress up a pool. Examples as below.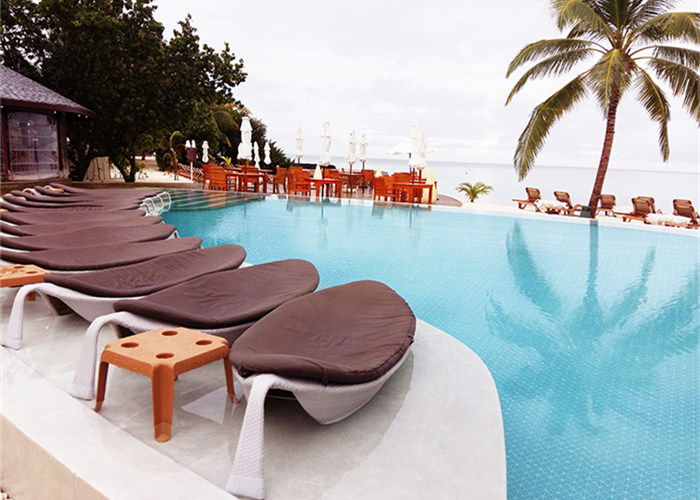 Featured product: Santorini alice blue pool tiles TR-SA-P1
The resort outdoor pool sends invitation to you to take a morning dip and enjoy your vacation time with cozy lounges. Built in irregular shape, infinity edge and geometric tiling bottom, the pool is unique, beautiful and a great place to relax.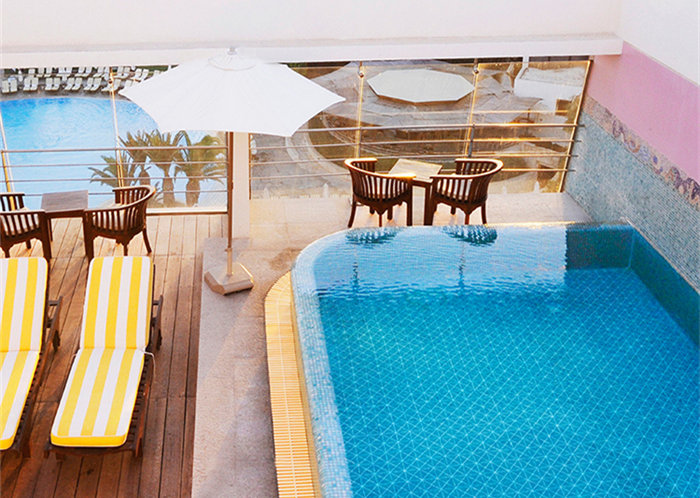 Featured product: Santorini baby blue pool mosaic tiles TR-SA-P2
You can not ignore such a swimming pool design even it is designed in regularly rectangle shape and small scales. The triangle shape of tile makes it draw people's attention, and now you can feel that the power of pool tiles you choose.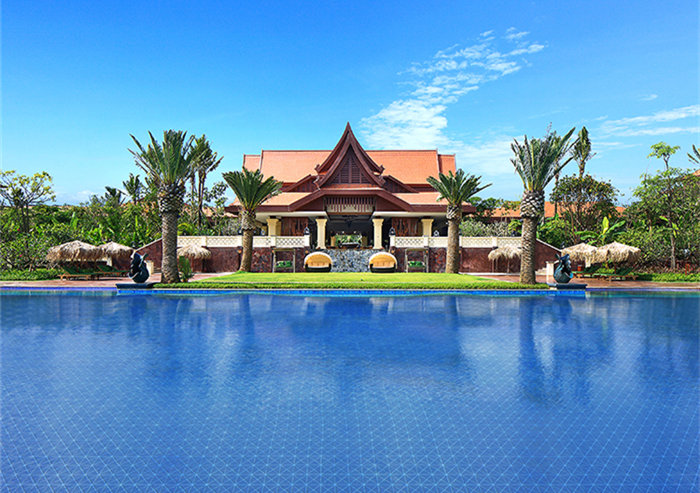 Featured product: Santorini cornflower blue pool tile mosaic TR-SA-P3
What a pool paradise! This big swimming pool has transformed your house front into an outdoor oasis. The triangle mosaic tile in cornflower blue makes pool water and sky in a horizontal line.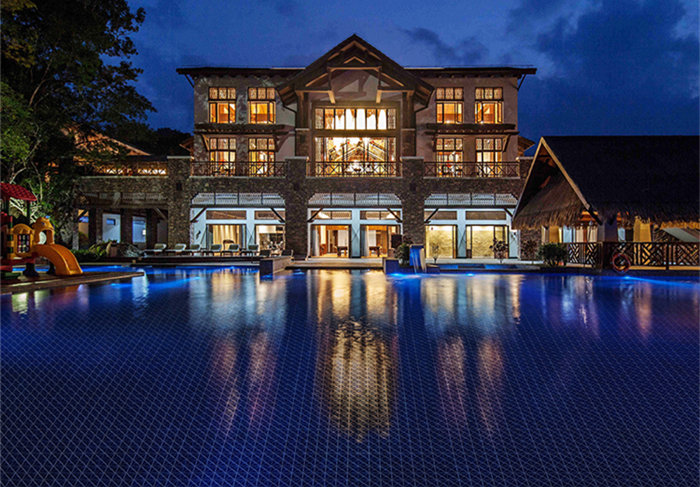 Featured product: Santorini federal blue swimming pool mosaic TR-SA-P4
Dark blue pool tile gets high popularity as it can easily turn your pool into a large ocean. Look at the example above, you can not believe that it is a hotel! It looks more like a castle or luxury villa house. The triangle blue mosaic tile looks beautifully under the water and lighting, building an environment of great serenity.
For more inspiration from the 4 pure triangle tiles, you would like to read the post: 4 Popular Pure Blue Triangle Mosaic Tiles for Swimming Pool Design >>
Part 2: Playful Geometric Pattern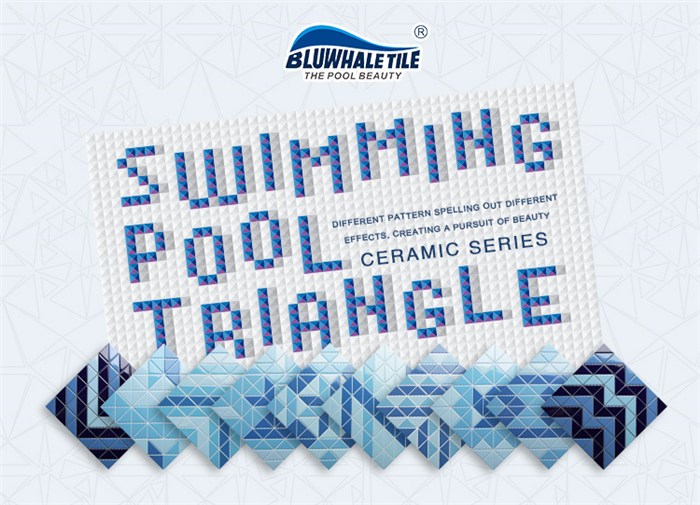 If you are bold enough and want something interesting for your new pool design, you should not miss our porcelain geometric triangle pool tiles. All pattern is made of classic blue shades while catch you eyes due to creative motifs. Geometric pattern including chevron, blossom, fish, pine tree, puzzle, windmill, ribbon, square, and time tunnel will do a good job to add personality and characters to any pool spaces with a great visual feast. The tile you choose means a lot to your swimming pool, take a closed look at some examples below and you will believe this collection is ideal for making your pool fun and enjoyable all year round.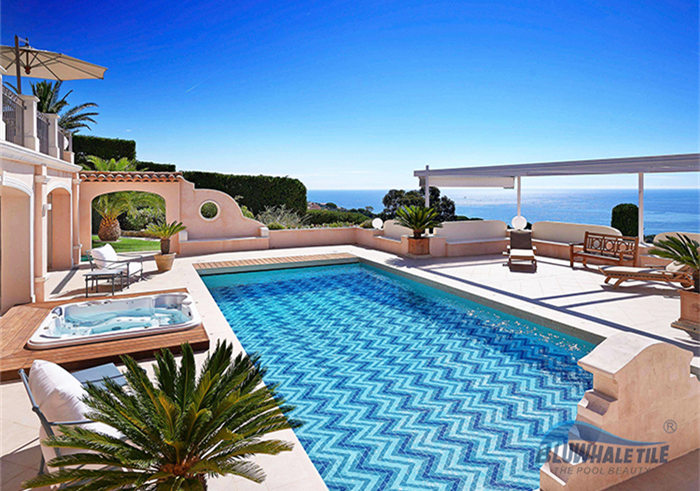 Featured product: Chevron pattern porcelain pool geometric tile design TR-SA-CV2
Look at those blue zig-zag pattern,which makes a staggered design to the pool bottom, the "V" shape tile surface pattern has liven up the small pool and make it dynamic!
Featured product: Blossom pattern porcelain mosaic triangle for pools TR-SA-BL
This geometric tiled backyard pool has made a statement to your house, the blossom motif brings an artistic feel to pool inside, this will give a shocking impression to your guests when they enter into your backyard.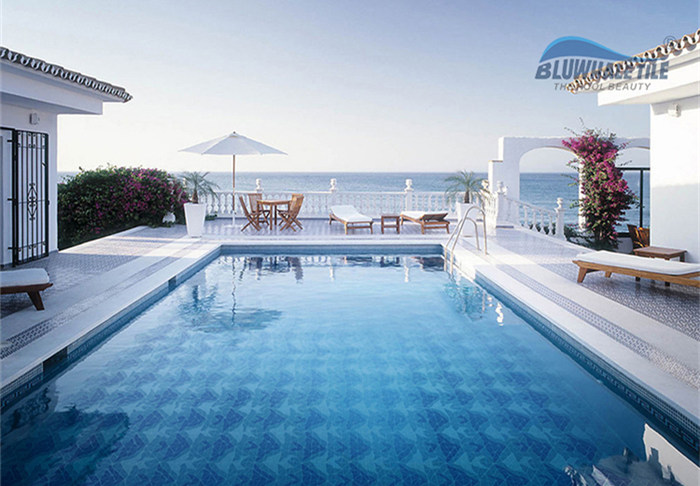 Featured product: Fish pattern porcelain swimming pool mosaic tile TR-SA-FI
Inspired by the world of underwater, we created this fish pattern, it is life-like and nifty. You can feel like swimming with many fishes in the sea after you get your pool installed with this geometric tiles. Both adults and children would like this design.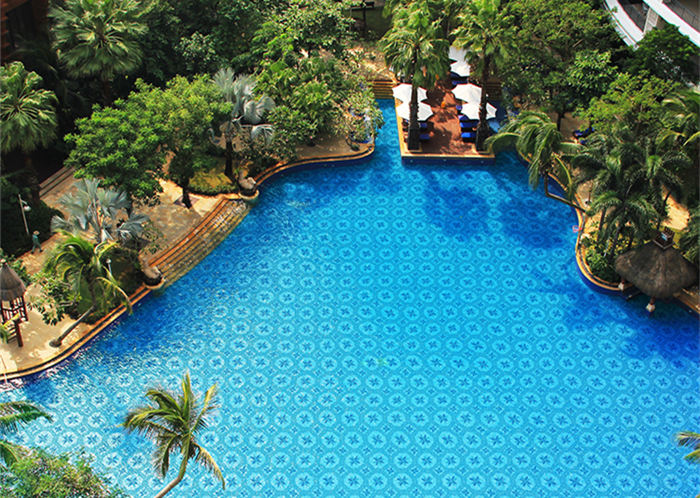 Featured product: Twist blossom pattern triangle pool blue water mosaics TR-SA-TBL2
There is on wrong decision to take a natural-shaped pool with irregular lines and plant green trees around the pool to structure a tropical pool. This geometric blossom pattern mosaic creates a striking and stylish appearance to the pool.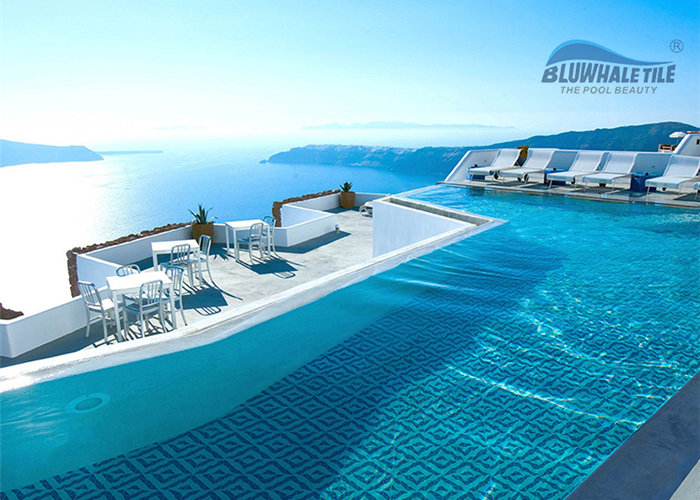 Featured product: Time tunnel pattern porcelain swimming pool mosaics TR-SA-TT
This is where I want to spend my whole summer! The combo of geometric mosaic tiles, waving pool water and sunshine creates a wonderland here. Infinity rooftop pool, gorgeous scenery of nature world, every customer will have great memory in the pool of this hotel.
For more ideas to go with our triangle series in your pool, you would like to read this post: A Style Pool Takes Shape In Geometric Triangle Mosaic >>
Believe that you would be interested in our creative tiles for pool,when triangles meet swimming pools, there are something fascinating for you.For more pattern options, please head to our triangle tile series >> Inquire us now if you want to take these products into your next pool project.

If you have no idea to choose the pattern right for you, this post will give you ideas: Which Pattern is Right For Your Pool? >>
Bluwhale Tile has into pool tile mosaics wholesale for over 10 years experience, we does our best to make innovation on pool tile designs and manufacture to meet demands of different customers from all over the world. We are looking forward to establishing reliable business relationship with you, chat with us today for further cooperation.

For creative glass triangle tile for pool, please head to our next post: The Coolest Glass Pool Tile Options For 2019 At Bluwhale Tile >>