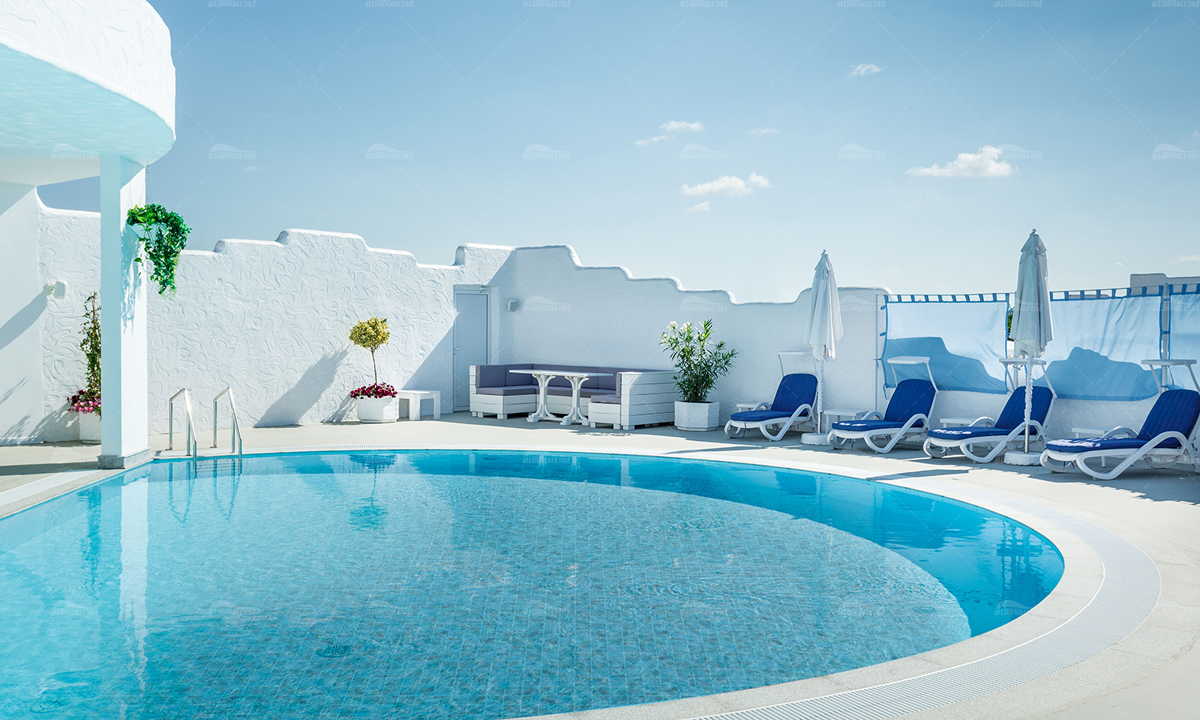 Featured Product: Ink-Jet Blue OOA2902
Pool waterline tiles are significant for both aesthetics and maintenance. Waterline tiles are installed at the top of the pool below the coping to protect the cap. Generally, they are installed as a 6-inch band, the waterline tile follows the perimeter of the swimming pool to keep the pollen, sunscreen, body oils, and other substances that enter the water from making a yellow, scummy line at the pool's waterline from the pool. It also takes on the calcium deposits and minerals that build up around the perimeter of the pool because of hard water.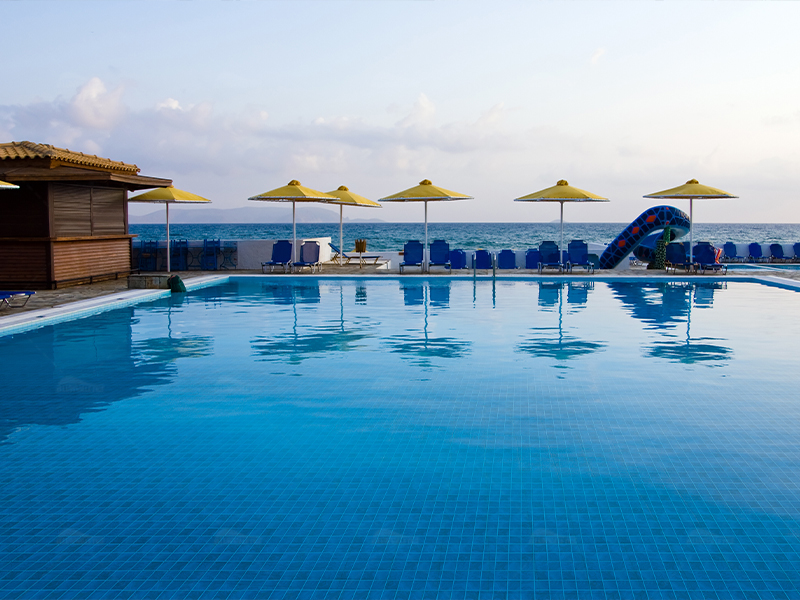 Featured Product: Ink-Jet Blue KOA2605
What is the Pool Waterline?
The space near the top of the swimming pool, just below the coping means protective material used to cap the swimming pool edge is considered the swimming pool waterline. As the name indicates, it refers to the part of the swimming pool wall where the pool water surface reaches. It's recommended to keep the pool water lever of the swimming pool high enough to achieve the pool waterline tile. But the waterline tile is not the only factor to be considered while determining the best optimal water lever. For example, it's recommended that the water meets the middle of the swimming pool skimmer hatch.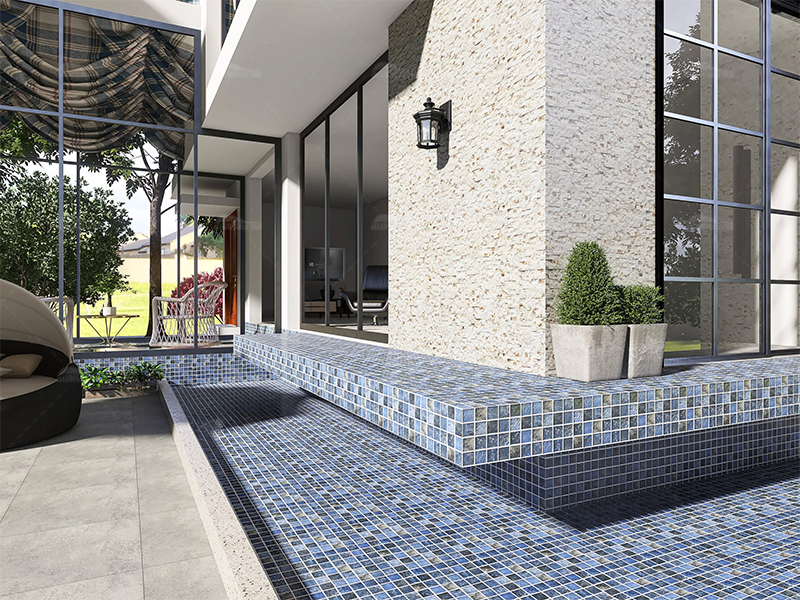 Featured Product: Recycled Glass GKOM9902
What is a Waterline Pool Tile?
The pool waterline tile is the tile installed near the top of the pool interior wall, right beneath the coping. The size of a waterline pool tile is various and it runs around the whole perimeter of the swimming pool. While making decisions about a modern pool and choosing miscellaneous materials and options, the pool waterline tile trends get overlooked at times. Most of the time, when many people make the final decision, it ends up being a hurried decision. Therefore, we suggest to talk with your pool designer and contractor and make lists of things you need to decide on.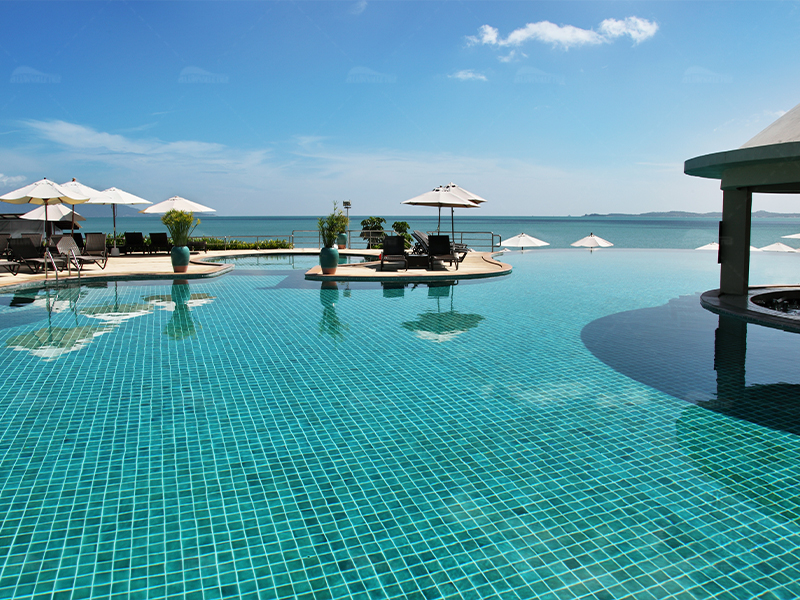 Featured Product: Ink-Jet Green KOA2701
Ideal Tile Materials for a Pool Waterline
Pool waterline tiles perfectly add durability to the swimming pool and are easy to clean. The most popular pool waterline tile materials that check all the peculiarity listed above are ceramic, porcelain, and glass. While combined with the right grout they will serve you for decades or maybe even a lifetime. Ceramic, porcelain, and glass tiles come in a wide of sizes, colors, surfaces, and patterns. You can even mix and match some smaller porcelain mosaics to create your personal style. Except all three of the tile materials mentioned can be ideal for your swimming pool, we also focus on custom pool border tile, let's look below.
1. Porcelain
Porcelain mosaic tile is still the most common selection for swimming pools. It's durable and chic swimming pool tiles, easy to install, and easy to clean. Soft to the touch, porcelain swimming pool mosaic tile is available in a wide range of styles and colors, which contributes to making it easy to find the ideal tile to match the rest of your pool style. Another advantageous quality about porcelain swimming pool tile is that it provides intricate sketch textures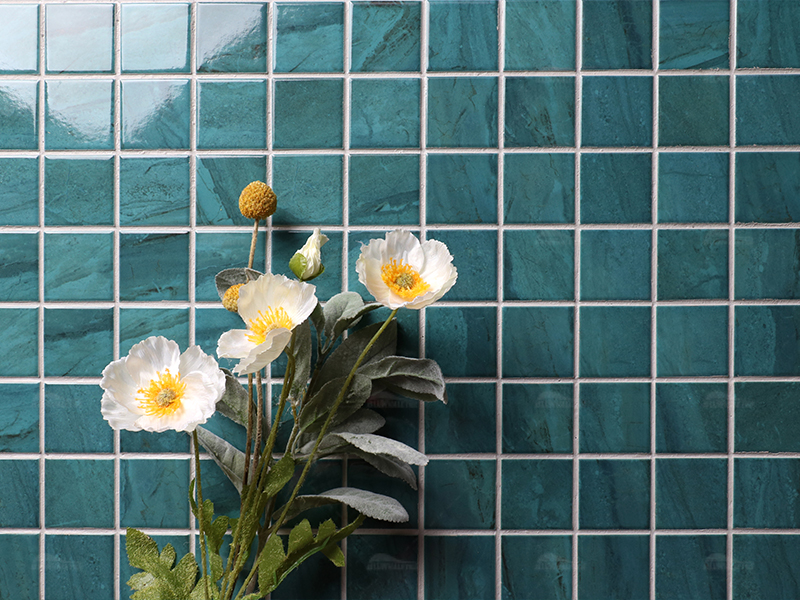 Featured Product: Ink-Jet Green KOA2701
2. Glass
Glass swimming pool mosaic tile is the modern, most fashionable trend. Many feel it's a more luxurious, visually attractive pool tile that will improve the resale value of your house. For pool waterline and whole pool coverage, a glass mosaic is surging in popularity due to its appealing transparent body and a wide variety of rich colors, which ideally reflect sunlight and mirror the movement of water.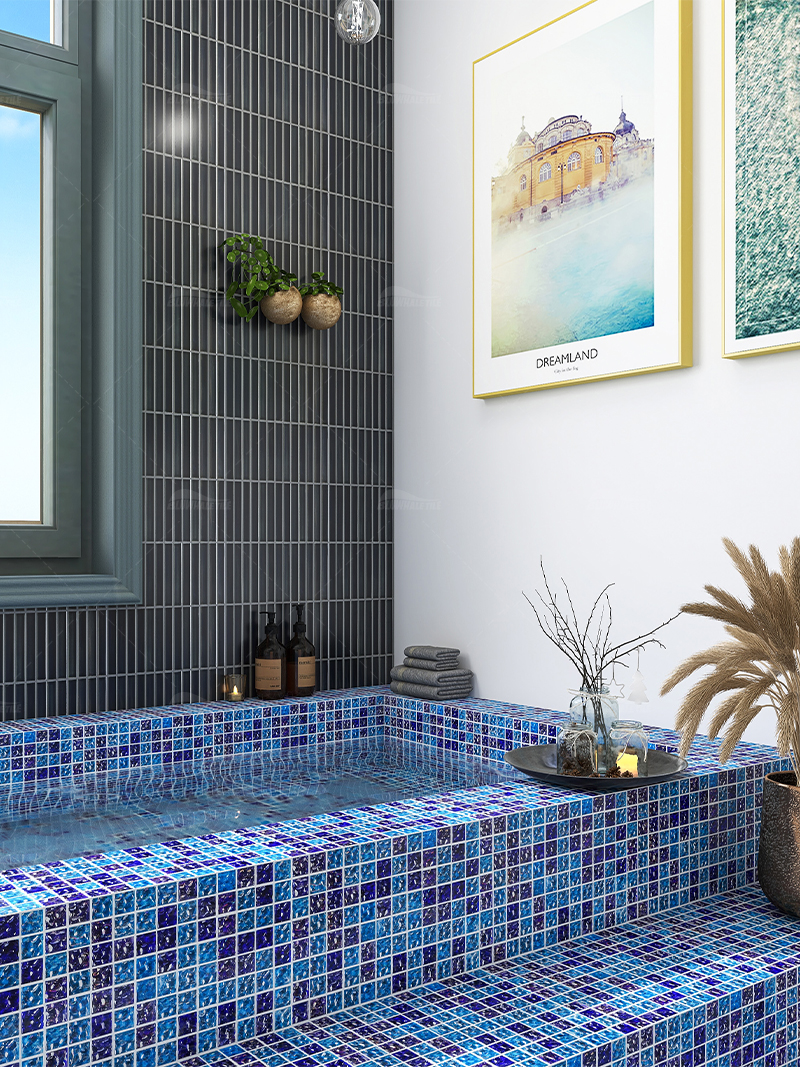 Featured Product: Iridescent Glass Tile GZOF1001
3. Customized Pool Border
Our customized pool border tiles are popular options because they have a stylish and contemporary element to them. They're designed with many different patterns, colors, and shapes. The unique pool waterline tile is a great choice to add a point of interest to the swimming pool finish and attract people's attention. By the way, the cost of these mosaic tiles will depend on the style that their design, therefore, you can truly choose anything that suits your swimming pool renovation budget.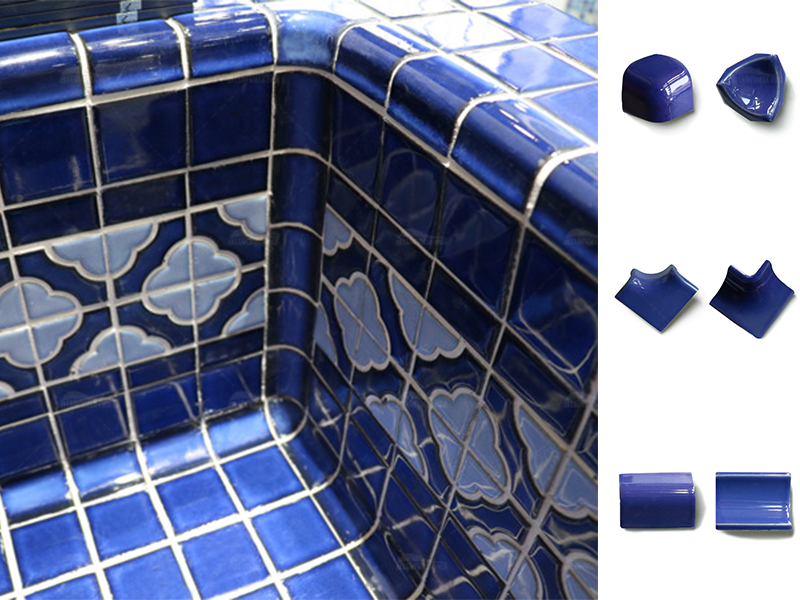 Featured Product: Border Tile Flower Pattern BCZB002
Sizes
A welcomed pool design trend is installing the large-size pool mosaic tile or even mixing shapes in the tile design.
The size of the pool waterline tile you choose is mainly a matter of style. However, keep in mind that smaller size pool mosaic tiles are preferred with irregular pool shapes such as free form and kidney because they're easier to install around corners. Our professional designers feel that smaller chip sizes make pools a more abundant feel.
Pool waterline tile comes in an assortment of chip sizes below:
1" x 1"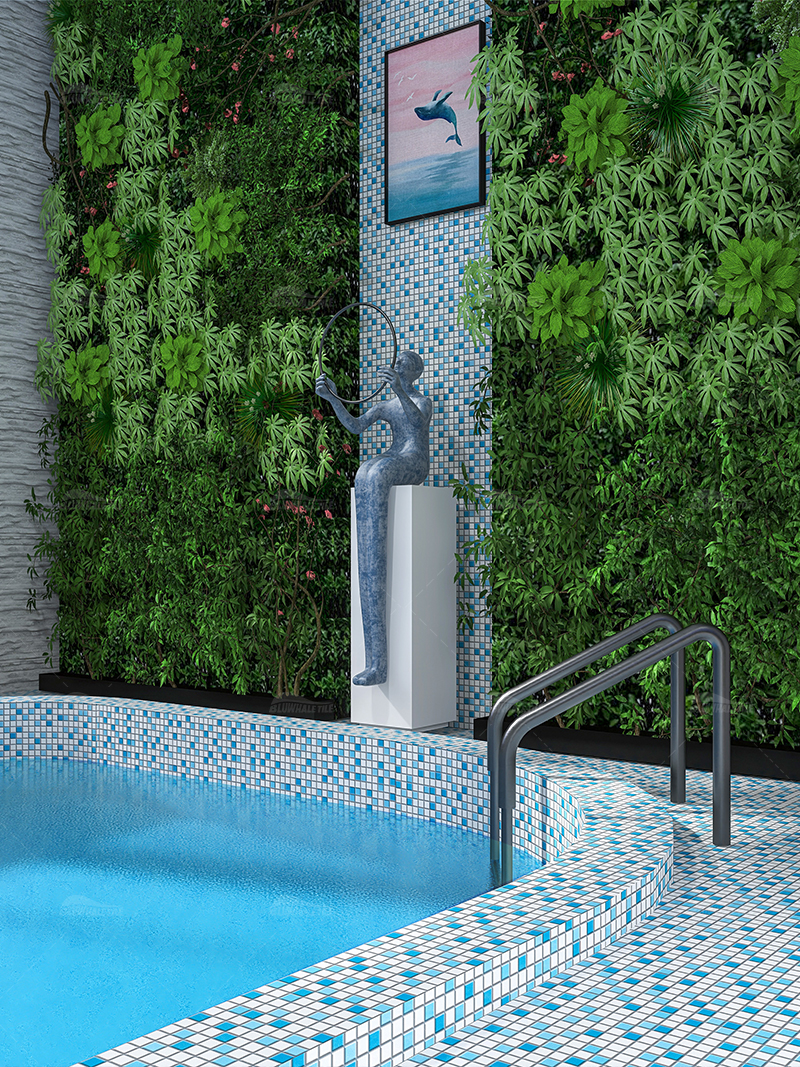 Featured Product: Classic Blend Blue IGA3003
1" x 2"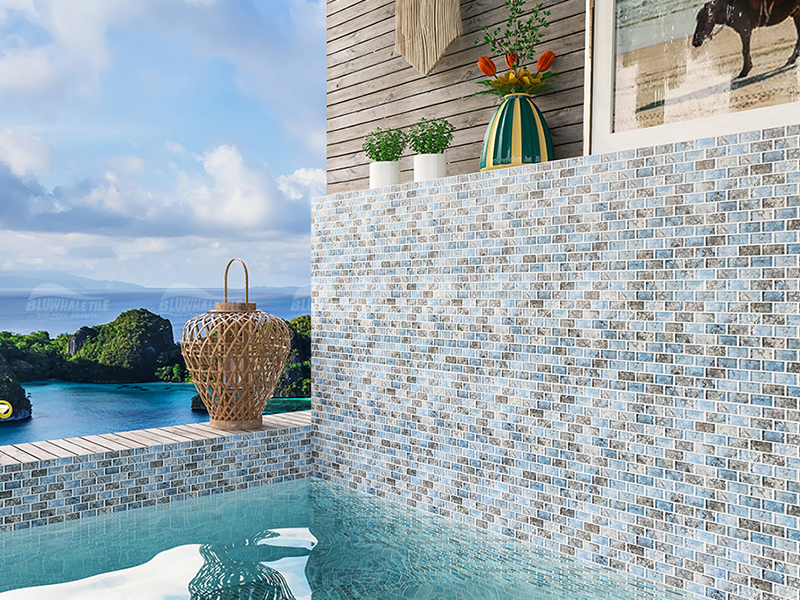 Featured Product: Brickbond Glass GZOM9902
2" x 2"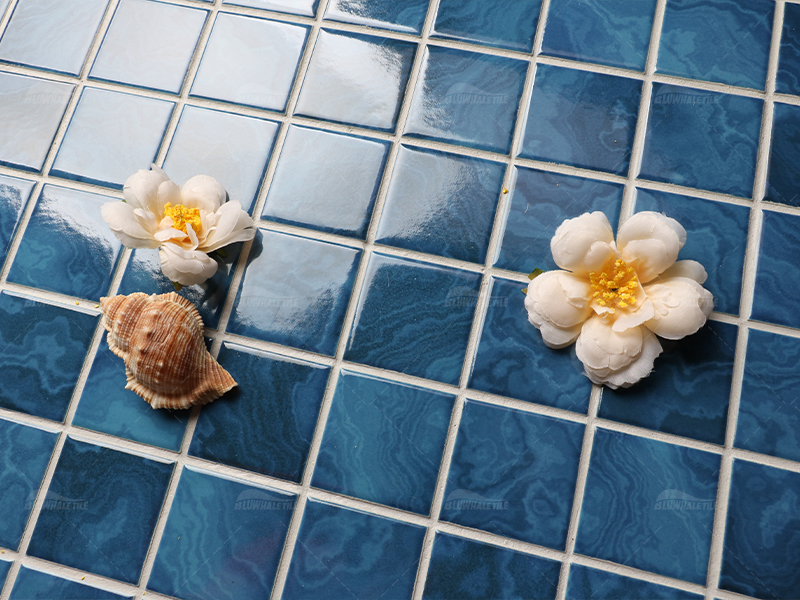 Featured Product: Ink-Jet Blue KOA2605
3" x 3"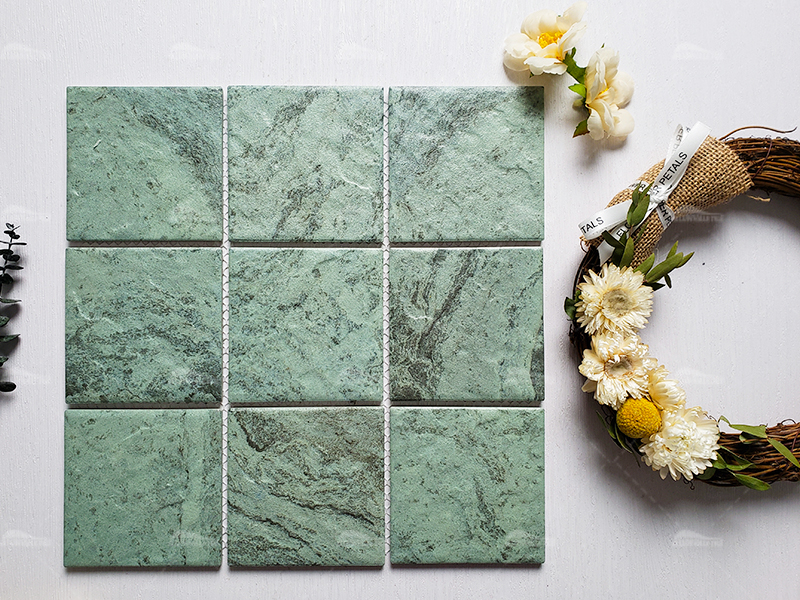 Featured Product: Ink-jet POA2904
4" x 4"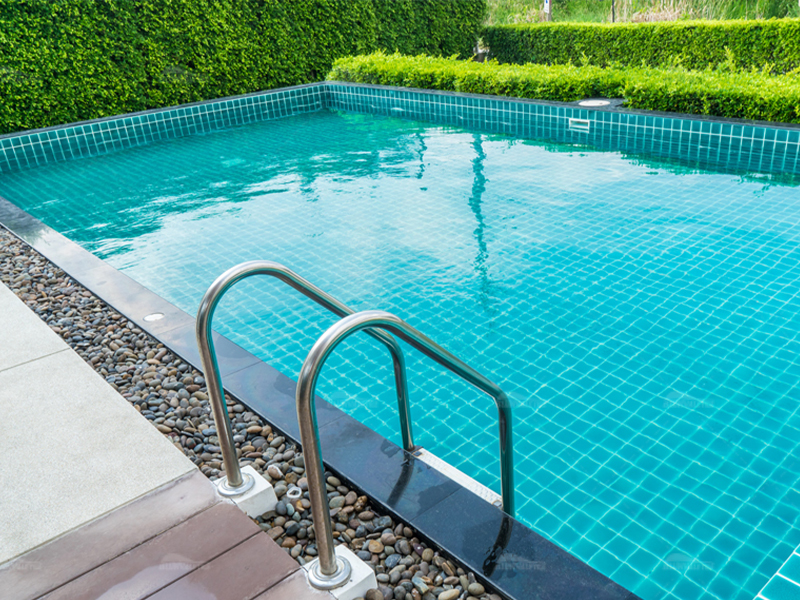 Featured Product: Frozen Shiny Blue Crackle BCQ608
6" x 6"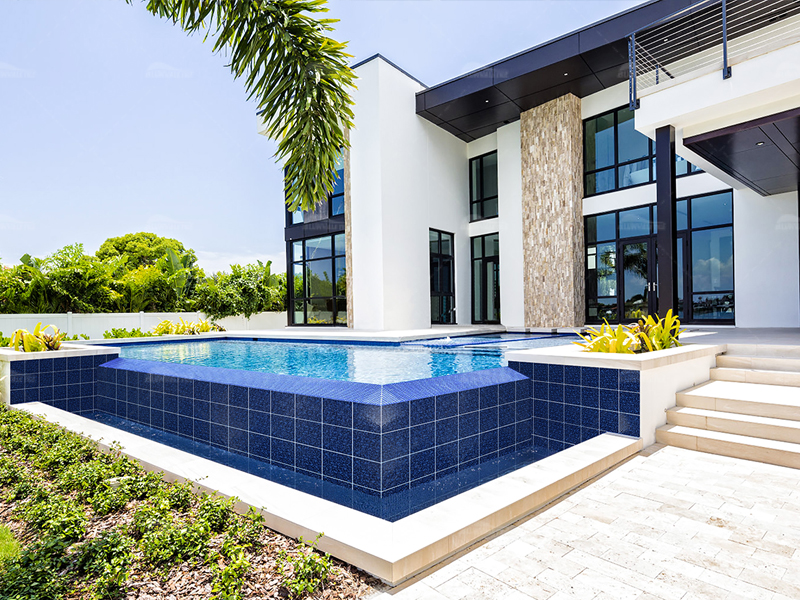 Featured Product: Blossom 6 Inch BCW601E7
Colors
The pool waterline tile is normally half-submerged in the pool water allowing for the top 3-inch to be visible. That top 3-inch can have a significant impact on your whole landscape design. As we know, many homeowners and hotel owners like to utilize waterline tile colors that complement other aspects such as the coping, pool deck surface, or the trim colors of their house. However, some might prefer to make the pool waterline the focal point. This is where glass mosaic tile is an especially ideal choice because of its eye-catching glamour. Selecting an iridescent glass mosaic tile that changes tones based on the angle of sunlight or LED light. This kaleidoscopic appearance adds additional beauty and interest to your swimming pool and whole backyard design.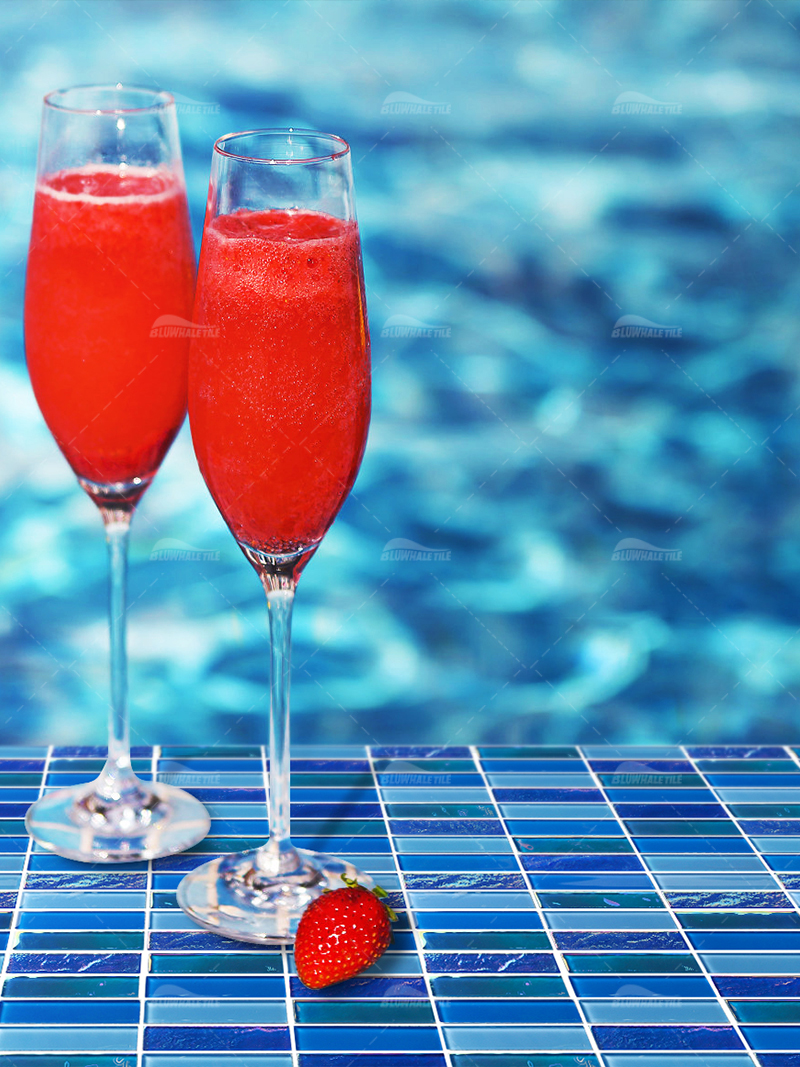 Featured Product: Iridescent Glass Tile GZOF5007
Moreover, we should notice that the color of your pool waterline tile has an impact on the visual perception of the water. Many luxury hotels and elegant spas often use white mosaic pool tile. Because the white tone represents purity and simplicity and trends to make swimming pool water appear soft sky blue - a popular color of travelers looking to take it easy.
Featured Product: Square White Melting BGC038
Back at the farm, the favorite among swimming pool owners and designers is the blue hue. The blue swimming pool tile makes the water look blue. If you decide on using your pool waterline as a focal point, you can turn the color of the pool water into a rich Ocean blue by using a darker blue pool mosaic such as you will find in our Ink-Jet Series for sale.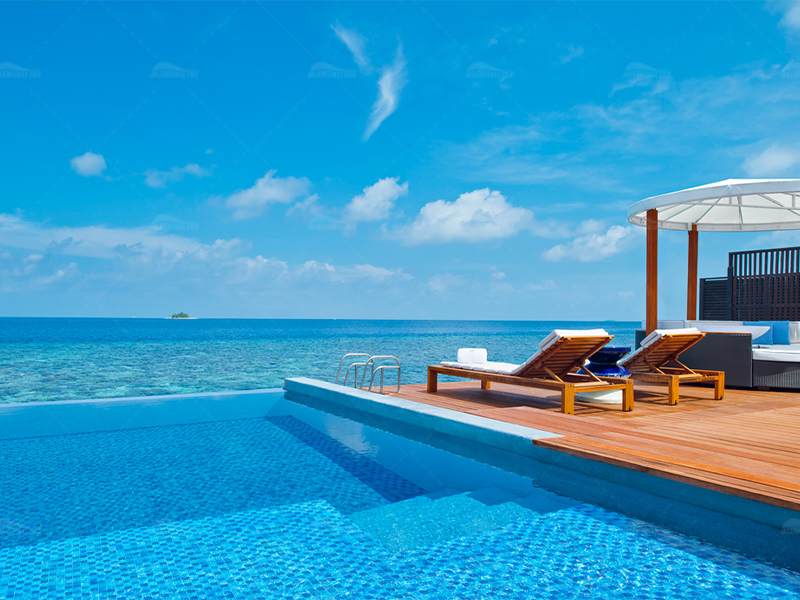 Featured Product: Crystal Glass BGI003F2
Get Inspired?
Do you get any inspiration for this blog and have some ideas for your pool waterline renovation project? Bluwhale Tile always likes to hear what inspires your future pool project! Why not tell us more about your creative ideas? What's more, order tile samples to see, feel, and touch in person. You might fall in love with our timeless and chic pool tiles!