Nowadays, more and more homeowners prefer to spending more budget and time planning their backyards or patios. But bigger is not better, instead of this thought, this year swimming pool design is back to functional spaces and making most of your space. We're preparing to introduce 9 hottest pool design trends in 2020 for you, reading on this blog and you might get some useful thoughts for your future projects:
Back To Classic Rectangle
When it comes to swimming pool design, the first thing you need to consider is choosing a shape. Don't be bothered! Sometimes minimalist is a perfect choice. A simple rimless rectangle shape will back to 2020 pool design trends. Because a more simple pool shape will pair well with the surrounding landscape and improve the appeal of your backyard. Moreover, a simple rectangle shape can enhance the property of your house.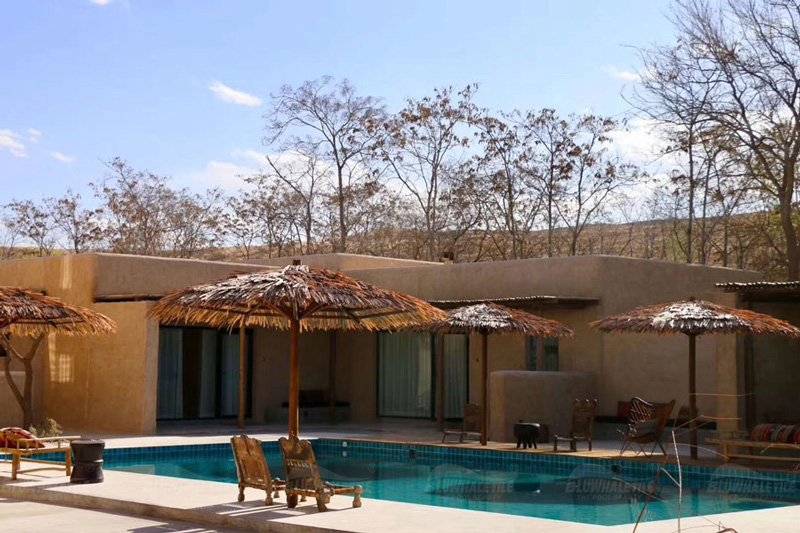 Featured Product: 100x100mm Frozen Blue Crackle BCQ607

Why do we advise our clients back to classic shape? A still swimming pool at sunset that is as charming to look at as it's to actually swim in. And if you're a swimming lover, the long, straight lines of a rimless rectangle pool make sense for swimmers.
More this rimless rectangle pool projects, check out this project: Natural Pool Design And Warm Tones >>

Add Pops of Blue
Thanks to current increases in the diversity of interior design and colors available all around the world, swimming pool colors are becoming more characteristic, making a more functional pool in the backyard space. However, how to determine the pool color that suits your style? Maybe we can refer to the 2020 Pantone color - classic blue.
Like the color of the wide sky or immense ocean, blue is not only bring a tranquil atmosphere to your spaces but creating a sense of comfort and peace. Classic blue is closing to the dark blue palette, which brings mysterious vibes and elegant look. In addition, dark watercolor can retain the heat better, which makes your pool stay cozy for a little longer.
For more pool colors knowledge, visit this blog: What is the Perfect Color to Paint A Swimming Pool >>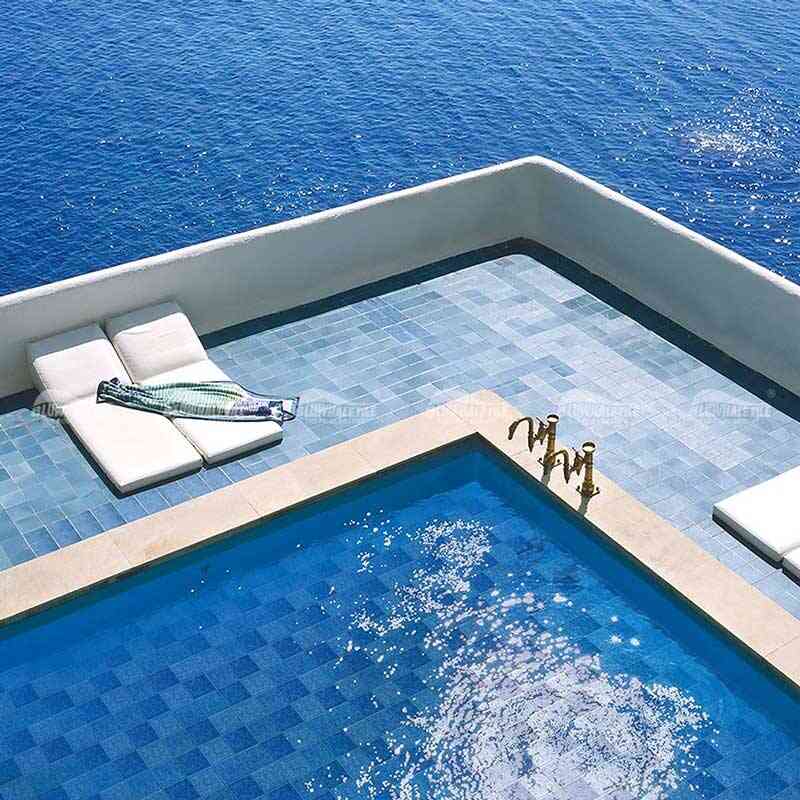 Featured Product: 97x97mm Fambe Blossom BMG001A1

Consider Chemical-Free
Although the saltwater pool is not the new thing, more and more homeowners would like to put away harmful chemical substances and embrace the saltwater swimming pool. Utilizing the special regeneration zone and using all types of greenery to clean the pool water, this natural filtering process is so amazing! This unique saltwater pool will protect the swimmers' body and hair from being hurt by the chemical. What's more, these chemical-free swimming pools needn't close during the cold weather, which increases pool usage time.
Check out this project to get more inspirations for your future renovation project: How to Remodel Your Backyard Space - Project From Queenaland >>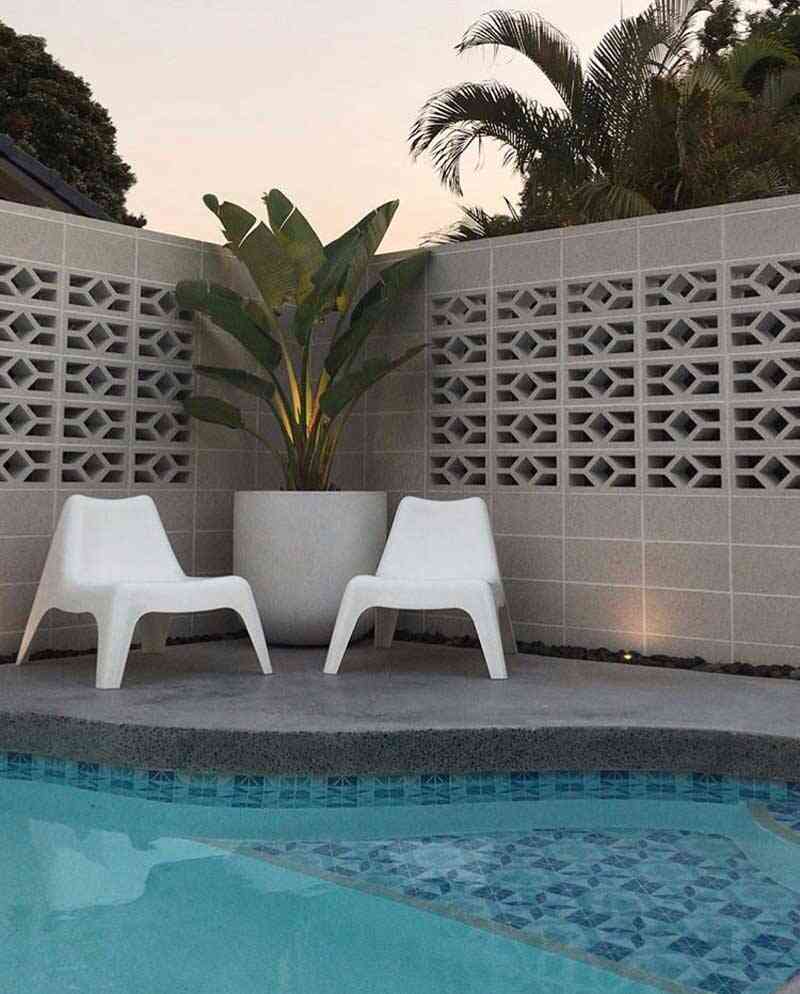 Featured Product: Santorini Triangle Blossom 2" Pool Tiles
Relaxing Benches
A functional swimming pool means to socialize. When your family day or friend gathering time, you need to provide some places for them to sit or lie. And what wonderful place to relaxing and entertaining than the pool surrounding areas. Placing several sun loungers or long benches might be a good idea! Or if you have ever been on holiday, then you might know that there's nothing more relaxing than lying on a cozy sun lounger and looking at the beautiful sunset.
Visit our blog to learn more poolside furniture design: 7 Smart strategies For Choosing Poolside Furniture >>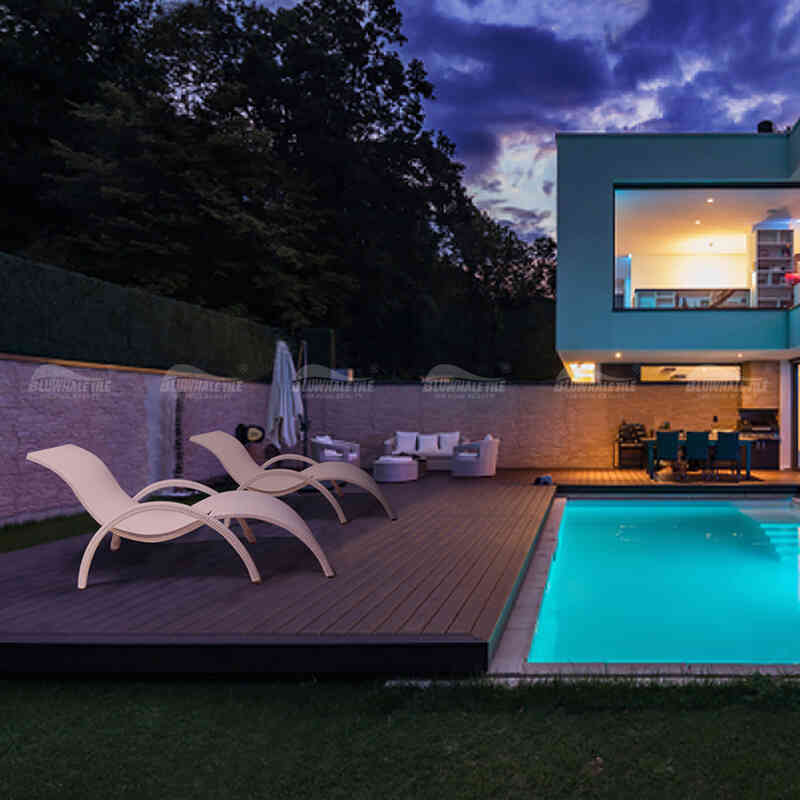 Featured Product:100% Hand Weaving Rattan Sun Lounger CL201-CT
Simple Feature Waterfall
As the title name suggests, adding a simple feature waterfall will improve your pool taste. You don't need to buy other materials to build your waterfall, in fact, you can use the same swimming pool tiles which paved on your pool as your waterfall walls. Long gone are the cumbersome stone waterfall walls of the past. Nowadays, more and more people fall in love with chic design and small waterfall, and the melodious sound of flowing water will make you forgetting annoyance.

Love this pool waterfall design? Browse this blog for more details of this project: How To Design Refreshing Home Pool Style In 2020 >>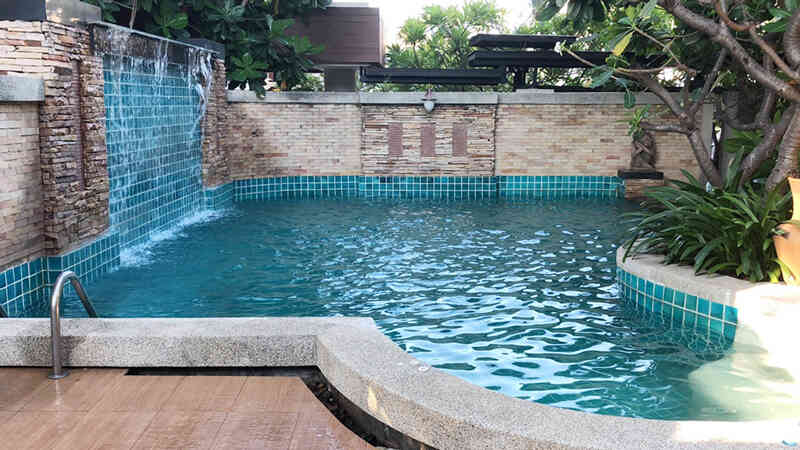 Featured Product: 100x100mm Frozen Shiny Blue Crackle BCQ608
Finding Cozy Shade
Just imaging that laying on the comfortable sun lounger, and smelling a gentle breeze comes, the charming and pleasant fragrant flower scents are brought. Why not putting some sweet and colorful flowers surround your poolside? Utilizing greenery and flowers can add more visual interest while making your spending more time in your elaborate courtyard.
Great landscape design does not only to bring sweet scents but provides privacy for those who play in the pool. Hence, the nice pool landscape should plant more functional greenery such as a sturdy tree with large leaves.
For more pool landscape inspirations, visit our blog: Infinity And Open-Air From Rooftop Pool Project >>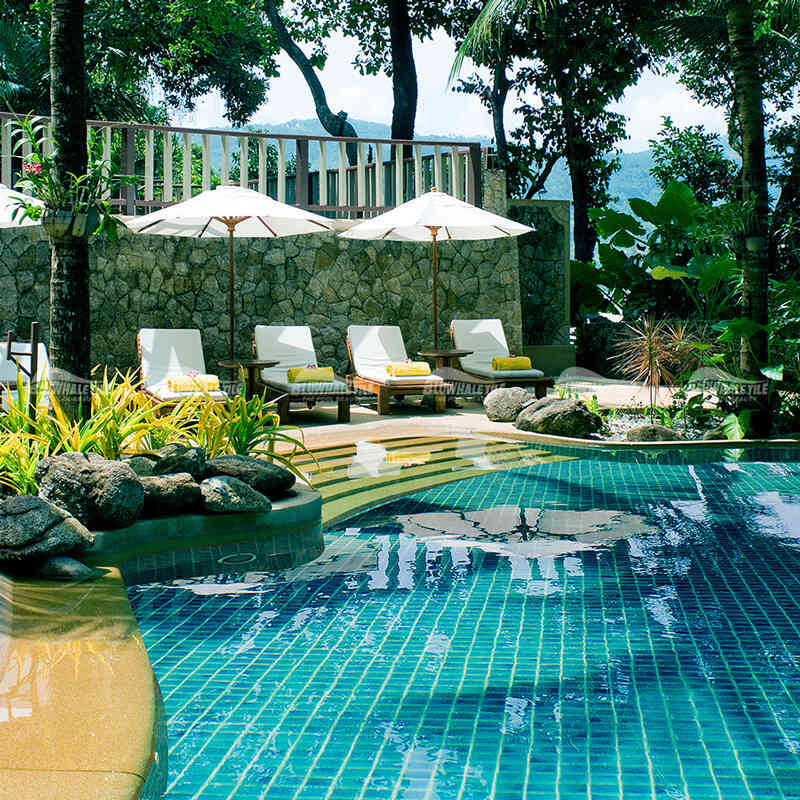 Featured Product: Frozen Light Green Crackle BCQ703
Go Nature
You don't need an exaggerated stone to make your pool decking look impressive. Just using natural wood plastic composite pool deck can create a unique space.
If you still love natural stone, getting creative with your stone pool decking sizes. Instead of traditional heavy and large stones, opt for light natural stone tiles like these. And no matter where you live, you can make your pool ground feeling like the natural stone road with the matte finish.
For more swimming pool decking ideas, visit this blog: 3 Types Wood Plastic Composite Create Prefect Pool Decking Areas >>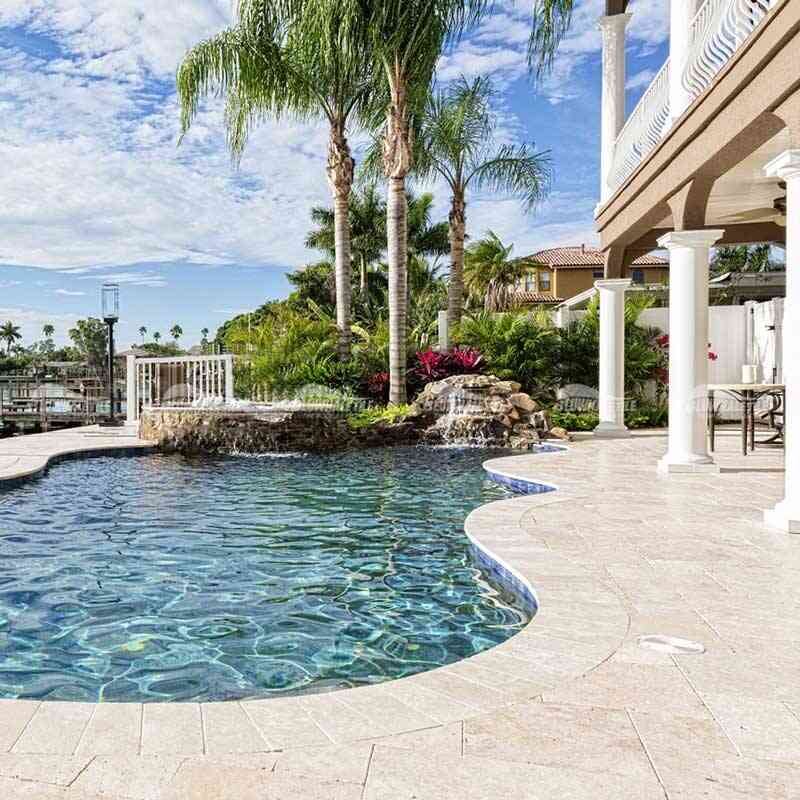 Featured Product: Natural Stone Style Travertine Tile ZOD2902
Create Drinking Space
Building a bar space into the swimming pool will be a growing trend in 2020. Do not limit yourself to a simple pool design when you could have a built-in drinking space to spending leisure time with friends or family.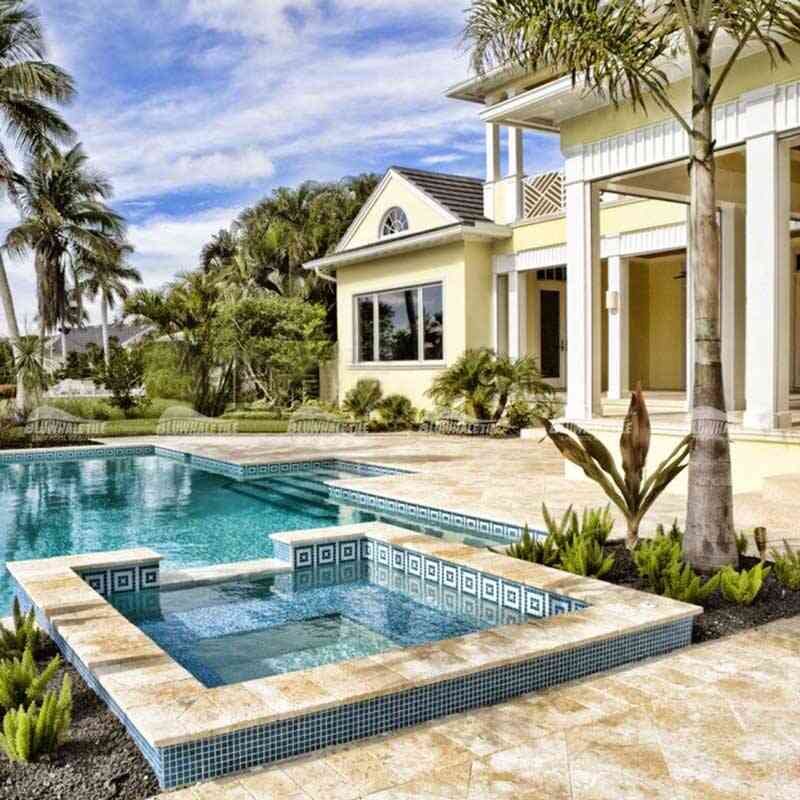 Featured Product: Natural Stone Style Travertine Tile ZOD2901-3

Adding Lighting Magic
While the development of poolside lighting, the choice of smart and individual lighting setting will continue to become more creative and funny, which means that pool lighting is sure to keep its important place on 2020 pool design trends.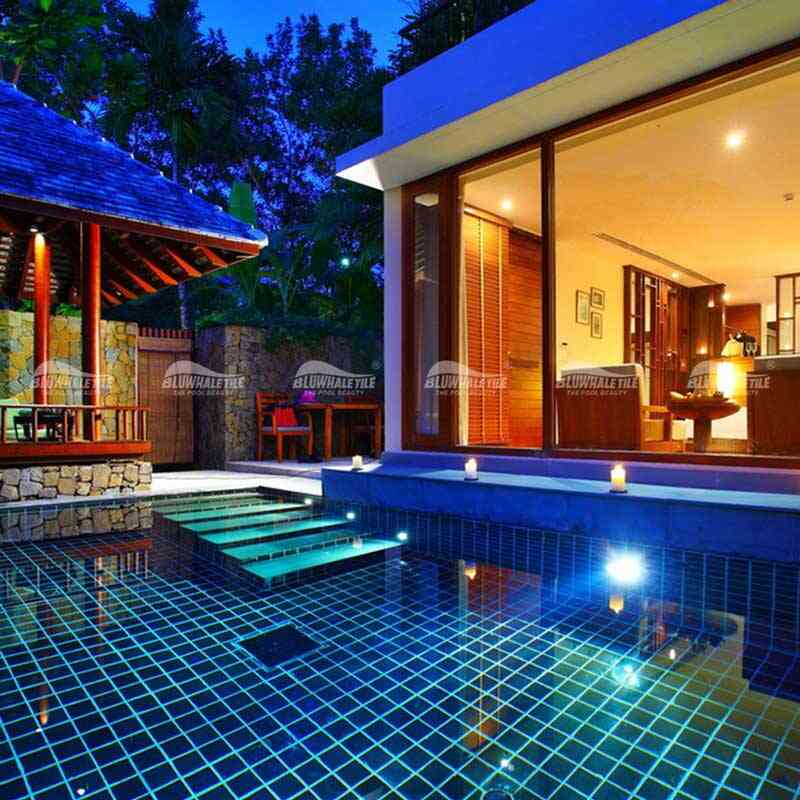 Featured Product: Frozen Sky Blue Crackle BCQ605
Get Inspired?
Are any trends of the list inspired by your future pool plan? Or if you've fallen in love with our premium swimming pool tiles, order some tile samples to feel and touch in person. Bluwhale Tile would like to be your reliable partner in your pool building or renovating projects. Let's share your inspirations with us in the comments.