Swimming pool design comes in various styles, and the pool covering tiles you choose will make a big impact on your whole pool appearance. If you are seeking for glass mosaic tiles for luxury pool design, you should not miss the following 5 beautiful glass mosaic surface patterns, which are perfect for making any swim pools look more luxurious and sparkling. Now read on and see how these glass mosaic tiles blended seamless into a pool.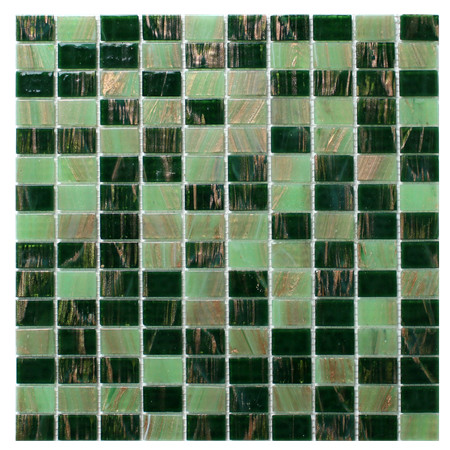 Featured product: golden line hot melt pool tile glass BGZ019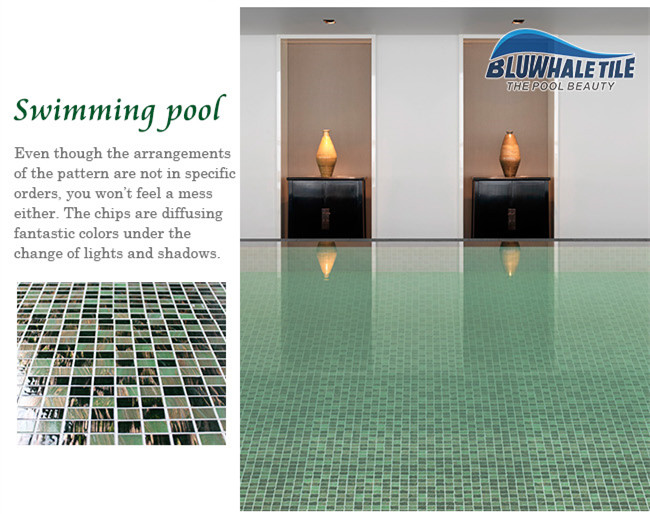 This is not always the pool must be blue, green can be a good alternative. The green swimming pool brings a sense of swimming in an area closed to nature, providing a tropical delight to any swimmers. The pool bottom is covered by our 20x30mm stack bond green glass mosaic, the mixed color adds features to the pool bottom and you won't feel a mess due to its stack bond design. The mosaic is diffusing beautiful sheen under the water and light. If you want to install a pool similar to a lake, this green-hue surface is a great choice. And you can find some other hot sale green pool glass patterns from the post: "Concrete Pool Tiling New Option-Green Pool Tiles" >>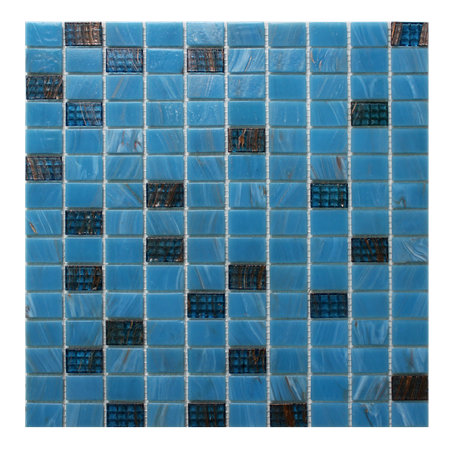 Featured product: golden line hot melt pool tile luxury BGZ011
The combo of hot melting glass mosaic and stylish shape structures a timeless pool style, the pool works wonderfully to bring you backyard back to life. No one won't like to spend their summer time in such a blue pool. The blue glass mosaic tile with golden line textures adds brilliance to the pool, the figure-8 shaped design is a popular solution in today's pool design, especially for a pool designed for different ages, this type of shape is an ideal option to incorporate the deep end and shallow end in one pool space. So after you decide the tile you want, next you should consider the best pool shape fitting you, maybe you would like to read: "7 Popular Swimming Pool Shape Ideas For 2019 Summer" >>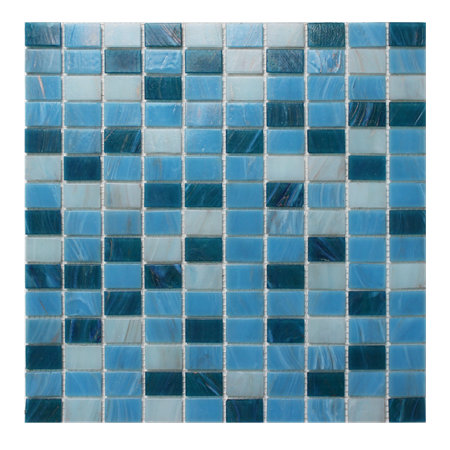 Featured product: golden line hot melt glass pool tile blue BGZ013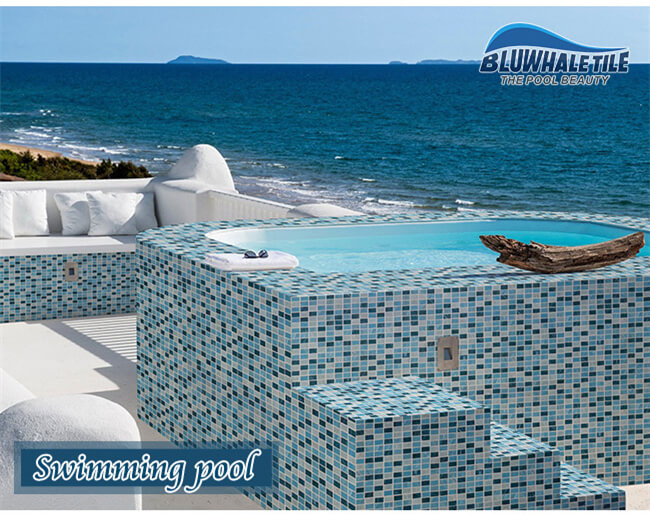 The design of a pool is not limited in the pool inside, the pool deck, pool step and pool around area should be taken into your consideration. Like the above sea-side ground pool, all the pool around area is finished with this 20x30 blue mixed glass mosaic, with a matte finish, it is anti-slip enough for a pool step installation. The ocean-blue tone creates a Mediterranean style to your pool, the pool is out-standing in the open air even if it is small. It is a great solution for those who want to install a pool in their small house, and you can get some easy tips to have a good time in a tiny pool. Get ideas from the post: "3 Ways To Enjoy Your Small Pool" >>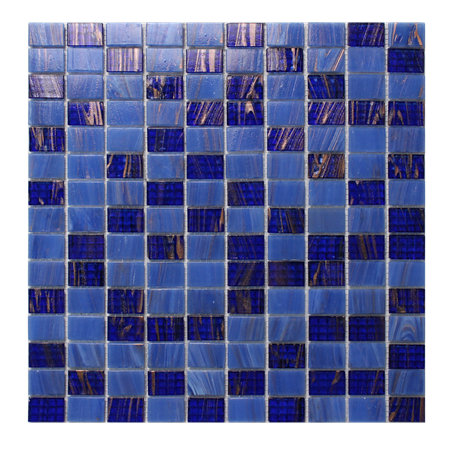 Featured product: golden line hot melt aqua glass pool tile BGZ015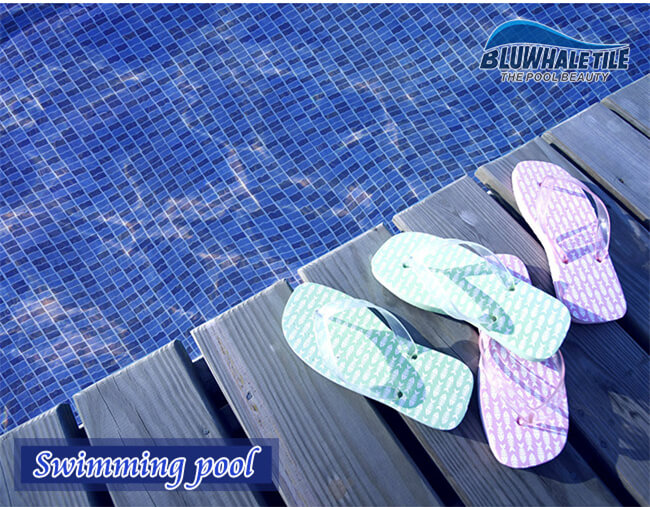 This hot melt glass tile completes an unique pool in dark blue hue with a little purple, guess you have got bored at changeless common blue and greens, and this snazzy color is a good selection for a modern pool. Makes sure the pool tone you want because "Tile Color Affects Much On Your Swimming Pool Water". This glass mosaic with a transparent body adds shimmer to any pool space, it makes the pool glitter and lively. It will look romantic and fancy at night when paired with decorative colorful LED lighting.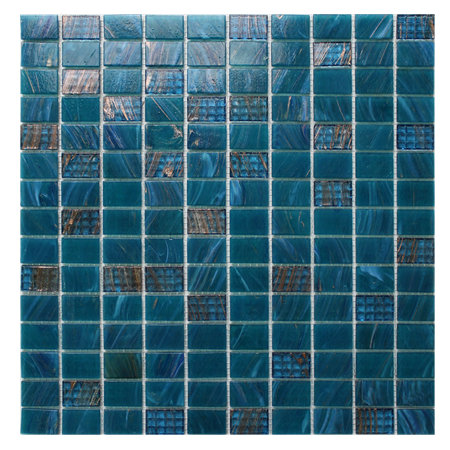 Featured product: golden line hot melt glass tile bottom pool BGZ009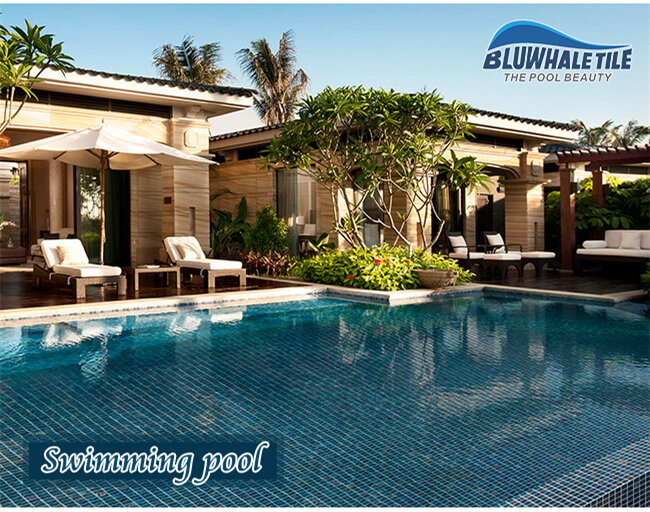 The above villa pool has proved that installing a pool can add endless values to your house. The blue blended glass mosaic tile installs an ocean-like outdoor pool in your backyard, every mosaic chips looks fantastic by the trick of light, shades and water features. The texture of golden line gives luster to the whole pool and level up the pool appearance. During the vacation, the homeowners can invite friends stay here for a pool party and unwind.
Purchasing a right tile one of the vital factors to create a luxury pool design, there are other important element needs to think, head to the post "5 Affordable Luxuries For Your Swimming Pool Improvement"to see other ways to get your pool twinkle.
If you have get inspired from the above 5 luxury glass mosaic tiles for pool and want to take it into your upcoming pool project, welcome to contact us for best pricing and sample can be sent for quality check and test.
Bluwhale tile as an experienced manufacturer of mosaic tile from China, we supplies wide range of swimming pool tile glass mosaic to suit both residential and commercial pool projects. Head to our product page to discover more choices.