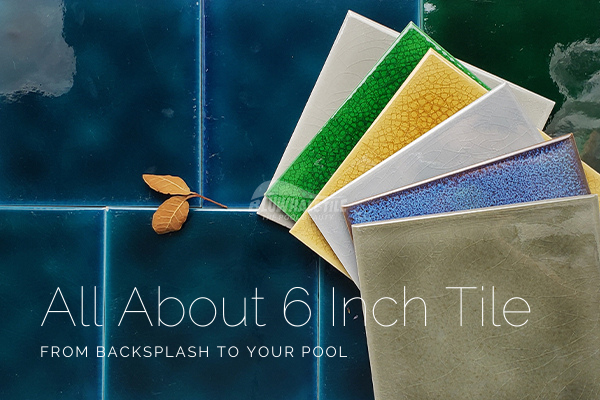 Square Tile is a timeless classic and is known for being simplistic, minimalist, and fresh. We love when our clients get creative with their swimming pool tile, particularly when it comes to playing around with our large-size series. There are various ways you can spice your wall and pool up without things getting dull. Continue reading to see this blog, and you can incorporate large size tile in your space in new and modern ways. Moreover, if you are looking to add a large size tile to your bathroom vanity wall, kitchen backsplash, or swimming pool, keep in mind some of this blog...
1 Color
Play with appealing color! We love when our clients get creative with glaze color and our large size tile is the perfect way to make a statement. There are lots of colored 6-inch tile options you can use in your space.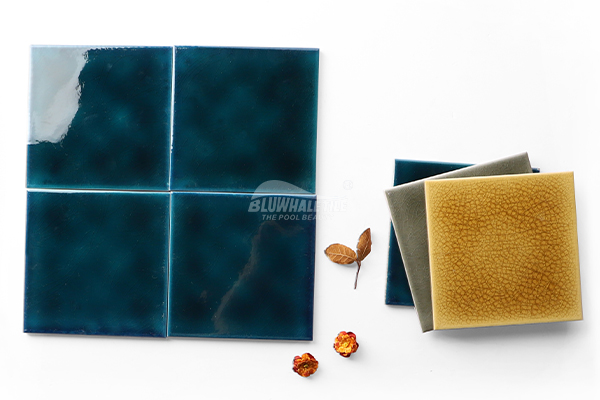 Featured Product: 6x6 Large Square Crackle WBB2601

Tranquil dark blue, refreshing dark green, or maple tone glazed tiles add vibrancy to any space, while crackle pattern design can serve a dose of sophistication.
To see more colorful pool tiles, visit our blog "New Things: 14+ Styles of Iridescent Rainbow Glass Tiles"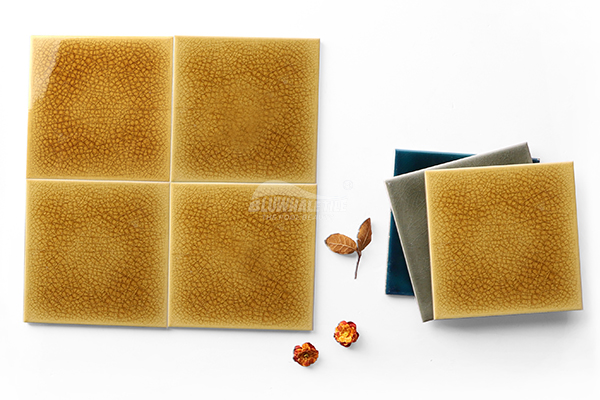 Featured Product: 6x6 Large Square Crackle WBB2601
2 Crackle Texture, Wave Pattern, or Fambe Finish
Secondly, shake up how you stack your large size tile. Adding abundant glazes to the surface is the most popular option, but that's just the start. Design a unique surface for your large size tile is a welcomed option to draw the eye up, making the illusion of any space.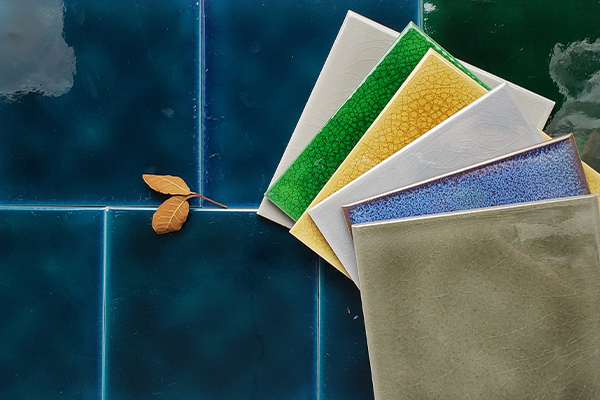 You can also never go wrong with a large size tile with a beautiful surface pattern! Know more about the chic surface design of pool tiles, visit our blog "New Things: 9 Style Iridescent Tiles Find to Decorate Your Pools"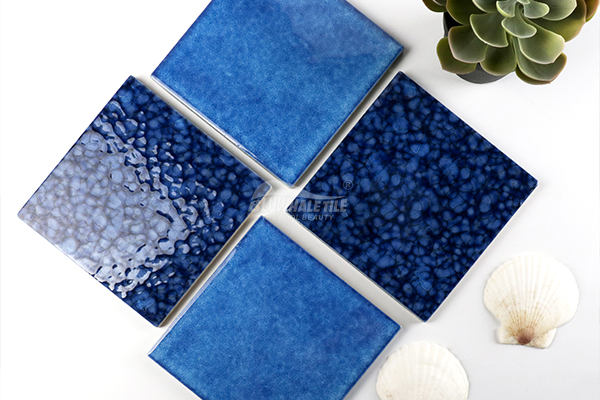 Featured Product: Blossom 6 Inch BCW601E7
3 Size
One of the reasons why large tile is so popular is because of its versatility in the size. The size of large tiles has also evolved to include more dimensions beyond the standard 150x150m square tile. For some things, a little more different, try little small 148x148mm tiles.
For more on different size pool tiles visit our blog "New Things: 2 Styles Marble Pattern Dark Green Pool Tiles"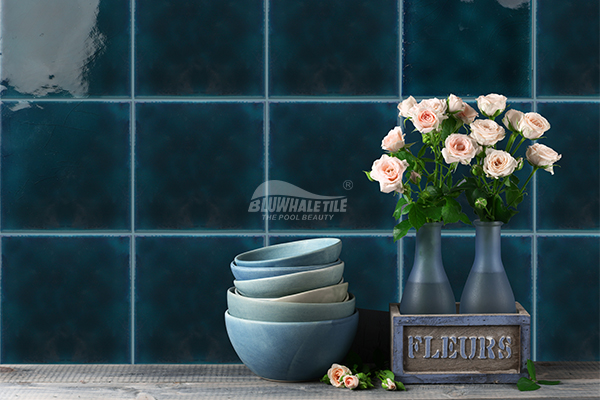 4 Get Creative on Surface
Don't be afraid to push the boundaries. We are here to help you figure out the best large-size pool tiles, colors, and patterns for whatever project you're working on right now. Visit our blog on beautiful crackle patterns to look at our pool tile selection and reach out when you are ready to add these timeless beauties to your own space.
To learn more about crackle pattern large tile, visit our blog "Crackle Glaze Porcelain Mosaic-Perfect Choice For Gunite Pools"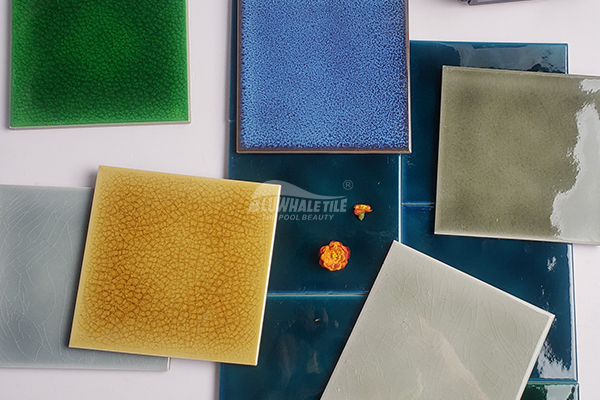 5 Playful Crackle Patterns
Adding a fun tile surface pattern can change the mood of the space in a snap, particularly with a pattern like a crackle. This 6x6 dark blue crackle square tile bathroom vanity wall decor enhances the whole bathroom. Plus these crackle 6-inch tiles are perfect for making spaces feel elegant.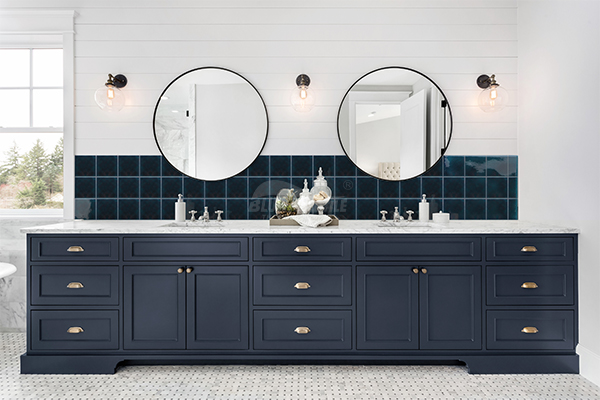 6 Charming Dark Blues
Understated and tranquil dark blue! With a solid glazed glossy color and beautiful crackle pattern, this glossy dark blue shower wall is perfect for making a statement. The best part about working with a crackle pattern large square tile is that you can play around with pure white walls without having the background clash. Try an option large square tile shower or bathroom vanity wall for another fun choice.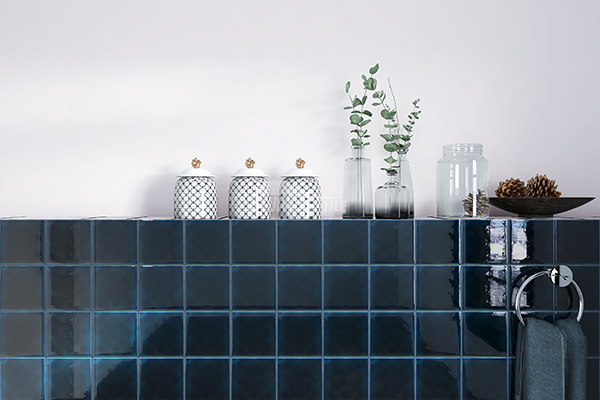 7 Classic Blue Pool
Blue tone swimming pools are always a fan favorite, and this swimming pool takes a twist on a classic. Pairing a classic blue tone glaze color and large square shape is ideal for those who prefer large size pool tiles. Moreover, our 150x150 square tile adds a one-of-a-kind kiln surface design that is special to Bluwhale Tile.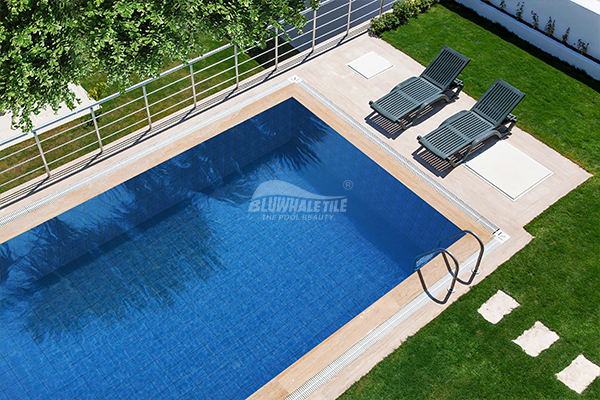 Get Inspired?
At Bluwhale Tile we carry a Huge Selection of wholesale and retail large tiles from around the world. Check out our appealing series for large size tiles in various unique pattern designs. Whether on bathroom walls, kitchen backsplashes, swimming pool interior walls, or outside walls, residential or commercial design, Large Tile can add beauty to any space. Large Tile comes in a lot of styles, patterns, and tones for any personalized project. Contact us for tile samples to see and touch, you might fall in love with our tiles!