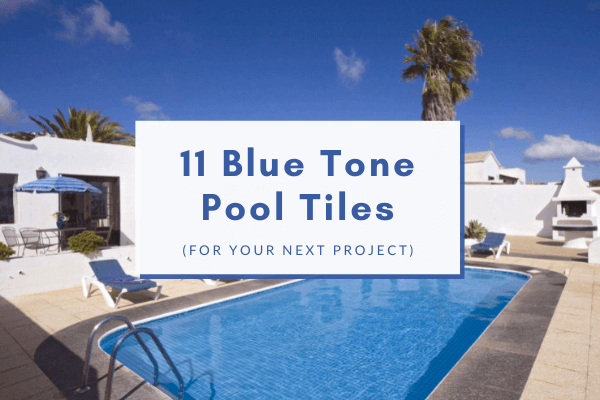 If there is one thing we're certain of at Bluwhale Tile it's that we have got a knack for the blue glaze. We are all across the spectrum when it comes to this tone. From light blue to vibrant blue to dark blue, we're so proud of our blue pool tile color palette. Continue reading to see 11 of our favorite tiles and projects that will leave you feeling anything but a blue hue.
1. Dark Blue Crackle Pattern
First on the list of our favorite dark blue is this navy blue 6x6 large size ice crackle tile. Make your bathroom vanity wall, shower wall, and swimming pool dazzle like the midnight sky with this high-variation yet richly glossy glaze color in a square shape. This blue color is the perfect way to add a popular splash of color without overwhelming this wall.
Want to see the details of this 6 inches tile? Check out our blog "All About 6 Inch Tile - From Kitchen Backsplash to Your Pool"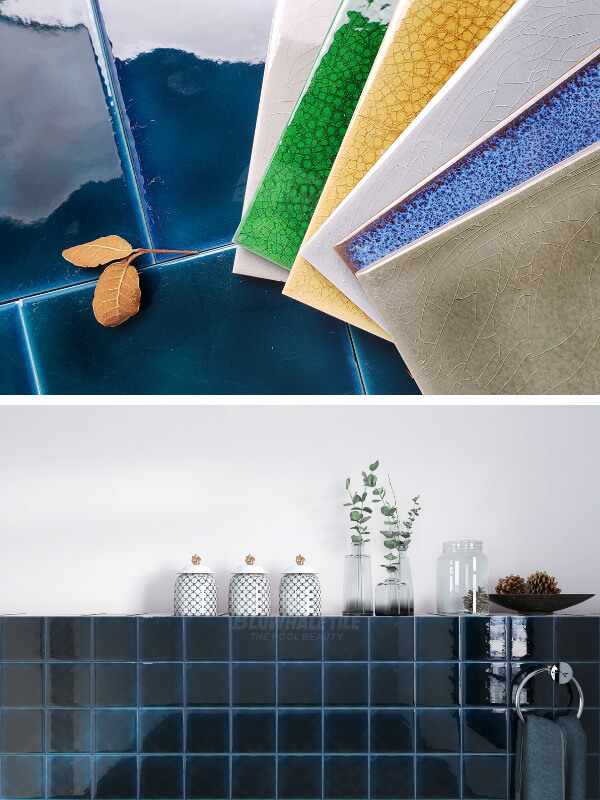 Featured Product: 6x6 Large Square Crackle WBB2601
2. Lake Blue Appeals to You
Nothing shines brighter than our 4 inches lake blue glaze. This glaze color has a range of tones anywhere from deep blues to sky blues. These crackle lake blue beauties come out of the kiln with a charming glossy surface that leaves them truly unmatched.
Love this ice crackle pattern? Read our blog for more "Crackle Glaze Porcelain Mosaic-Perfect Choice For Gunite Pools"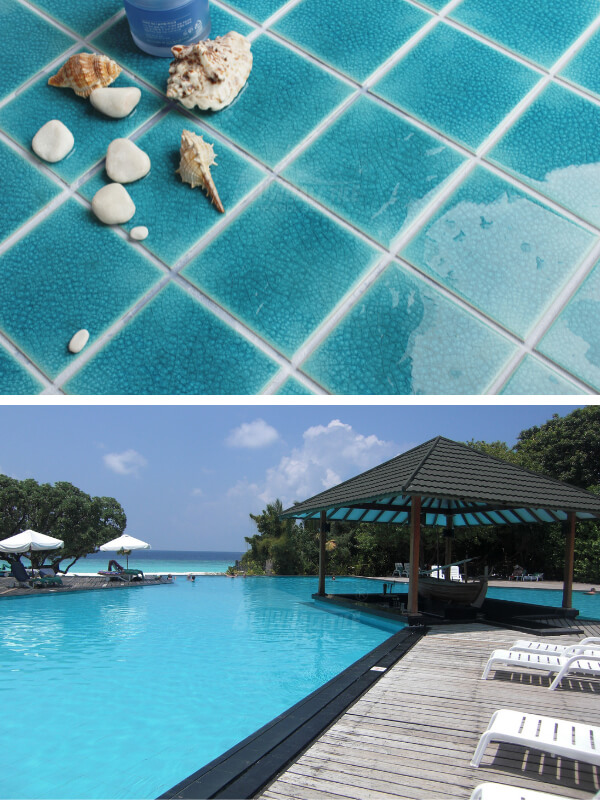 Featured Product: Frozen Shiny Blue Crackle BCQ608
3. Ink-Jet Blue Pool
Making a statement doesn't need to cost extra, actually, we have plenty of affordable ways to add unique tile to a budget. The perfect way to make the biggest impact with fewer dollars? Using a natural color. Right now we are adoring blue pools, and these ink-jet pattern square tiles have us absolutely in love. These blue beauties are available to purchase through our online shop and will be shipped on easy-to-install mesh sheeting, how surprising is that?
See more ink-jet pattern tile with our blog "Pool Tile Trends: 2 Inch Ink-Jet Pattern Mosaic With Chic Palettes"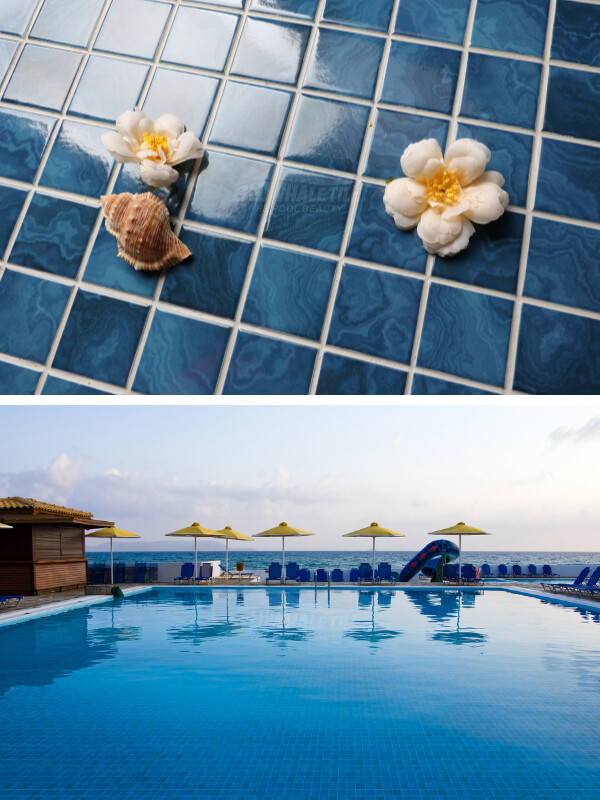 Featured Product: Ink-Jet Blue KOA2605
4. Wave Pattern Brings Funny
Get your pool tile to pop by using an appealing color of the tile. In this pool bottom, the entire pool bottom is full of dark blue tone pool tile, with wave pattern surface, which allowed the dark blue square tile to draw the eye immediately. It's a perfect example of how wave pattern pool tile can shape the vibe of an entire pool bottom and how a statement piece can still be modern, clean, and timeless.
Learn more about this wave pattern pool tile design with our blog "Wave Your Swimming Pool in Simple Ceramic Mosaic Tiles"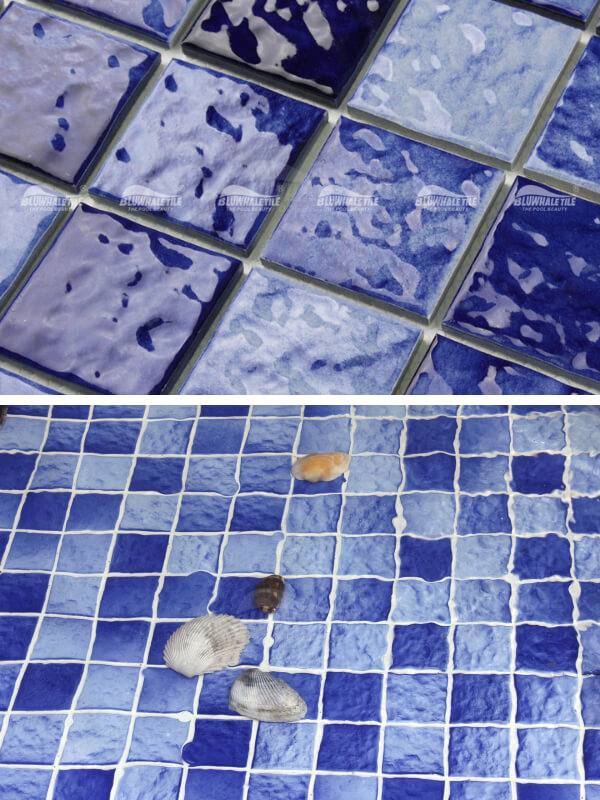 Featured Product: Wave Blue BCK623
5. Blend Blue Adds Clam Mood
Usually, we save the best for last but this 4 inches mixed blue wave pattern tile is too good not to share first. We're in total awe by every part of this pool interior wall. From the pool sidewall to the pool bottom and of course the wave blue waterline, every part of this space is total eye candy.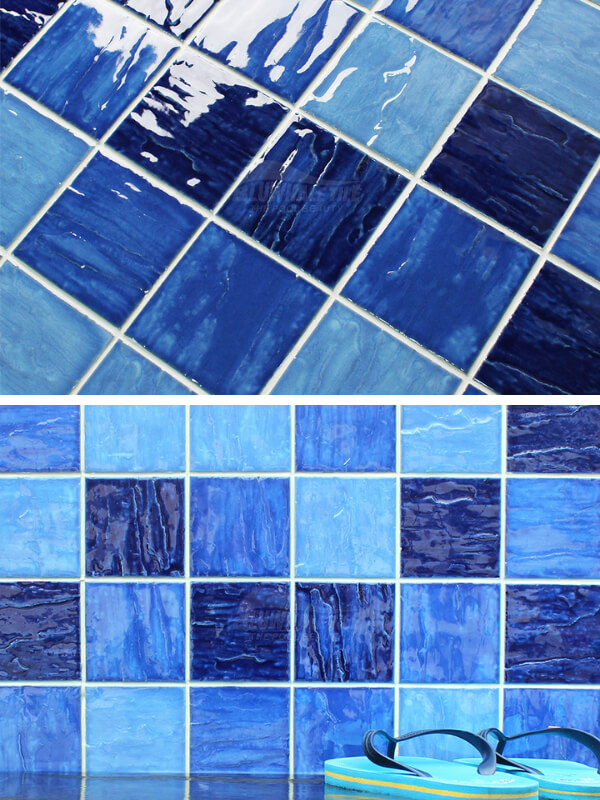 Featured Product: Wave Cobalt Blue BCP604
6. Tranquil Blue Plays Well
Square hot melt glass tiles are minimalist tile shapes that are perfect for a swimming pool. They visually trick the eye into making a pool larger, which is often needed in a small pool. This look is mesmerizing when used as pool floor tile - particularly if you create a beautiful pool landscape to make the tranquil blue glass tile pop.
For more hot melt glass tile inspiration, visit our blog "New Things: 7 Styles 1 Inch Hot Melt Iridescent Pool Tile"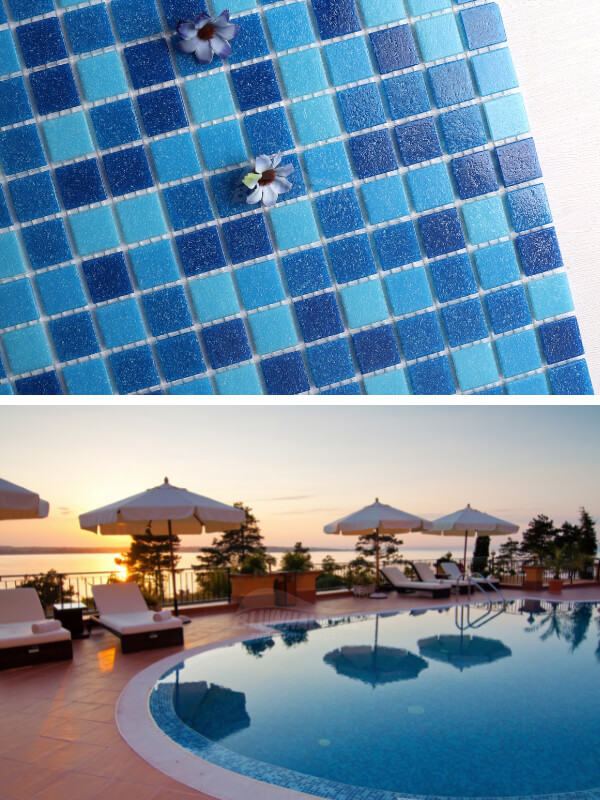 Featured Product: Hot Melt Glass GEOM9002
7. Mixed Size Works Well with Blue
Can you imagine your swimming pool with this hot melt mix crystal glass tile? This dream pool shows off all of what this chic blue color has to offer. With anti-slip outdoor porcelain floor tile, natural wood sofa, and the natural ocean, this swimming pool makes our mixed-size glass tile more beautiful.
Featured Product: Blend Size Hot Melt Mix Crystal GZOM9603
8. Crystal Blue Makes Dream Pool
Dreaming of a natural, cozy swimming pool? Look no further than this perfect pool design with our designer Jane. We love a 1-inch crystal glass tile design almost as much as we love a blended color. It's the perfect way to add an extra eye-catching element to your pool. Even though we love various colors, we think this blue tone proves that you can make a statement without overwhelming a beige natural stone pool deck.
For more crystal glass tile ideas, visit our blog "4mm Thickness Crystal Glass Mosaic Tiles Make A Classic Swimming Pool"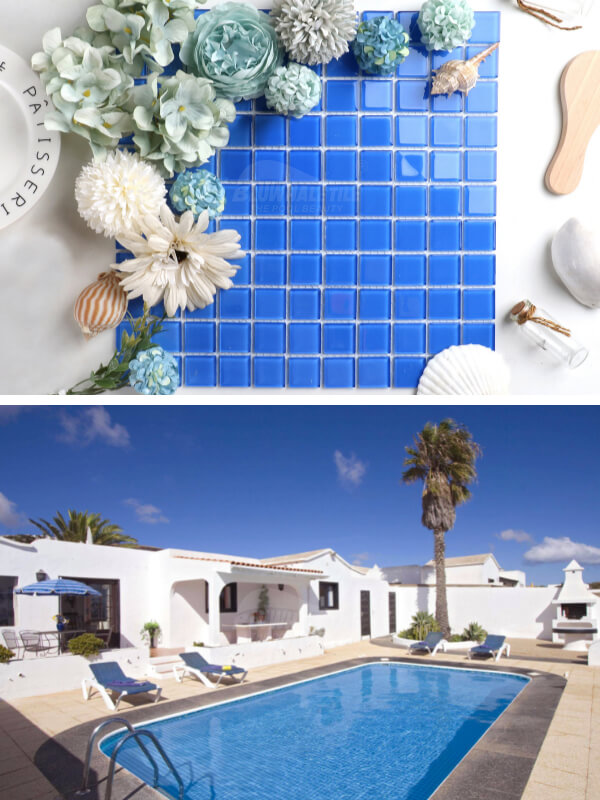 Featured Product: Crystal Glass BGI601F2
9. Blue Iridescent Effect
Whether you're at a pool interior wall or at a pool side, pool waterlines are the perfect space to experiment with bold design. We love this iridescent and dramatic ambiance, and what better to create a dreamy pool than with a blue iridescent tile? By simply arranging these subway tiles into a stacked pattern it creates a completely different atmosphere - bold, shiny, and outstanding.
For more iridescent tile ideas with our blog "New Things: 9 Style Iridescent Tiles Find to Decorate Your Pools"
Featured Product: Iridescent Glass Tile GZOF5007
10. Blue Moroccan Style
Take the beachy ambience to the next level by making the wave pattern with your blue Moroccan Fish Scales. This mesmerizing pattern is a great way to begin your summer in this swimming pool. In the beautiful pool design drawing below, the client want to use the traditional pattern at first, however, he didn't hesitate to use this wave pattern after he saw this blue ice crackle fan shape tile.
For more fish scale tile pool ideas, visit our blog "New Things: Fish Scales for Pool and Interior Decor"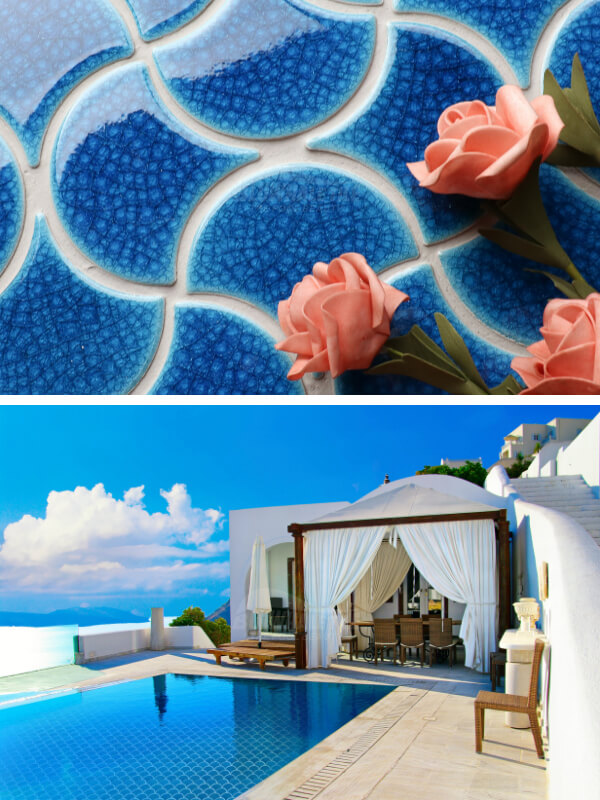 Featured Product: Frozen Fan Shape Crackle BCZ714-B
11. How About Combine Pool Accessories with Blue?
Last but certainly not least, our blue pool accessories! Like the pool side and corner, the blue-tone pool grip tiles complement the natural atmosphere. For the pool side, we arrange the anti-slip ceramic handle pool tile of dark blue to create a modern design, enhancing the level of the whole pool.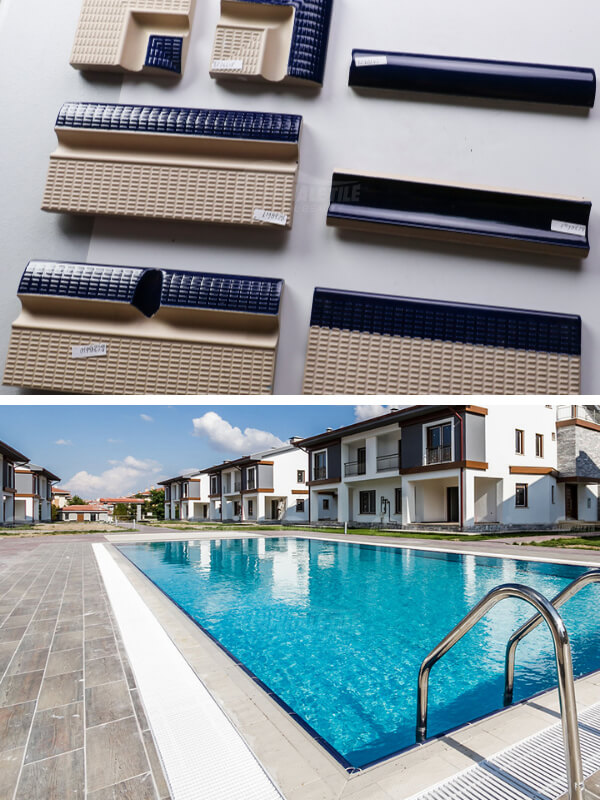 Featured Product: Tile Accessories Blue BCZB620
Get Inspired?
Whether you're looking to add blue tone or other hue mosaic tile to your swimming pool we're here to help you along the way. Reach out to Bluwhale Tile with your project design vision, and we will get the kiln fired up and ready to go. Order free tile samples to see and touch, you might fall in love with our exquisite pool tiles. We would also love to hear what inspires you. Comment below and tell us more about your remodel project plan.