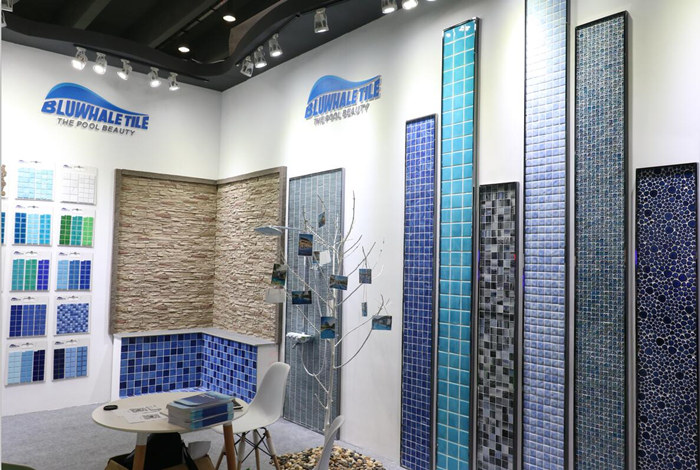 Looking back things in the past can sometimes give us big surprise! As the International Pool Spa Expo 2019 has gone for about one month, Bluwhale Tile thanks for all visitors at our booth, if you were not in the show to miss Bluwhale Tile, don't worry, read on and today we are sharing the latest design and popular mosaic tiles items of us.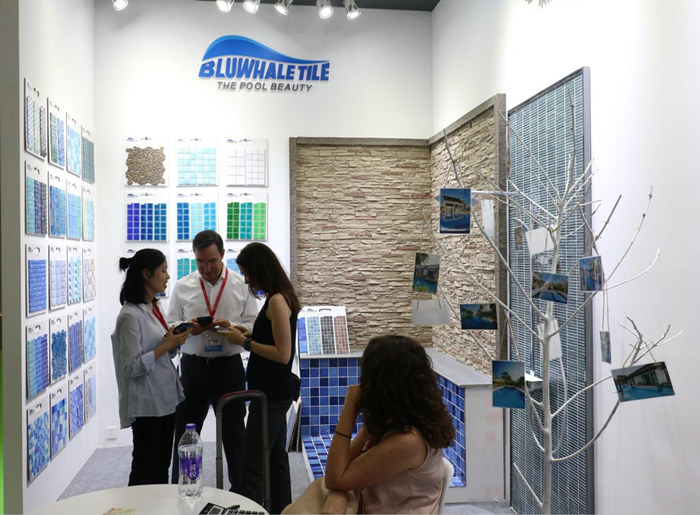 Our regular clients met us at the booth and are interested in our new collections. For more pictures of this show, please head to Bluwhale Tile at Asia Pool & Spa Expo 2019 >>
Hot melt glass mosaic tiles still win high popularity at many of our exhibitions, people love to choose glass mosaic for pool because there is various colors and styles to choose from, and many effects like pearl, crystal and gold are available. They looks sparkling and works perfectly to add sheen to any pools. You should not miss these following patterns if you are seeking for translucent glass mosaic for swimming pools. If you want to know more about glass pool tile, head to the post: What's Pros and Cons of Glass Mosaic Tiles for Swimming Pool? >>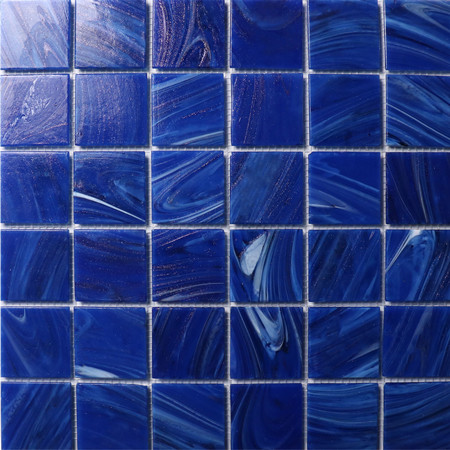 The blue glass pool tile features golden line texture makes it perfect for creating an unique swimming pool style. Every grain is different and looks natural. The dark blue color is trendy and can surely install an ocean-like pool space.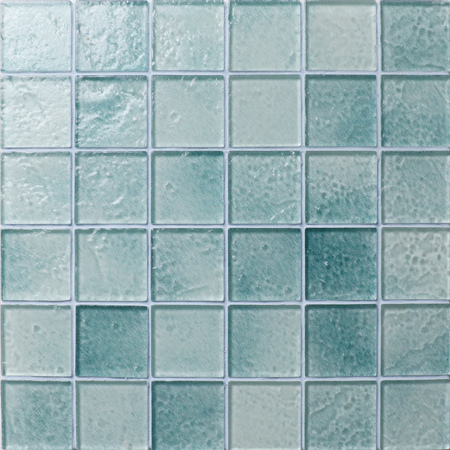 The subtle color of variation of the crystal swimming pool glass tile has a considerable market share in our collection. Its uneven surface provides a special touch and anti-slip for pool flooring. The color is light-tone ideal for a fresh pool design plan.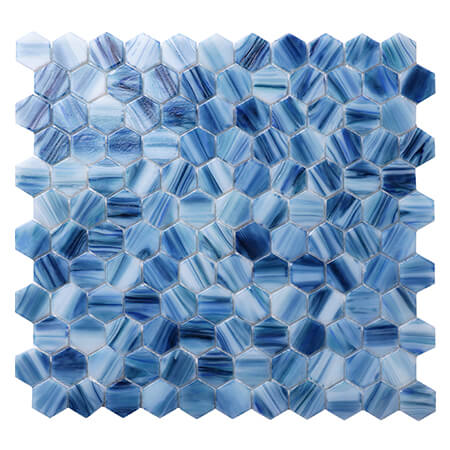 Hexagon is one of the most classic and popular geometric shapes in mosaic tiles design. The blue hexagonal glass pool tile comes in matte glazed finish and eye-catching texture, it is versatile for pool wall and bottom covering, the combo of hex shape and finish texture adds dimension and characters to any swimming pools.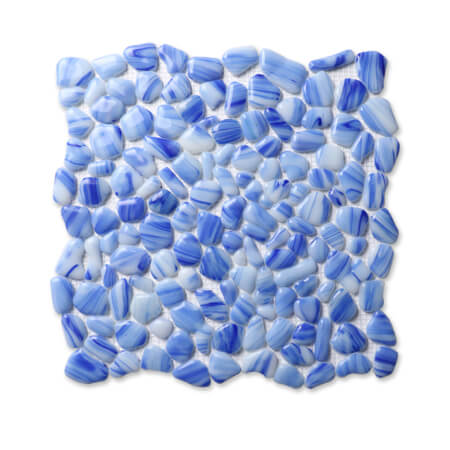 Choose a free pattern mosaic tile if you want to install a natural pool style. The glass mosaic pool tiles manufactured to have a pebble shape and uneven surface, brings a sense of free to any spaces. The pattern is super suitable for any wet areas because it is non-slip and wear-resistant due to its irregular shape and numbers of free gaps.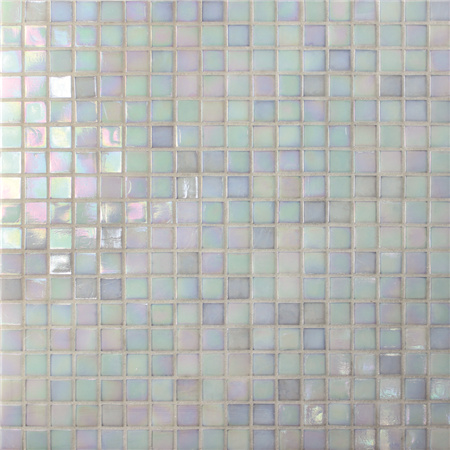 The white mosaic tile can also works wonderfully to make your pool stand out due to its iridescent finish. These rainbow pattern will looks fantastic and brilliant under water and light, and can easily bring life to your pool. Never wrong to opt for a iridescent glass pool tile if your aqua project requires some "JAZZ".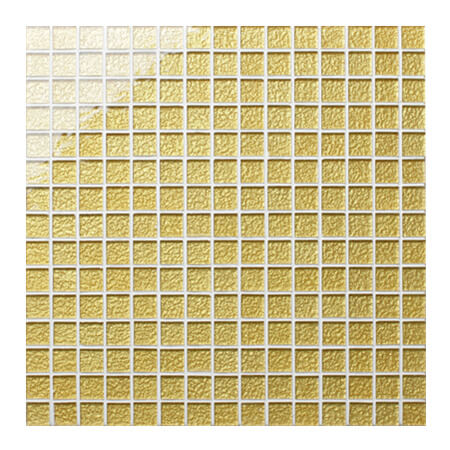 Golden color mosaic tile is not common to see in traditional pool design, but it is the top option for a luxury pool especially for commercial hotel pool that needs something stylish. The golden shimmer glass pool tile makes a pool sparking easily, everyone will keep their eyes on such a glowing pool space.
Differ from glass mosaic, ceramic mosaic tiles are the more traditional tile type for swimming pools. They are widely used and can stand the test of time. Normally, ceramic mosaic will cost you less than glass mosaic, the down side is that the color of pool tile ceramic is not as various as glass mosaic. While ceramic mosaics are still trendy today for they can create a classic pool never out of date. If you don't know whether glass mosaic or ceramic mosaic is tight for your pool, this post "Glass Mosaic vs. Ceramic Mosaic for Your Swimming Pool" can give some ideas. Read on to discover the hot sale ceramic pool tile pattern at Bluwhale Tile.

Frozen Shiny Blue Crackle BCQ608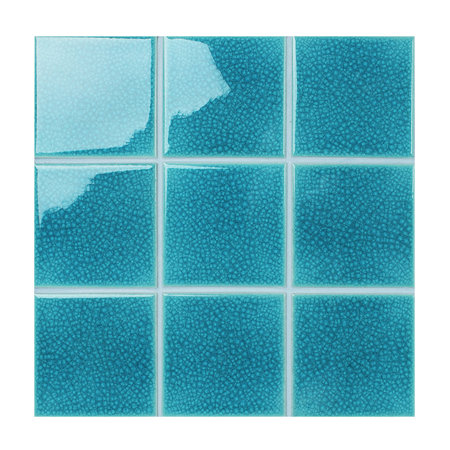 Ice crakle surface pattern is a popular choice for both indoor and outdoor swimming pool as these surface provides features, texture and a feel of cold. The 100x100mm chip size is not the most common size used for fully tilling a pool, but the bigger one makes your installation simpler and will make your pool space looks more larger. The crackle texture can be produced to be single crackle and double crackle to fit different demands, and if you want to create a stronger visual effect, double crackle is higher recommended.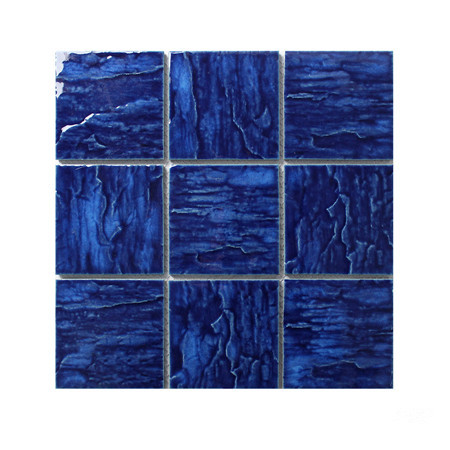 As what you can see, the cobalt blue ceramic tile has a wavy surface, it is ideal for adding movement to pools. Unquestionably, the most popular colors for swimming pool is blue tile, and the deep blue adds depth and structures a ocean-like pool. The uneven surface design is anti-slip and keeps swimmer safe.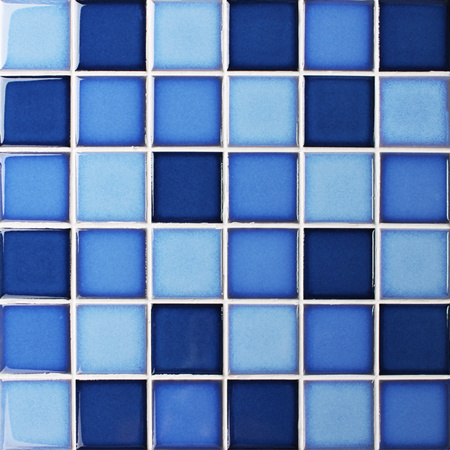 48x48mm square mosaic has the most common size and shape for pool design. The latest ceramic mosaic pool tile trend is the increasing use of mosaic blend. The blend of 3 blue shades and the variation of color adds characters to any piscine project and keep it timeless.

Strip Dark Blue BCZ621A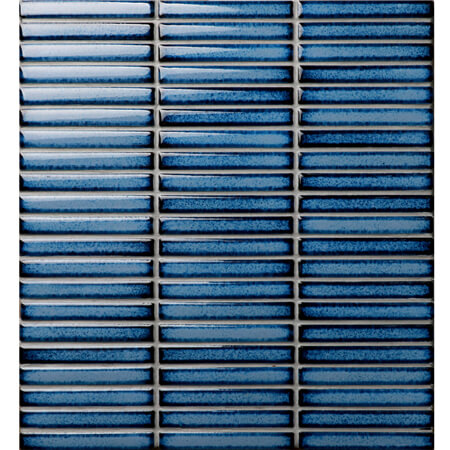 The premium finger strip chips is going to create a neat pool with unique look. The slim rectangle owns a fambe effect, glossy glazed finish and arranged in a classic stack bond sheet. The tile pattern is not only for pool, it also looks fascinating for kitchen backsplash, bathroom and any wet areas.
For more swimming pool mosaic tiles option, head to our product page >>
If you are interested in the above mosaic tiles patterns for pool, do not hesitate to contact us for best price. Bluwhale tile as one of the most professional pool tile suppliers from China, is committed to manufacture high quality and various designed mosaic for pool, sample is available and customized service can be accepted by us, we are looking forward to doing business with all customers all over the world.