We often fall in love with those fantastic swimming pool of hotel during our vacation, and will you want to recreate it at your home? What is the most impressive hotel swimming pool in your mind? Today we are sharing some great ways to create a wonderful hotel swimming pool at your home.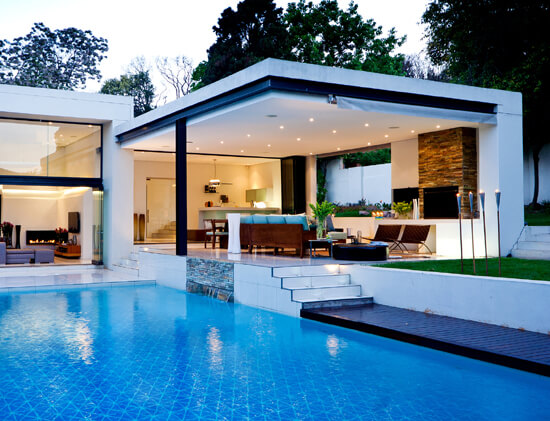 Why people want to install a pool at home? Actually because: A Pool's Benefits: Why It's Awesome to Have One Swimming Pool In House? >>
1. Ensure Your Lifestyle Priority
A stunning pool design can perfectly fit your lifestyle, so at first ask yourself, " what do you want to get from the pool?" To build a play area for kids, or to have an place to host party gathering? Perhaps it is redesigned to add values to your house when rent or resell.
2. All Natural or Chlorine?
Water-filtration system is another important elements to consider at the beginning of your pool piscine project. Sale water pool and chlorinated pool requires different water-filtration systems. So make the decision firstly before you begin your pool work.
If you want a chemical-free pool design, you can choose the classic design that called living pool, which takes a double filtration system to keep the water clean. These pool designs don't need to be kept covered and can be enjoyed all year round as a design feature.
What can you do to enjoy your pool all year round, you should not miss the post: Enjoy Your Swimming Pool All Year Round >>
3. Add Features To Pool
Consider which feature you want to include in your pool? The feature of automation now is getting popular in pool design, intelligent pool design can provide a more enjoyable swimming experience. The automatic swim pool can activate the pool cover, temperature, cleaning system as well as color-changing mood lighting, music, fountain and even waterfalls.
Moreover, you can have some lounging ledges for relaxation and sunbathing. And families with kids would like to take some funny elements such as waterfalls or hidden grotto, ambience is also a big feature need to be considered when designing the pool areas.
How to make your pool funny? You would like to read: Tips For Remodeling Your Swimming Pool Fun And Functional >>
4. Pool Mosaic Tile Design
It is a good news that you get wide choice for swimming pool mosaic tiles in different materials, colors, shapes, patterns and styles. Ceramic mosaic pool tile, glass mosaic pool tile and custom mosaic pool art is widely used in many piscine projects. The pool mosaic you choose will make a great difference to your pool appearance and style. Darker color pool tile can absolutely create a more dramatic and contemporary pool style, especially for those who want to install a ocean-like swim pool. If you want something glitter for pool cover, glass mosaic tile is a great choice, which will looks beautiful, reflective and transparent under water and sun. While mosaic pictures is also popular and rich in colors, and that can be made to be individual and unique.
Have no idea to choose tile for your pool? Find answer from this post: The Selection Of Tile For Different Types Of Swimming Pool >>
5. No Boundary
Infinity pool must be one of the most iconic swimming pools in the world's resort hotels, which is a pool of style and sophistication, surely level up the hotel style and provide a more impressive experience for all visitors and customers. Infinity pool will never go out of fashion, while it is not always a good choice for all residential house, especially where has limited space. Then a zero-edge pool is a popular alternative if you want to go beyond infinity, lying flush again the deck, water flowing into a recess below, this type of pool create a serene pool relaxing area. It is a good makeover for backyard pool project.
Head to this post: Now This Is Where I Wanna Spend My Summer! to find one of the infinity pool project from our customer.
6. Fit Your Home Style Well
Finally, your pool style must be fit your home style well. That is to say, the pool should sit well within the landscape of your garden or grounds. You should takes other elements into consideration, such as a pool house or decking.
Feeling inspired? Hope you get design inspiration how to create a hotel swimming pool at home, and welcome to share your exciting ways with us. And head to our industry news to find more interesting swimming pool ideas and guides >>
If it is your first time to build a pool, this post will help you avoid detours: 5 Mistakes People Would Make When They Plan To Add A Pool >>
Bluwhale tile has into swimming pool tile wholesale for many years, we are committed to supply premium products and service for all customers worldwide, if you are in market for our products, do not hesitate to contact us now.