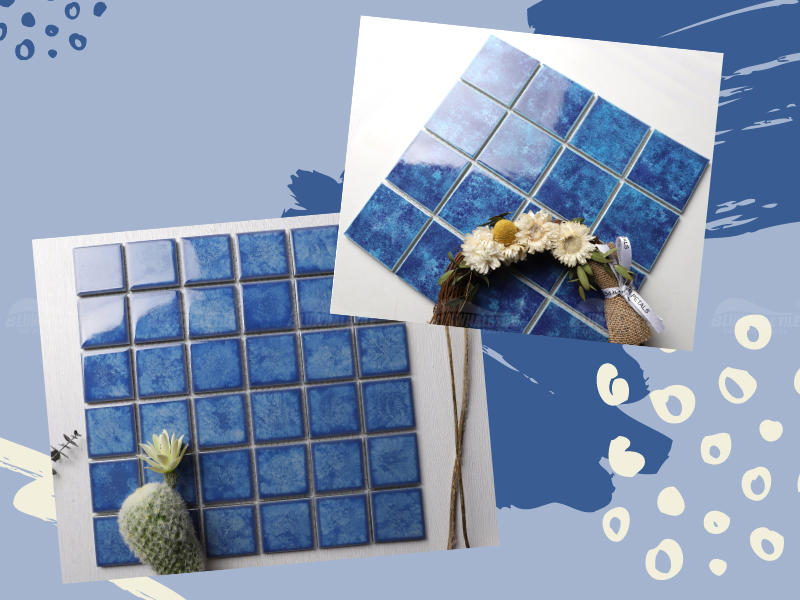 What could be a wonderful way to beat the brutal summer heat than by sitting by your private swimming poolside, enjoying your favorite cool drink, and reading your favorite magazine? It sounds great right? What if we told you that you could make your swimming poolside experience even more perfect? Well, with a stylish Caribbean-style glazed tile installation in pools, you can add a comfortable touch of class and unique visual effectiveness to your pool area.
Now, continue reading to see our chic design pool projects and interior spaces along with more ways to get more creative with these new arrival 3x3 and 2x2 swimming pool tiles.
3X3 Pool Tile
Our pop dark blue glaze has quickly become a fan favorite when it comes to the 3x3 pool tiles. This vintage and ink-jet pattern combination will turn any pool project and interior spaces into a Caribbean dream. Made of porcelain, durable, and easy to clean, which is also the best swimming pool waterline choice.
For more ink-jet pattern pool tile ideas with our blog: Pool Tile Trends - 2 Inch Ink-Jet Pattern Mosaic With Chic Palettes >>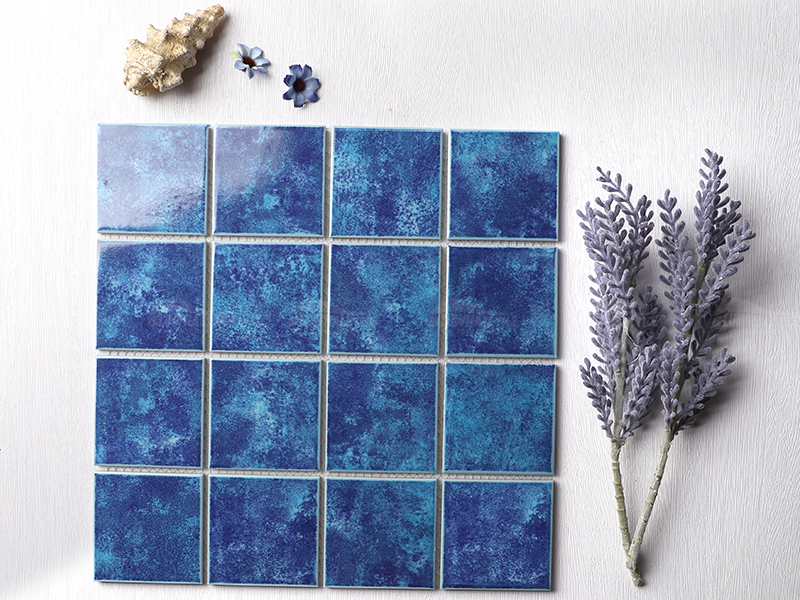 Featured Product: Caribbean Series Crystal Glazed Porcelain Mosaic OOA2601
What's Inkjet Pattern Pool Tile?
You must have heard of printers? It's the same principle. Inkjet technology is mainly a printer-type process in which the terminals of the printer have the so-called heads or dispensers each of which has millions of pixels distributing the specialized ink over a surface. The surface is actually the body of the pool tile, prior to going into the kiln to be fired.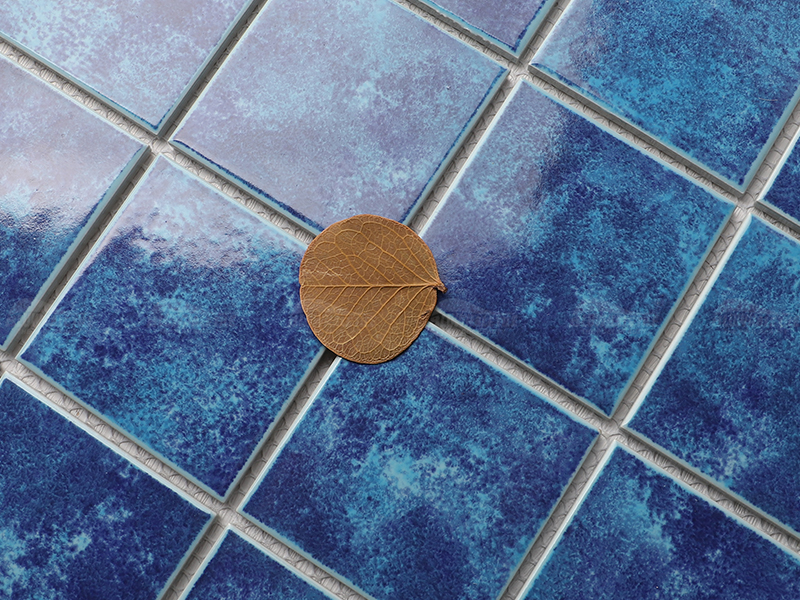 Featured Product: Caribbean Series Crystal Glazed Porcelain Mosaic OOA2602
Choose the Right Pool Tile
You might think that swimming pool tiles and common interior tiles such as kitchen tiles and bathroom tiles may look almost identical. It's only while you dig a little deeper that you will make certain why a tile that is uniquely designed for swimming pools is the perfect choice for a never-out-of-style.
You might not have thought of your comfortable backyard pool area as a bad environment, but think about this: the tile and other finishes in your outdoor pool are continuously exposed to the sun. They also come into constant contact with chlorine and other pool chemicals on a relatively regular basis. On the other hand, the interior bathroom or kitchen tile is not frequently exposed to the chemical compounds or scorching sun, except maybe from a nearby window. For the above reason, your pool tile must be ultra-durable and made of a material that can withstand extra stress. Therefore, tiles that are purpose-built for swimming pools will give you the most durable thing for your project. Many swimming pool tiles are coated with a uniquely formulated glaze that keeps them away from being corroded and faded. Just like our new tiles and why not order tile samples to touch in person?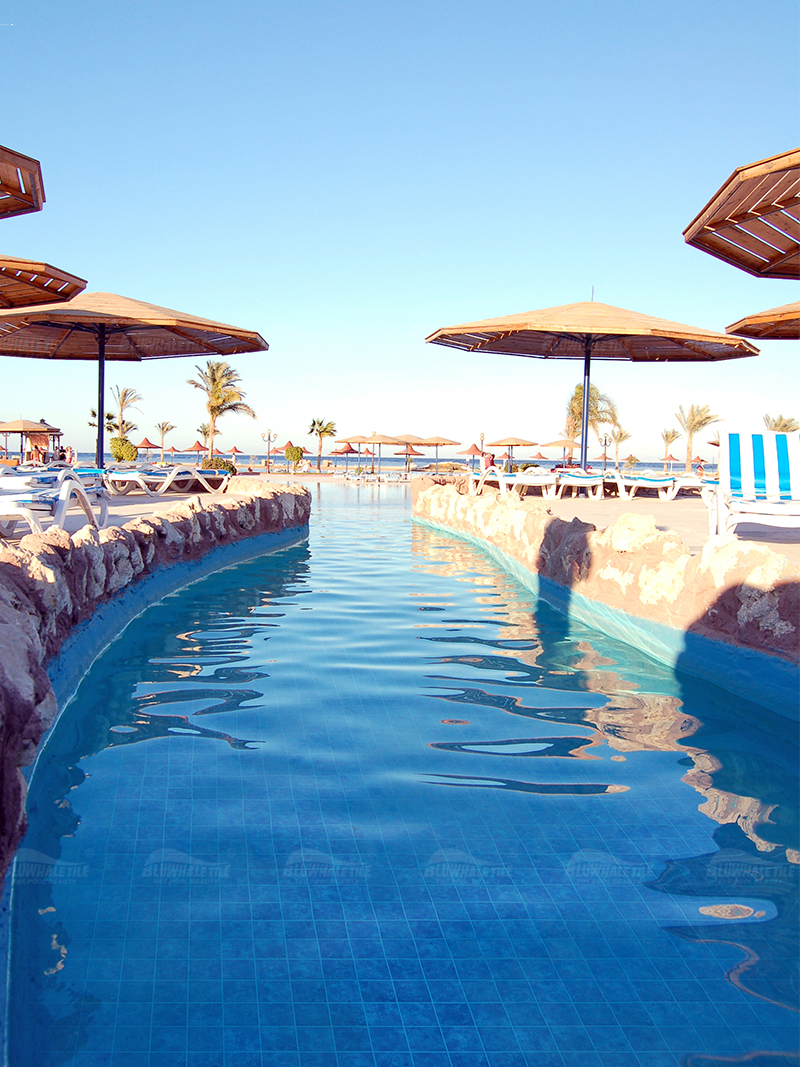 Featured Product: Caribbean Series Crystal Glazed Porcelain Mosaic OOA2603
Blue in Bathroom
We loved this bathroom project design idea so much that we decided to name this specific blend of colors Caribbean Style Palette! This perfect and vintage color is a random mixture of vintage blue, middle blue, lake blue, and a little sky blue. Wrap your bathroom, shower wall, kitchen backsplash, or even entryway accent wall with this blend to add the final touch of ease. Now, you can get this beautiful thing from our online shop!
For more blue tone tile designs, visit our blog: Pool Tile Trends - Blue Blossom Pattern Recycled Glass Pool Tile In 2021 >>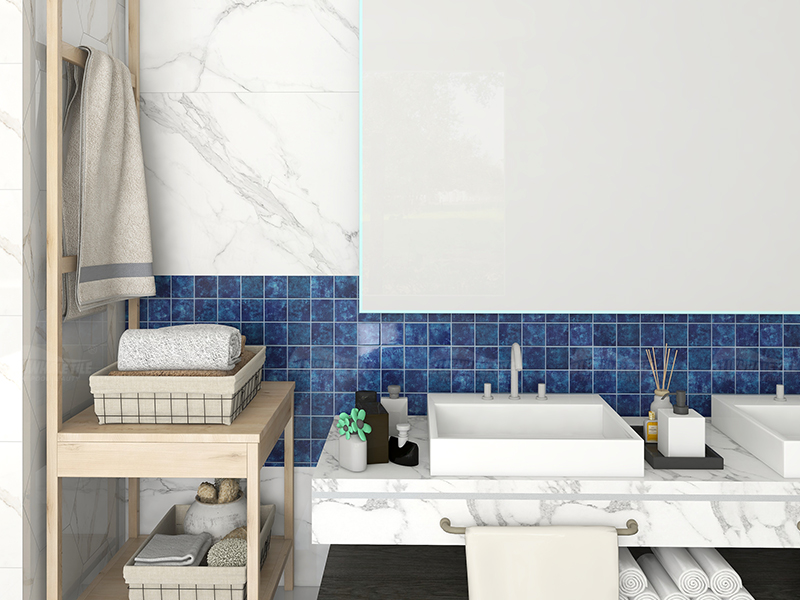 Marine Breath
Mixing the natural blue with the vintage blue is easy with our special blue glaze. Get your cozy Caribbean-style marine breath with this appealing backsplash. These 3x3 large-size crystal glazed tiles are the perfect option for any space, like the showers or the spas.
For more marine vibes pool tile with our blog: New Things - 7 Styles 1 Inch Hot Melt Iridescent Pool Tile >>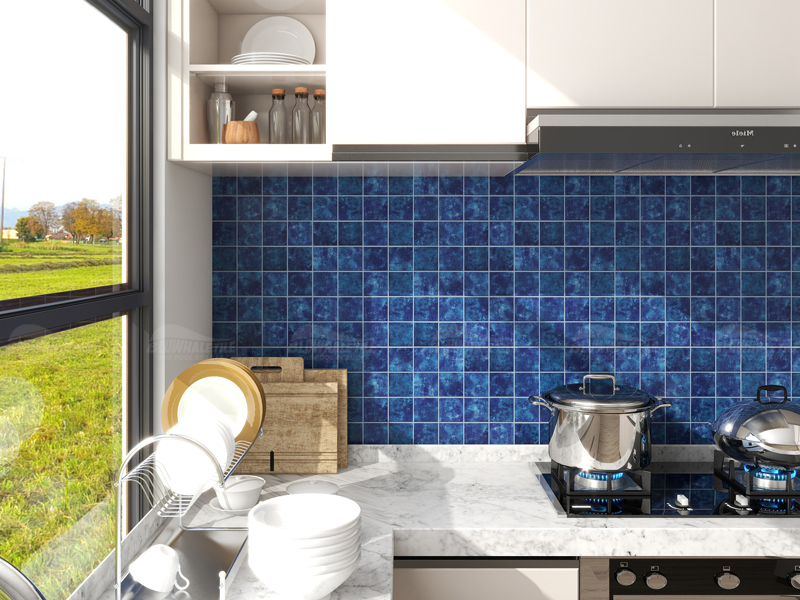 Bring Some Spa Vibe
Who says you can't have a private spa in your bathroom? This blue palette bathroom wall decor is a true illustration of the possibilities of our tile. Utilizing the blend blue glaze color - Caribbean Style Blue - we applied the blue glaze in different styles of blue to achieve a unique visual feeling. The special touch of inkjet pattern, stylish blue color, and classic square shape are what dreams are made of.
For more blue glaze with pool tile combo, visit our blog: 4mm Thickness Crystal Glass Mosaic Tiles Make A Classic Swimming Pool >>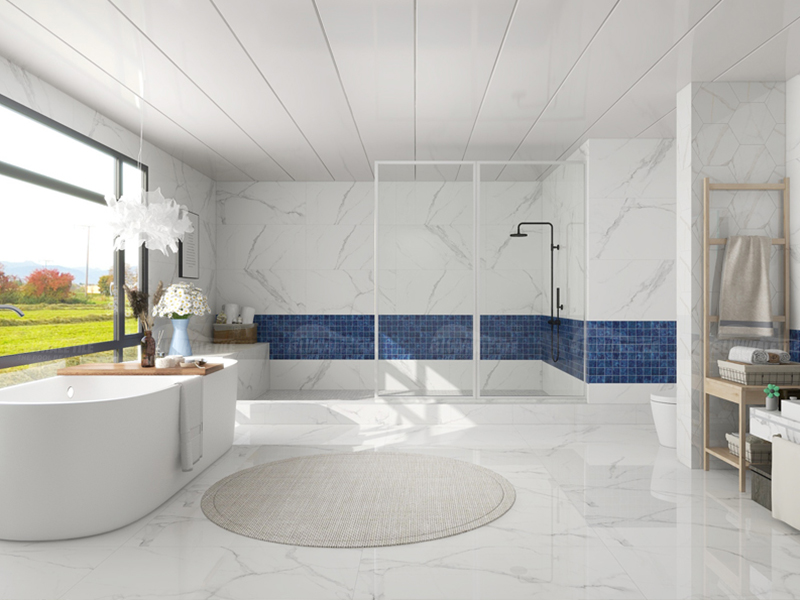 2x2 Pool Tile
Possibilities are endless when it comes to tile size choices. There are so many different designs pertaining to patterns, materials, surfaces, etc. The possibilities are wonderful, but they can certainly be overwhelming. Sometimes it's better to classic things. Like our classic 2x2 size swimming pool tiles.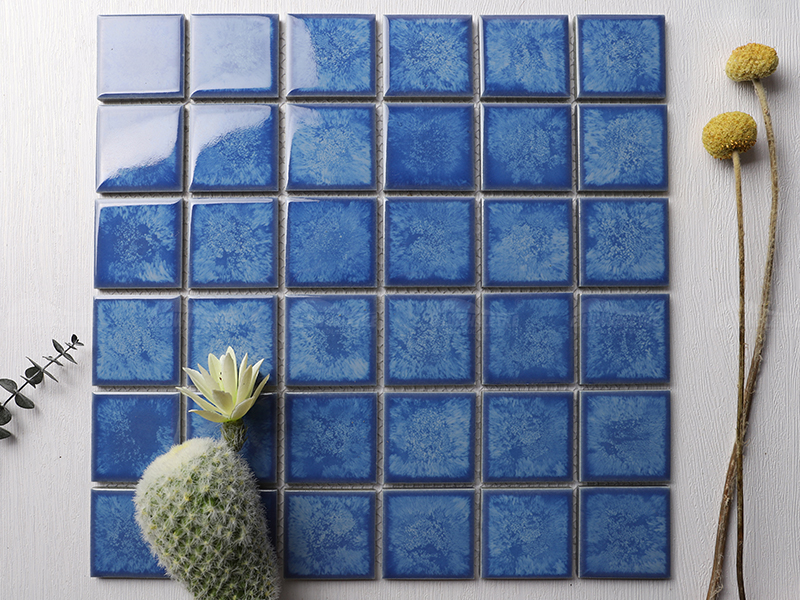 Featured Product: Caribbean Series Crystal Glazed Porcelain Mosaic KOA2613
Dreaming of a Caribbean ambient, cozy, and natural-style swimming pool? Look no further than choosing these mixed dark blue 2x2 pool tiles. We love everything with ocean blue, blue palette pools, a blue color shower wall, and a blue hue kitchen backsplash. It's the ideal way to add a stunning eye-catching element to your home.
For more blue tone pool design ideas with our project blog: Swimming Pool Project: How To Design Refreshing Home Pool Style >>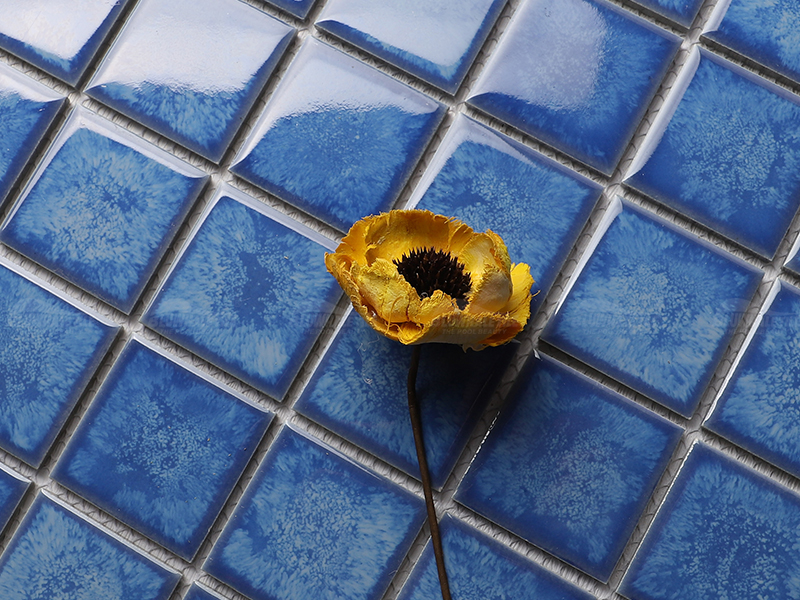 Get Inspired?
Whether you're looking for something vibrant and classic for your future swimming pool remodel plan or bathroom project, something understated and natural for rebuilding your old pool, or something sleek and stylish, you will certainly find a tile that is right for you at Bluwhale Tile. We prepare a one-stop service for your plans. Contact us immediately and share your creative ideas with us!