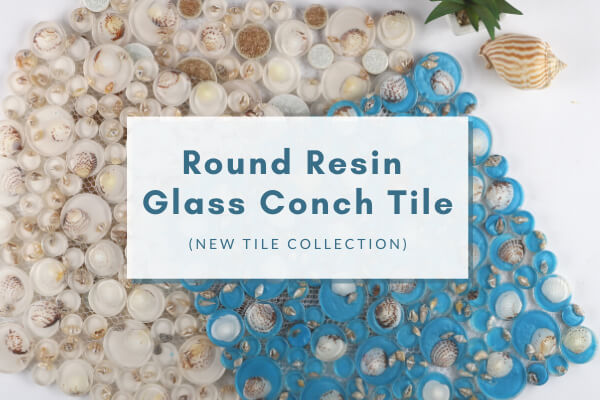 You may know of glass or ceramic materials, but have you thought about swimming pool conch tile? The beauty of using our new conch tile for this functional method of wall decoration is the ability to make the wall area easy to clean and low maintenance. Plus, you can choose three different styles of our new round conch tiles to create a beautiful design style. Continue reading to learn more about round conch tile and see two spaces for inspiration...
What is Conch Tile?
Our new round conch tile is unlike any we've seen before in our online shop. It is not an average crystal glass chip nor hot melt glass chip or a mixture of the two. It is totally in its own lane and yet works great for so many projects.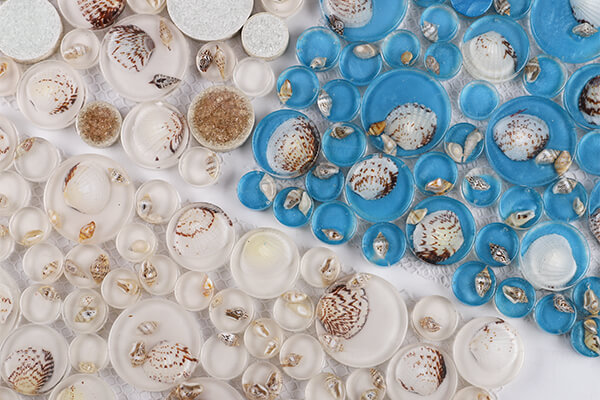 The wet area is a perfect place to use the conch tile application because of the low water absorption and decorative elements. The conch tile creates a bright, natural, and airy feeling. It can be used around the bathroom, including near a bathtub or shower. This conch tile not only leaves a deep impression on your guests but also brings beach vibes.
For more styles of conch tile inspiration, visit our blog "New Tile Collection: Resin Glass Conch Tile"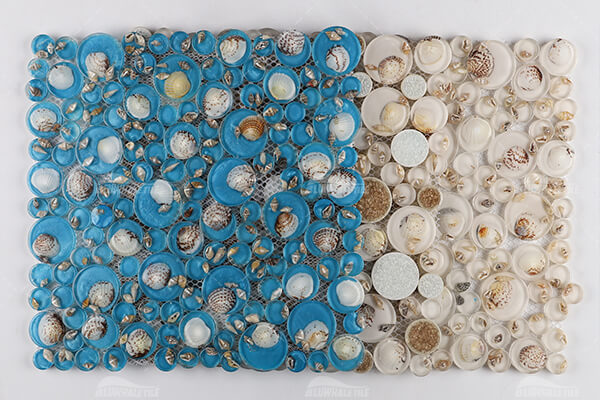 Art Deco - Inner Natural Seashell
Check out our popular style - the blue style. The blue color transparent crystal glass chips look like the ocean. On the other hand, the transparent white glass chips for the could, and seashell resin chips stand for the beach. These whole tones weave a tranquil beach holiday dream. The resin chips have real lovely conch shells in them. Bring nature to your pool, spa, or bathroom right now!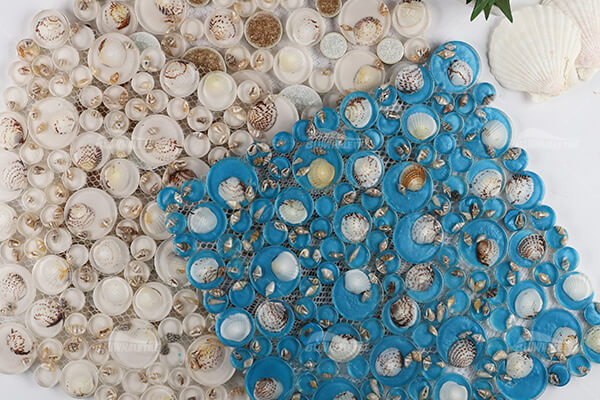 Pattern One
We call it glass conch tile, which is made from transparent blue color crystal glass chips with natural seashells. The glass tile thickness is 8.0 mm and the chip size is 43/33/23/20*8mm. The resin mosaic chips are randomly added to the mosaic tile. Moreover, the inner stuff is also random. Smooth touch feeling and chic transparent crystal glass tiles and yet safe for applications such as pool inner wall, shower, and bathroom wall. The round mosaic shape design makes the mosaic tile vivid.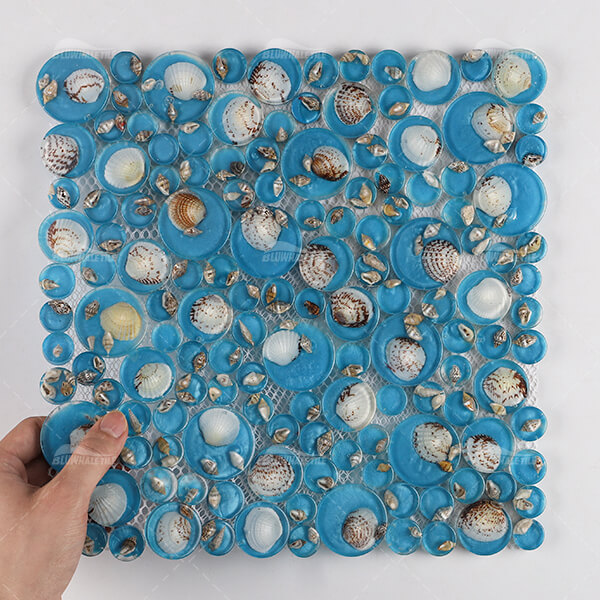 Featured Product: Glass Resin Mother of Pearl GZGH8601
Pattern Two
The materials are the same as the pattern one style. The difference is the tile color, pattern two is pearl beige white color. This eye-catching and appealing pattern style is made from eco-friendly recycled glass materials. Their surface is glossy, making every crystal chip sharp and shiny. It's easy to clean and low maintenance because it has the feature of zero water absorption. The round shape is also very modern to use in shower or pool waterline areas. Each sheet of this resin crystal glass conch tile is approximately 1.14 kg and is mesh mounted for easy installation for any project.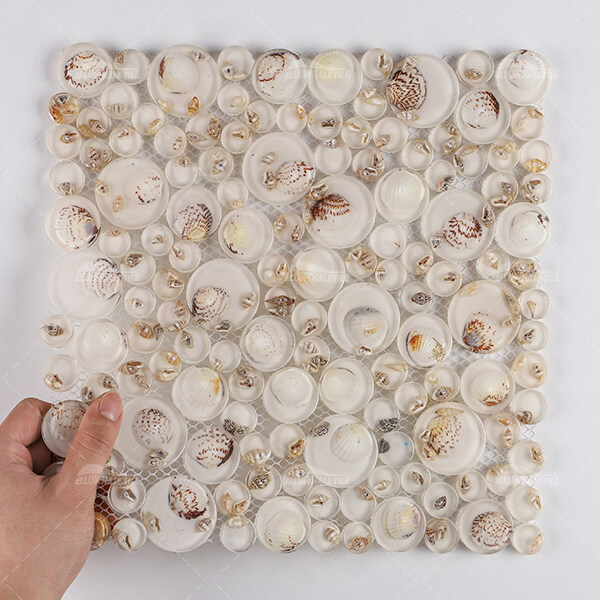 Featured Product: Glass Resin Mother of Pearl GZGH8901
Pattern Three
Adding crackle elements to it makes a different feeling! They are made from crackle-pattern ceramic chips and resin chips with inner seashells. On the back of our tile, it is mesh mounted so is easy for cutting. The resin chips with natural seashells are randomly added to the mosaic tile. The inner natural seashell elements make it look like a wonderful picture. Combine with the sky tone, the ocean color, the sunshine feel, and the beach vibe. Perfect for your spa inner wall decoration!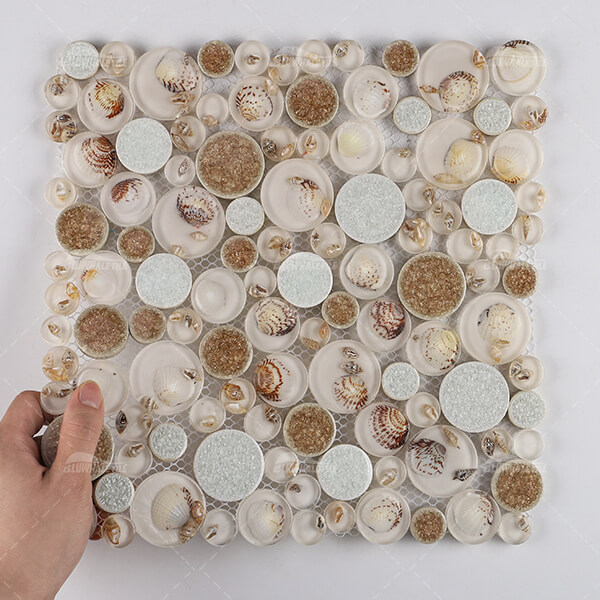 Featured Product: Glass Resin Mother of Pearl GZGH8902
Blue Makes The Pool
Charming is just one word to describe this beautiful swimming pool! The creative and funny tiled blue tiled round conch tile adds a natural and comfortable look that ties into the whole modern style perfectly. Installing this round conch tile as the pool stairs is a perfect way due to the zero water absorption, low maintenance, and ornamental feature.
To learn more about pool stairs design, visit our blog "Swimming Pool Project: 6 Steps To Your Dream Swimming Pool Renovation"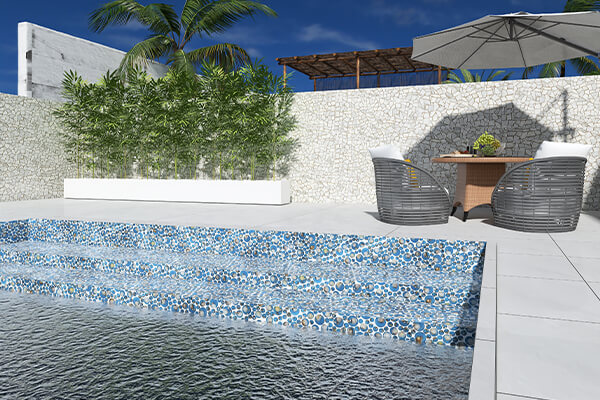 Ocean Inspired Bathroom Wall
Bold, stunning, and bright are just three ways to describe this attractive wall design! If you are searching for how to add a beach-inspired element to your bathroom space, then this blue round conch tile is the way to go. The inner seashell decoration of the conch tile plays an important role in this wall decor.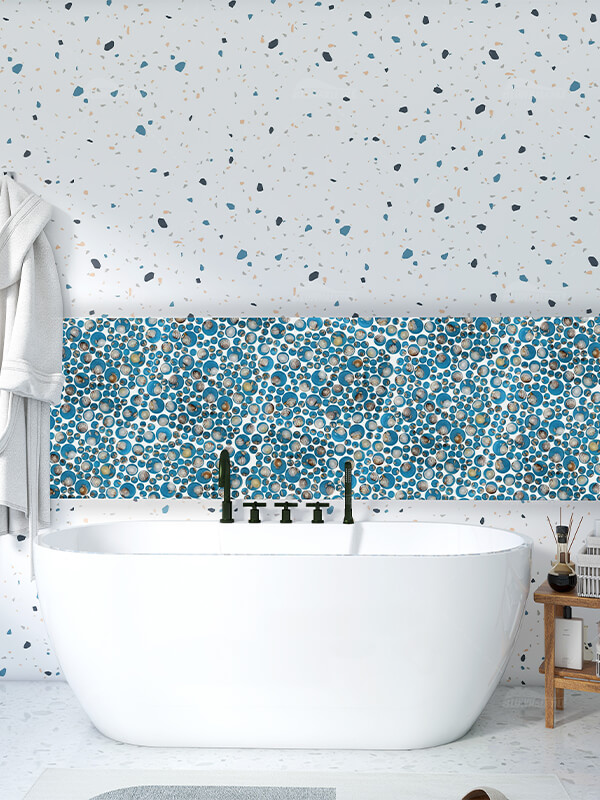 Get Inspired?
Bluwhale Tile makes the pool tile special! We're doing business in tiles for over 16 years. The pool tile market has been providing many simply blue or green tiles for years. We would like to make some changes to create some new things like adding some natural conch in the crystal glass tile, having some inner crackle design, and crackle pattern ceramic chips, making some difference in the surface. We're so glad to hear from you, comment your ideas below and order tile right now! Free tile samples are available here.
Shop Tile Now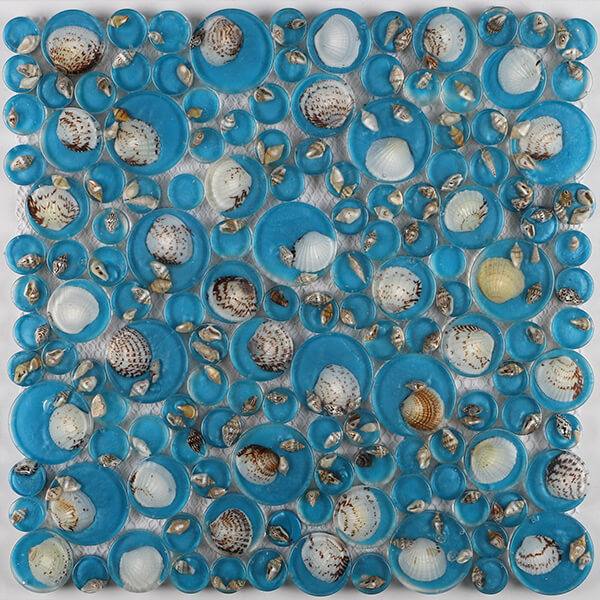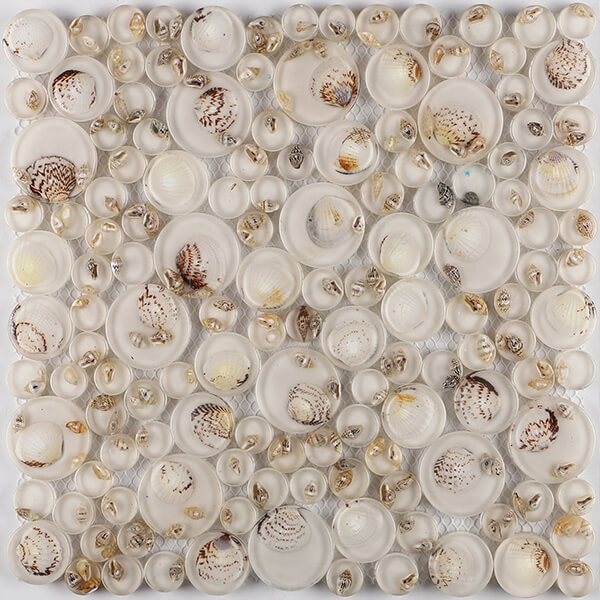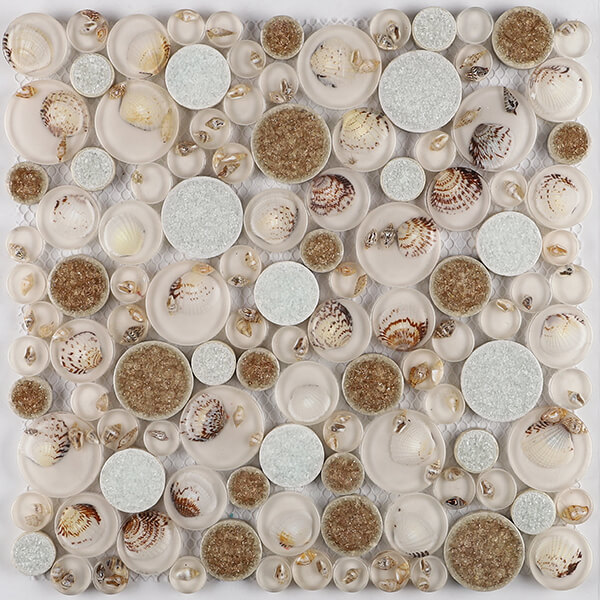 GZGH8601 / GZGH8901 / GZGH8902