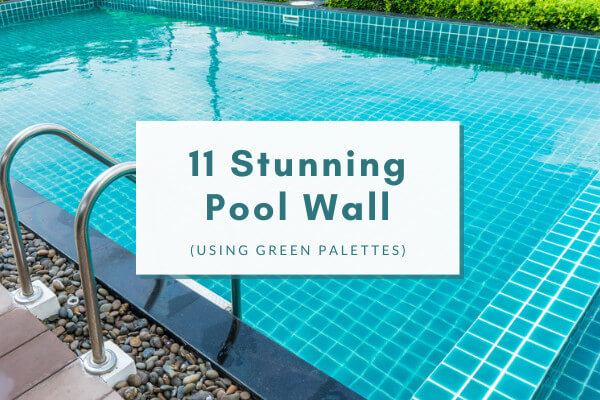 Add beautiful green palette artisan swimming pool tile to your next remodeling project! Our natural green tiles, whether light green or dark green, are both our favorite palettes for the swimming pool decor plans. The green color is cozy, bright, and natural at the same time. We have collected a few great style pool tiles for this color that we hope will inspire you to start a green hue pool tile project of your own!
1. A Natural Splash of Green Fish Scale
Nothing says relaxation holiday time like Moroccan fish scales in heavy ice crackle dark green! The tranquil color of mermaid tile will give your swimming pool, shower, or spa area a modern beach atmosphere. The high variation in this glaze adds interest and dimensionality to a creative tile design. Pair your Moroccan fish scales with a sunny day to create a stunning feature pool.
To see more Moroccan Fish Scale Tile designs here "New Things: Fish Scales for Pool and Interior Decor"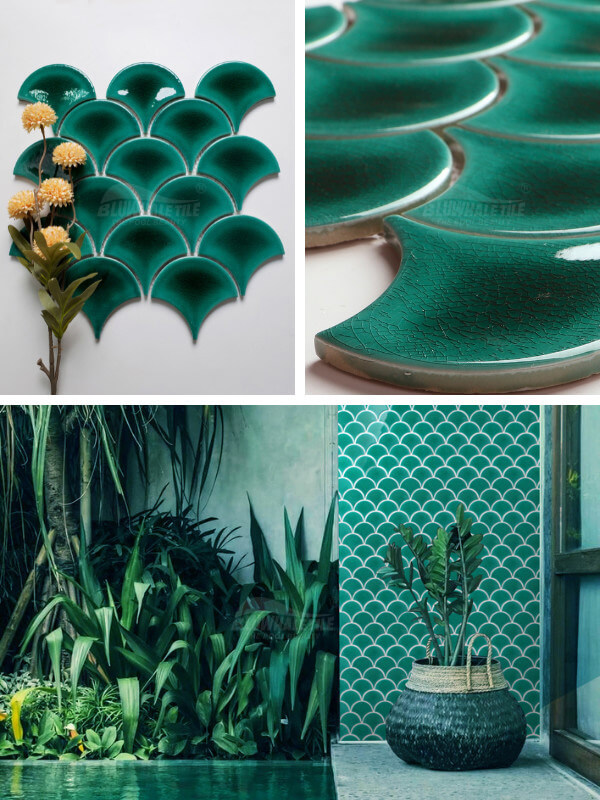 Featured Product: Fish Scale ZGA2701
2. Traditional Shape Meets Iridescent Green Hue
Give your pool interior wall a breath of fresh vibe with this concept. A cool idea for a small spa or swimming pool waterline area that needs something bright to open the space. These stacked transparent green mosaic tiles give a classic shape like Subway Tile a new life with this iridescent effect green color option.
For more iridescent effect glass tile styles, visit our blog "New Things: 9 Style Iridescent Tiles Find to Decorate Your Pools"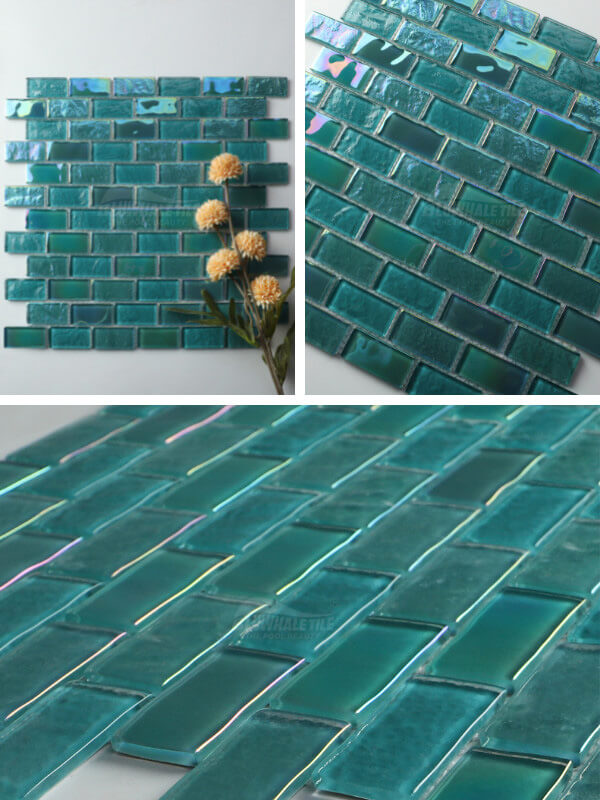 Featured Product: Iridescent Glass Tile GZOF5001
3. Ink-jet Pattern Brings Life
A combination made for amazing and beautiful swimming pool stairs. Having a creative idea like this is a way to make your artisanal pool tile stand out as a personal and unique interior pool design feature of your space. This look like a real natural marble pattern will have you mesmerized - just like watching the stones in the mysterious forest!
Check out another ink-jet marble pattern pool tiles, browse our blog "New Things: 2 Styles Marble Pattern Dark Green Pool Tiles"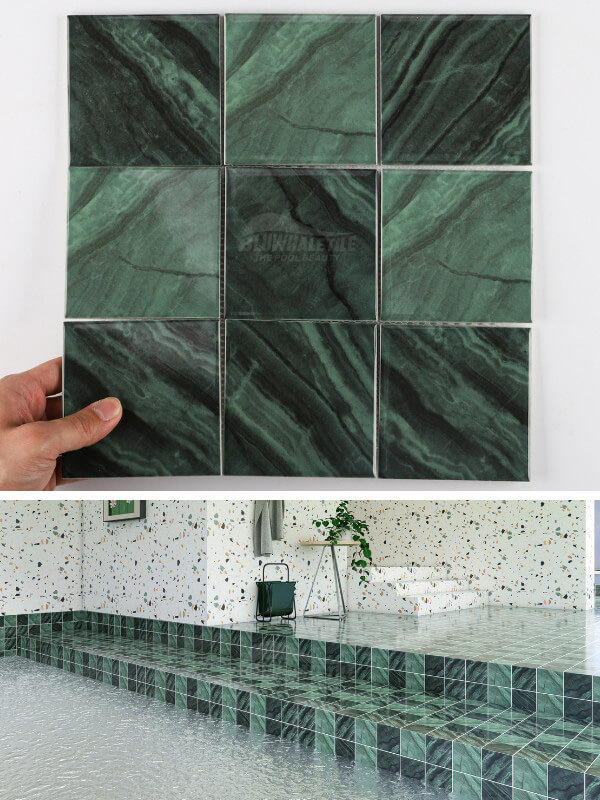 Featured Product: Ink-Jet MGF8701
4. Wave Finish Appeals to You
Square, wave surface and green tone are a match made in heaven. We have seen this magical combination executed time and time again in a variety of spaces. Sun loungers, beach umbrellas, backyard green plants, anti-slip wood plastic composite, and much more all pair well with Square in wave surface green.
Know more about wave pattern pool tile designs with our blog "Wave Your Swimming Pool in Simple Ceramic Mosaic Tiles"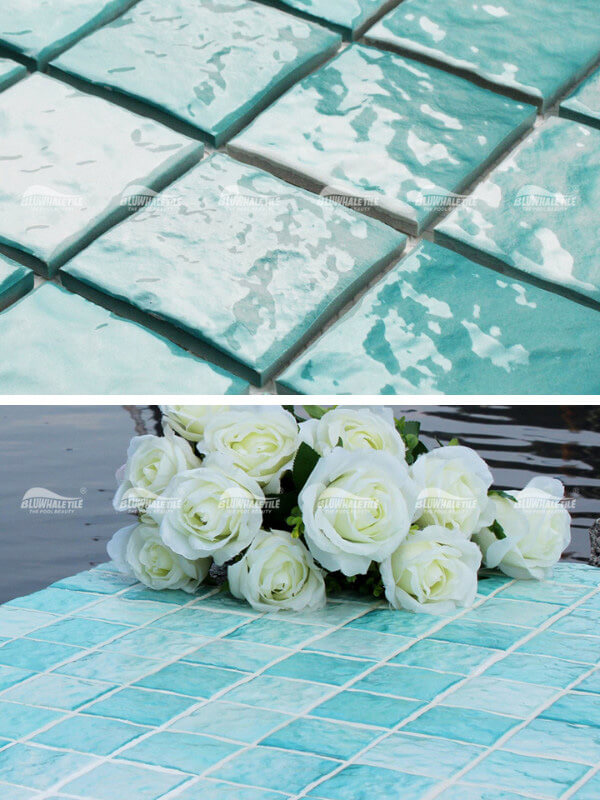 Featured Product: Wave Green BCK705
5. Green Breezes
What a relaxed view you can imagine! The sound of waves, cozy breezes, and comfortable blue sky kissed with sunshine is just what we want but can not always get. Instead of daydreaming about the relaxing beach, you can bring the beach to your private space with mosaic tile! The swimming pool is the perfect place to unwind, relax, and have fun with family and friends. It is also the ideal place for the playground with styles, while it meets these iridescent glass pool mosaic tiles!
More stunning iridescent tiles with our blog "5 Highly-Recommended Iridescent Glass Pool Tile Designs"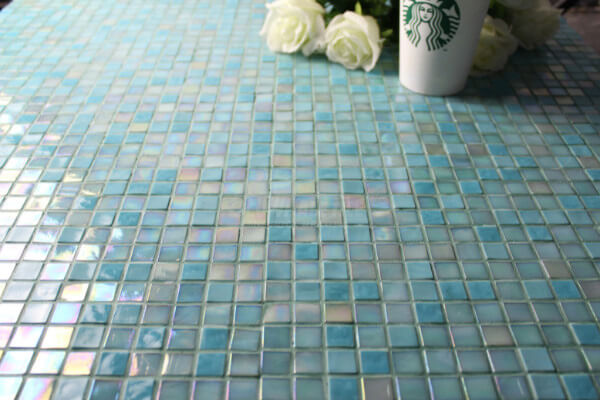 Featured Product: Jade Iridescent Green BGC014
6. Caribbean-Style Inspired Pool
Tranquil, bright, and appealing are just three ways to describe this stunning ink-jet pattern green hotel swimming pool! If you are looking to add an ocean-inspired element to your space, this Caribbean-style green tone pool is the way to go. The 2 inches of glossy glaze plays off the colors of the ocean and makes an attractive scenery you are sure to adore while laying on the sun lounger.
To see more details on ink-jet pattern pool tile, visit our blog "Pool Tile Trends: 2 Inch Ink-Jet Pattern Mosaic With Chic Palettes"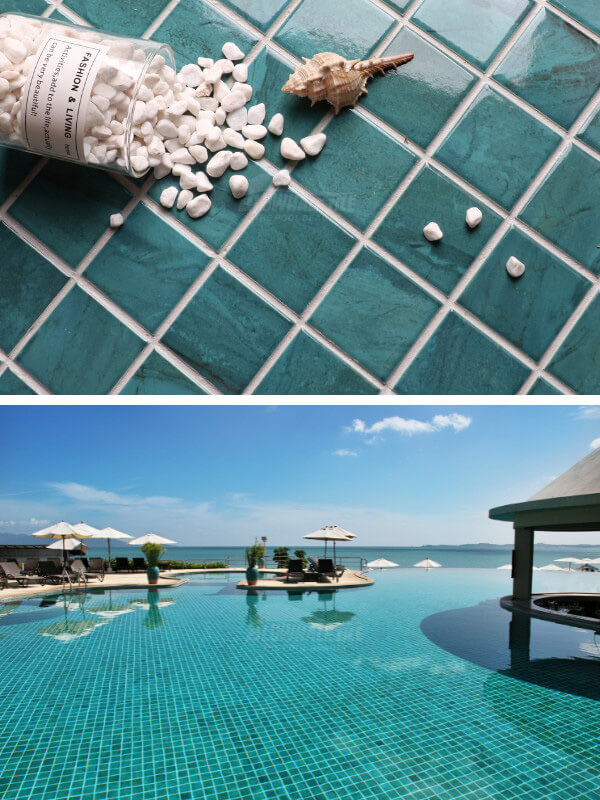 Featured Product: Ink-Jet Green KOA2701
7. Coastal Oasis of Pool Side
Pool sides are the perfect place to unwind, particularly after a long time of pool water fun. This incredible coastal poolside anti-slip floor idea is the definition of relaxation and serene. The Large 4 inches square tiles pair perfectly with the unique sun lounger which will make everyone feel relaxed. The natural light colors remind us of clear ocean water on a warm sunny day making an oasis.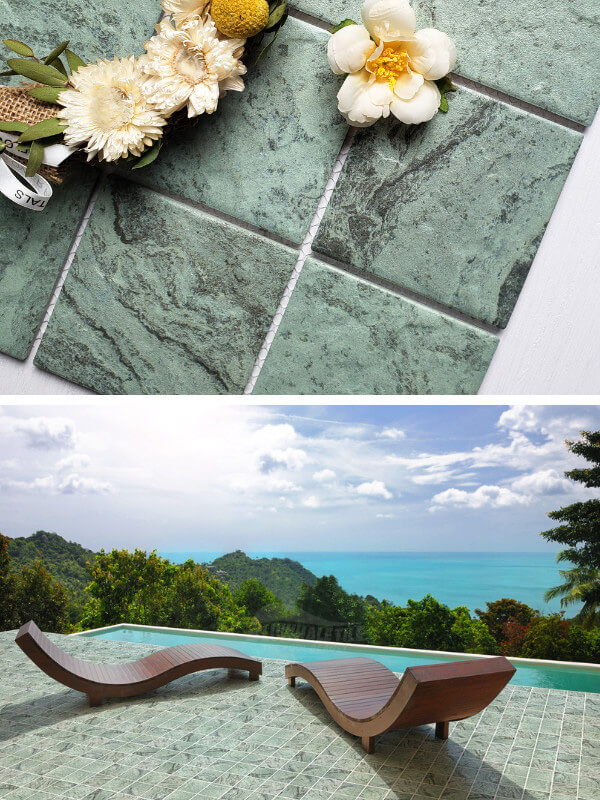 Featured Product: Ink-Jet POA2904
8. Ice Crackle Cool Pool Interior Wall
Natural green-themed swimming pools do not have to be cliche or cartoonish, they can be as simple as this one! This eye-catching green swimming pool tile not only has beautiful high variation but also moves like the crackle pattern change. One way to easily add movement to your pool is by staggering mosaic tile. Staggering pool tiles can create a fun and charming look without being too overwhelming.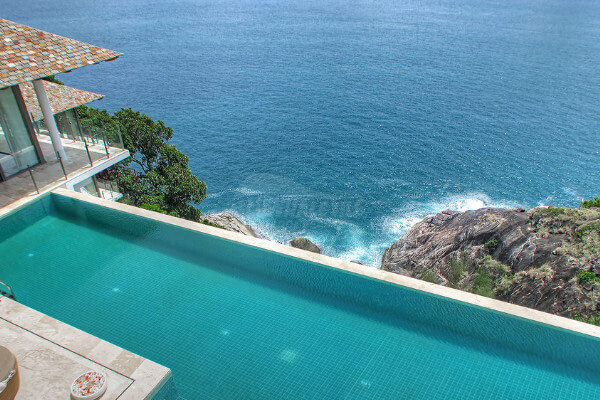 Featured Product: Frozen Green Crackle BCK711
Another perfect idea to set this swimming pool style is the custom craftsman textures that were added to the pool waterline area. This is an ideal way to add character and dimension while leaving a deep impression on everyone.
For more pool border tile ideas, visit our blog "Popular Swimming Pool Border Tiles Design"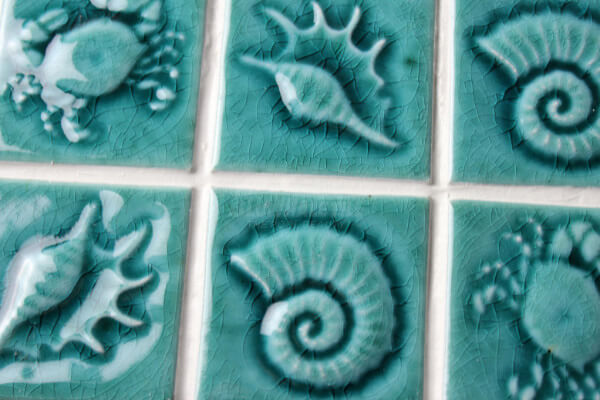 Featured Product: Green Seashell Pattern BCKB701
9. Larger Ice Crackle Style
Nothing shines brighter than our large size 4 inches square tiles in a green tone. With a glossy and silky finish, these tiles are unbeatable. Our larger size of Square Tiles is the perfect option when you have a sizeable area to cover. The large size of this tile combined with its unique crackle surface will help to create a wonderful statement.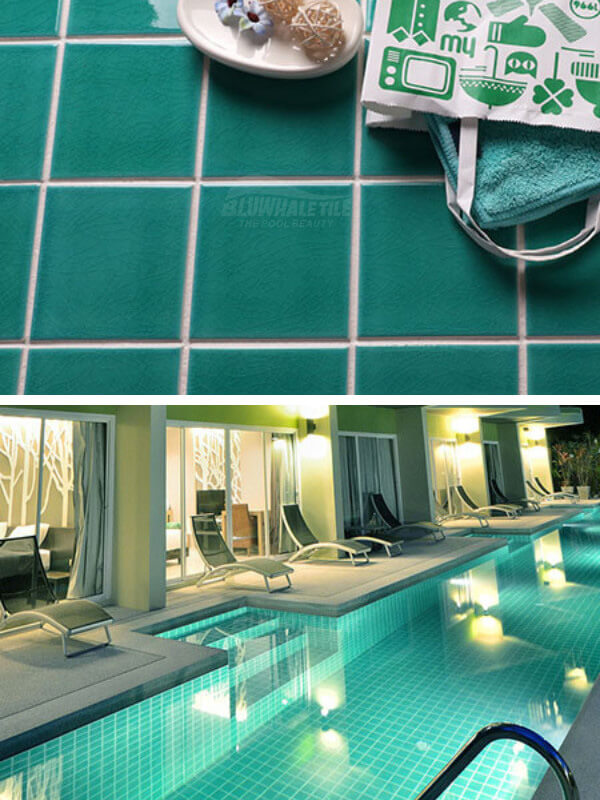 Featured Product: Frozen Green Crackle BCQ702
Yes, you are seeing this right! Our ice crackle pattern creates a pool for your favorite spaces. These handcrafted heavy ice crackle ceramic pieces bring a truly unique element of design. Combining aesthetic visual feel and classic square shape, just imagine all of the possibilities with these small works of art.
For more ice crackle pattern pool tile ideas? Read our blog for more "Crackle Glaze Porcelain Mosaic-Perfect Choice For Gunite Pools"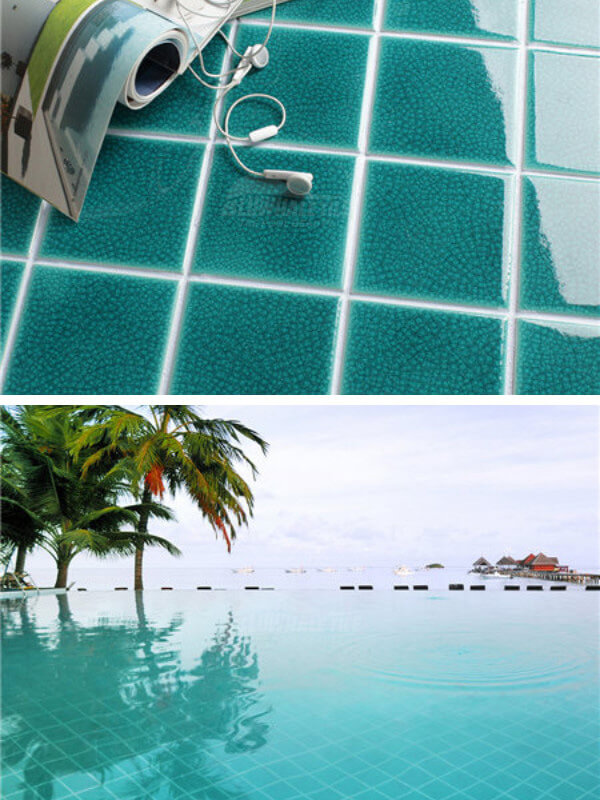 Featured Product: Frozen Malachite Crackle BCQ704
10. Welcome to Tropical Pool
Finding inspiration for this Vietnam hotel's feature interior pool came tropically. Combining just the right elements of color and shape, along with custom functioning tropical planters, gives this small hotel pool the perfect tropical vibes. Our popular emerald glaze creates a chic palette while complimenting the nature-inspired large hexagon shapes.
To know more about this project, visit our blog "Swimming Pool Project: Ice-Crackle Green Tile Makes Tropical Pool"
Featured Product: 150x150mm dark green, ice crackle, ZBF1703
11. Dolphin in Ocean
It is all in the details, the handcrafted details. The perfect quality of the Craftsman Style relies heavily on each handcrafted detail and the result is grand. This custom DOLPHIN IN OCEAN mosaic pool art radiates great craftsmanship by using our emerald tone iridescent glass mosaic chips. This particular mosaic chip has an amazing color variation of a green palette that combines well with the lovely dolphin.
For more lovely ocean animal mosaic art ideas, visit our blog "Swimming Pool Projects: Sea World Mosaic Murals Ideas"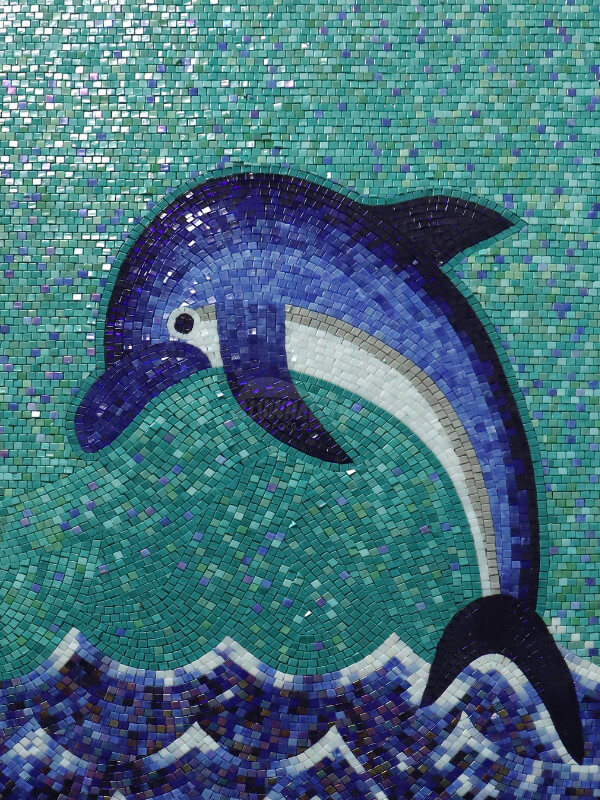 Featured Product: Pool Art Dolphin
Get Inspired?
Whether you're looking to add green tone or other hue mosaic tile to your swimming pool we're here to help you along the way. Reach out to Bluwhale Tile with your project design vision, and we will get the kiln fired up and ready to go. Order free tile samples to see and touch, you might fall in love with our exquisite pool tiles. We would also love to hear what inspires you. Comment below and tell us more about your remodel project plan.