Do you look forward to building a swimming pool in summer and invite your family and friends ? Summer seems to be warmer weather, during summer months, pool builders will be busy in pool installations. It is easy to install a swimming pool, however, it is better to reserve several months before building the pool if you want to enjoy it during the summer. If you get your pool installed during the summer, it will be great fun.
When it comes to the design of swimming pools, to decide the shape of pool might be a big problem for most people, and today we are going to share some popular pool shapes ideas, read on and get inspiration for choosing the best pool shape you want.
Rectangular Shaped
If you would like to pursue simple appearance, why don't you consider installing rectangular pools. Rectangle may are not the most creative and stylish pool shape, but they are common to see anywhere and makes the most classic pool for you. This type of pool shape is highly adopted in many private homes or commercial apartment buildings where is lack of space. Simple pool shape always works wonderfully to blend into any spaces, and it is easy to install. Moreover, it is also easy for you to find the pool cover compared to other more complex pool design.
Everybody loves to swim in a pool of straight lines. So, if you wanna have a pool that is aesthetically pleasing and practical, then choosing the rectangular form will not make mistake.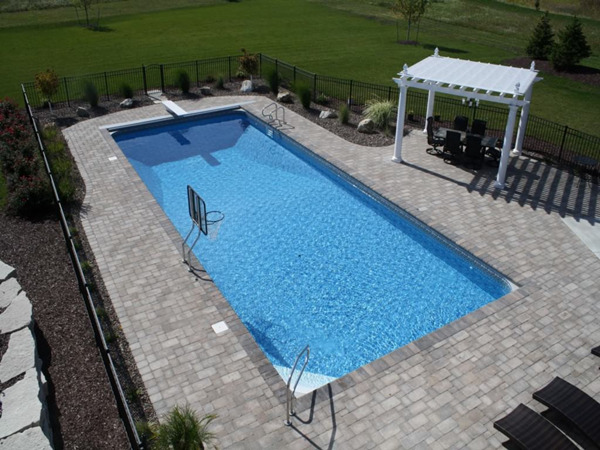 Roman-shaped
If you like a rectangle shaped pool with something different, a roman-shaped pool is ideal for you, which is a modified classic rectangle. Roman pool is also called Grecian pool, which is formal designed like a rectangle shape and based on ancient pools. You can find there is an arch or slight curve at both ends of a rectangular shape. And one of the domes often has stairs to enter the pool, which is excellent for who loves sunbathing as the stairs offer a large platform to relax on while in the water. You may certainly feel the fresh air and vacation relaxation in the hot summer as you lying down on the sun loungers built on the stairs.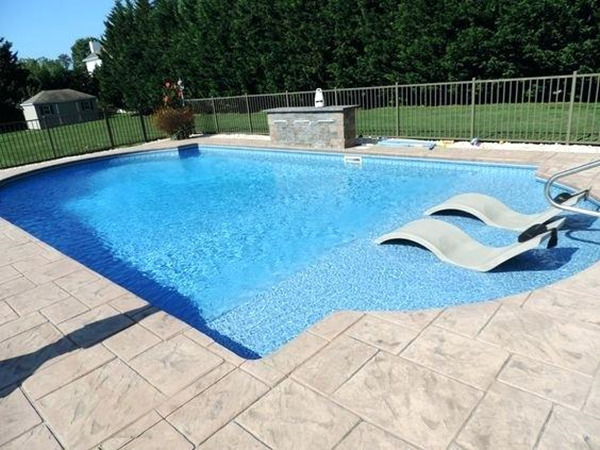 Oval-Shaped
Besides simple design, people would choose oval shaped pool. Differ from rectangular pools, without harsh corners, oval pools has more smooth appearance. This shape of pool is also one of the most common pool design in both residential and commercial space, especially in those houses with large yards. This kind of swimming pool shape is one of the most standard one when people talk about their backyard pools. And it is a good way to add some natural decoration such as lively palm trees or little hedges, this will make your pool nicer.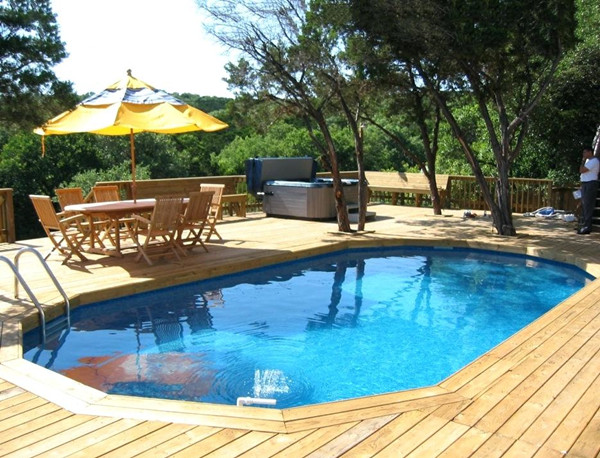 L-Shaped
L-shaped pool looks impressive as its name, this pool is in a shape of "L". Choosing L-shaped pool perfectly fits your garden, which gives you a cozy space beside the pool. When you install an L-shaped pool in your garden, we offer some solutions for you. L-shaped pool can reduce the likelihood of you getting splashed. Meanwhile, when you are relaxed by the pool, it won't reduce the pool length. We highly recommend this shape if you love to join swimming pool competition, it can provide large space for diving. This unique design allows lap swimmers more relaxed for without crossing swim paths. Look at the example below, unquestionably, this family will stay here for a quality and lazy time for summer. Choose the L-shaped pool for your courtyards if you want the pool will delight swimmers of all ages.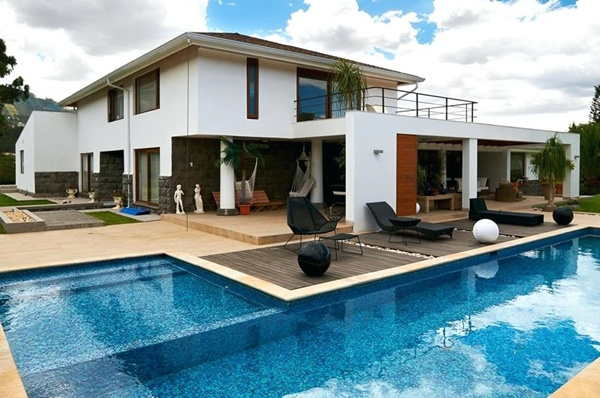 Kidney Shaped
If you want to have a free-form pool design, then kidney shape must be the most popular form. The pool is shaped like a kidney bean, which round on both sides and curved inwards on one edge. Its irregular lines can give it a more natural and artistic feel.
Kidney shape is a popular choice for most residential swimming pools due to its highly versatile shape. Example as below, take good used of your backyard and get everything ready for summer with this lovely kidney shaped pool. You can get a very peaceful ambience from the serenity of blue water, or, you can add some water features to make it lively and more attractive. Also, having some sun umbrellas and loungers for your pool around areas can perfectly make a sense of beach.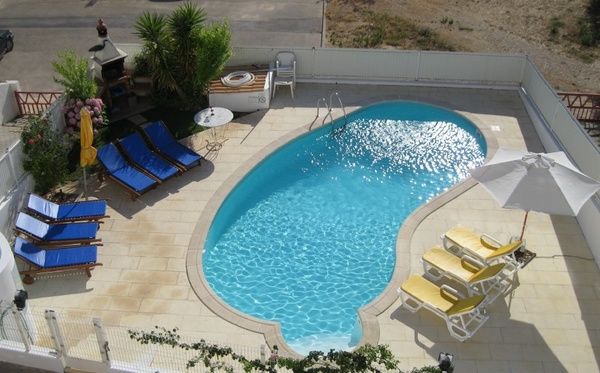 Free form
Free-form pool is a high recommend for those who are artsy. This type of pool is the most space-friendly one, suitable for large house as well as limited spaces. That means, actually all free forms whatever shape can work for you. Compared with other pool shape like kidney, free form features more curves. They are the most customized and unique, individual that you don't find it often. However, this pool shape will cost you more installation fees than other common pool shapes.
Take a look at the great example below, this outdoor free form swimming pool can surely provide fresh water and relaxation to all swimmers. The umbrella in the side of the free-from pool and some water features gives more attraction to people.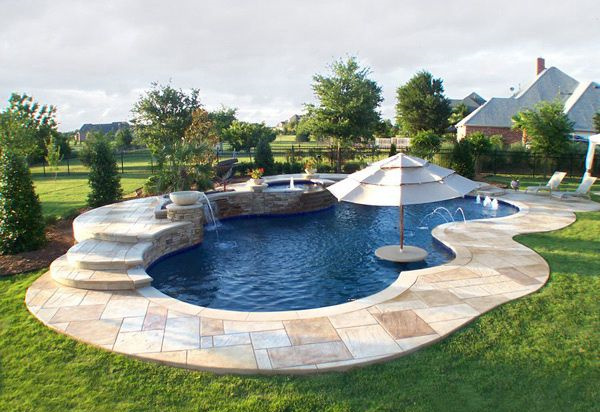 Figure 8
It is obvious that the figure-8 shaped pool resembles the number 8, there is a narrow area in the pool middle and 2 round shapes on the ends, and you don't have to do the two round shapes at the same sizes. The reason why figure 8 shaped pool is popular is that you will feel the free flow of water, the pool's curves help water to circulate.
Figure 8 shaped pool is a great solution for those who want a pool for many activities. It is a good separation for an distinguish shallow area and a deeper area. It can built for different ages, children can enjoy activity in the shallow area and adult can swim in the deeper area.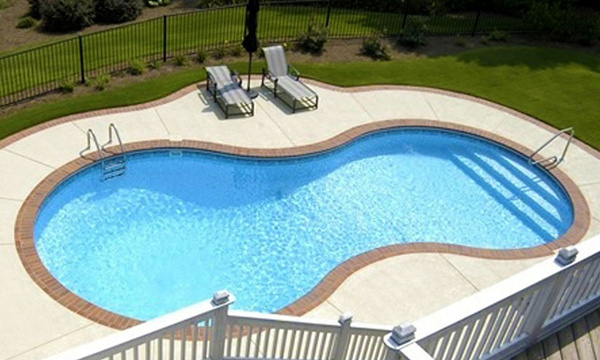 After learning the options of pool shapes, if you have no idea to choose the shape suitable for you, you should not miss this post: How To Choose A Pool Shape That Best Suits Your House? >>
Are you get ready for the coming summer? Hope you get ideas for your pool project from this post, as summer is coming soon, welcome to head to our blog for more pool design guides. Bluwhale Tile is a one of the most swimming pool ceramic tiles suppliers from China, we does our best to supply best quality pool mosaic tiles and pool ideas for all customers worldwide. Welcome to share your swimming pool ideas with us.
---
Small tips: Opt for Swimming pool tile is also a big challenge when installing a new pool, especially for various pool shapes and sizes. If you want to know more about the relation between pool design and pool tile, below attached posts will help you.
Tile Means A Lot To A Classic Pool >>>
That's Not Always The Case Swimming Pool Tiles Must Be Blue >>>
Concrete Pool Tiling New Option-Green Pool Tiles >>>
What Kind Of Tile Best Suits My Swimming Pool? >>>